A professional photographer's workflow is based on three basic cornerstones – speed, consistency and quality. It's important to continually evaluate your workflow and integrate the latest tools designed to help you work quicker, maintain consistency in your work and maintain a high standard of quality. Today seasoned wedding and portrait photographer, Randy Kepple, is going to dive into the newest must-have features in Fundy Designer v7, along with an overview of the Creative Kit from Macphun and finish with the workflow of award-winning wedding photographer Frank Salas. We hope this provides you with some workflow inspiration during the busy season!
Fundy Software v7 Album Builder
Listening to feedback from professional photographers, version 7 has integrated brand new features that promise to make it even easier (and fun) to design photo albums.
Auto Design
Let that sink in. Auto design. Where you click a button and the album is automatically designed for you! I have two words for that… stupid easy! Followed by three words…sign me up! All your excuses for not offering a wedding album with every coverage have just been crushed. You can read more about the new auto design feature in this article written by Andrew "Fundy" Funderburg himself.
Image Browser
One of the most requested features in Album Builder. This new feature gives you a way to group your images as you are designing. Featuring a grid, filmstrip and compare view, you can easily storyboard your images.
Quick Design Picker
My personal updated favorite is Quick Design Picker®. Always a crowd pleaser. And now that it's been redesigned with more layout options, it's even better. Quick Design Picker shows you design variations for a page spread based on the images you're using. Even if you think you know what you want, many times you'll find something better— something you never possibly imagined.
Macphun Creative Kit


The Pro Creative Kit from Macphun is a suite of (6) Mac apps. Currently, they are being bundled with $2,000 worth of stuff (photo editing software, guides, eBooks, training videos, textures, sample RAW files and special discounts) for an insane $129 through the end of the month.
Noiseless: Advanced noise reduction app for everything from RAW files to mobile photos. Their proprietary smart algorithm identifies noise in your image and automatically removes it.
Intensify: This award-winning software reveals hidden details and has tons of presets and filters to really dial in a unique look to your photos. If you're familiar with NIK Color Efex, this will be of interest to you.
Tonality: Now that NIK Silver Efex is going away, this black and white app stands on its own and will earn your respect. The first time I used it, I was totally engaged with the interface, the speed and the controls for really getting a stunningly beautiful black and white image.
Snapheal: Cloning and healing app. They claim it takes less than 10 minutes to learn this app and I'd say that's pretty accurate. A godsend for those who've never learned or don't want to learn advanced retouching techniques in Photoshop. Retouch like a pro in just a few clicks.
Focus: An interesting app that allows you to apply bokeh and lens blur focus effects to your images quickly and easily. Great way to draw/lessen attention to things in your photos or creatively enhance your image.
FX Photo Studio: If you want to take off on a creative tangent, look no further. This single app puts the fun into Macphun. There are so many filters, effects and textures. You can even apply the effects selectively with their smart brush and custom controls.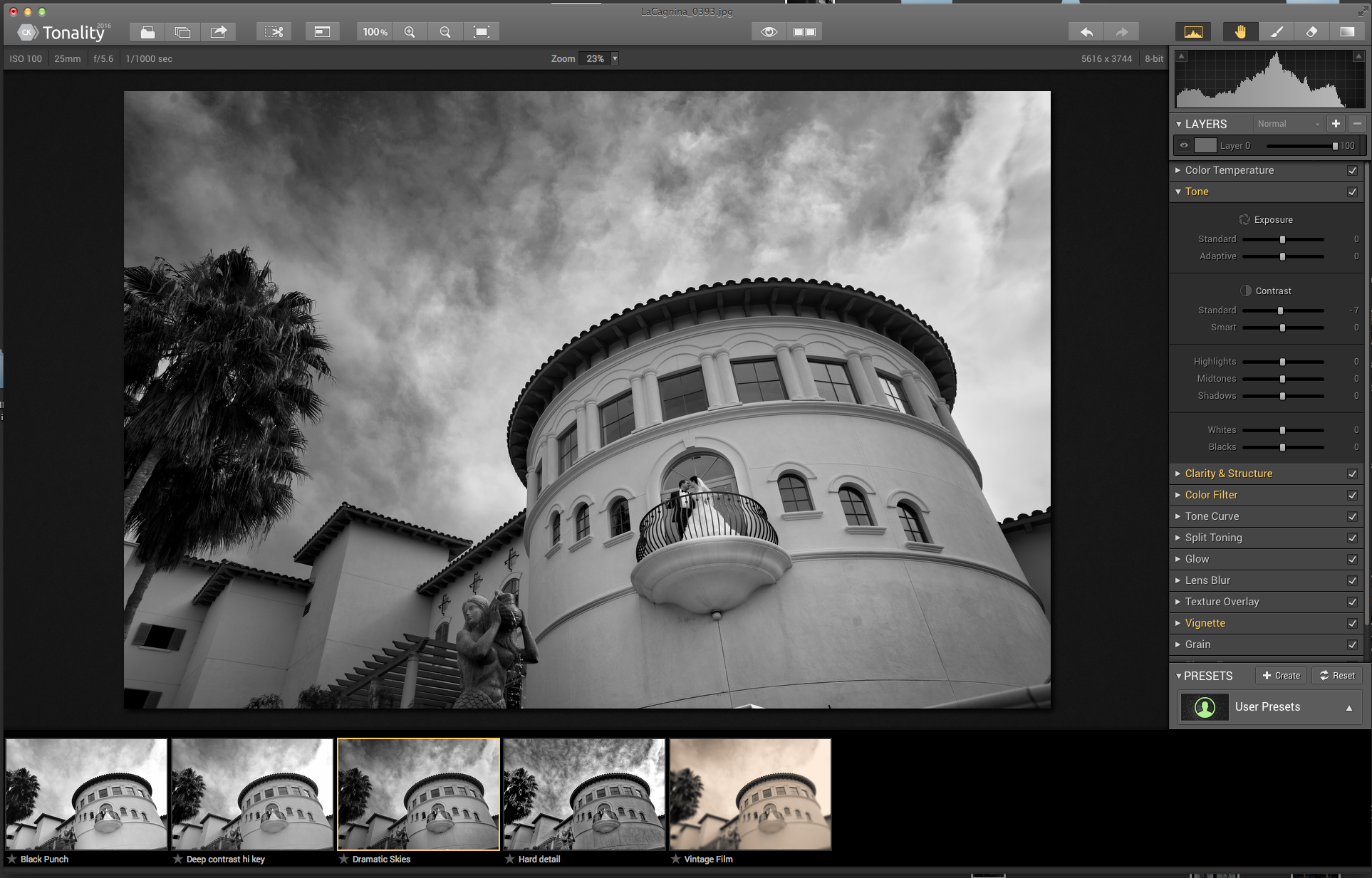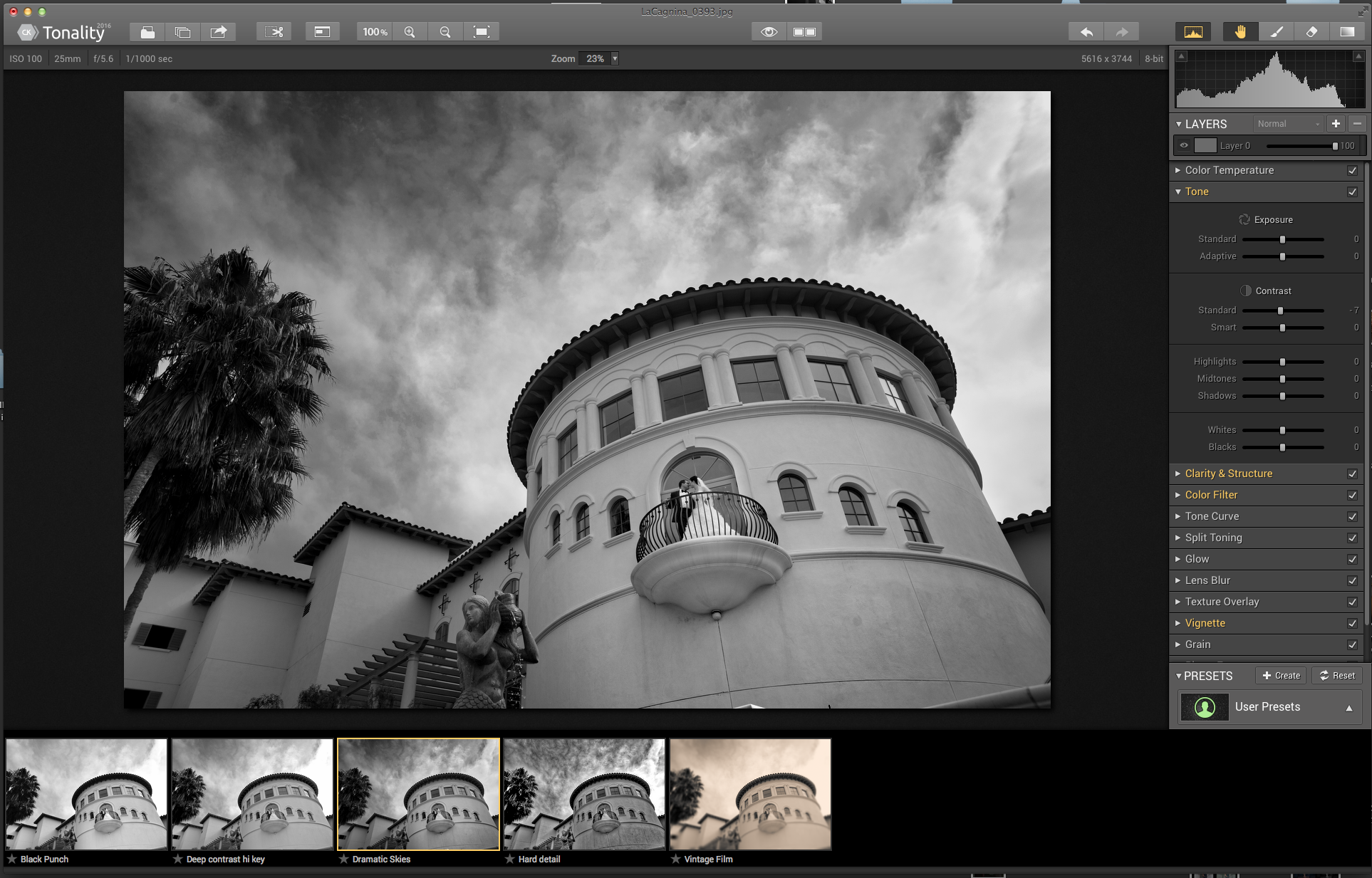 These Macphun apps are fast and feature a beautiful user interface. Their simplicity is deceptive because these are professional tools. They work in a 16-bit RAW workflow as standalone apps or you can jump in from Photoshop, Lightroom, Aperture, Apple Photos and Album Builder.
The bottom line is that even if you are a seasoned professional with tons of experience using Photoshop and Lightroom, you'll find the Macphun Creative Kit to be super fast, very powerful and sophisticated enough addition to your workflow.
The Million Dollar Question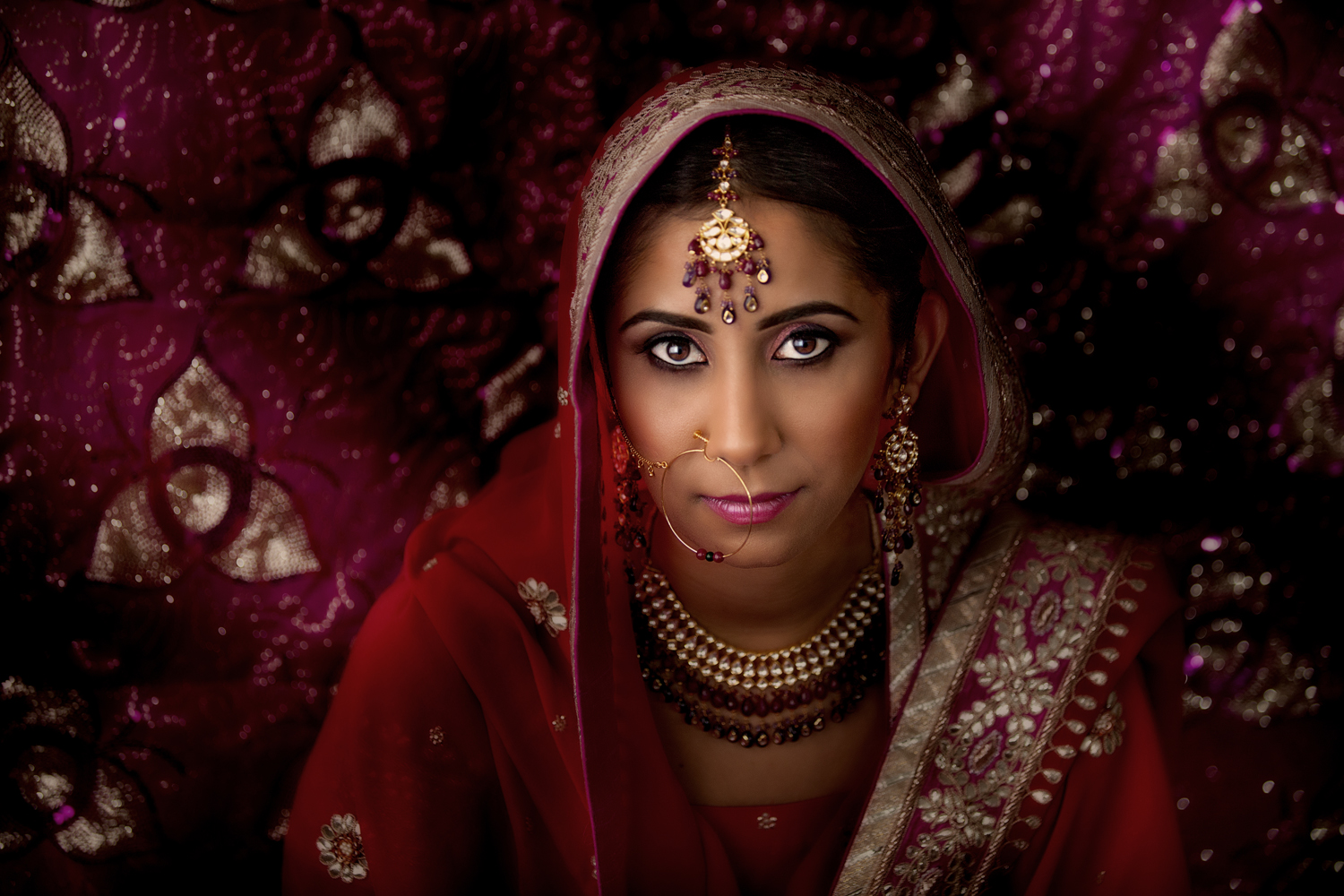 What does a professional photographer's workflow look like? To answer that, I reached out to Frank Salas in Orange County, the most competitive, high-end wedding market in Southern California. Frank's been a photographer his entire life. In fact, it's the only job he's ever had since graduating high school.  
His studio photographs over 80 events every year with Frank personally shooting 45 or more. Each event averages over 3,000 images for 8-10 hours of coverage. He also shoots film (bride and groom portraits) at each of his weddings. You know his workflow is legit and he was kind enough to share it with me.
A quick disclaimer. You ask 10 photographers about workflow and you'll get 10 different answers. The bottom line is everyone can learn something about their own workflow by evaluating different workflows. Choose wisely. Side effects may include increased productivity, happiness and more time with your family doing the things you love.
Frank's Wedding Photography Workflow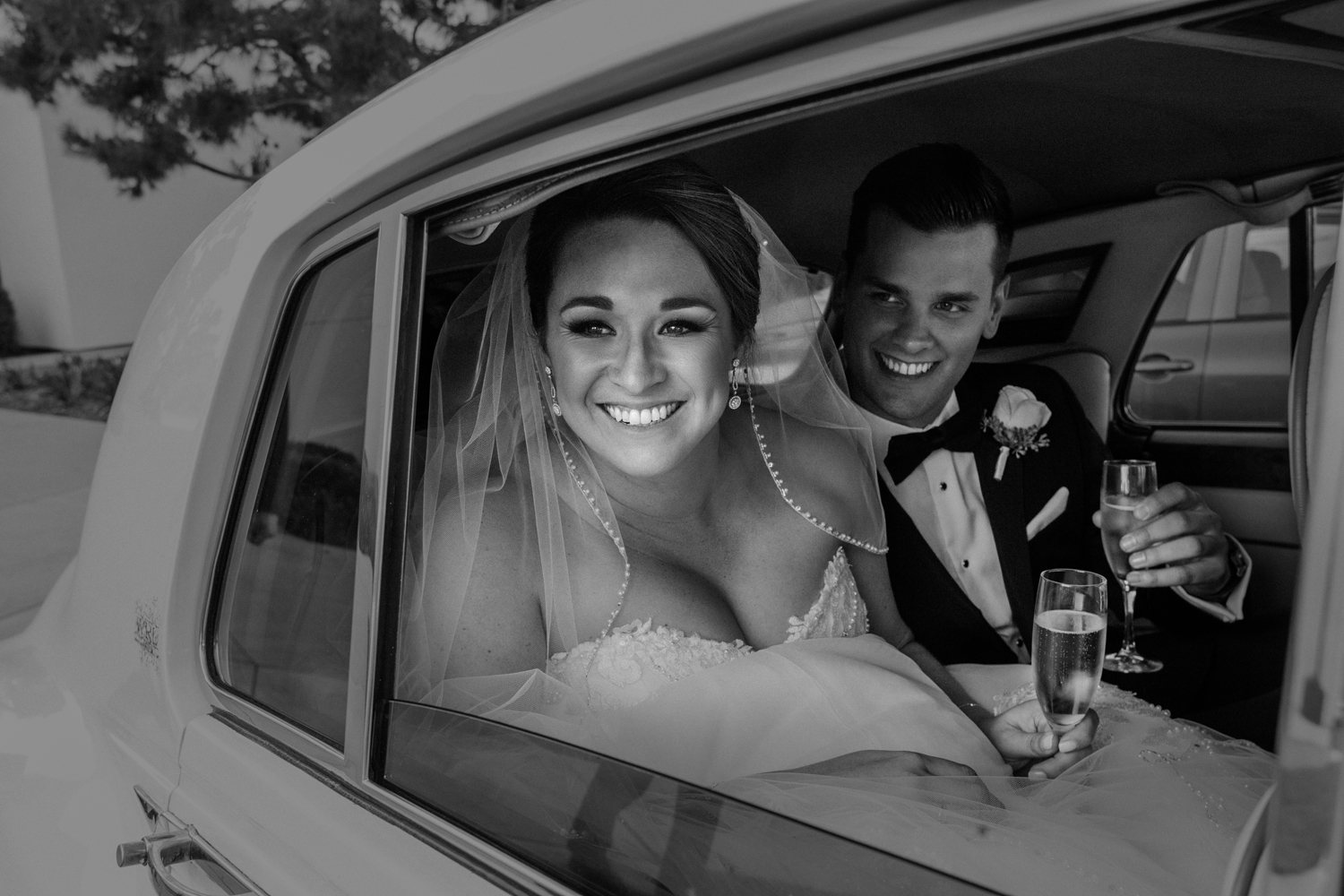 Every wedding coverage includes an album, so it's important that the workflow expedites this process across the team making it happen at the studio. The goal is to always be moving forward and avoid backtracking at any point in the workflow. An average event will have more than 3,000 images which is culled to a final set of 1,500 or less images (including film and scans). Frank does this personally using Photo Mechanic to quickly cull his set of images to the final selection that best tells the story.
Next, the final selection of raw files are handed off to an editor who brings them into Lightroom and applies any color corrections and adjustments and exports a set of JPEGs. At this point, the couple sees their photos for the first time and picks out their favorite images to use in the wedding album, along with gift portraits and wall prints. This is an important step because the average wedding album features 80-120 images that the couples have selected.
I asked Frank how important wedding albums were to his business and his clients. He said, "Albums are necessary to commanding more money. It's a service. To hand off all the images to a client to design their own album is like getting all the footage from a movie off the cutting room floor. The album embodies our style and vision. The work's not finished until we deliver the story in an album."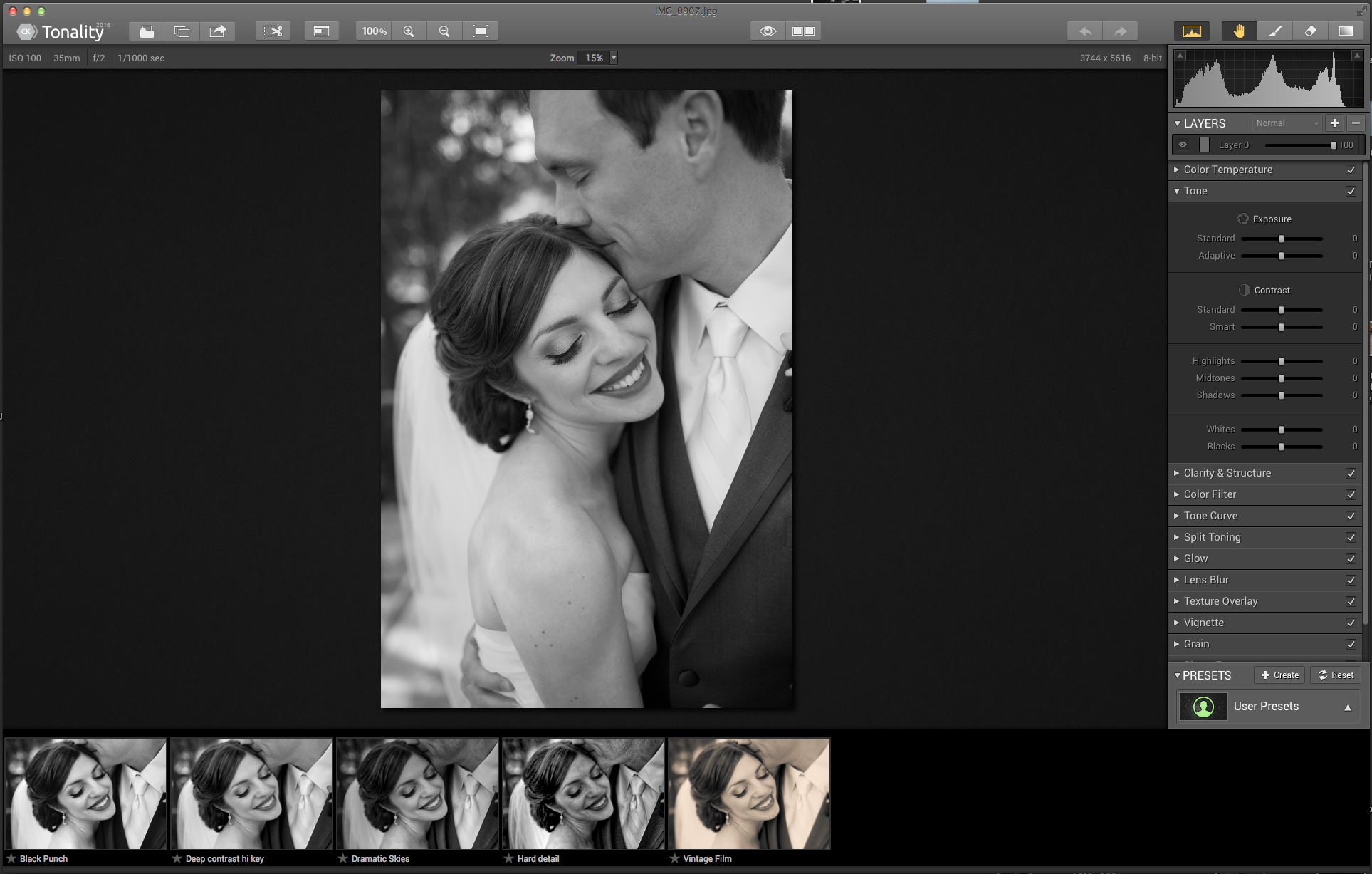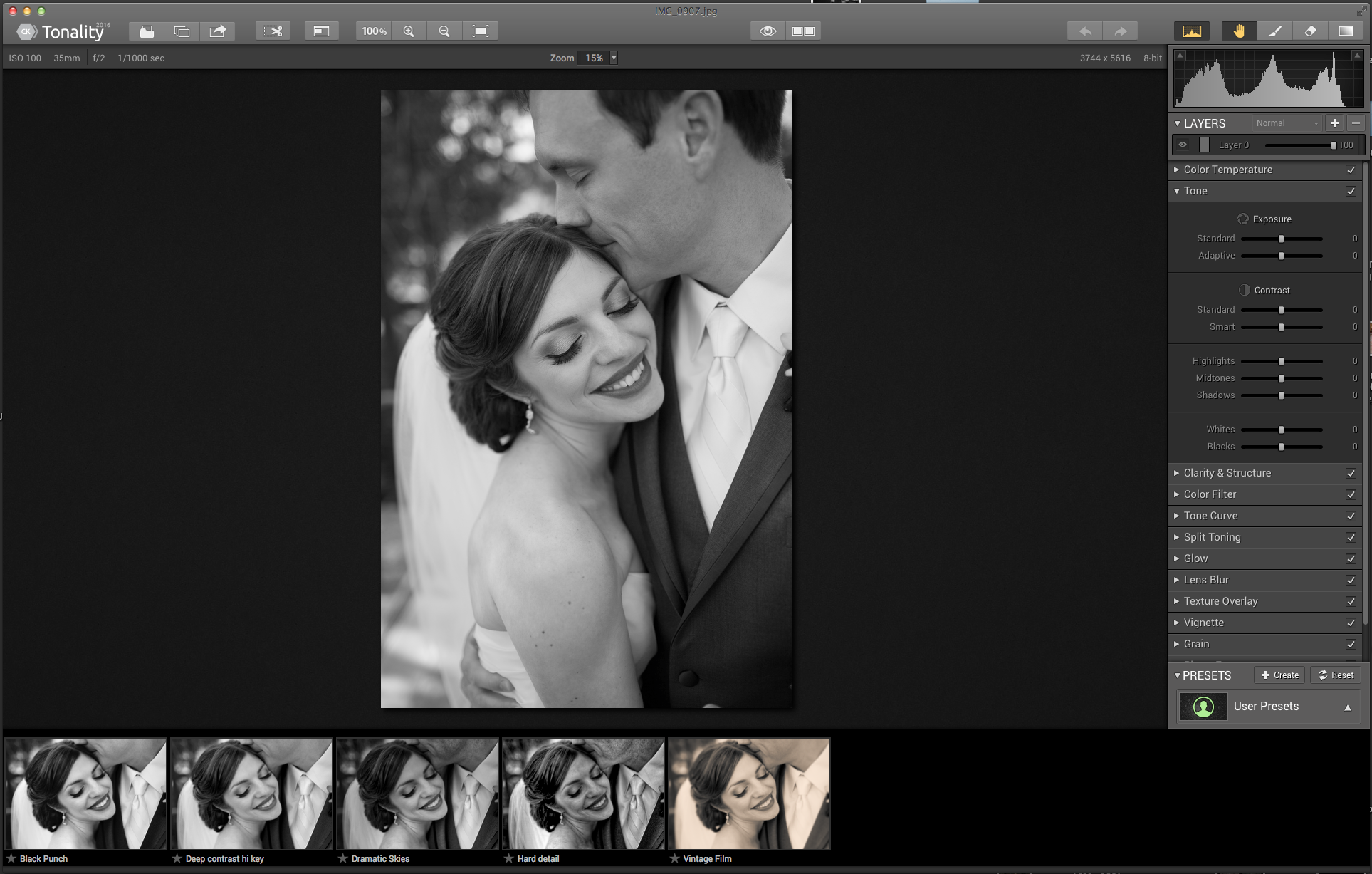 Once the client selects their favorites for the album, they are copied into a folder to bring into Fundy Designer. It's important to only work with the images the client has selected and not the entire event. The album spreads are designed and the images retouched and enhanced. His team uses Macphun Intensity in Lightroom with custom presets Frank created to emulate the look of film. Black and white photos are created with Macphun Tonality. He mentioned that less processing is his natural style.
And this is the biggest challenge for photographers. Presenting the same (uniform) look across their images. Presets and plugins like the Macphun apps are vital for consistency. This is essential in creating a style.
Here's a pro tip from Frank: don't show variations in proofs! Keep your images neutral (color vs. black and white). Nothing will kill your workflow quicker than having a client come back and ask for changes. That means the team has to locate the original image file and process it out all over again. Workflow means you're always moving in one direction.
Once the album files are retouched and artistically enhanced (color vs. black and white) they resync the images in Fundy Designer to update the page spreads with the new photos. The album design is then shared with the client for final approval. I asked Frank what he liked most about Album Builder and he said, "Album Builder allows a creative design experience. The Smart Guides are a huge asset when designing. When making any revisions or changes for the client, it's a huge time saver."
And that my friends, is how it's done. It's not complicated. What's important is being efficient with your workflow and choosing the right tools to minimize the time spent delivering a quality album without compromising your artistic integrity.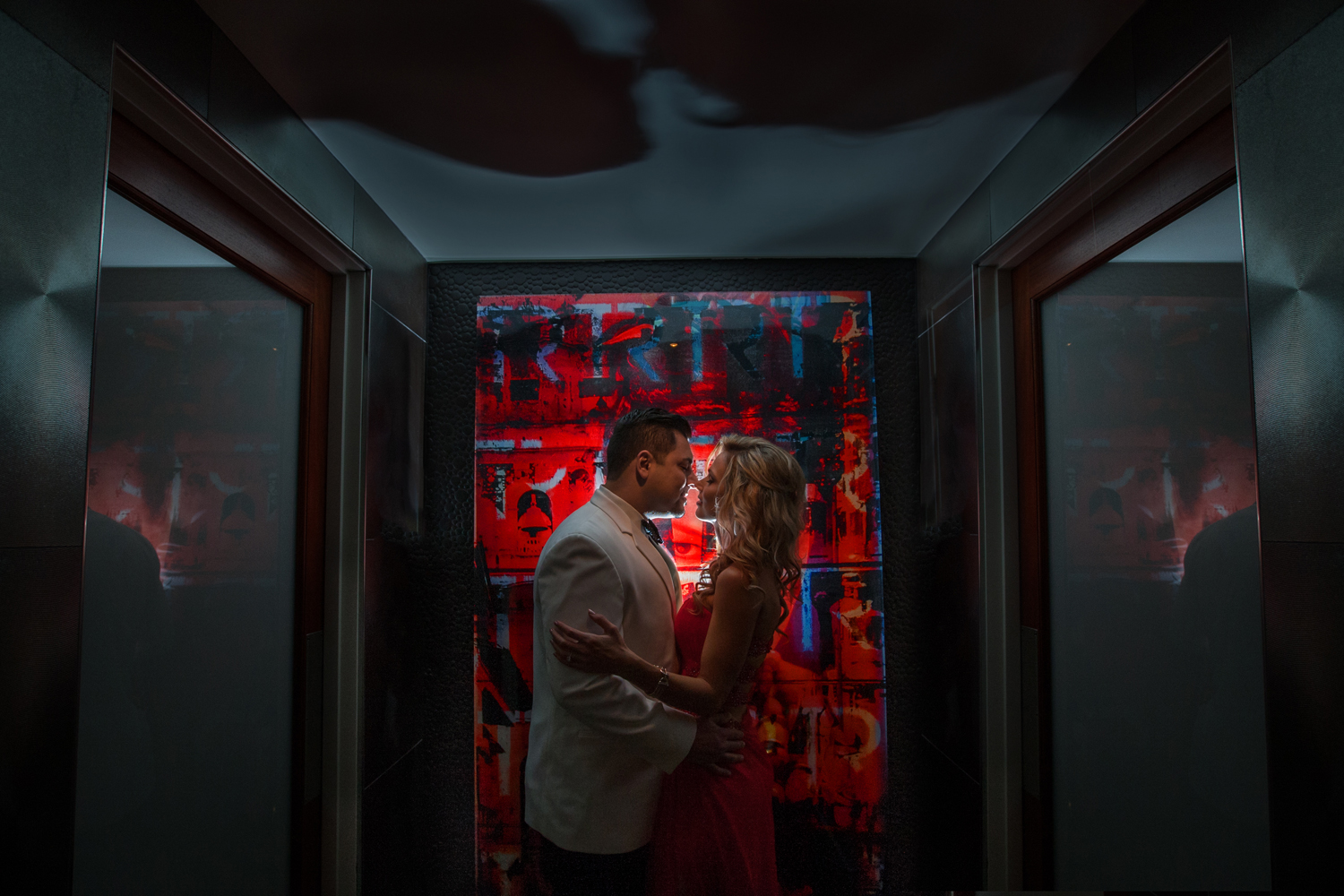 Because I had Frank on the phone, I asked him a bonus round question: If you could go back in time and tell a young Frank Salas anything (knowing what you know now), what would you say? He paused and said, "Business and marketing education. More of that. Focus on being you, being creative and promoting business."
Don't take my word for it
I hope you are inspired to consider these amazing tools to give you more speed, consistency and quality in your own workflow. But you certainly don't have to take my word for it. Both companies offer fully-functioning trial versions – Macphun's is good for 30 days, and Fundy's never expires. You can try it before you buy it.  
As the late night commercials say, don't delay. Tell 'em Randy sent you!
Macphun Creative Kit XXL Bundle
Fundy Designer Suite with Album Builder