In our digital world today, wall art is rarely on the top of the priority list for engaged couples.  Yet hanging wall art (and creating other printed products) has a positive impact on their lives, helping them remember their special moments and the feelings and commitments they made on their wedding day.  So how do we educate our clients and bridge the gap between what they think they want and what we know to be best for them?  To help, here are 10 ways to help you get more prints on the walls of your client's homes.  In this article, we'll be covering the following advice from our award winning photographer friends over at Wedding Maps.
Understand the Client's Vision

Correlate Images with Emotions

Photograph with Cohesiveness and Consistency

Consider Giving them a Taste

Have the Clients Send Over a Picture of Their Wall

Be Creative in Your Photography

Offer Unique and Interesting Prints Options

Shoot for Wall Art in Mind

Have Multiple Examples

Show More Than Just Wedding Images
1. Understand the Clients' Vision
After hearing our client's story, one of the first things we ask them is the WAVE, which we learned from SLR Lounge. The WAVE stands for "wall art visualization exercise". This helps us as photographers, and our couples learn before their wedding day … what it is that they care most about and would love to have on the walls of their home. It also helps our couple's realize the value of printing their memories. Afterall, most people take countless photos each year with their cell phones, cameras, etc. and how many of those are good enough to make it up on the wall? Printing and hanging photos takes a lot of effort, time, and money. The photos that we make a priority to hang on the walls of our homes can have the power to strengthen relationships. Imagine that you've just come home from a stressful day at work, you look up above the mantle in your home and hanging on the wall is your favorite photo from your wedding day. Having that photo in your home can change your entire day, and your relationships long term.  – Jessie and Dallin | Wedding Maps Profile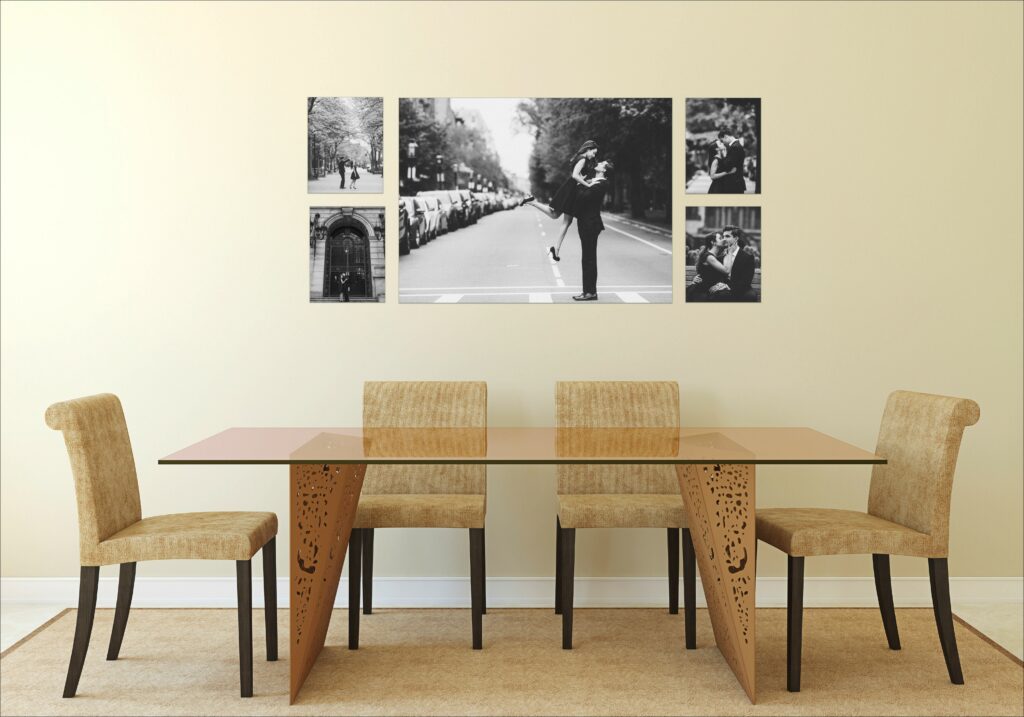 Credit: Harris Co
2. Correlate Images with Emotions
"My goal before the session is to plant the seed regarding heirlooms, prints and albums. Then I try to understand what their vision is for their photos. I usually ask if they have any specific images they're hoping to receive and I ask them to list a few photos that may be close to the heart to them; ie Images that they may want to recreate that they took as a child and that their grandparents and/or parents took. These special photos tend to be what helps me the most with getting clients to purchase wall art. Being able to correlate images to their emotions is really everything." –  Lessie Blue Photography | Wedding Maps Profile
3. Photograph with Cohesiveness and Consistency
In each scene that you approach, take your time and create a series of cohesive, story-driven photos.  Our tendency as photographers can sometimes be to move to the next scene too quickly.  We aim for the stunning, impactful portrait, and then after we've captured that photo, we move on.  But slow down!  Remember to capture a series of photos with wide, medium and tight compositions using the same lighting, mood and photo editing.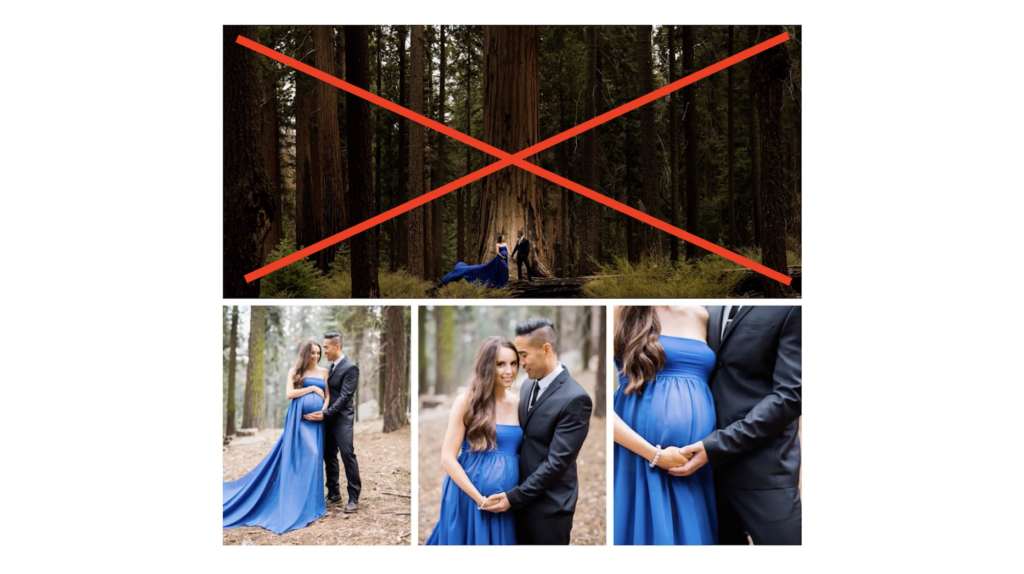 Credit: Lin Jirsa 
For example, in the series above, the image on top doesn't fit the same lighting, mood, or editing as the series of images below.  This, to a certain extent, makes your clients decide between A) the series of three on the bottom and B) the single image on top. 
Keeping the images cohesive and consistent will help you create better sets of images for your wall art.  I actually have a full (free) video on the subject here. –  Pye Jirsa | Wedding Maps Profile
4. Consider Giving them a Taste
"I own my own fine art printer and I custom build a frame and print a 16×24 for every couple. I find that whenever I do this, they order high end prints from me because they want more and don't realize how good they look on a wall." – Wes Shinn | Wedding Maps Profile
5. Have the Clients Send Over a Picture of Their Wall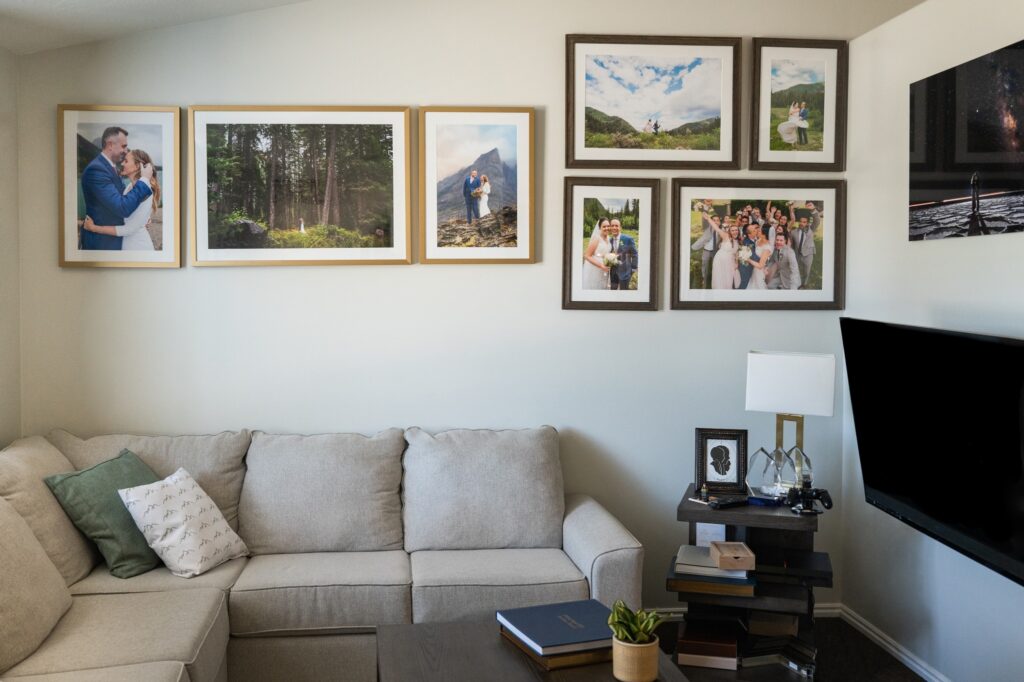 "I love inviting my clients to a free consultation over zoom where I show them inspiration for how to make the most out of their images. Whenever possible, I have them send me a picture of a wall they'd like to hang images on and together we design/customize a layout in Fundy Designer. Being able to show them what it looks like on their own wall and edit it in real-time has been a huge help to both me and my clients! Without me saying a word, some of my couples have significantly increased the size of their prints/canvases because they could SEE for themselves that it looked better. I love that Fundy Designer helps my clients make informed choices as they select their wall art without me having to "sell" to them. It's a win-win for everyone! Belinda Philleo" – Belinda Philleo | Wedding Maps Profile
6. Be Creative in Your Photography
Be unique and think outside the box. Even when you shoot the same location over and over, push yourself to create something that's different from anything you have ever taken there. We want our couples to hang these epic images on their wall. And the last thing we want is for a couple to go to a friend's house only to realize they have basically the same image on their wall. If your images are unique, then it's art. And art is worth more to your clients. – Jason Vinson | Wedding Maps Profile
Credit: Lin Jirsa 
7. Offer Unique Print Options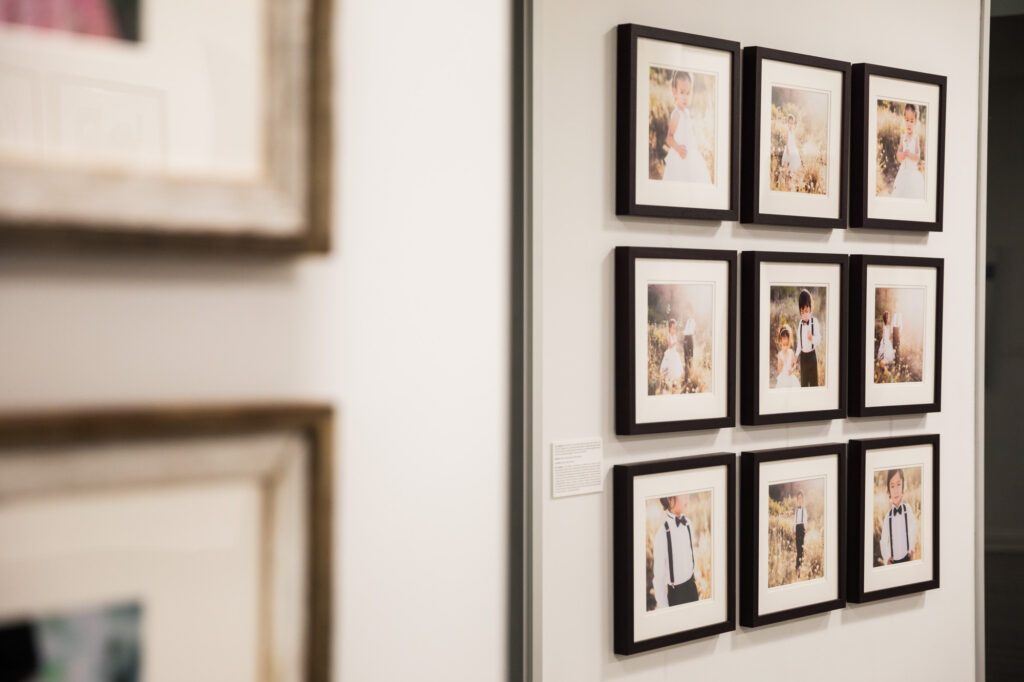 "My tip is to offer unique print options that are more personal to both myself and my clients. For example, I am a huge anime/manga fan and I loved the concept of shadow boxes with a hero image as the cover. So I decided to take that concept and make it specific to my clients and then offer them. I love them because it not only shows one of my favorite moments of the day but the background also tells the story of the entire day as well in a really eye-catching manner." – Skratspaper | Wedding Maps Profile
8. Shoot for Wall Art in Mind
"I like to shoot specifically with wall art in mind. I always try to take a grand "hero" shot to highlight the couple but also their venue/location/day. I focus on making them no bigger than 1/3 of the image. I also have in person reveal sessions so clients can touch and see in person their wall options." – Tracy Jenkins | Wedding Maps Profile
9. Have Multiple Examples
"Have two different wall art collections, both priced the exact same, so that a client's decision isn't made based on cost, but rather on which set they like best. We have examples of those wall art pieces hanging in our home studio for clients to see. After our couple's order wall art at their Reveal Session, we give them a few more days to decide exactly which photos they want to use so that they don't have to make that decision on the spot." – Jessie and Dallin | Wedding Maps Profile
Credit: Ben Hartley
10. Show More Than Just Weddings
"Show your Clients not only wedding pictures as Wall Art in your studio or your Home. Also Show your own private Family pictures as Wall Art in your Home. This gives confidence in the quality and uniqueness of the Wall art." – Andreas Pollok | Wedding Maps Profile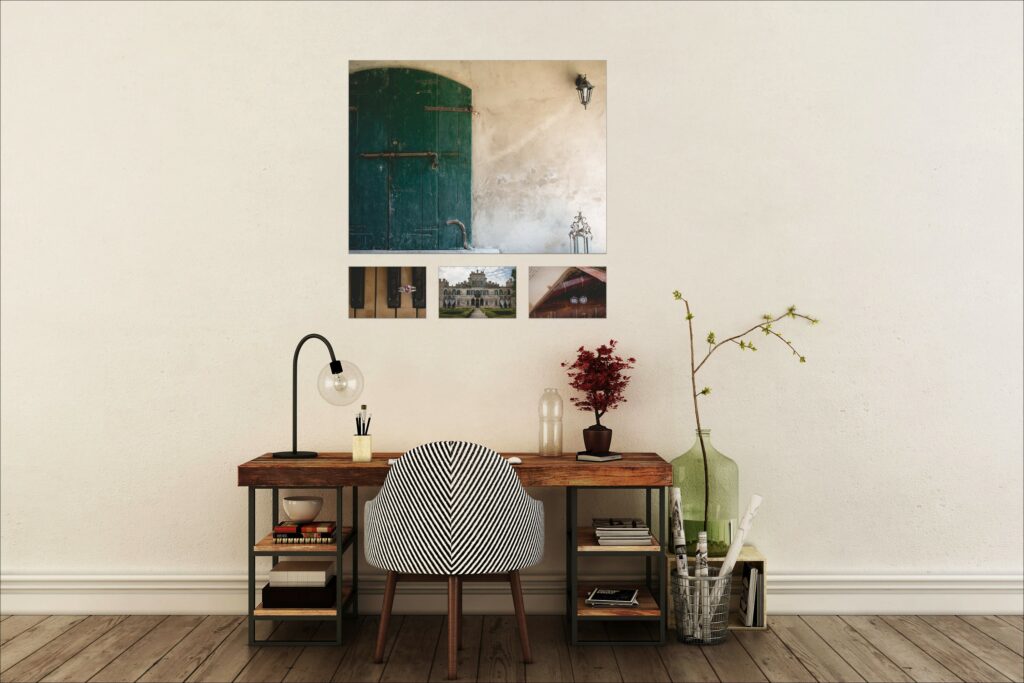 Credit: Megan Allan
Conclusion
As a wedding photographer, you spend hours capturing the perfect moments on a very special day. You strive to create beautiful photos that will tell the couple's story and preserve their memories for years to come. But what happens to those photos after the wedding? They may be shared online or placed in an album, but many of them will likely never be printed or seen again. This is why selling wall art is such an important part of being a wedding photographer. By offering prints, canvases, and other products, you give couples the opportunity to display their favorite photos in a way that can be enjoyed every day. Not only does this provide a source of income for you, but it also ensures that your work will be appreciated and enjoyed for years to come.