We believe strongly in the power of print and the power of visual storytelling, and wanted to bring something to you that would change everything. Our patented template-free design technology opened up an infinite world of design possibilities the world had never seen before. Direct ordering from the Fundy Designer has saved thousands of photographers hundreds of hours. And now, we are proud to announce v7, created using over a decade of storytelling research.
Fundy Designer v7 will launch on May 3rd with the world's first auto album design – our patent-pending technology will design your album automatically without giving up any control. 
New, Lightning Fast Engine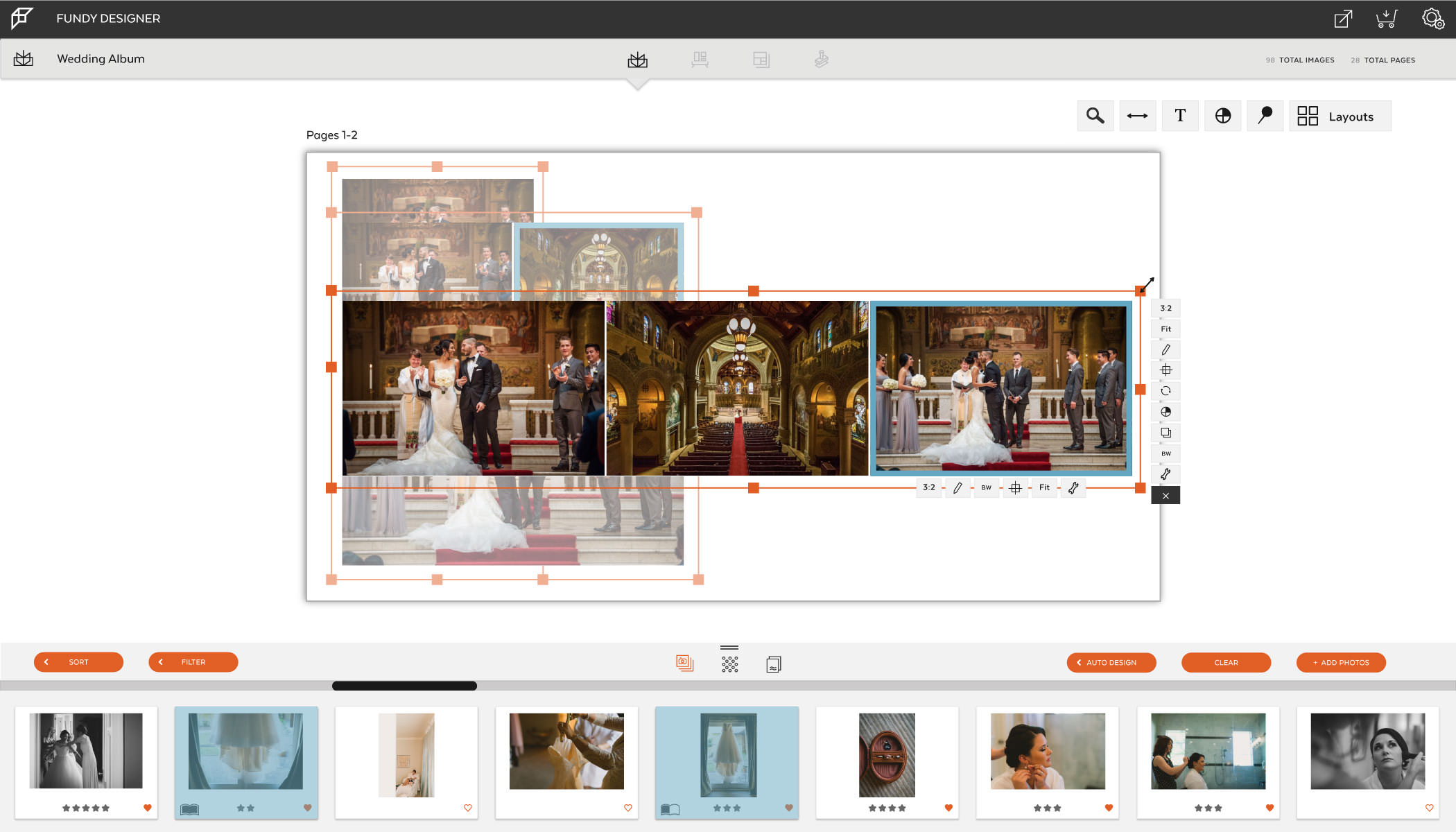 We are offloading graphics onto the GPU, freeing up memory for crunching designs. You'll see much more fluid movements, increased memory optimization
Work faster than you ever have before.
and the ability to handle even the biggest projects. Professionals looking to work faster and more fluidly will love the new engine under the hood.
Faster, Friendlier User Interface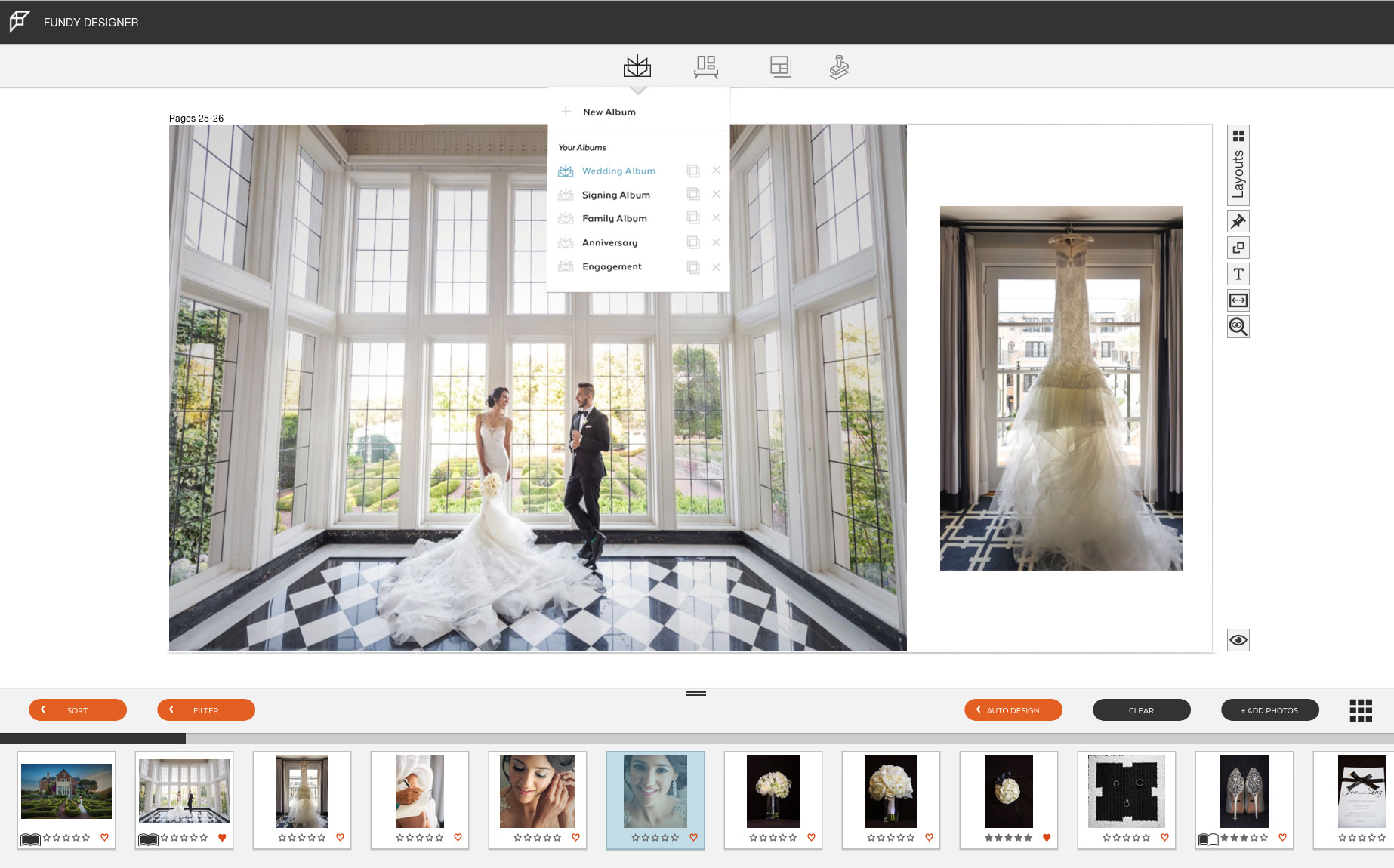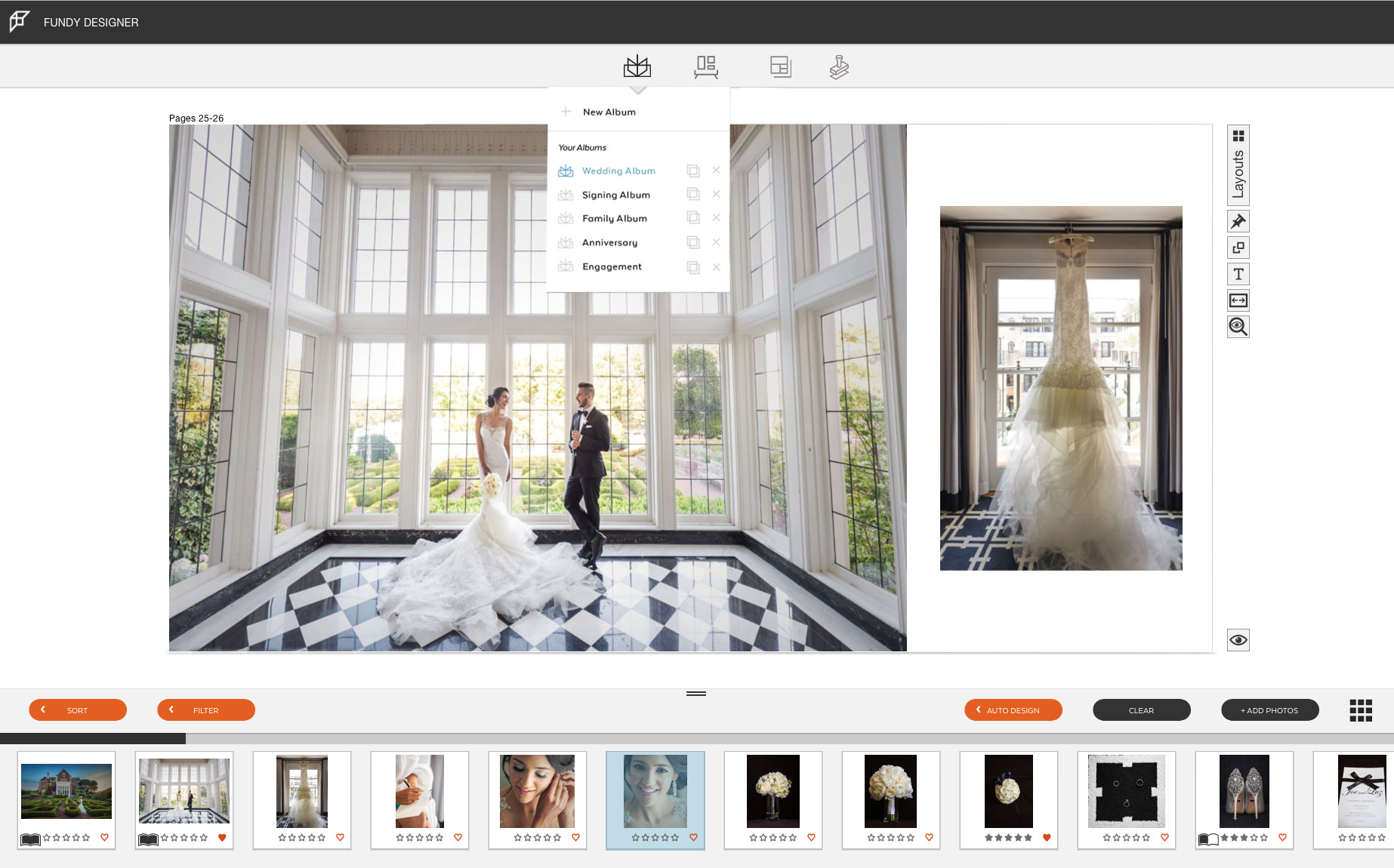 A new, elegant user interface will please even the most discerning designers. All of your designs are now at the tip of your fingers. Jump between albums, parent albums, wall galleries, blog collages and image brands in a couple of clicks. And our new v7 architecture now allows you to save your projects wherever you would like, even external hard drives.
Revamped Quick Design Picker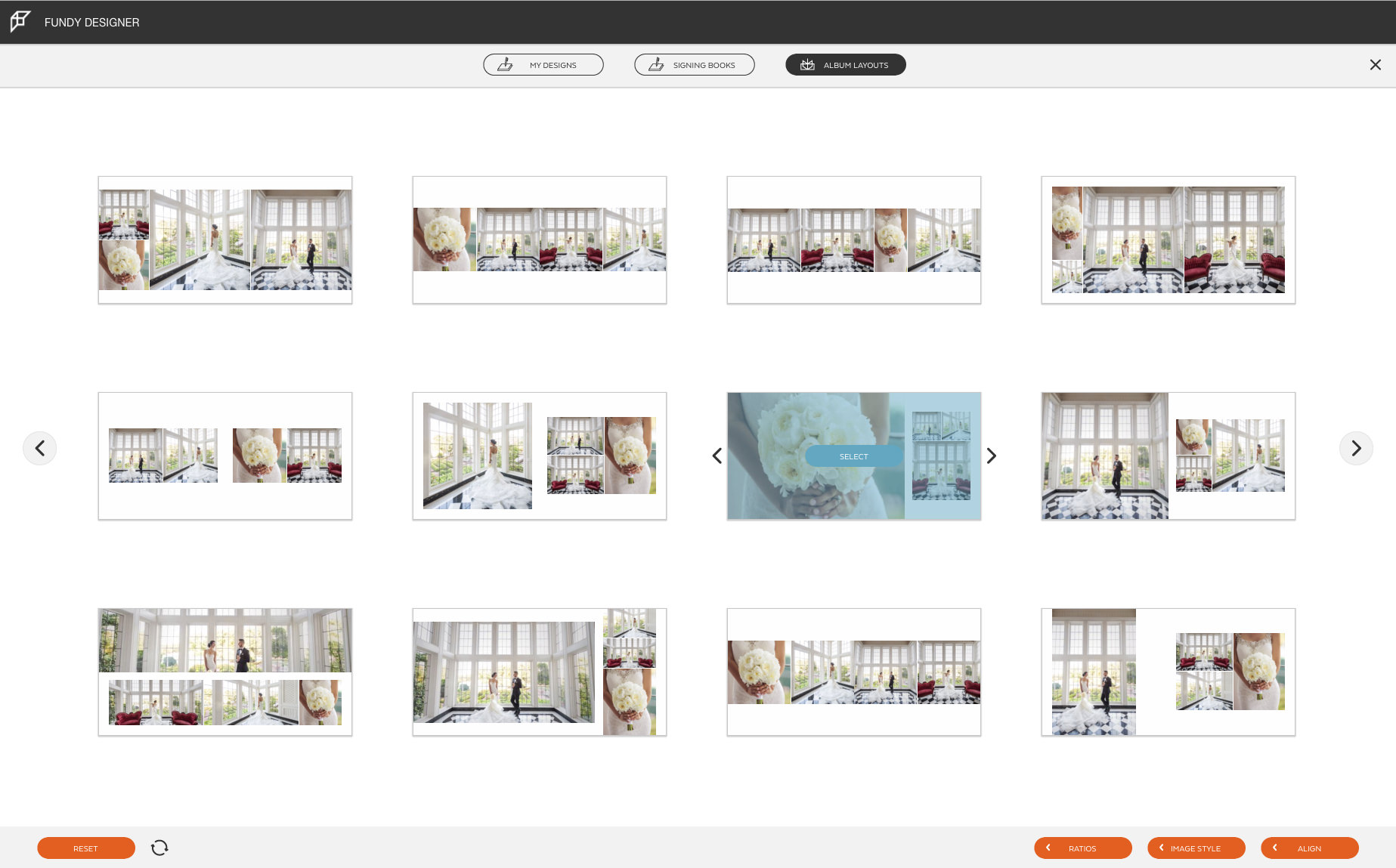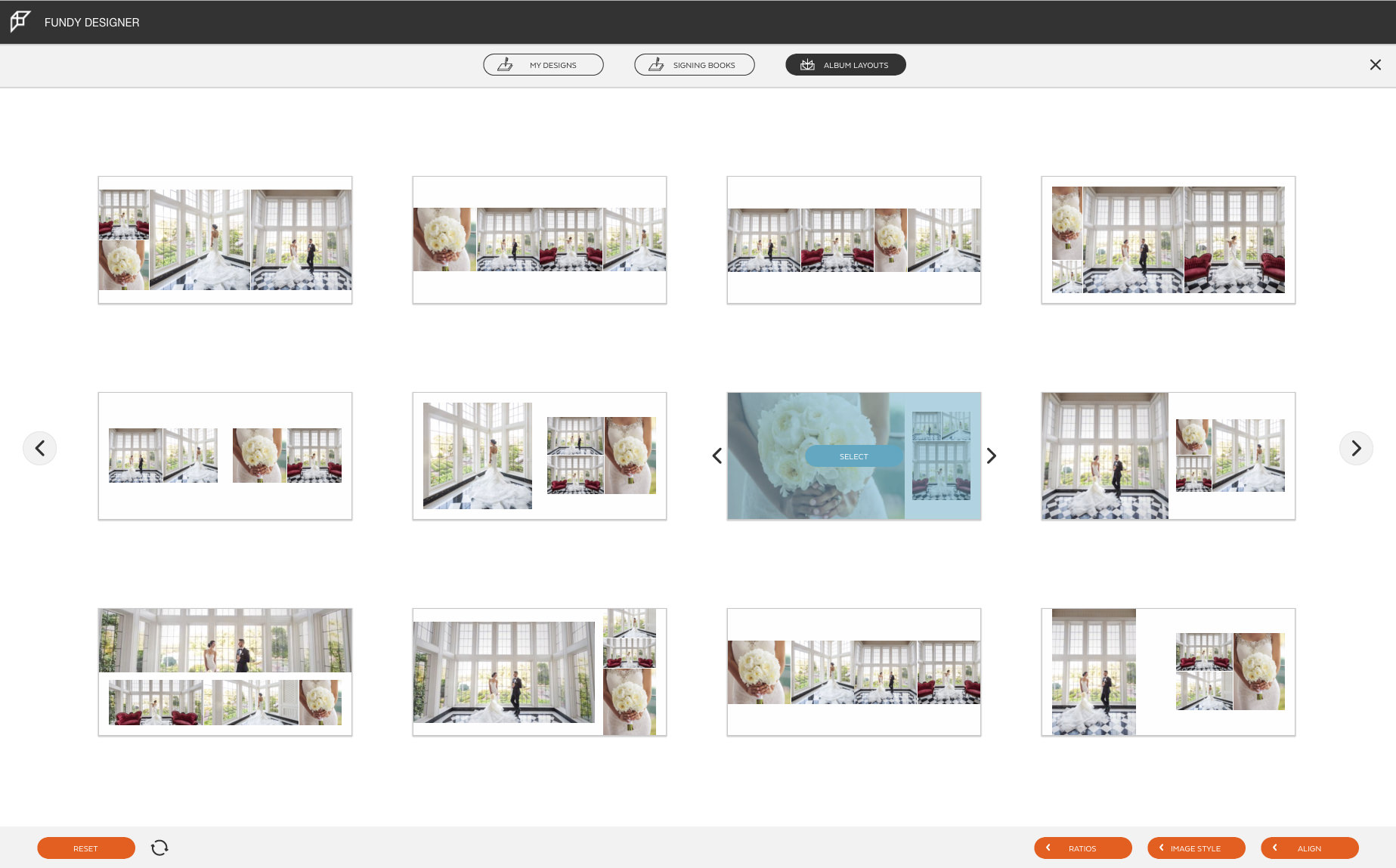 Newly redesigned Quick Design Picker with more than 100 new layout options based around your images. The world's only template-free album design software
Access 100s of new designs in the revamped Quick Design Picker®
gives you more than 150 new layout options at the tips of your fingers. Automatically choosing from millions of design combination and presenting you with only the best options to choose from.
Professional Image Browser and Organizer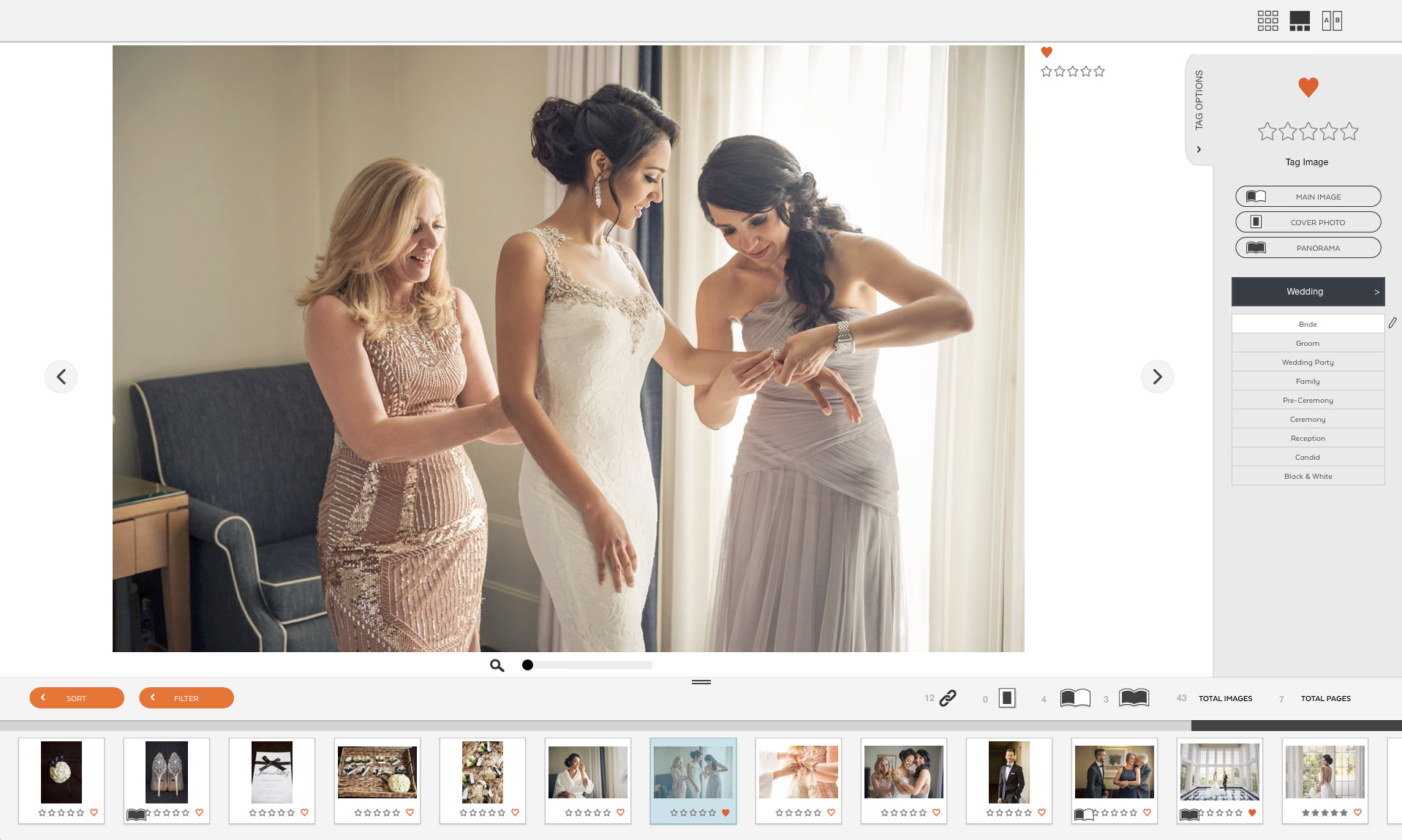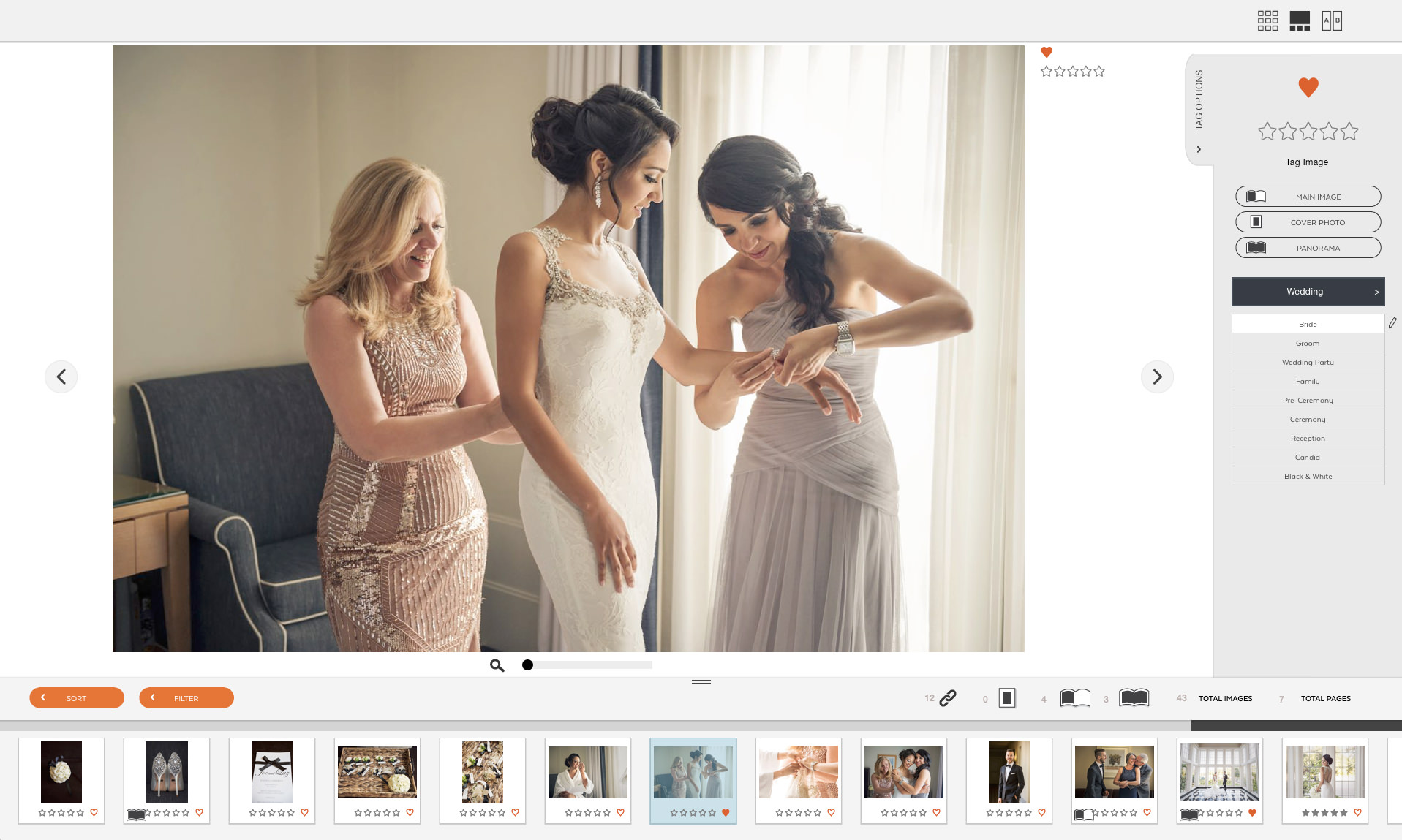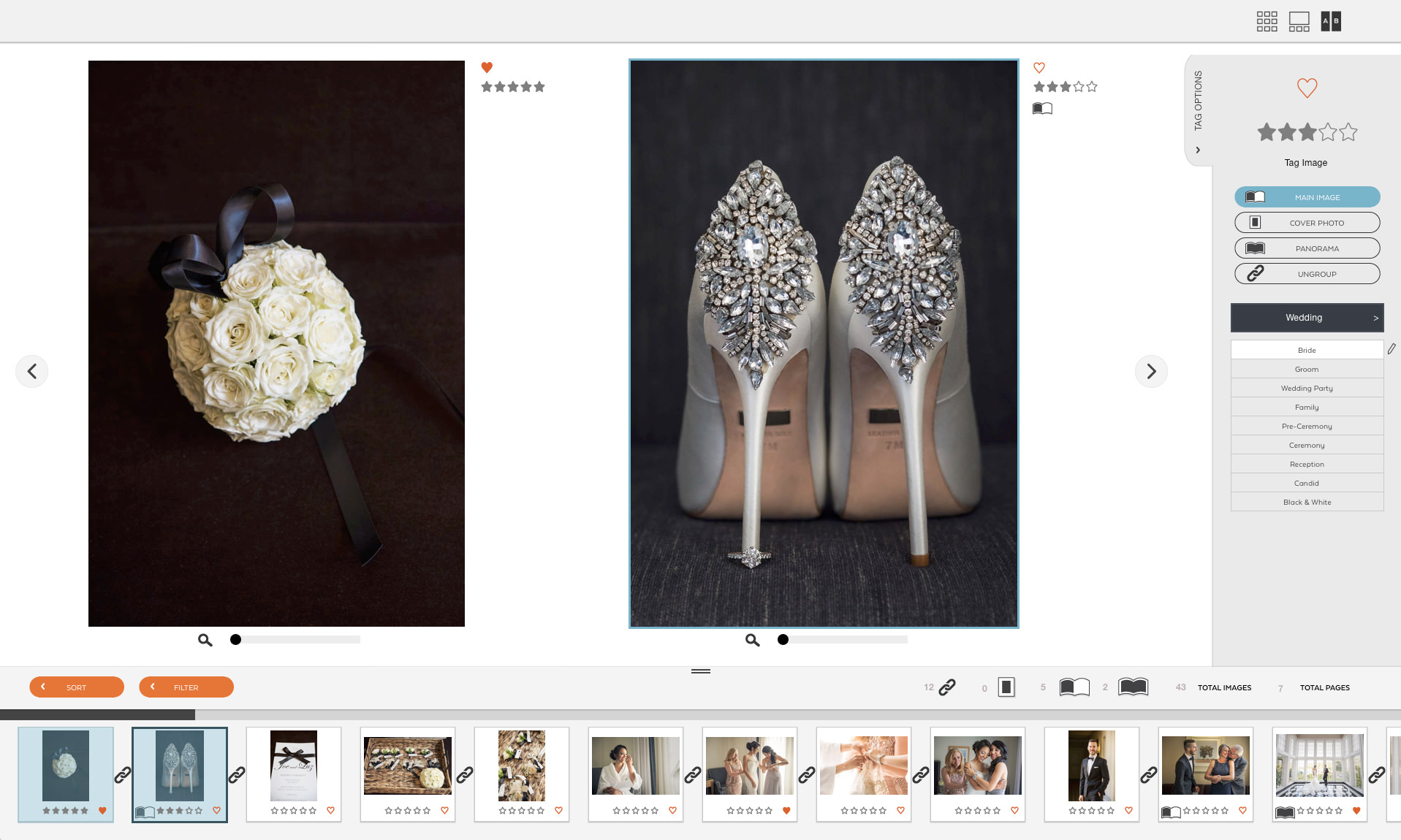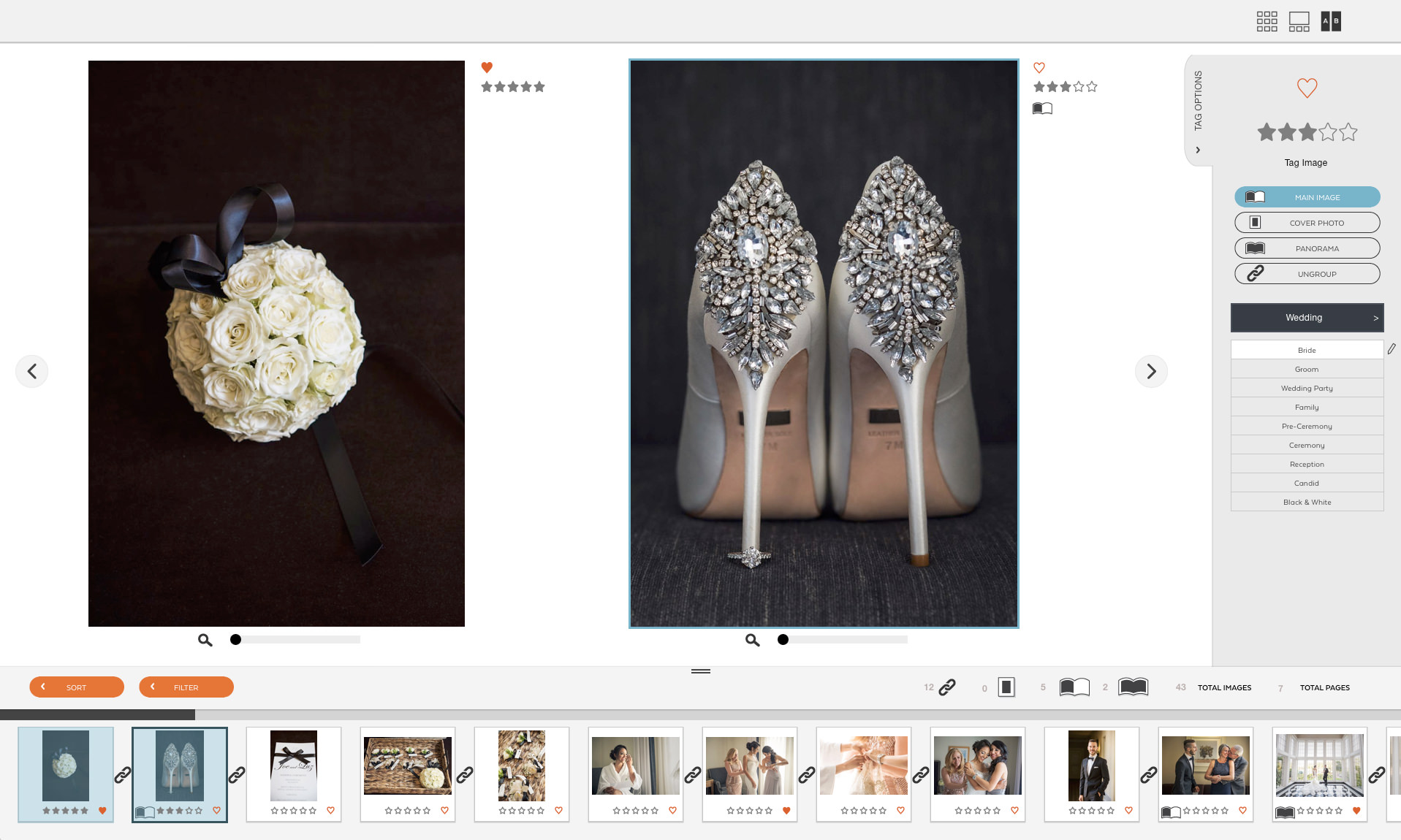 Unveiling the most powerful image browser in any photo design program. With a grid view, film strip view and a compare view, see the entire story of your
The only album design and In Person Sales program with a professional-grade browser.
shoot at anytime during the design process. Organize your photos by keyword categories and ratings in Fundy Designer or apply category tags in Lightroom, Photo Mechanic or Bridge and have those categories automatically imported into Fundy Designer.
The World's First Professional Auto Design Function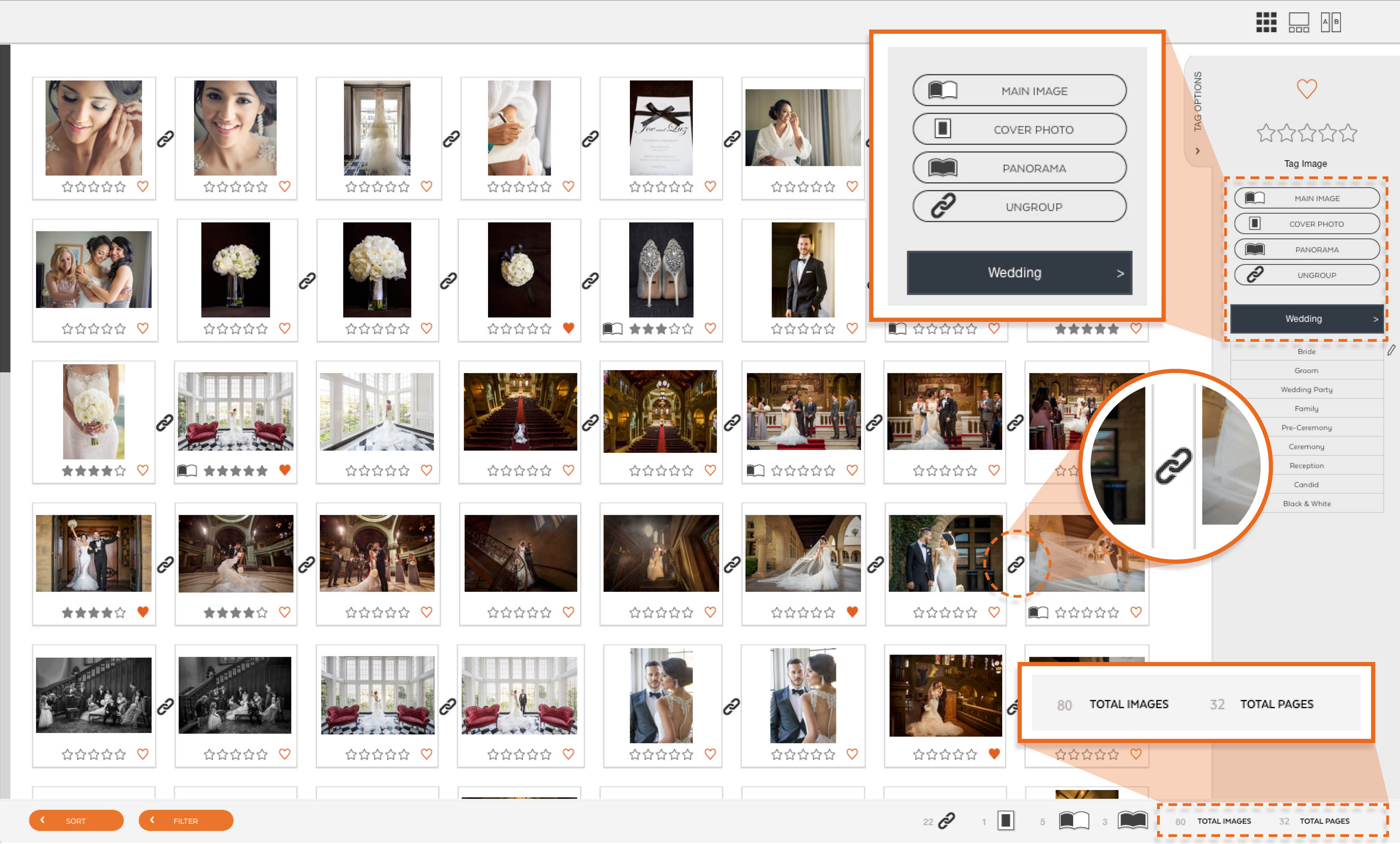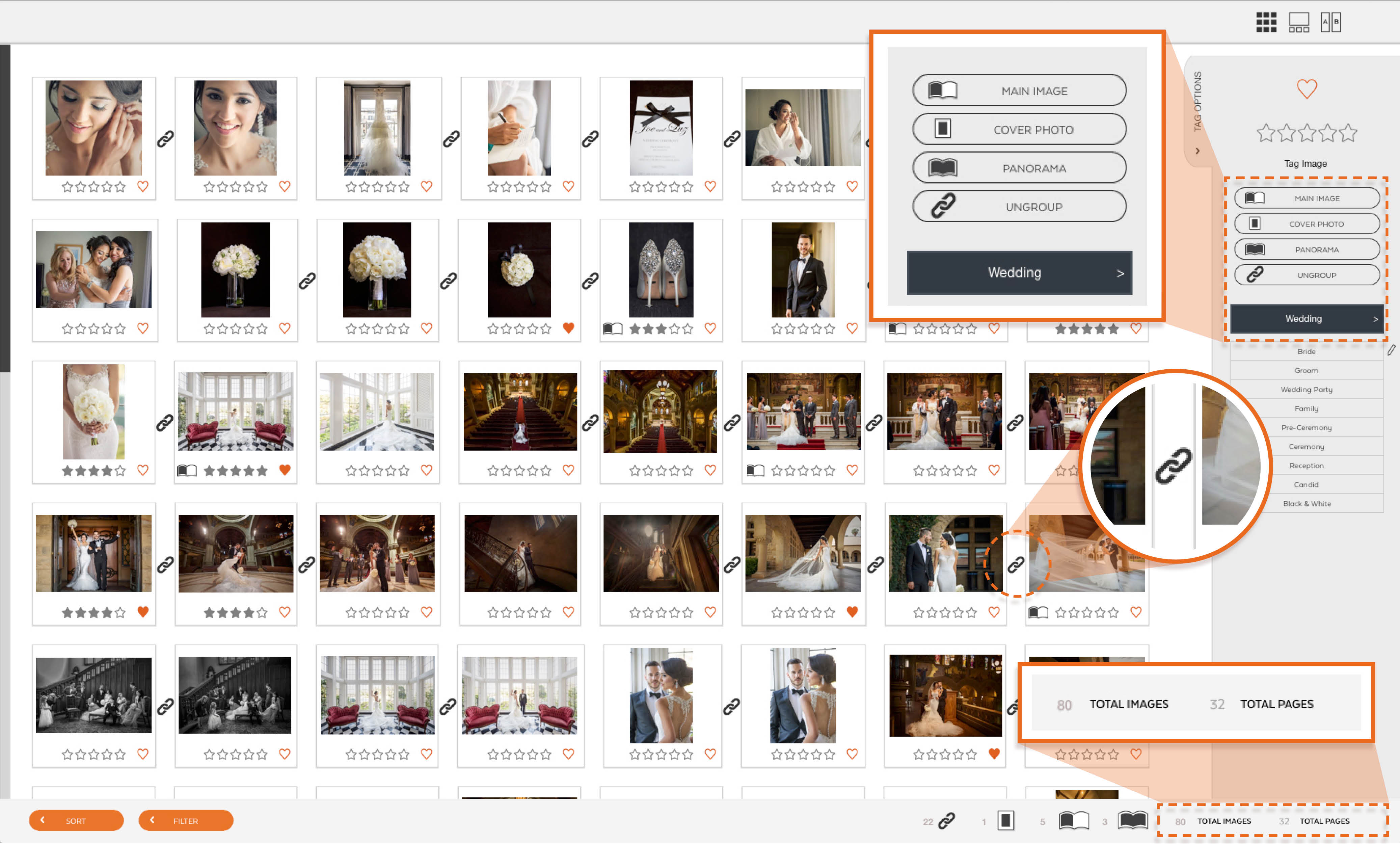 Fundy Designer v7, using its patented design technology, is the first photo design program that gives professional photographers an auto design feature
Auto Design for the discerning professional.
while maintaining professional control. Group and tag photos in a way that tells the story of the day. Choose how many pages to design and let Fundy Designer do the work for you. This new patent-pending auto design feature will please both those new to album design and the seasoned professional.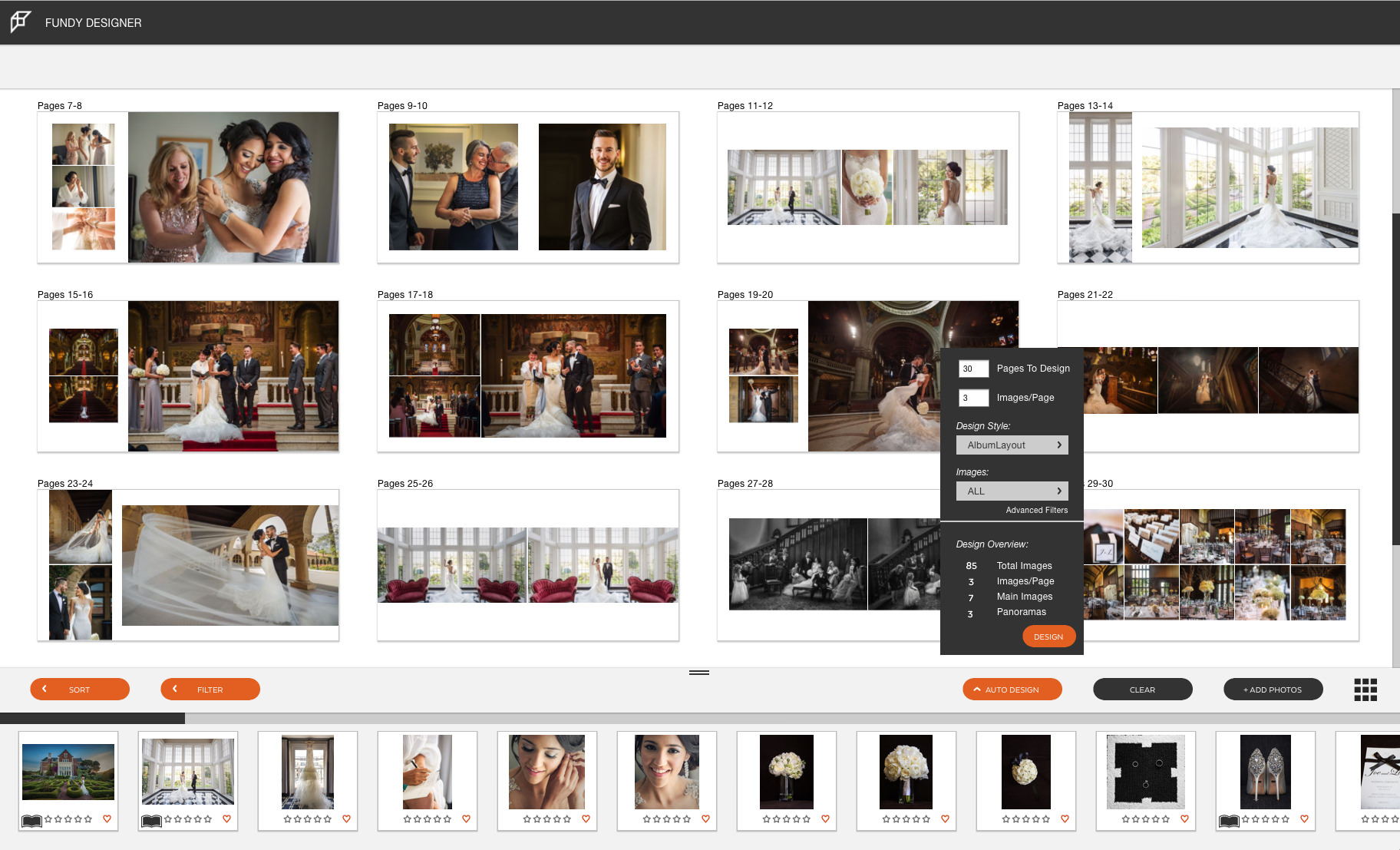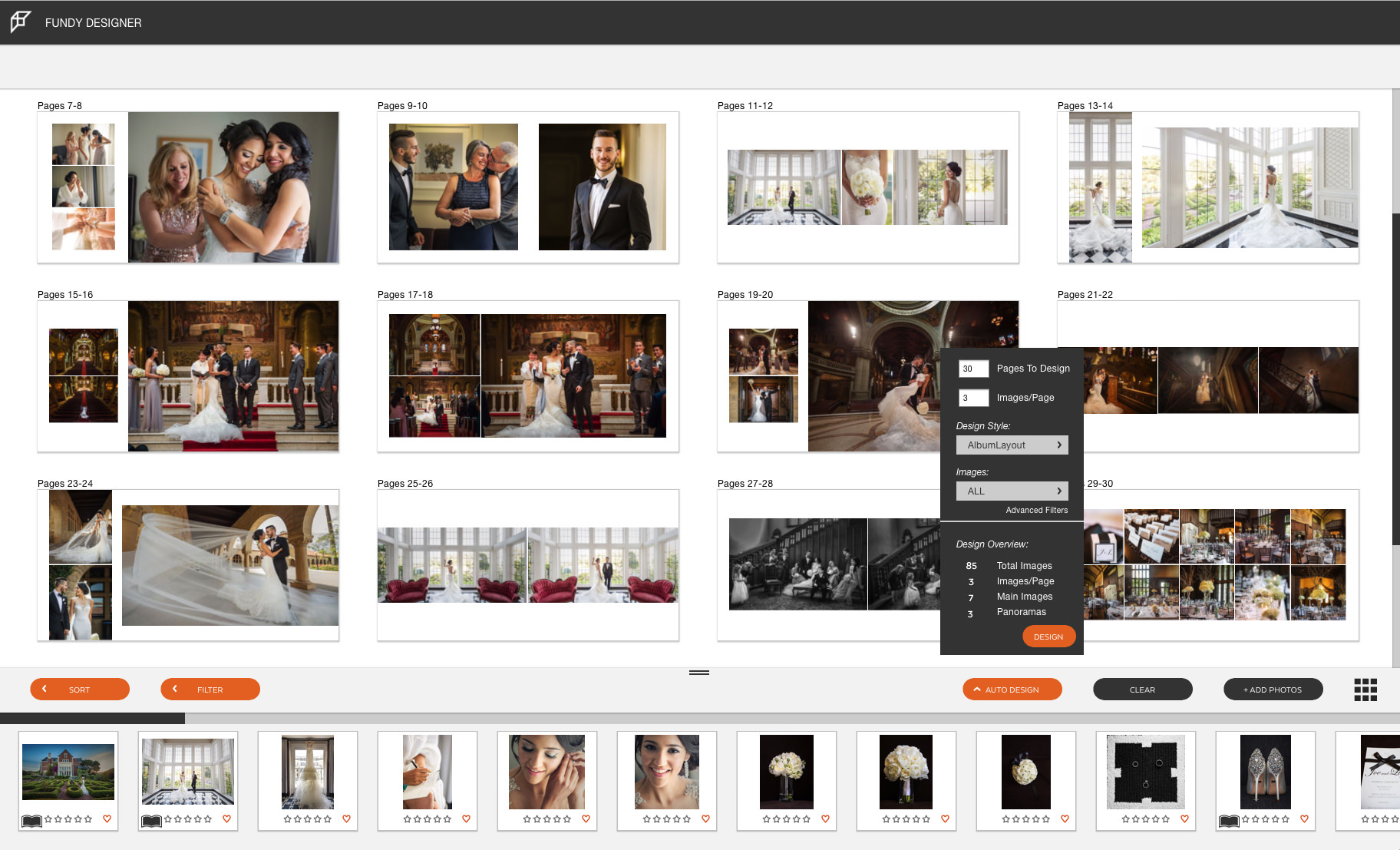 Availability and Upgrade Policy
Fundy Designer v7 will be available beginning May 3rd. It will be a FREE upgrade to anyone purchasing NOW or having purchased between July 15, 2015 and now. v6 owners not qualifying for a free upgrade will be offered special upgrade pricing in April. After April, Album Builder upgrade pricing will be $119 and if you are upgrading the entire Suite with Blog Collage and Image Brander, the price will be $139. (*all Gallery Designer owners will receive a free upgrade to v7 because it launched in November 2015).
Special Upgrade Sale Coming in April for Current v6 Users
VERY IMPORTANT – there seems to be some confusion with upgrade pricing.
   1. Any module you purchased after July 15, 2015 will get a free upgrade to v7 of that same module. 
   2. Any module purchased before that date will be required to purchase at special upgrade pricing. $119 will be the upgrade for Album Builder. $20 to upgrade Blog Collage and Image Brander. All Gallery Designer owners will get a free upgrade because it was just released. So the very most anyone will be looking at to upgrade their entire Suite will be $139. 
   3. In April, we will run a very special upgrade only sale and you will all be looking at under $100 to upgrade all of your products. We believe this is a fair balance between taking care of our customers and our business needs. 
Chatter about Fundy Designer
• April 19, 2016 – SLR Lounge: "Make a Professional Wedding Album in Minutes with Fundy's New Album Designer 7.0"
• April 8, 2016 – Resource Weddings: "Fundy Drops a Bombshell for Album Designs"
• March 5, 2016 – SLR Lounge: "Fundy Announces New v7, Highlighting New Professional Auto Album Designer"
• March 5, 2016 – Rangefinder Magazine: "Fundy Launches Fundy Designer 7.0 with a Need for Speed"