To help make your Black Friday shopping easier this year, we've gathered some of the best and biggest deals happening all over the industry. From printed products to software, you'll find all the best deals from our friends below!
Ready to purchase the Fundy Suite or upgrade your software? Don't miss out on our best deal of the year!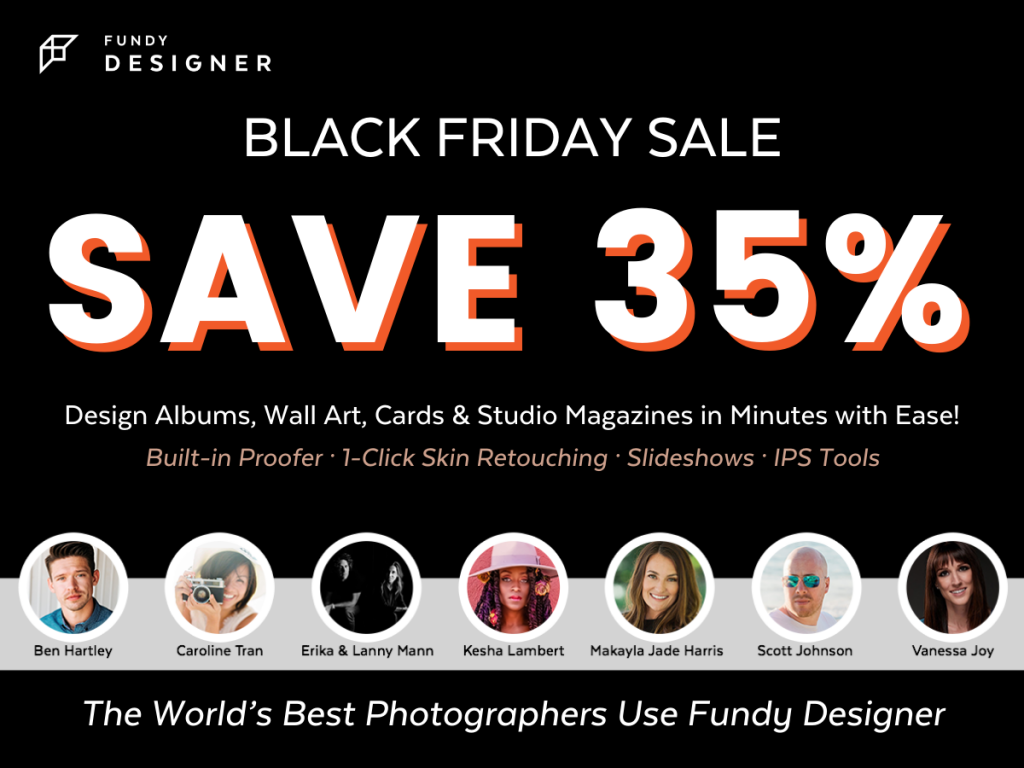 ---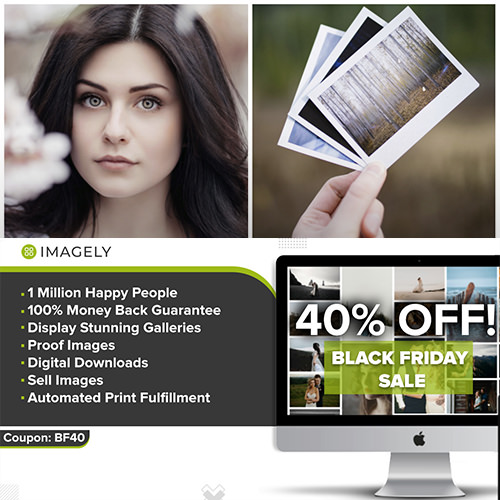 Save 40% off all Imagely Plans with the coupon code: BF40
*Offer good through November 1- December 3, 2021
---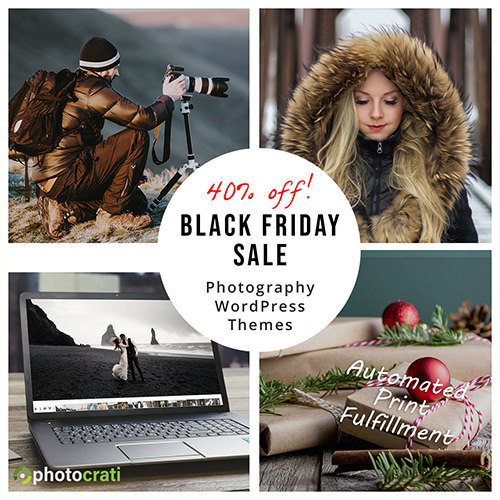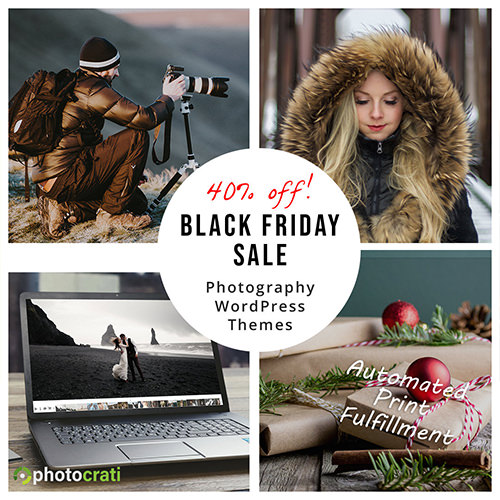 Save 40% off all Photocrati Plans with the coupon code: BF40
*Offer good through November 1- December 3, 2021
---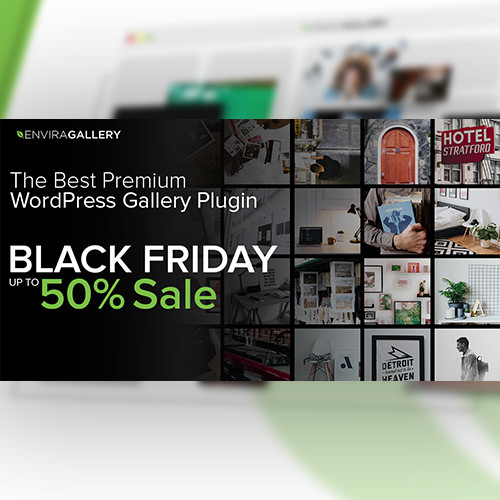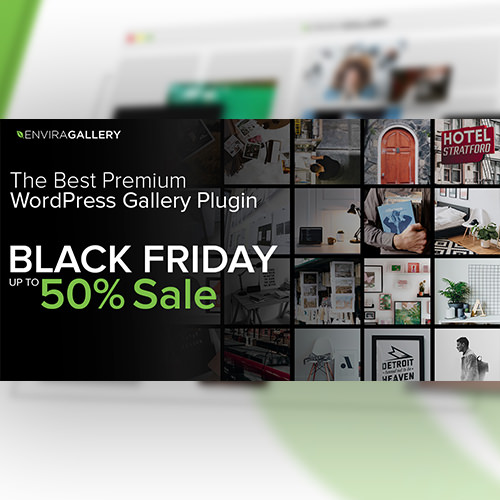 Save up to 50% off Envira Gallery plans.
*Offer good through November 1- December 3, 2021
---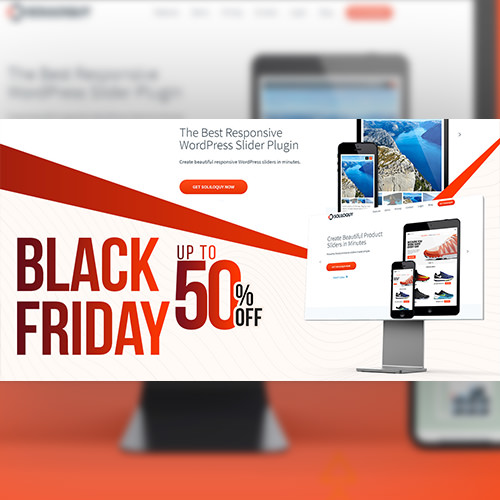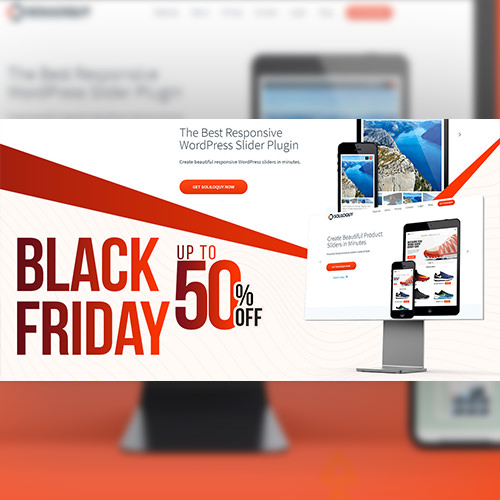 Save up to 50% off Soliloquy plans.
*Offer good through November 1- December 3, 2021
---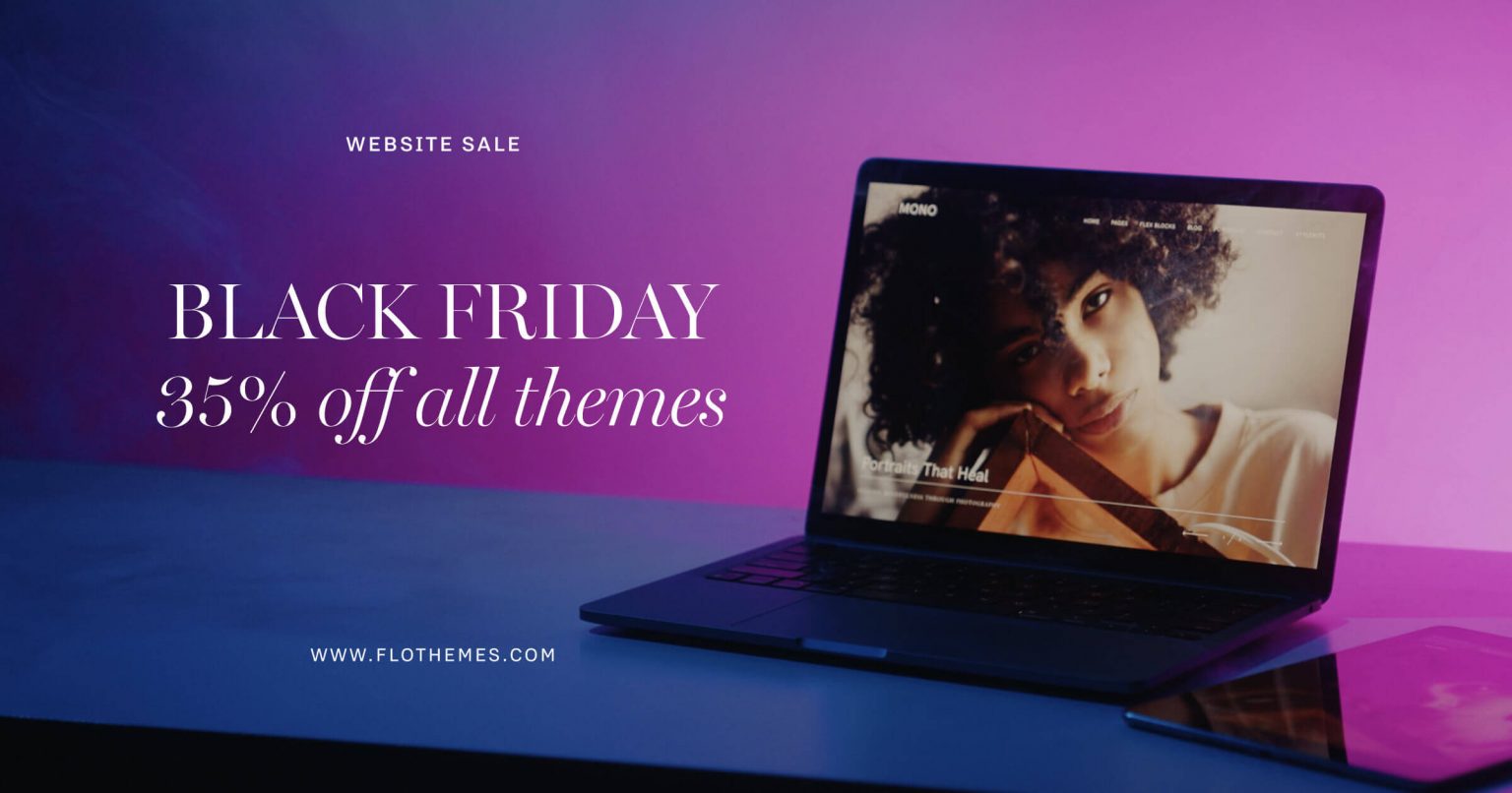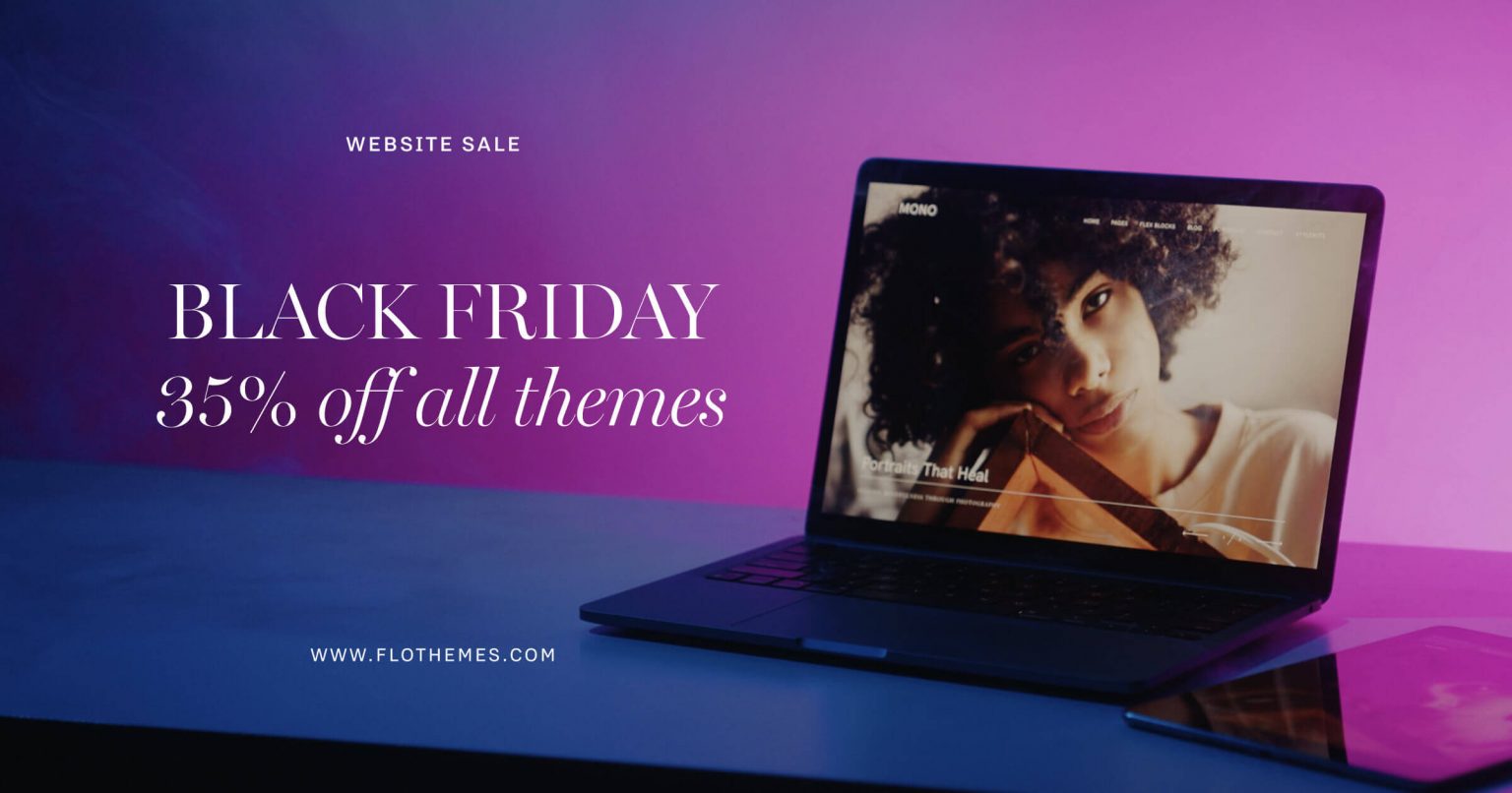 Flothemes are premium, fully customizable WordPress website designs for photographers, videographers and other creative business owners. Powered by Flex, a visual drag & drop design editor, these website templates allow you to personalize just about anything inside your layout. Add your own branding, upload images, videos, gifs, animate elements, tweak the colors and fonts. You are in full control over how your website looks. No code skills required.
Deal: 35% off all website themes. Up to $279 off when you get a setup service with your theme
Code: BLACKFRIDAY
Link to Shop: flothemes.com/black-friday-deal
Sale Dates: 22 – 28th November
---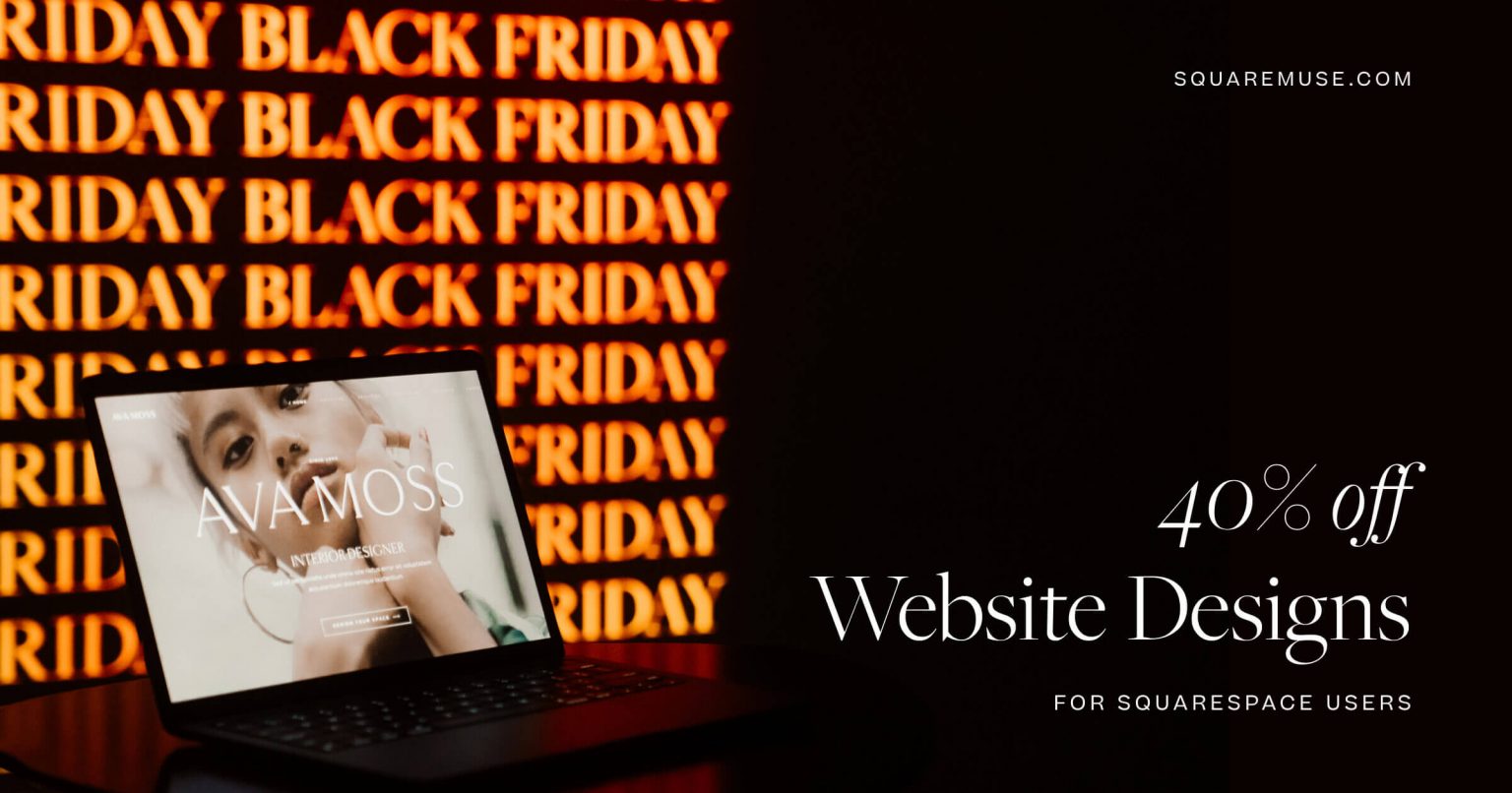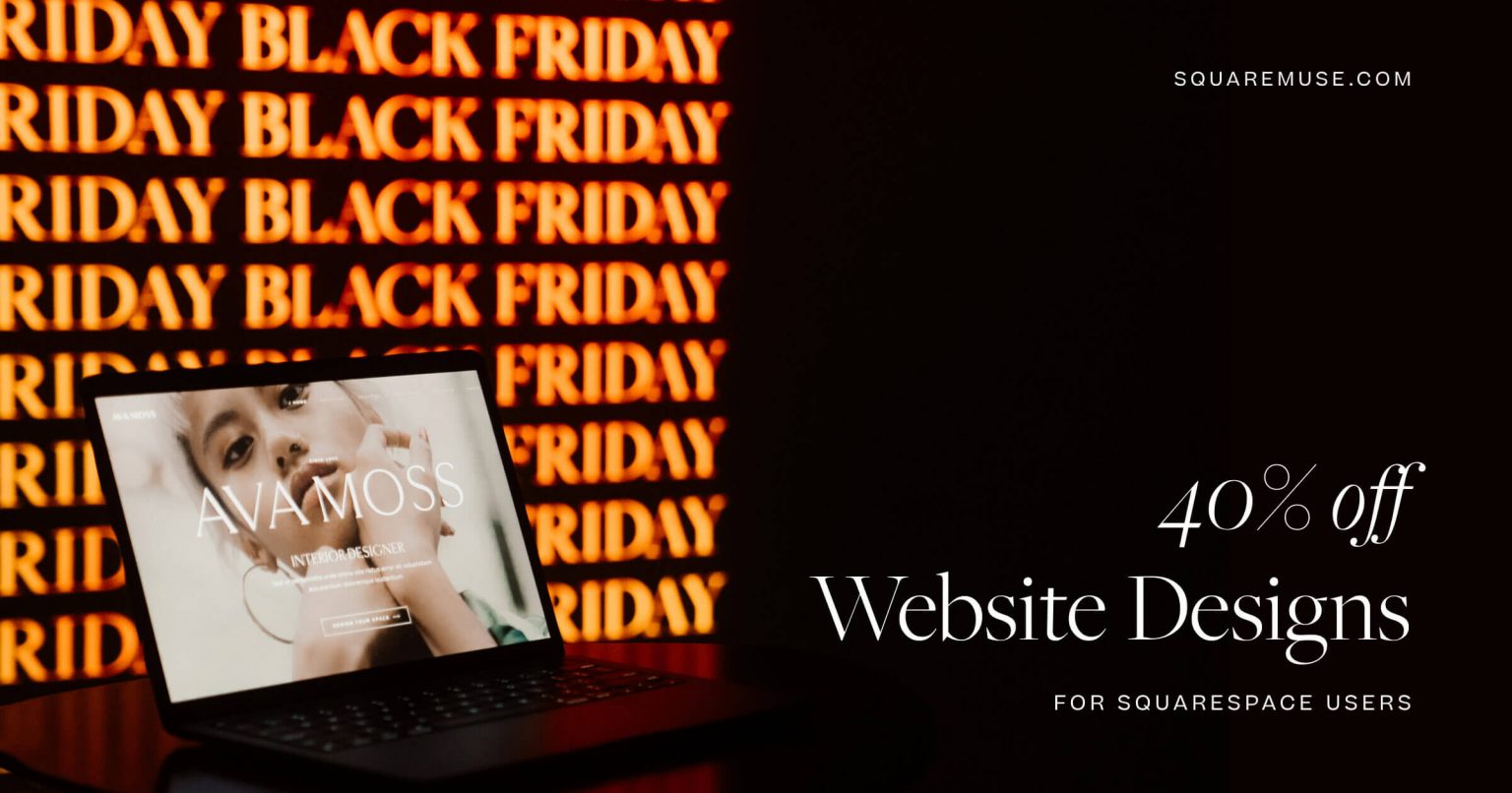 Squaremuse offers premium website designs for creatives who use Squarespace as their website platform. These layouts are guaranteed to turn your website into the star of the show, attract dream clients, give your visitors a remarkable browsing experience and sell the heck out of your work. Whether you're looking for a full website template, a sales page add-ons, or single custom blocks and sections – the selection of Squarespace 7.1 and 7.1 designs is huge.
Deal: up to 40% off Design Kits, Sales Pages, and Custom Elements for Squarespace 7.1 & 7.0
Code:
40% off website design kits for Squarespace 7.1 & 7.0 – code: FRIDAY40,
35% off Sales Pages & Pricing Kits for Squarespace 7.1 & 7.0 – code: FRIDAY35,
25% off Custom Elements – code: FRIDAY25
Link to Shop: squaremuse.com/deals
Sale Dates: 17 – 28th November
---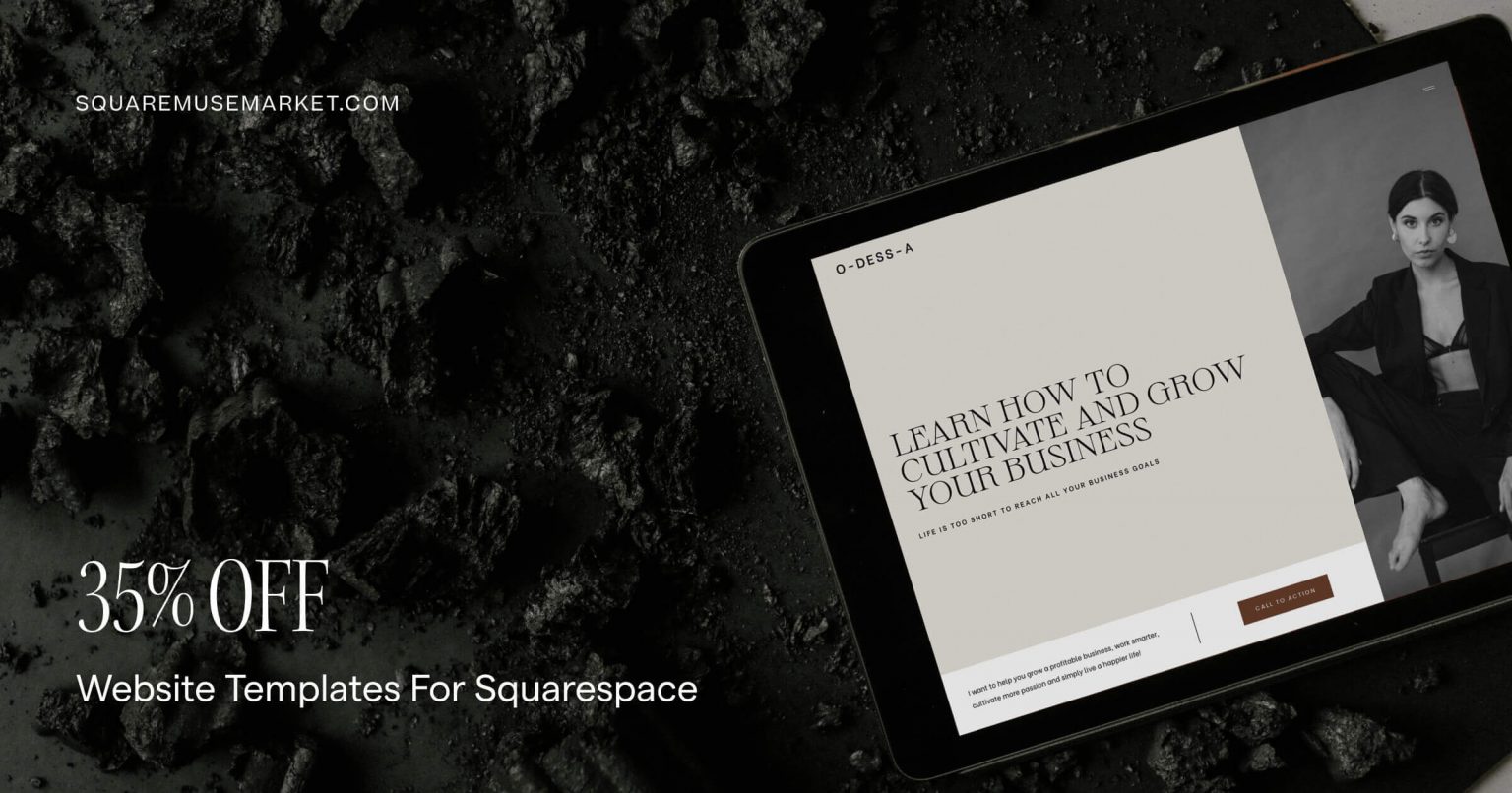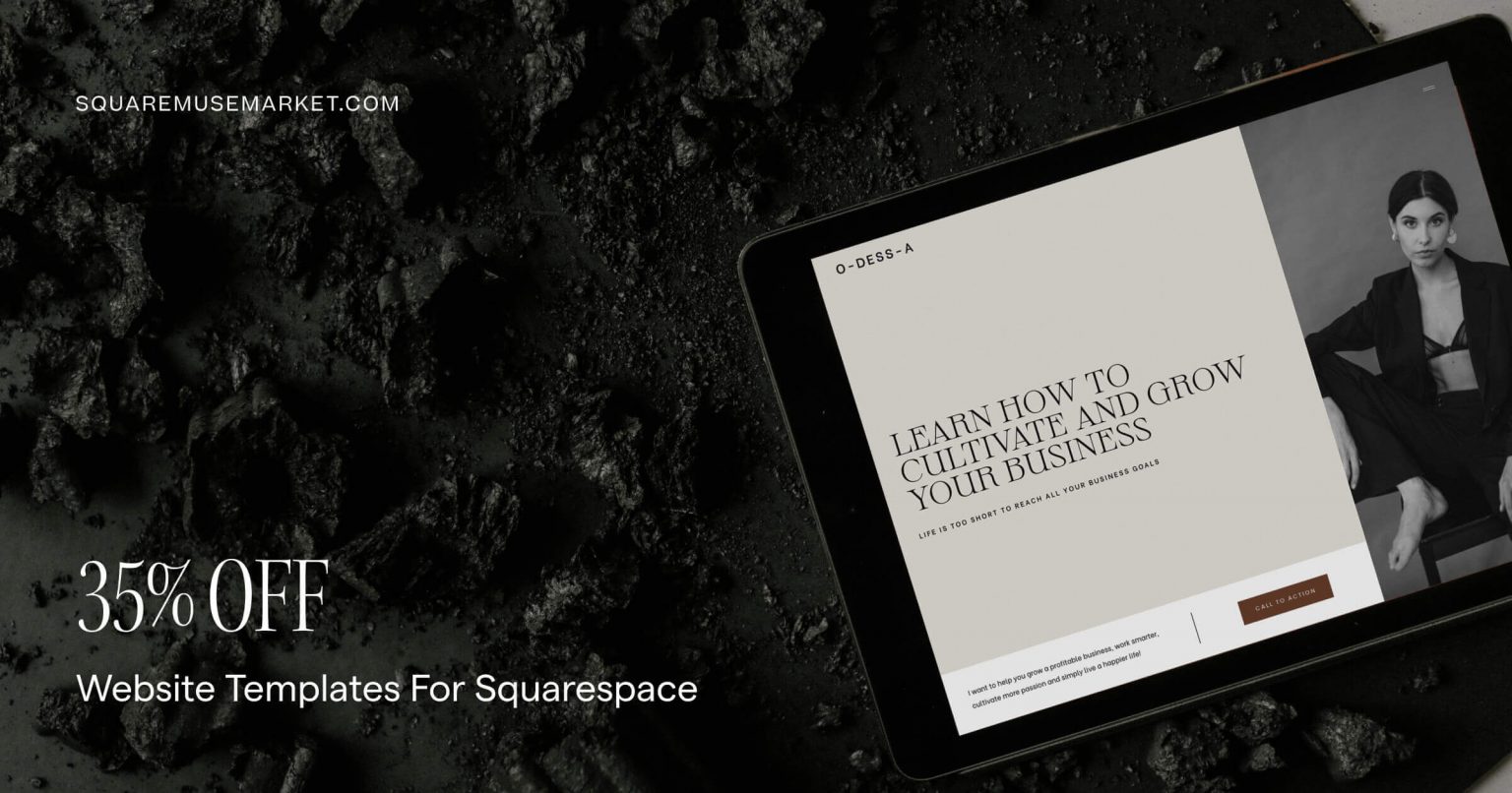 Squaremuse Market is an exclusive collaboration with talented designers, on a mission to empower creatives and small businesses with the tools that will help them achieve an outstanding online presence. When you purchase one of the beautiful and functional website templates for Squarespace, you also support the designer directly.
Deal: 35% off sitewide
Code: BLACKFRIDAY
Link to Shop: squaremusemarket.com/templates
Sale Dates: 17 – 28th November
---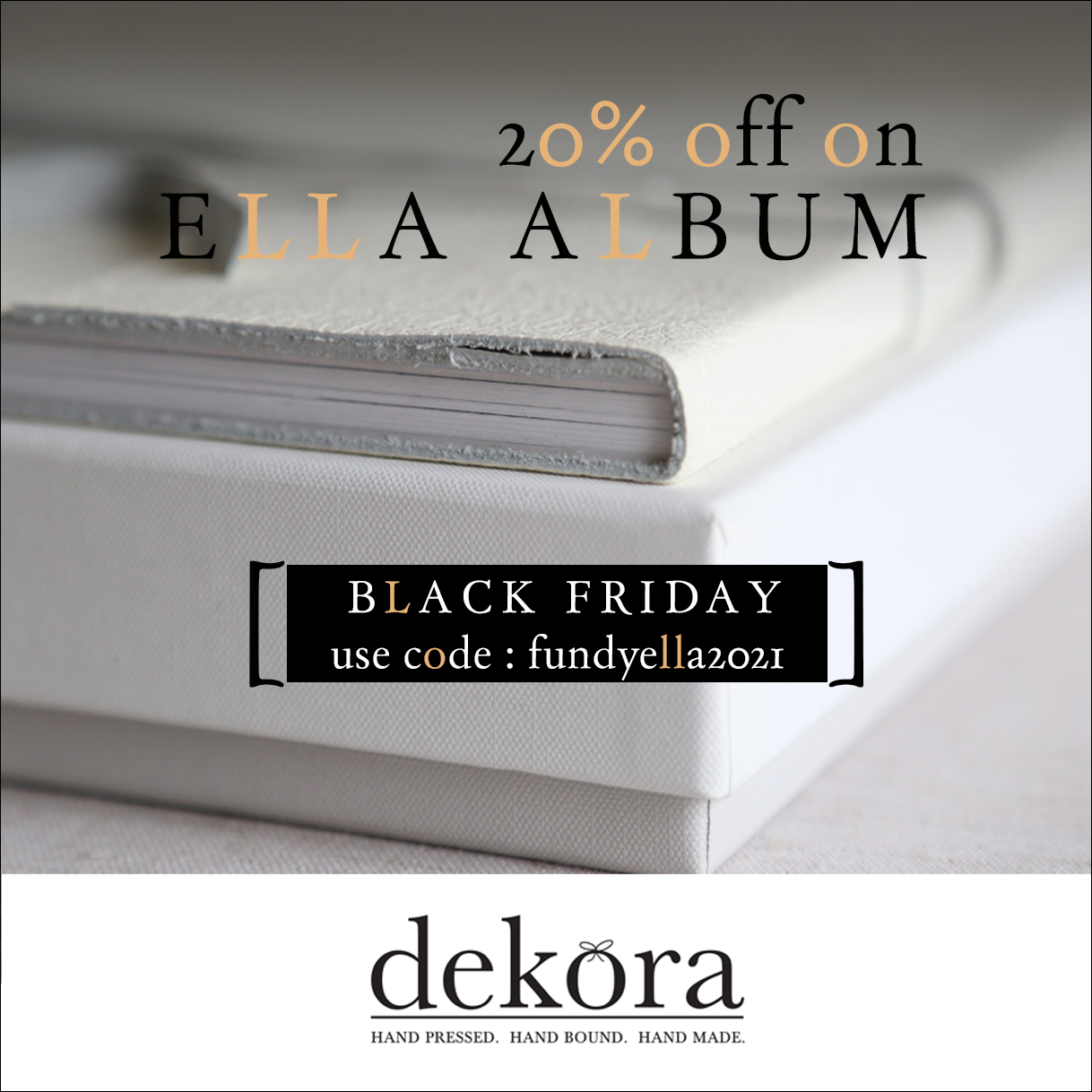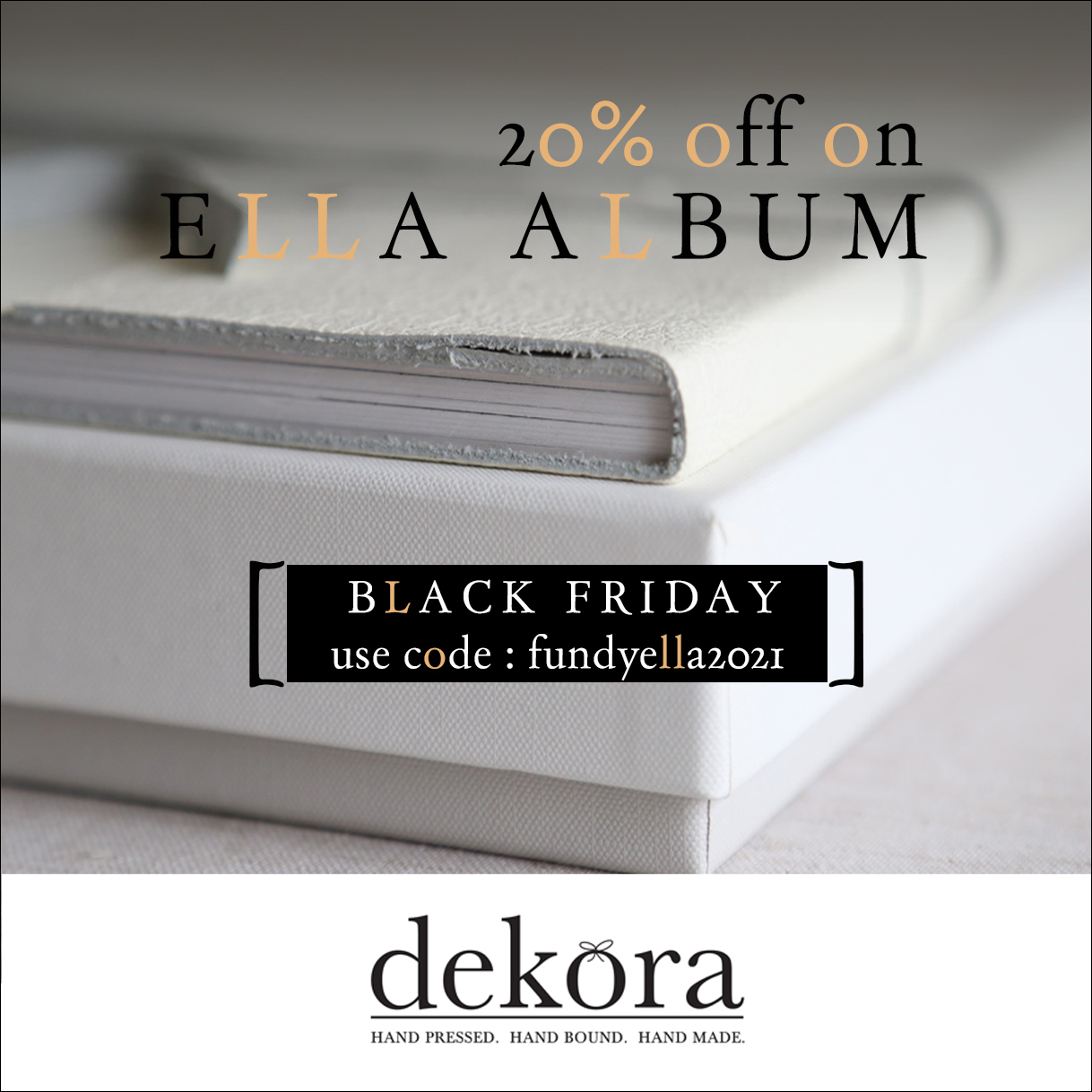 Get 20% off the beautiful ELLA ALBUM!! An elegant journal style album featuring a genuine leather wrapped cover & tie and stunning fine art printed pages.
Code: fundyella2021
Sale Dates: November 26th – 29th, 2021
---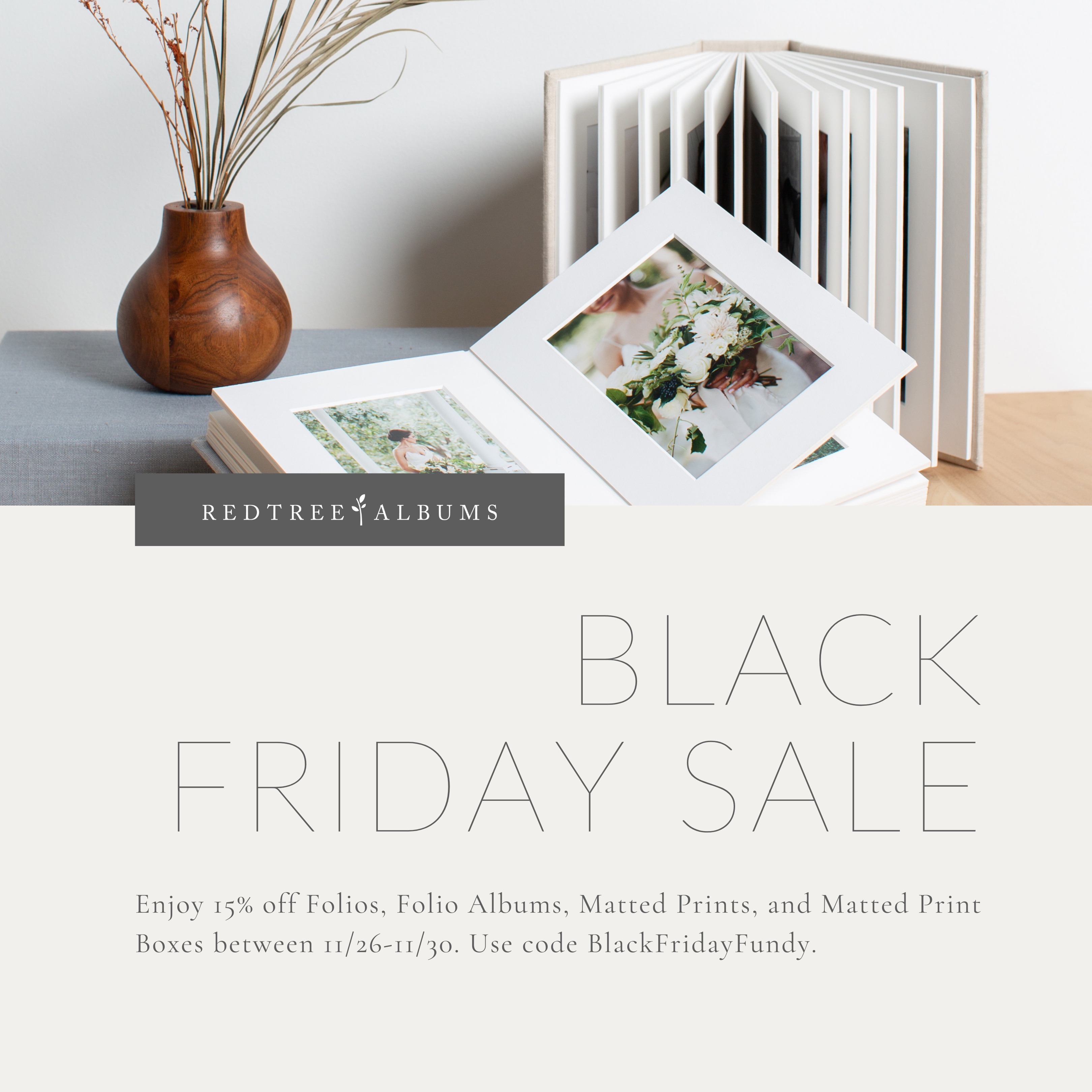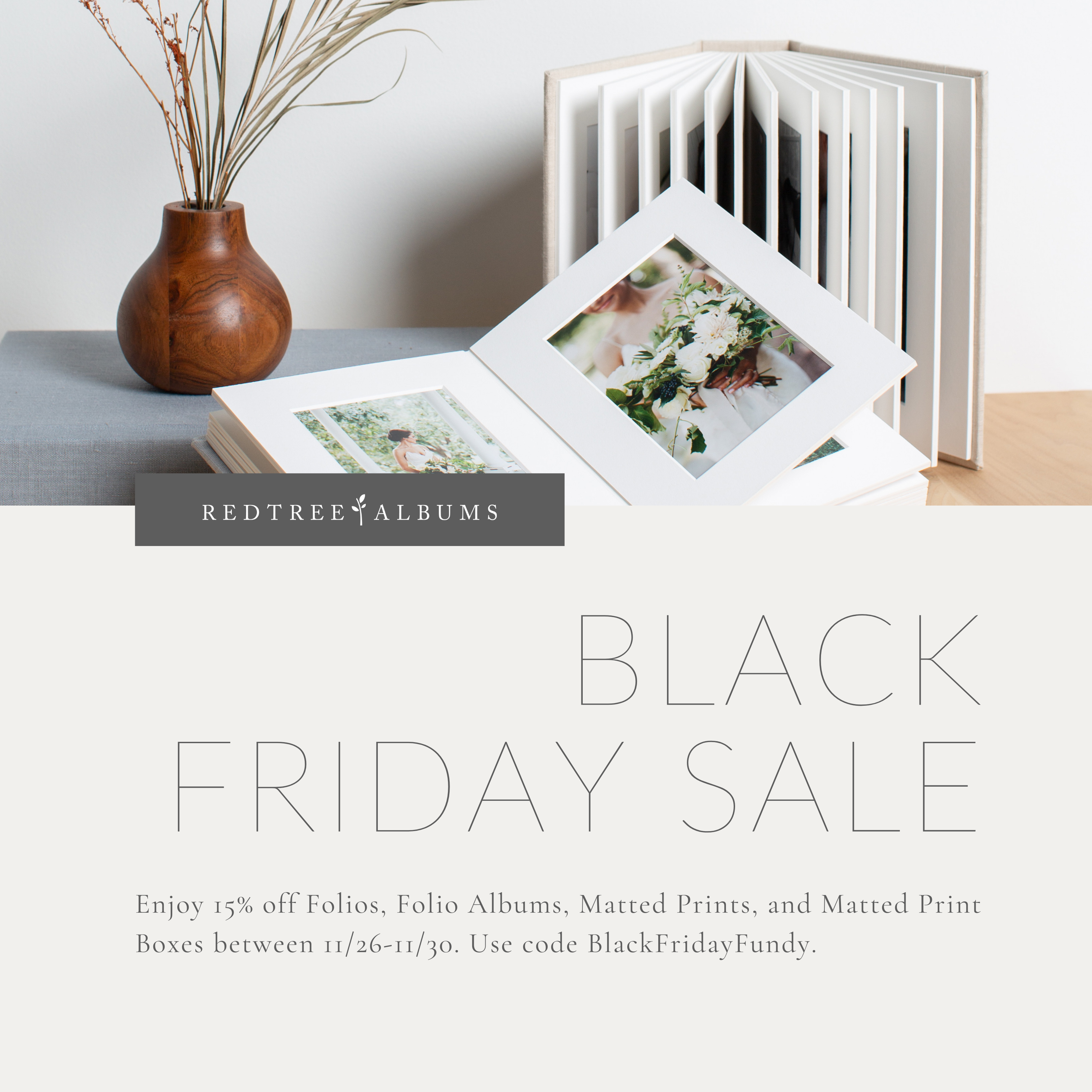 You can enjoy 15% off Folios, Folio Albums, Matted Prints, and Matted Print Boxes from Redtree Albums between 11/26-11/30.
Use code BlackFridayFundy
---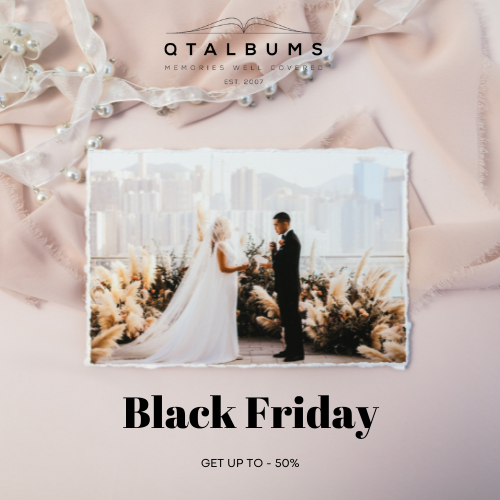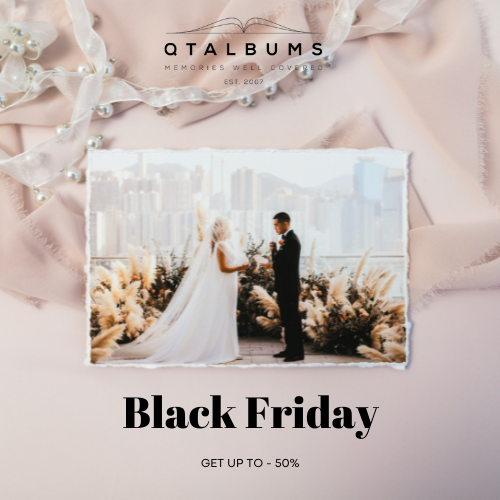 QtAlbums is a small bindery located in the heart of Europe. We are in love with fine art photography and we believe in making timeless heirlooms which will last for decades.
Black Friday Deal: Buy up to 3 coupon codes to be used in 2022 and get 50% more! We offer three coupon types: PAY 50 GET 75 (€/$) , PAY 100 GET 150 (€/$) , PAY 250 GET 375 (€/$). Purchase Limit: 1 of each type, up to 3 codes total, for use on 3 separate orders in 2022.
Sale Dates: November 26 – 29, 2021
---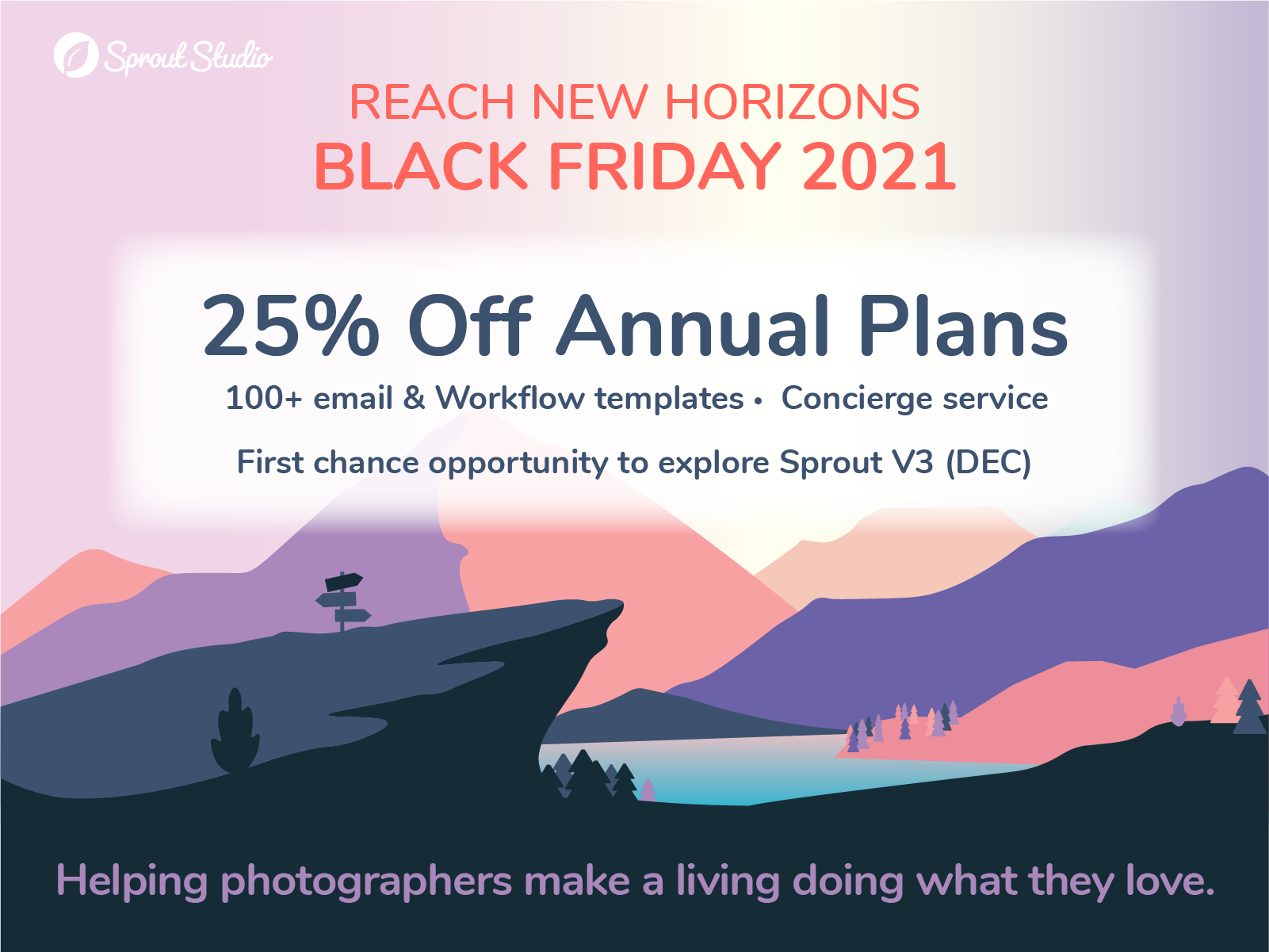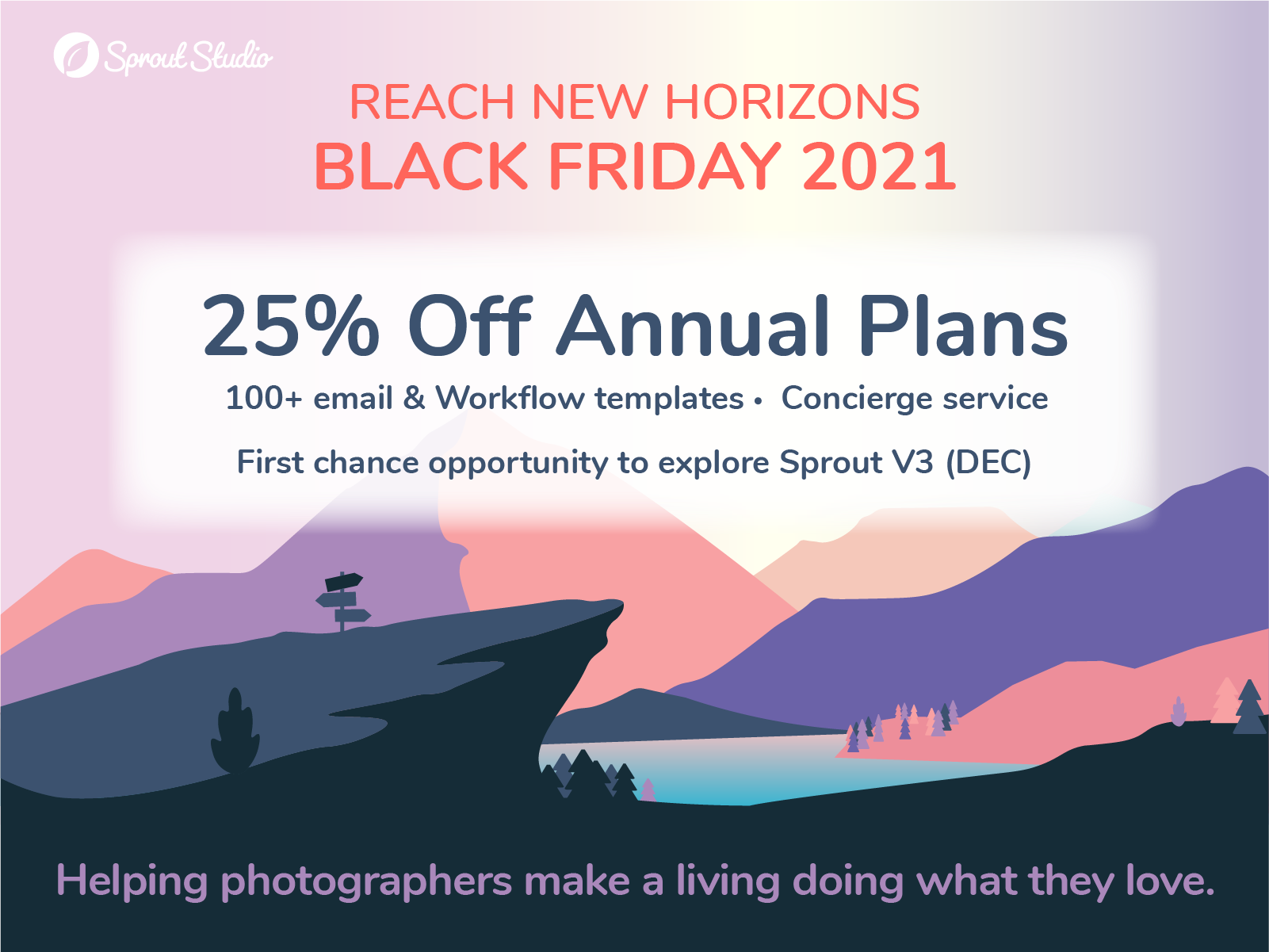 Sprout Studio is a Studio Management Suite, intuitively designed for photographers by photographers. We help 1000s of entrepreneurs like you streamline their business and make more money every year.
Black Friday Deal:
-Our biggest deal of the year! 25% off annual plans!
-Tons of free exclusive resources, including 100+ email and workflow templates
-Our new concierge service, which will migrate your first 100 clients
-A first-chance opportunity to explore our updated software, v3, coming in December!
Ready to take your photography business to new heights? Get the deal, here!
---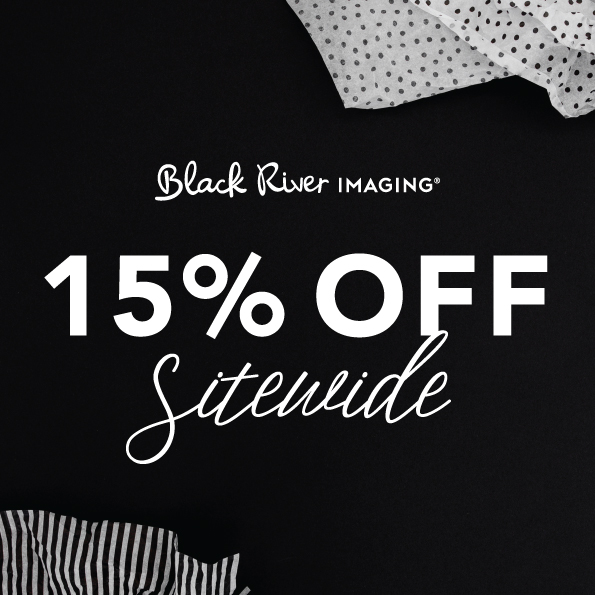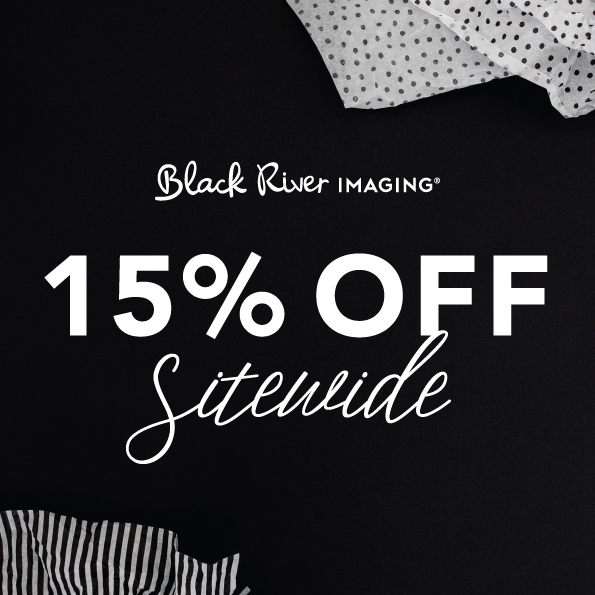 Save 15% Off Sitewide at Black River Imaging including frames and metal prints, albums, books, cards & more. Promo code 11SITE21. BRI is a full-service lab serving professional photographers and designers for nearly 50 years.
Offer: 15% Off Sitewide on all products. Promo code 11SITE21.
Sale Dates: November 26-29, 2021
---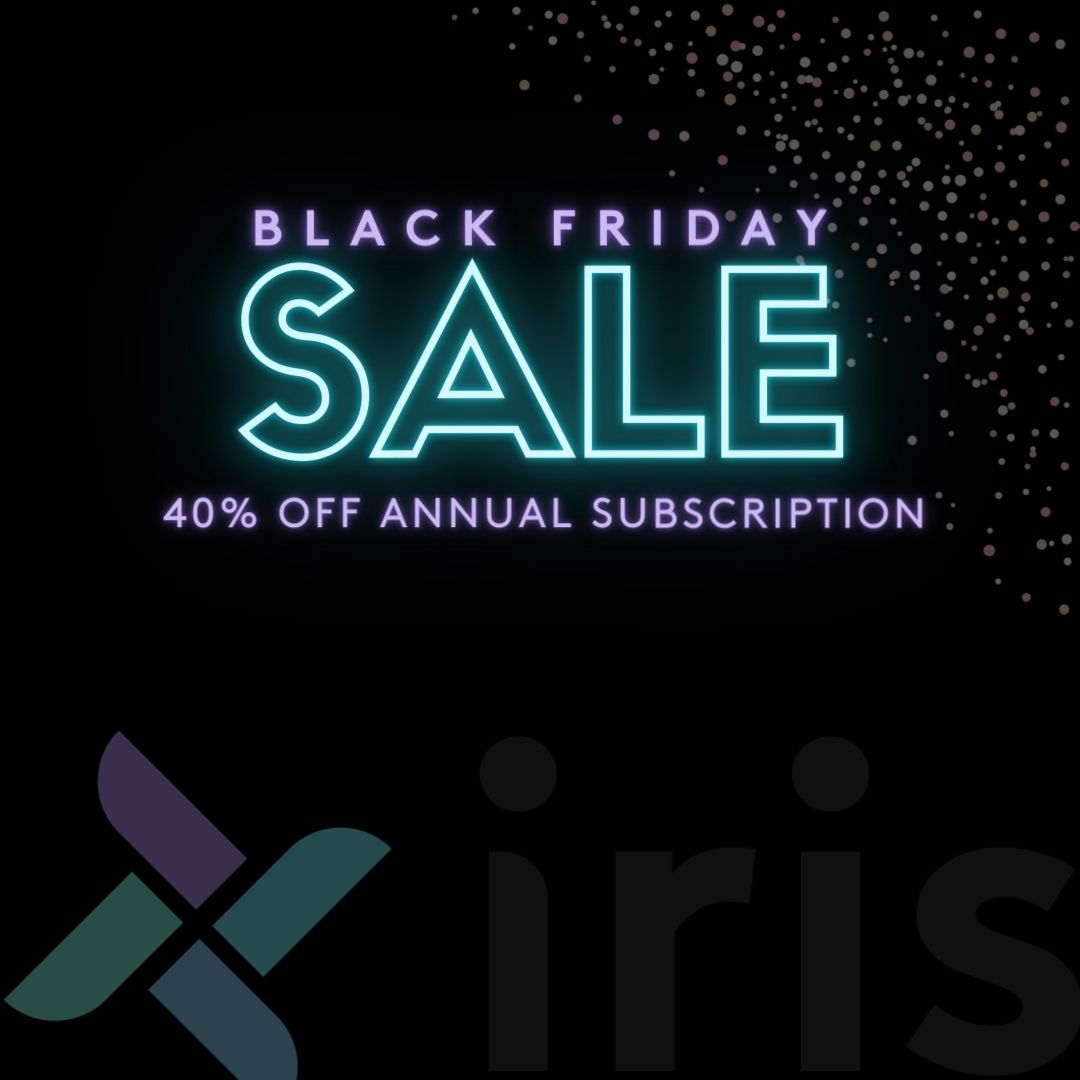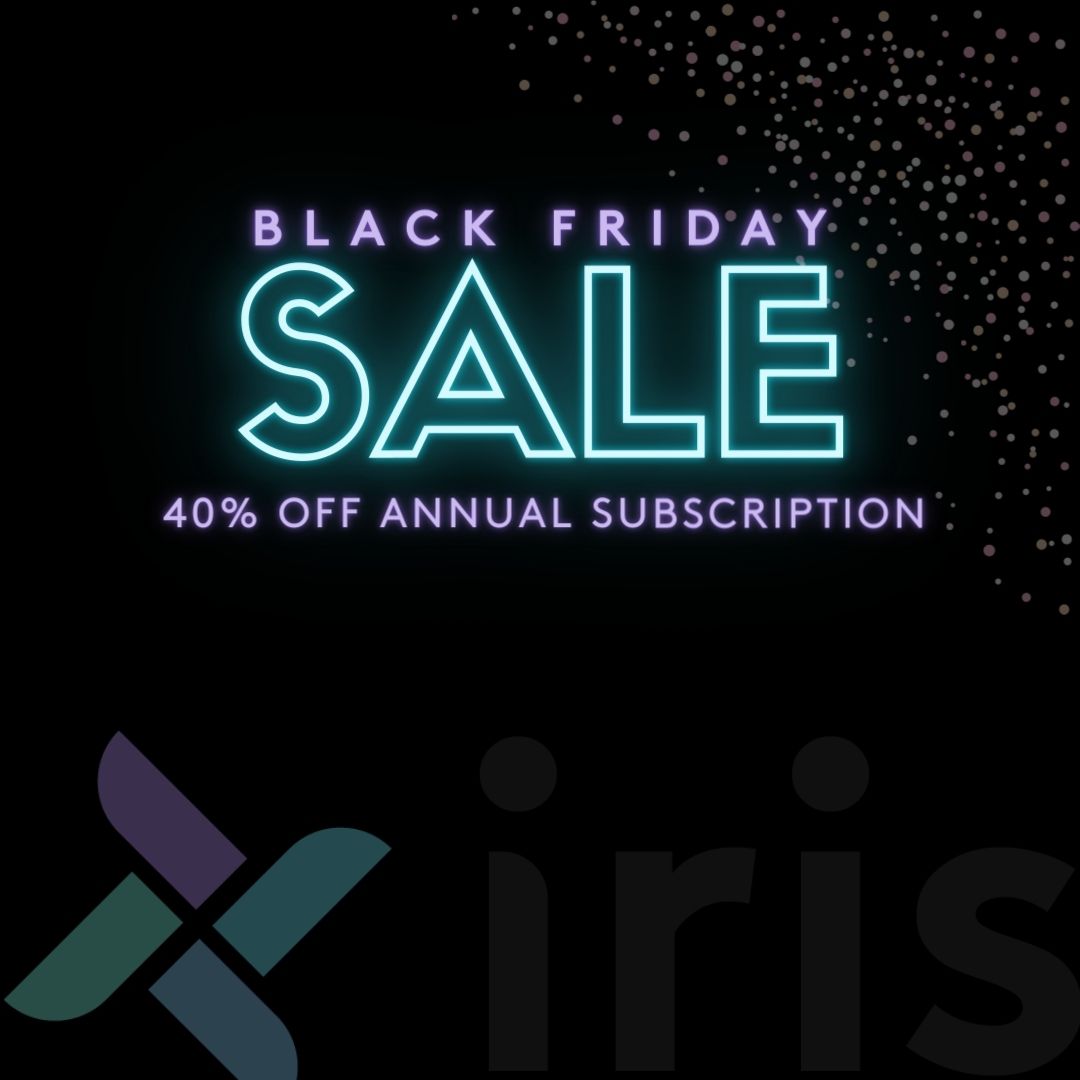 Do you need an office assistant to do your administrative tasks so you can focus on your what you do best? Let Iris be your virtual office assistant. Our software automates your emails, questionnaires, contracts, booking and more so you can focus on photography. Get organized, save time, and book more photography clients with Iris Works.
Use code 2021BlackFriday to get 40% off an annual subscription!⁠

*Offer valid for new annual subscriptions only, for the first year. Once your subscription starts, you cannot receive a refund for any payments already made. Offer valid November 12, 2021 through November 29, 2021 at 11:59 pm EST.
---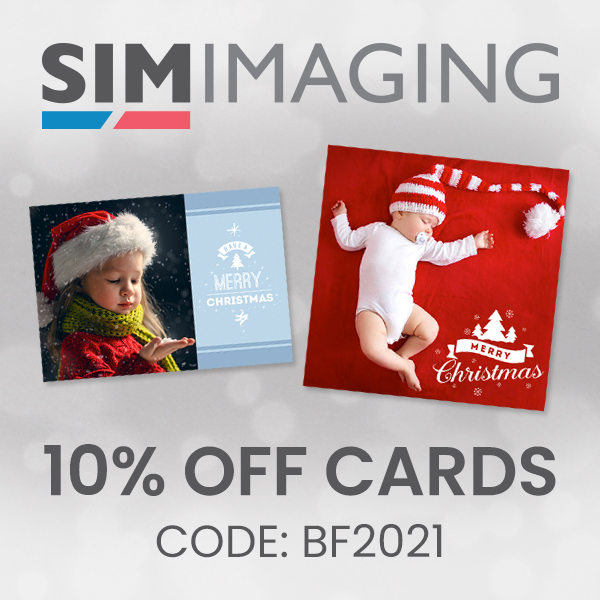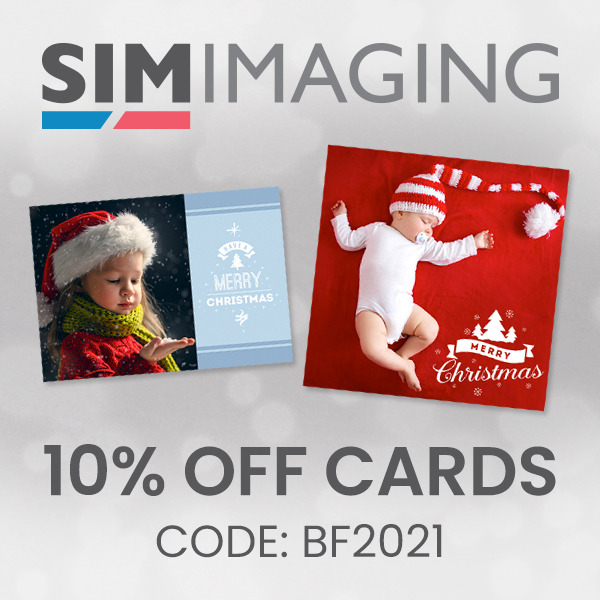 10% Off Cards From SIM Imaging
Order your personalised Christmas cards or thank you cards from SIM Imaging and get 10% off until the 30th of November 2021. Choose from 5 beautiful paper options & design your cards using SIM's quick quick & easy online templates. Based in Hertfordshire in the UK, SIM Imaging specialises in personalised photo products designed for professional photographers. Order online now with the code BF2021
Valid from 1st November – 30th November 2021
---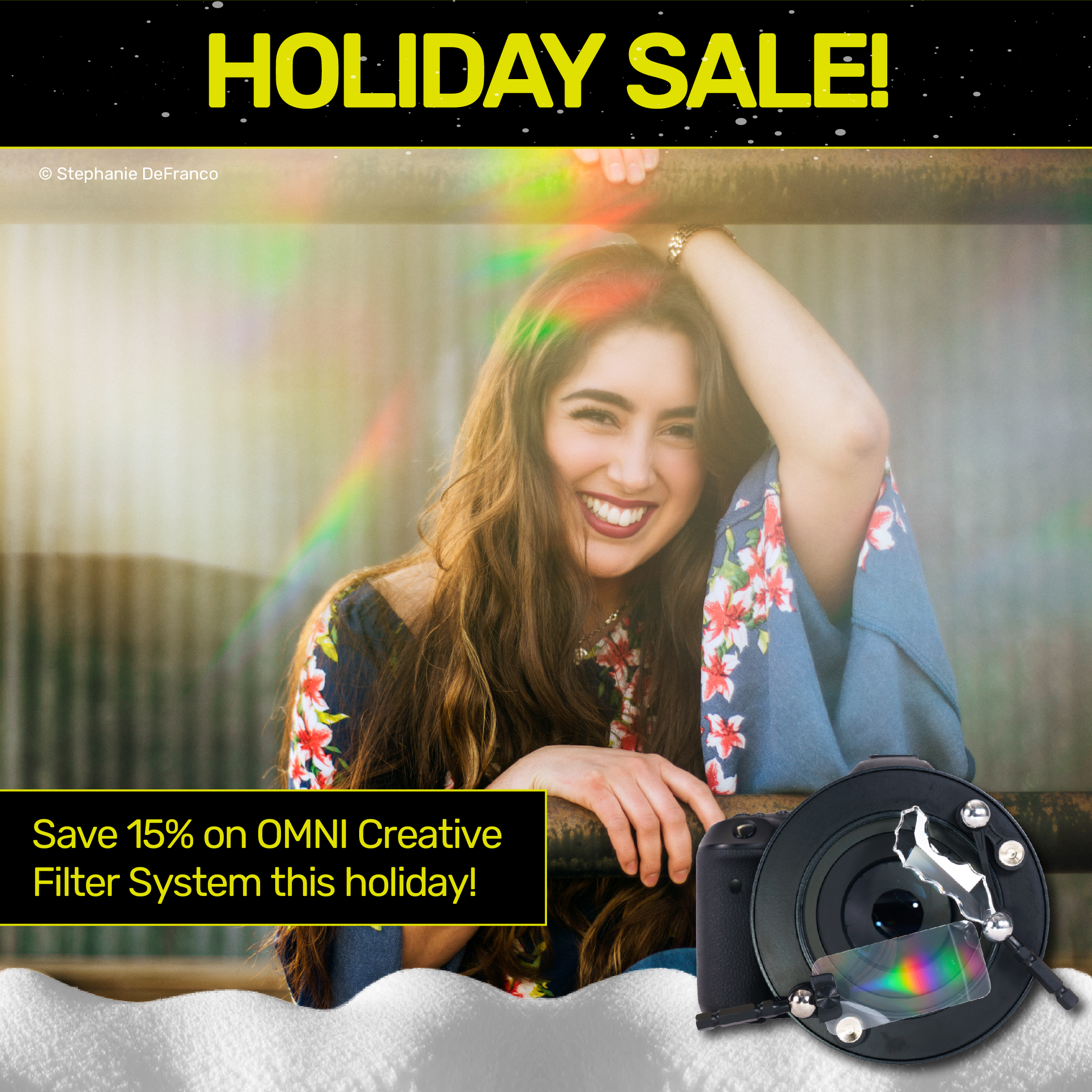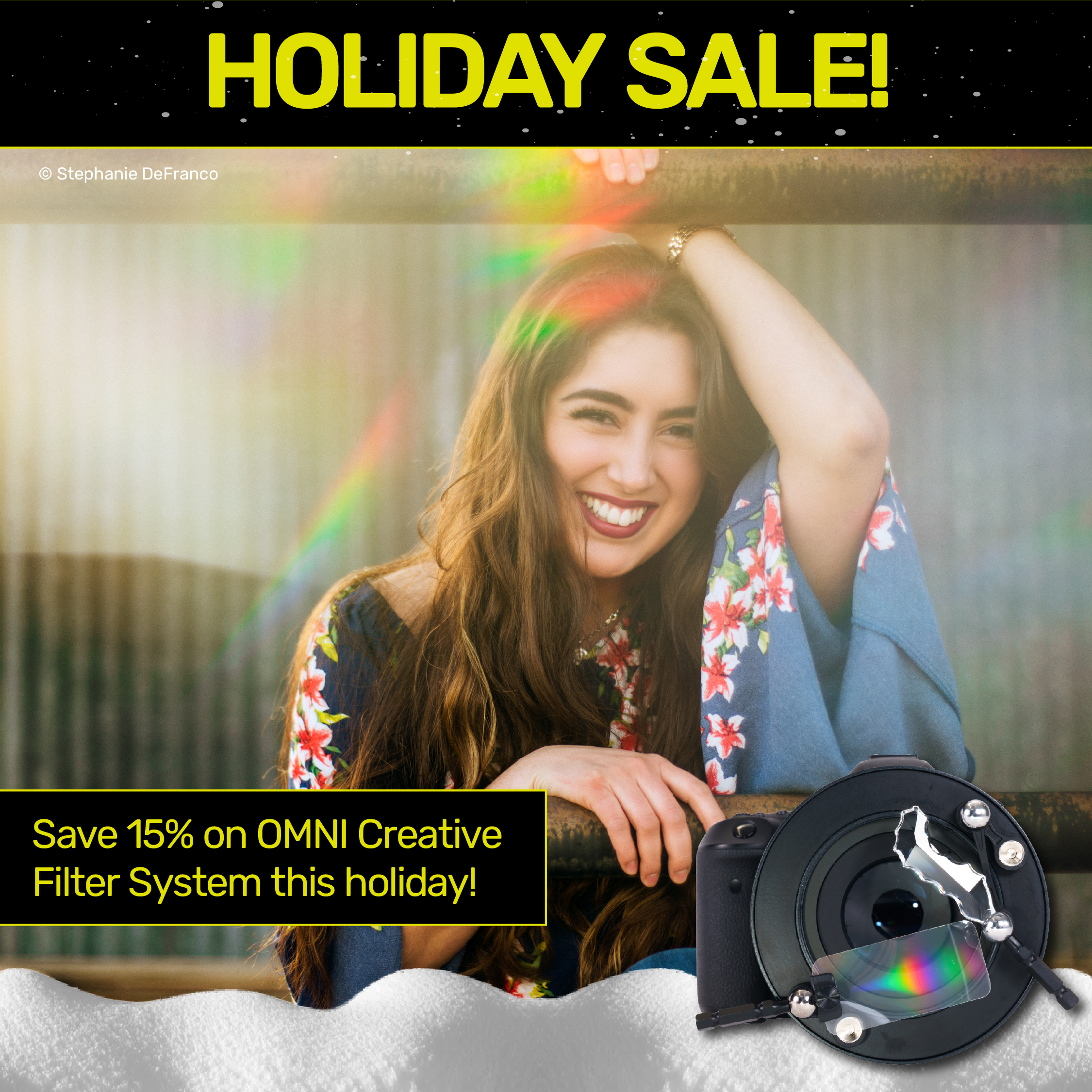 15% Off Storewide!
Save 15% storewide! You don't want to miss the biggest sale of the season! Shop our most popular lenses and accessories now.
---
Looking to create your own portfolio website? Check out Pixpa's black Friday offer and take advantage of 50% off. Pixpa is an all-in-one no-code platform for creators and small businesses to create beautiful, professional websites complete with built-in online store, blog, and client galleries. Pixpa's versatile platform has everything you need to showcase your work, share ideas and sell your stuff online, without any coding knowledge.
Offer: 50% OFF
Sale Dates: 24th Nov – 4th Dec
Deal Highlights: Use this promo code BLFPIXPA50 to avail 50% discount for the first year. Click here!!!
---
Perfectly Clear Complete automatically applies up to 40 corrections to each image. Use this software as a plugin or as a standalone application— it fits right into your workflow or can be used with no prior editing experience required. From color correction to retouching, Perfectly Clear does it all. Get your copy at the lowest price of the year!
Sale Dates: November 10- December 1, 2021
---
nPhoto is a proud manufacturer of the finest quality photo albums and photo products for professional photographers and professional photography studios. With over a decade of experience, we offer artistic, unique, heirloom products to our professional photographer clients using state-of-the-art technology. For Black Friday you will get a code for two 30x42cm/12×16.5" Sample Framed Prints at 80% off + over 25 FREE mockups!
Offer: Two 30x42cm/12×16.5" Sample Framed Prints at 80% off & over 25 FREE mockups
---
Save money on Light Blue's time-saving CRM software for photographers, making your admin simple so that you can focus on nurturing relationships with your clients and growing a successful business.
Ask an existing Light Blue customer for their referral code (ending _BF21) and get 50% off your first 6 months when buying before the end of November.
Can't find a code? Use BF2130 to save 30% off your first six months, instead.
The offer includes:
30 day money-back guarantee (giving you a risk-free trial)

Free migration and setup support

Customer database & diary management

Forms, contracts & questionnaires

Smart email and text templates

Workflow automation

Online scheduling (coming soon)

Invoicing, including online payments, payment plans and automatic reminders

Expense recording & financial reporting

Powerful & fully customisable business dashboard
---
Shoot in RAW? Meet Rawsie, the RAW image compression app for pro photographers and photography enthusiast. Rawsie allows reducing RAW file size by up to 80% while preserving dynamic range, resolution and edits in your Lightroom catalogs. Think RAW quality with JPEG file size. Rawsie would save you tons on new HDD or SSD and make your remote photo storage, cloud, Lightroom catalogs and editing so much faster.
Get $25 off your first year or lifetime license before December 10!
Coupon: FUNDY21
---
Built specifically for photographers, Studio Ninja is the world's highest rated photography business app. Beautifully designed and super easy to use, it will manage your leads, clients, shoots, invoices, contracts, workflows and so much more!
For every sale we will also donate $2.50 to World Vision, helping vulnerable children overcome poverty and experience the fullness of life.
Offer: Use the code BLACKFRIDAY21 and get 60% off for 12 months + a FREE copy of Shoot Like a Ninja book + one lucky subscriber will get a FREE 12 months subscription!
Sale Dates: Friday 26th to Monday 29th of November
---
From Nov 26 through Dec 3, enter the code BLACKFRIDAY21 at checkout and receive 15% off all Essex Book orders! Good for multiple use – as many Essex Book orders you can submit, as long as it's before Dec 4! Cannot be combined with any other discount or promotion. Normal Holiday Deadlines Rules apply. Happy Shopping!
Coupon Code: BLACKFRIDAY21
Sale Dates: Nov 26 – Dec 3
---
Create your custom fine art book that fits your style. Take $50 off an order of $300 or more and stock up on Folios and Mat Products with 20% off.
$50 off on an order of $300 or more – Use Code 21BF50, Valid 11/25-11/29, 2021 (One per Studio, images must be print ready at time of order)
20% off Mat Boxes and Matted Prints – Valid 11/25-11/29, 2021 (No code needed. One offer per order, images must be print ready at time of order)
20% Folios – Valid 11/25-11/29, 2021 (No code needed. One offer per order, images must be print ready at time of order)
---
UAF Photo Lab is a leading professional photo printing lab located in Toronto Canada that offers the highest quality professional photographic prints, albums to professional photographers worldwide.
Promotion: 75% off a 8×8 Classic Album with a Velvet Material Cover
Promotional start date: Nov. 26-28 *additional cost for upgrades
---
This Black Friday claim a total of 40% discount on Studio Sample Albums at Folio Albums. It's a brilliant time to save even more on our sample albums and get prepared for a busy 2022. We know 2022 is going to be a busy year for many of you , so lets start as we mean to go on with a fresh set of samples to wow your clients!
Dates: Our Black Friday offer is available from 9am (GMT) on Friday 26th November – midnight (GMT) on Monday 29th November 2021.
No coupon code needed!
---
Save 20% on Bella Albums, Timeless Hardcover Albums and Truly Layflat Albums when you place your order using discount code 20FUN21 in Marathon ROES.
Offer expires 12/1/21