Book more business with Kismet's Mother's Day email template
Would you like to book more business next month? We've got a great new Kismet template just in time for Mother's Day that will help you boost sales.
How will email marketing add to my revenue?
You need templates to drive print sales, canvas orders, albums and special sessions. Kismet provides a growing library of e-mail marketing templates, designed to give you the words and ideas you need to create business. This Mother's Day template is great for reminding your clients about the importance of capturing memories via photographs. Plus, give them some incentive to book–offer them a coupon for a session or a gift certificate.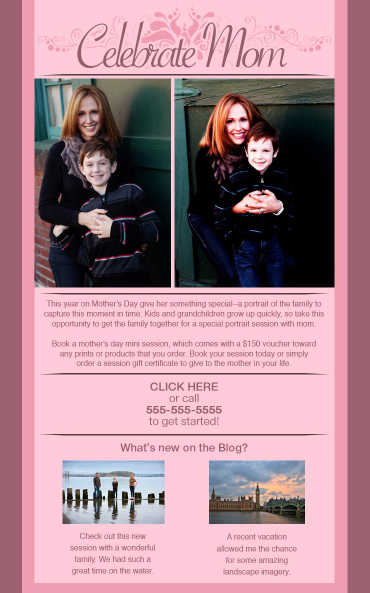 You should be sending out two to three emails a month to your newsletter list. Email marketing is the easiest, least expensive way to add profits to your studio, and Kismet will do it all for you. Keeping in contact with your clients, drop-ins to the studio or newly registered guests to your web site is a great way to market your services and drum up potential new business.
What are the best days to send my emails?
We've found that the best days of the week to send emails are Tuesday, Wednesday or Sunday, with Fridays being the least effective day. It's easy … just select a template, upload your images and tweak the text to fit your studio. If you want to read some more about Email Marketing, we've got an awesome, free eBook for you here.
Login here  and start using this Kismet template today.