Zach Prez is releasing a new eBook today titled, "55 Smart Web Ideas for Photographers." This 60-page eBook from Zach and Wendy Roe will give you the tips to optimize your website, WordPress blog and Facebook page. These awesome tips will help drive more qualified clients to your site.
This eBook is perfect for wedding, family or senior photographers who have a basic understanding of web marketing and want dozens of quick ideas for growth. It is easy to digest and implement with one key idea and takeaway per page. And it's an instant download for just $29.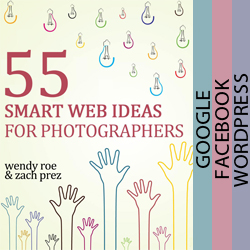 Learn How To:
Optimize and engage your Facebook Page to WOW potential clients and generate dialogue, loyalty and traffic.
Make your blog a traffic magnet by highlighting vendors, naming posts correctly and encouraging comments.
See a site through Google's eyes and learn what factors lead to a quality rank.
Create an expanding email list to communicate with subscribers about specials, exciting work, new products, industry trends and helpful resources.
Point all marketing to a web hub where you control the branding, content and engagement.
Contributors include Kevin Kubota, Seshu, Michael Corsentino and more! Plus, I've written a bit about Using YouTube to help your SEO.
Check it out…Get the eBook here.