Feature – Creating Different Styles for Different Brands
The power of Fundy Designer's Image Brander is in the style presets. Some studios have different logos and brands for various arms of their business (e.g., portrait, wedding, commercial), and need a quick way to brand them all. In the new Image Brander, we've given you an easy way to create different styles for different brands and then apply them quickly across a series of images.
To illustrate, we've used three different branding styles from our friends Brian Mullins of Brian Mullins Photography and Jenn Aan from Halftone Studios, who share a studio in Raleigh, North Carolina. Between the two of them, they photograph everything from weddings to food and use different studio names and branding for their marketing. Thank you to them for letting us showcase this feature with their beautiful images.
First, start a new Image Brander project (or new item if you have previously imported photos for an album or collage) and import your logo file into the library. Drag an image into the design canvas, click "Apply or Design Styles." In the Design view, you can create a style and save (pin) it as a personal style–a preset which you can use for future projects.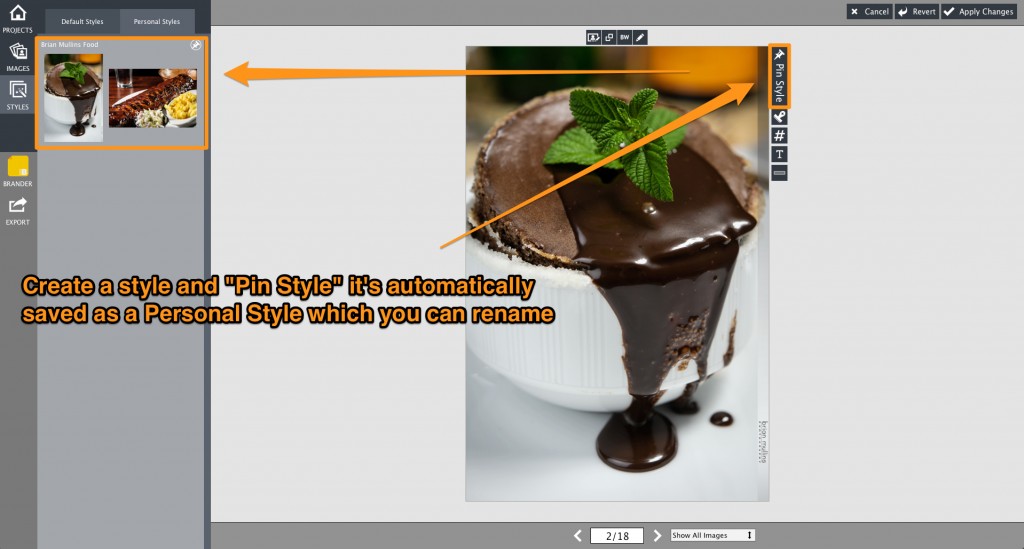 Continue this process for each branding style you want to create. Import a logo to the library, click a default style that's close to what you want to create, creatively stylize it and save as a personal style.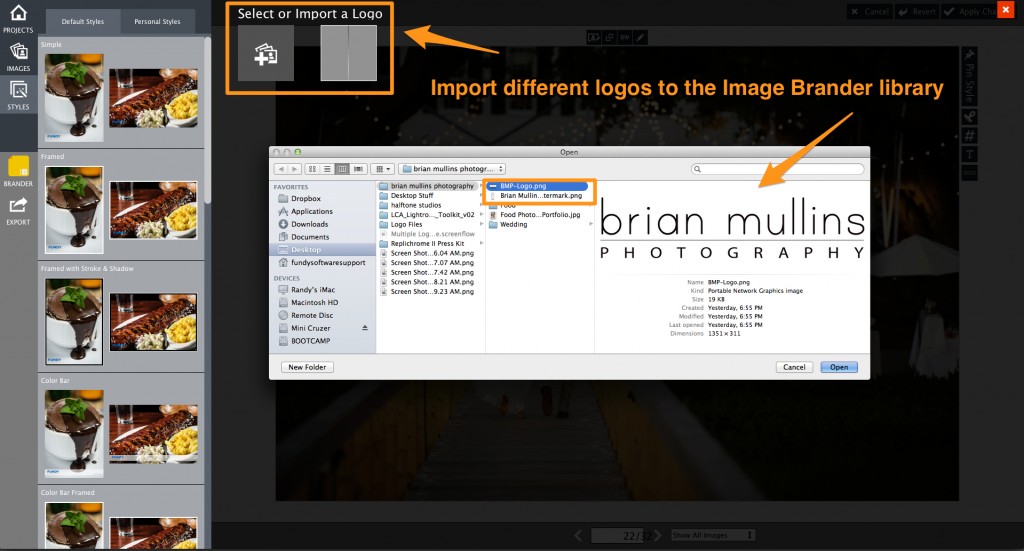 Every personal style you create can be renamed so you can quickly and easily use it for future projects. You have a variety of ways to apply a style to a set of images. You have the option to add it to vertical or horizontal images only, apply it to a single selected image or the entire set.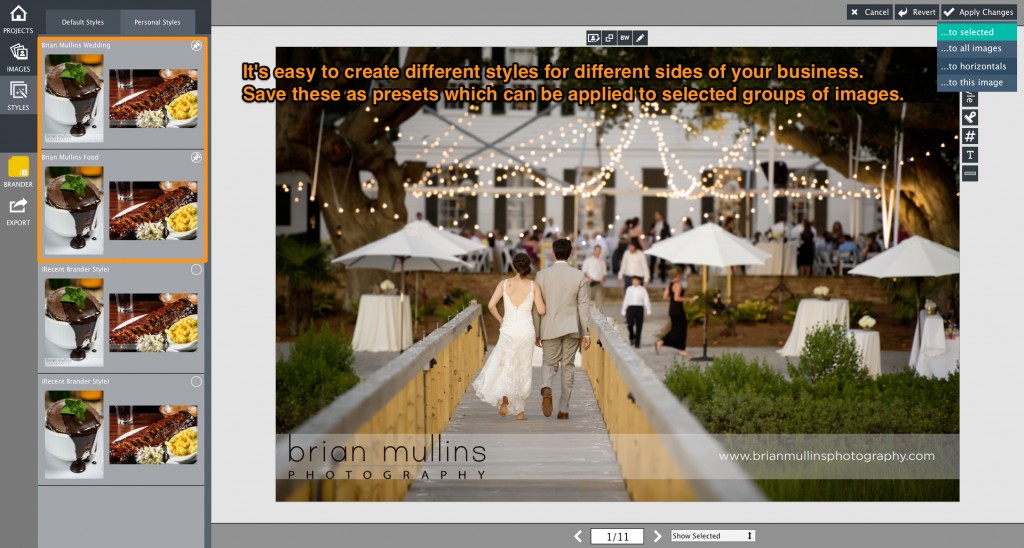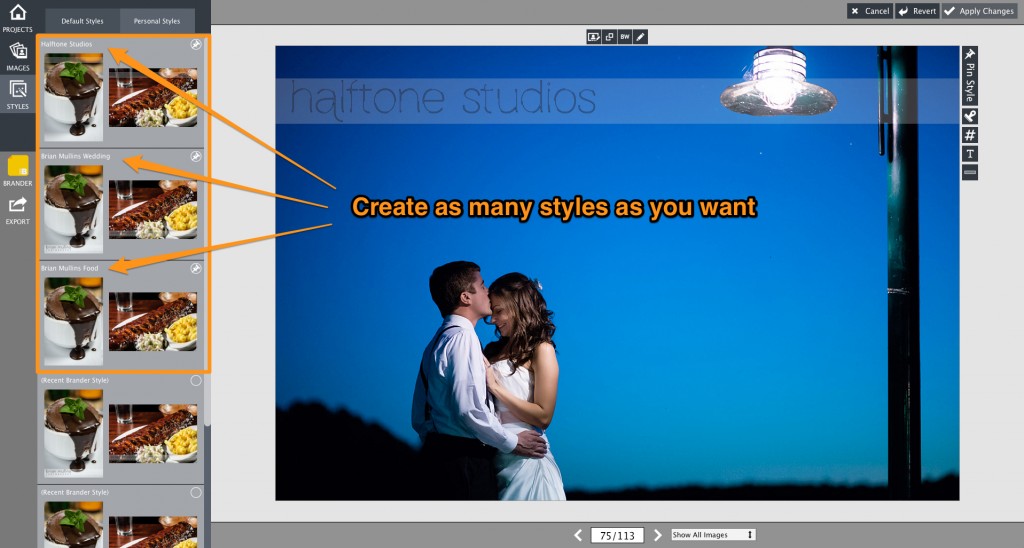 Once you've created the different styles you want to use, it's easy to select a group of images and apply a personal style. Select another group of images and apply a different style. When you're finished applying the styles you want to your photos, you can batch export the entire set of images, using different branding in one, easy step.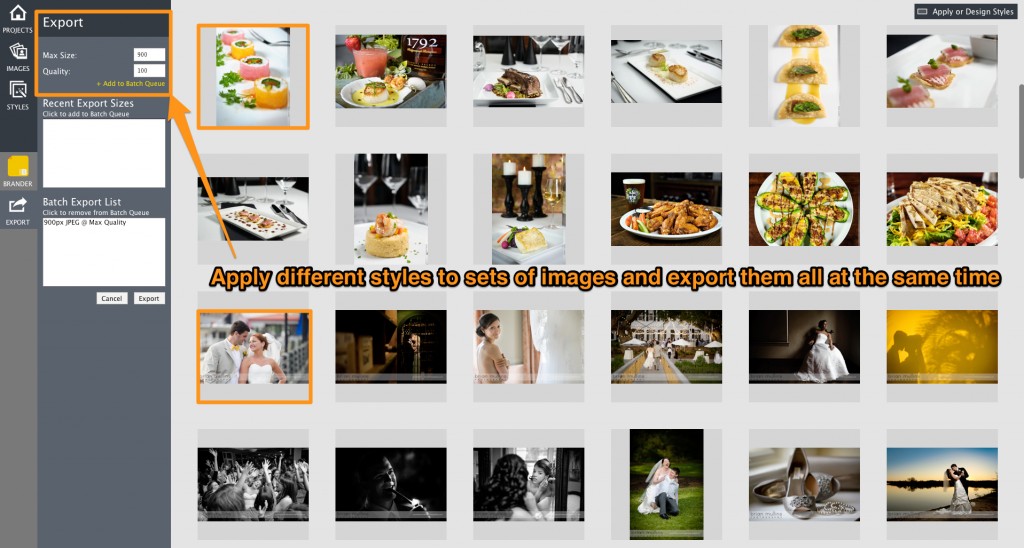 The best workflow for using multiple logos and branding is to create the styles in advance and save those as personal styles. Import a set of images and brand them with a preset. Import the next set, bring that set into the design window and apply another style to that selected group of images. Continue this process until you're finished. Export all of them at the same time and go fix dinner. It's that easy!
Use Image Brander to batch your branding. It'll save you time and that's smart. Try it yourself. To see it live, watch the video below.
If you aren't already using Fundy Designer, download a free trial. And if you'd like to follow Fundy on his adventures in Japan, you can find him on Instagram!