Get Last Minute Holiday Orders
Need an extra boost before the end of the year? This quick and easy business idea can help increase your revenue just in time for the new year.
Step 1 – Create a list of wedding or portrait clients who did not order an album.
Step 2 – Design a short album for them, 20 pages for a portrait album and 30-40 pages for a wedding album for each client. Since these are albums that people haven't pre-purchased, you don't want to spend a lot of time on them. You can use the Auto Design feature for a quick rough draft, then spend a few minutes tweaking the design.
Step 3 – Upload the designs to Design Proofer. Choose the option to remove the "client changes" link as there won't be time for changes.
Step 4 – Send out an email to each client saying how you designed an amazing last minute album for the holidays, but they have to order within the next 48 hours. Give them the link to the online proof and the link to pay (we'll give some examples on how to do this below).
How to Create the Invoice
The majority of payment processors include an option to create an invoice. The key is to not automatically send it out, but instead have a link for them to pay automatically. Below is an example done in Square.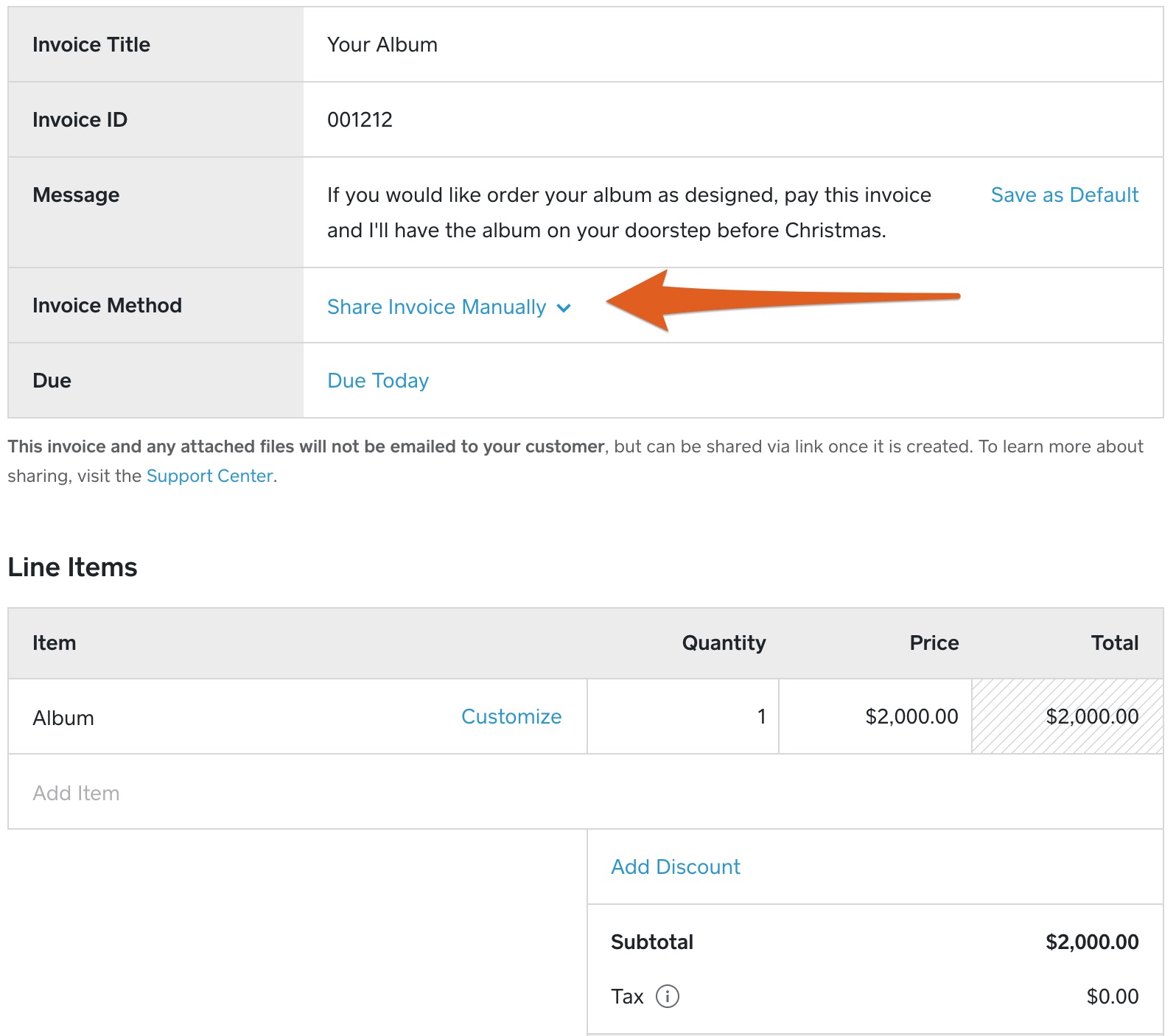 Example Email to Your Clients

Subject: I designed your wedding album
Hi Bob and Jane,
I had a bit of extra time before the holidays to design a wedding album for you. I know that you haven't ordered one yet, but most of my clients love showing off their wedding album during the holidays.
I've designed what I believe to be the best version of your day possible. I've included photos of you each getting ready, to when Jane's mom started crying, all the way through the reception. I just love this album.
If you love this design, I can get it ordered right away. The deadline for my album company to ship the album directly to you is 48 hours from now.
Click this link to view your album:
Then click here to pay for the album and I'll order it and have it shipped to you. Be sure to include the shipping address in the notes when you pay.
I can't wait to hear about the reactions from your family when they see this album.
The outside of the album will be linen and include the phrase "The Johnson Wedding". This is our most popular album. You are going to love it.
Thank you,
Super Awesome Photographer
Good Luck
We hope this tip helps you add a little extra revenue before the end of the year. Don't forget to join our Fundy Storyteller Facebook group for daily tips and inspiration.