Guest Post: Melanie Nashan talks being a visual historian + Enter to Win Priscilla Foster Album!
Melanie Nashan of Nashan Photographers is an award-winning photographer with a passion for her craft. She was named one of America's top 15 wedding photographers by PDN, and her work has appeared in Real Simple Weddings, Martha Stewart Weddings, Brides, PDN and many other publications. In addition, the images we've used from Nashan Photographers in this post were recently featured on The Knot. Don't miss the opportunity at the end of this post to enter to win a Priscilla Foster Album as well.
All images © Nashan Photographers
Before I start photographing a wedding, I get to know my clients as well as possible because I see myself as a family historian instead of a wedding photographer.  As a visual historian I watch for candid moments that capture the important relationships in people's lives. Those moments are what make each wedding unique and I capture them in the most beautiful way. I always shoot in burst mode because there are subtle changes in posture, gesture and facial expressions that make an ordinary image extraordinary. Although I shoot thousands of images at a wedding, I usually only deliver a few hundred and typically use between 75-100 images in the final album design.
Although almost every wedding follows the same format, I believe that it is important to arrive at each wedding with a fresh perspective and always think about this day being the beginning of a family history that will be shared with generations of people who aren't even alive that day. I never arrive with preconceived notions but instead arrive with the intention of making everyone feel comfortable with me photographing them.  There is a symbiotic relationship between the photographer and the subject; I make people feel comfortable so they can express their emotions without inhibitions.  
In order to create a comprehensive wedding album I believe you have to capture every aspect of a wedding in the most beautiful way possible and think of how you want to tell the story of the day. Thinking of the idea of telling a couple's story photographically while shooting makes composing a wedding album a lot easier. I almost always start my albums with the portraits of the bride and groom and then arrange the photographs chronologically.
I focus on the beautiful details and the important relationships that are in front of my lens. Wherever I am, I shoot with a variety of lenses to make sure that the overall feeling of that moment is captured and the details. For instance, when the bride is getting ready I may photograph her slipping into her gown with my 35mm lens and then immediately switch to my 70-200mm lens to capture a conversation on the other side of the room. I know how each of my lenses will capture the scene in front of me so deciding upon which lens to use is intuitive. It is essential to know your craft so you can spend your energy on creating beautiful compositions instead of technical details.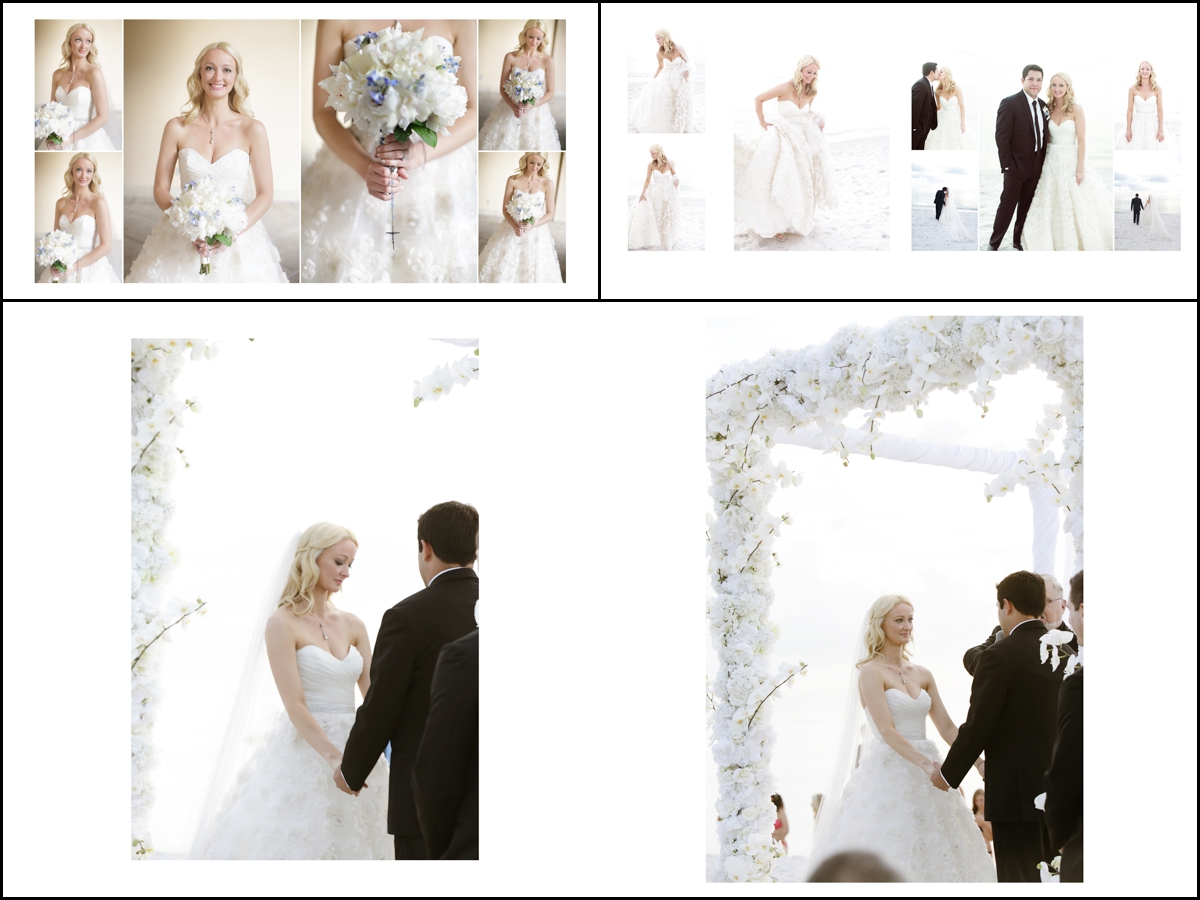 During the ceremony I start at the front of the aisle and make one circle around the guests and bridal party.  During that sweep I stop at several locations and shoot with my wide angle and then my 70-200mm so I again capture the details and the overall feel of the wedding. Typically I'll spend a few extra moments photographing the expressions of the wedding party and the family members in the first row or two as usually they are the most important people in the couple's life. As I am making this circle, I make sure to photograph from different perspectives including from above and below.
When taking portraits of the bridal party I take some liberties. For instance in Erika and Steven's wedding, they had all of these beautiful petals lining the walkway but none in front of the beautiful platform that was covered with orchids.  So I started gathering all of the petals and asked all of the groomsmen to help me scatter them in front of the altar.  That little detail was important to me when I was composing the image and people like helping to create something beautiful.  I knew that these photographs would be the centerpiece of the album because the flower arrangements were so unusual and it created the most ethereal background.
After the posed photographs, I quickly move to the cocktail hour because it is the best time to get candid photos of people enjoying themselves. Usually it is held outside so there is natural light that is flattering and people are happy to be able to mingle with their friends and family.  During this time I use my 70-200mm lens and really only watch people who are smiling and laughing. Once I have gathered enough happy candid shots that I will focus on important family and friends who aren't as emotive to try and photograph them during a fleeting smile or laugh.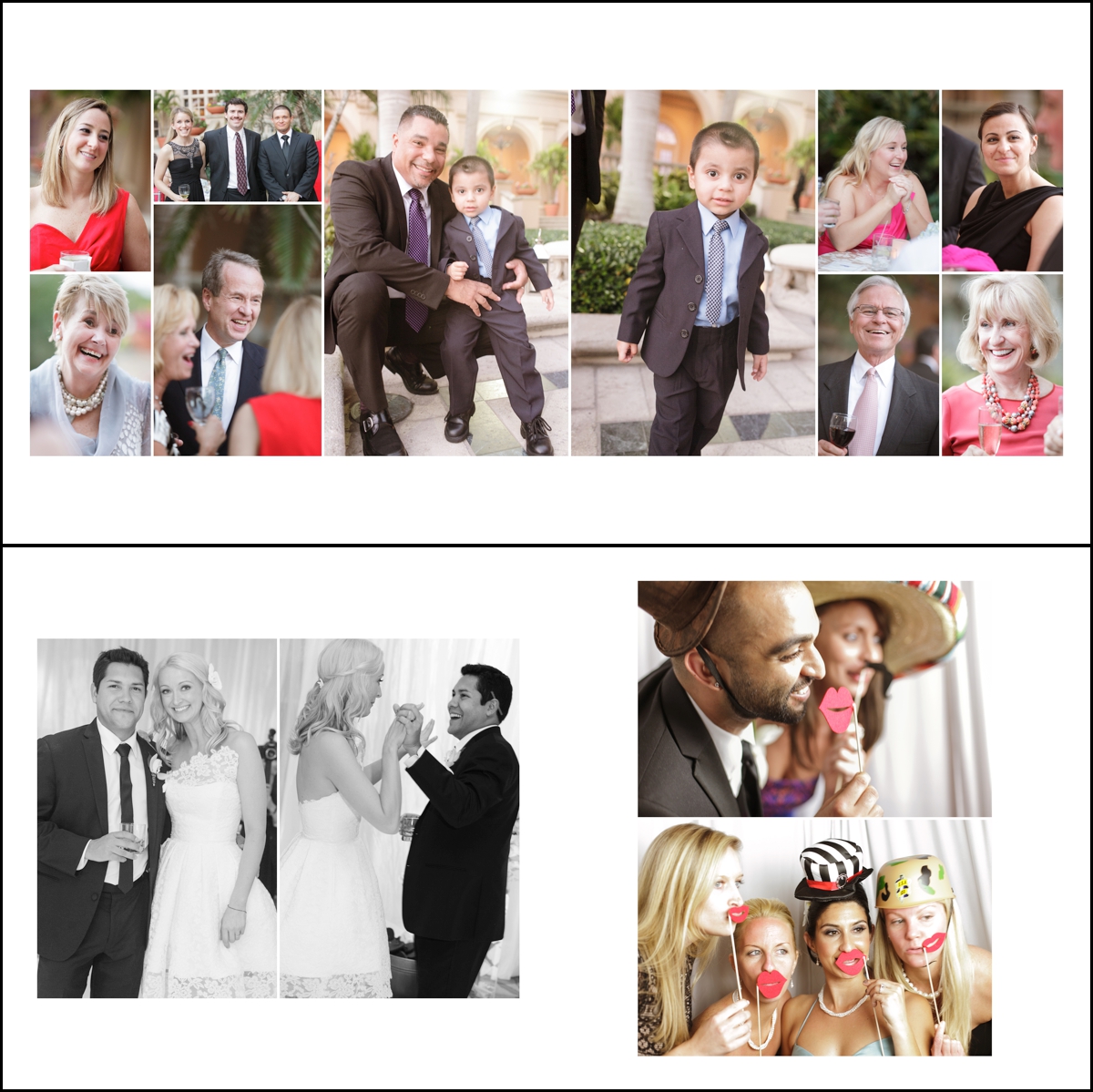 Finally, I focus on the details of the reception and the reception itself. I always arrive just a few minutes early to photograph the details of the design work and the overall feel of the room or outside area. Again as I move around, I am always switching lenses so I can capture the different shots in a variety of ways while spending my time efficiently.  There are a few moments in the reception that are important to photograph, which include the first dance, cake cutting and about half an hour of dancing.  After that is captured, I feel that my job photographing the wedding is pretty much done.
The Adelaide II from Priscilla Foster Handmade Albums, featured here, is a flush mount album printed on heavy, archival matte fine art paper, which is mounted to 6ply board to give it the heft of a coffee table book with a truly elegant finish. The featured album shown is Lake Linen with Oatmeal Irish Linen Spine and a Magnolia accent ribbon.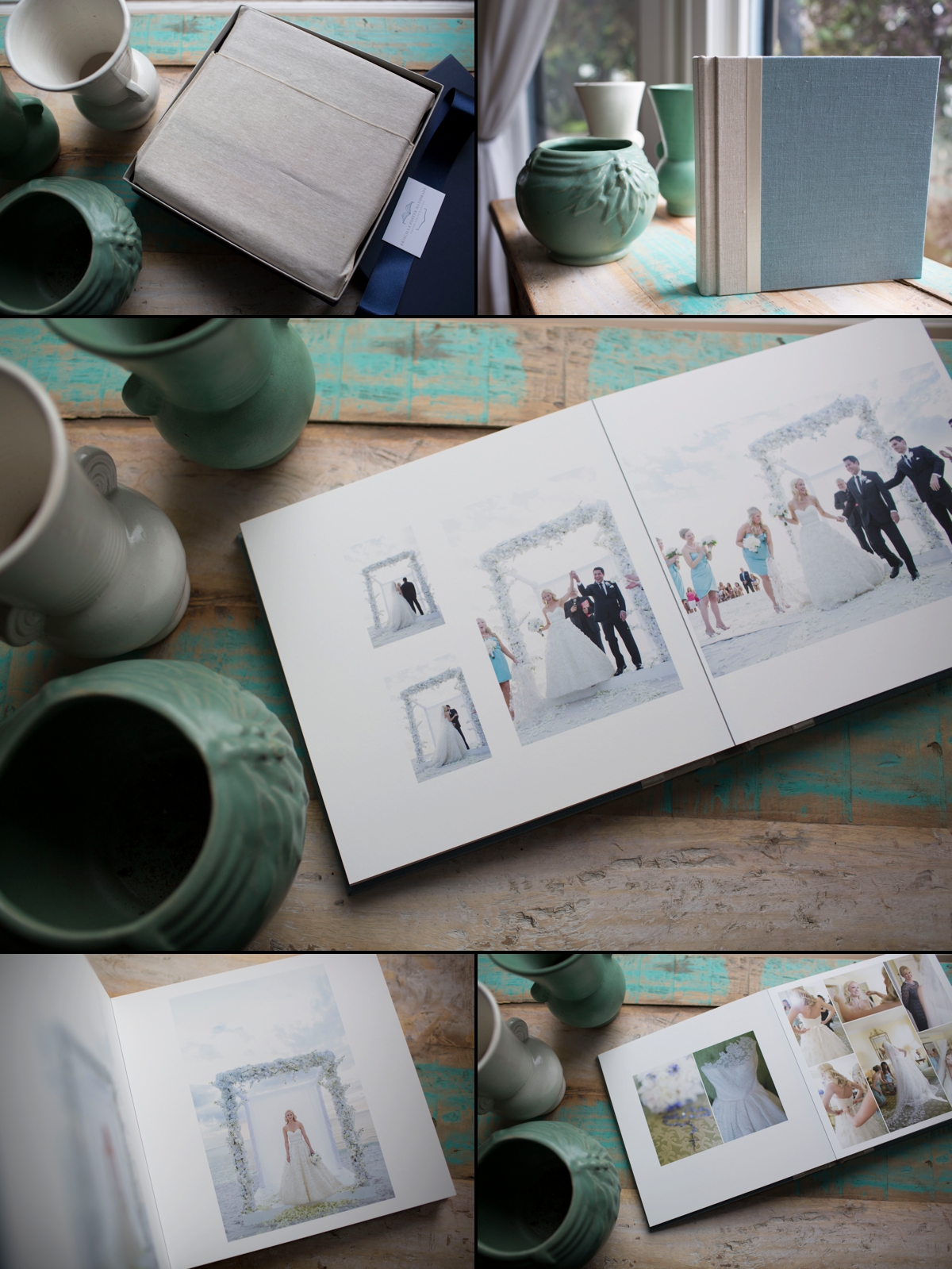 And one lucky reader can enter to win an album from Priscilla Foster Handmade Albums! Enter to win a 10×10 Adelaide II sample album, like the one featured above. This includes 12 spreads/24 pages; choose from a selection of 83 exclusive fabrics here or supply a yard of your own fabric to make a custom cover. Enter giveaway below. Enter by midnight PDT Sept. 1. Winner chosen Sept. 2. Non-transferrable. Studio samples are marked as such.
This giveaway is now closed. Winner will be announced shortly.