June 18 Update – What to Expect
We're excited for the release of Blog Collage v6 and Image Brander v6 this Wednesday, along with a few feature updates to Album Builder. We hope you love these new products as much as we do and find them helpful for your workflow, protecting your images, and marketing yourself.
Updating your software is as easy as a click of your mouse. On June 18, ensure you are connected to the internet and open Fundy Designer. A pop-up message will appear similar to this indicating you have an update to your software.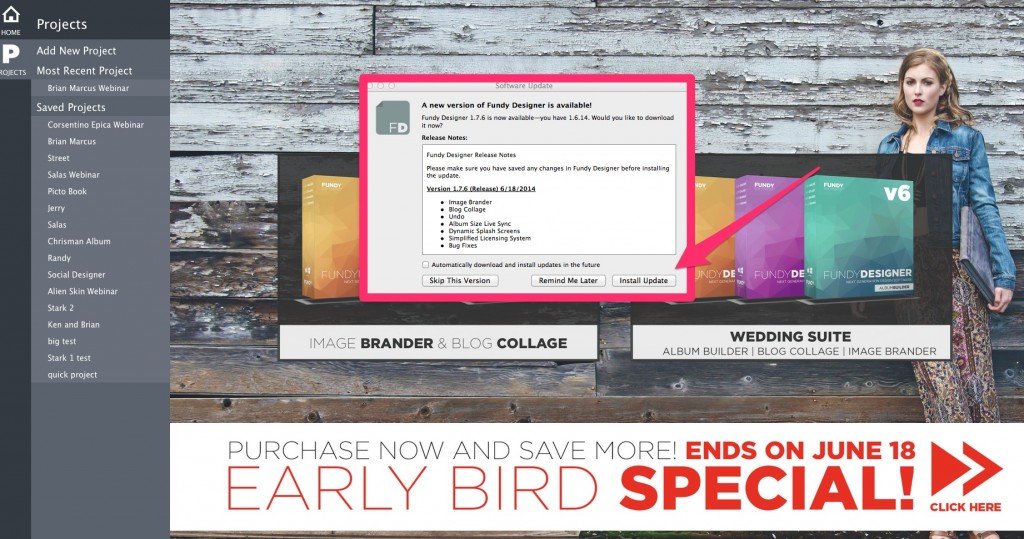 This is the example Beta Version but it will look similar. 
Just click on "Install Update," and all the updates and modules will install automatically including:
Free Album Builder update, which includes the much-anticipated "Undo" button
Blog Collage v6 & Image Brander v6
In addition, new album sizes from Accucolor Imaging, Cypress Albums, Diversified Lab, Konpoli, Koy Labs, MILK Books, UAF Imaging and Zookbinders will be incorporated in the coming days. If for some reason you do not receive an update prompt, go to the Help menu and select "Check for Updates."
On our Resource Page, we have new manuals available for Image Brander and Blog Collage, as well as a link to submit a ticket to our support team. They are here to answer any questions you might have, including questions about functionality and features.
If you have pre-purchased Blog Collage and Image Brander, you will automatically be registered. Just start using it. If you have not pre-purchased it, give it a go. Have fun and if you like it, purchase it so you can export.