Revenue Right Now with Gift Certificates
We all know that generating revenue can be difficult in these times. It often requires a multi-pronged approach, this time-tested technique might be for you. Creating beautiful gift certificates for portrait shoots, engagement shoots or even album credit for weddings might help you generate the extra revenue you need now! 
Designing a Gift Certificate in 10 Minutes
Designing a gift certificate in Fundy Designer is as easy as downloading the template you like, tweaking the text, and inserting your photos. You can even order the gift certificate direct from Miller's lab and hundreds of others. 
First, choose your template from the design library. You can choose from eight template designs that match your brand. There are gift certificate designs for everything from High School Seniors and Newborns to Family, Wedding, and Boudoir. 
We recommend using 6×8 size cards for gift certificates.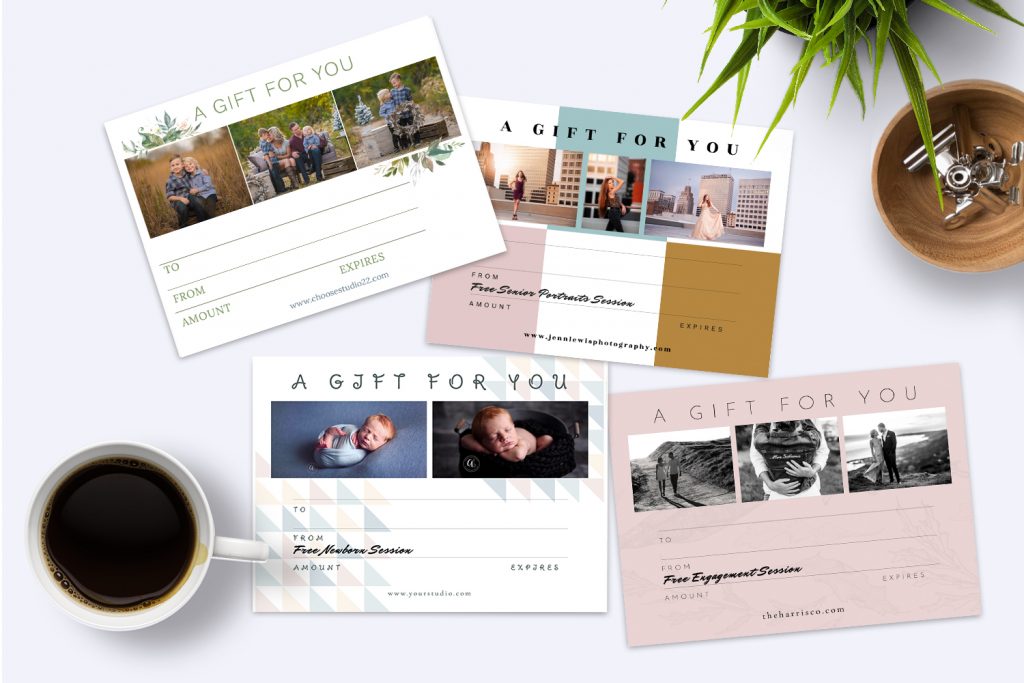 Next change any text you would like to change. Be sure to put in the value of your gift certificate and what it can be used for. The fonts for the templates are pre-loaded for you, but you can choose any font that is installed on your computer.
Finally, drop in your photos to make the gift certificate reflective of you and your business. 
Now all you need to do is order the gift certificates.  You can order direct or order through any lab in the world. 
Get Paid – Create an Online Order Form
Now you'll need to create a way for your customers to pay you. Many online galleries have this ability (like ShootProof, Pic-Time, PixieSet, etc). You can also do this with Paypal or Square. It's really up to you. 
3 Strategies for Selling Gift Certificates 
Encourage clients to purchase gift certificates straight up for future shoots or to give as gifts for shoot and/or print purchases to help you get though these challenging times, much like restaurants are doing.
Offer dollar value on the gift certificate that is less than it's purchase price.
Offer as an add on. For example, purchase an engagement session now and we will give you a $250 gift certificate toward an album or wall collection purchase.
Emailing the Right People to Sell Now
Now it's just a matter of emailing the right customers. Email your past wedding clients with gift certificates for family portrait sessions. Email your past family clients with gift certificates for a future session. 
Do you have weddings that are booked and postponed? Email gift certificates for engagement shoots or album credit for their wedding album. 
The key is to look at your client base and think about what they could pre-pay you for. Every dollar we can make now will help us get through to the other side of this pandemic and the economic implications of it. 
Do it all in Fundy Designer!
New to Fundy Designer? Get started with our free trial! Ready to try the latest version of Fundy Designer? Click here to purchase or upgrade to Fundy Designer v10!