In Fundy Designer, you can set up your studio/client pricing for your albums, wall collage, cards and individual products. In this blog post, we'll show you how to set up your pricing, step by step.
Set Up Your Individual Prints, Canvases, etc.
Whether you are setting up your 5×7 prints or a 20×30 canvas, this will walk you through the process.
Under Client Orders, choose Pricing Setup.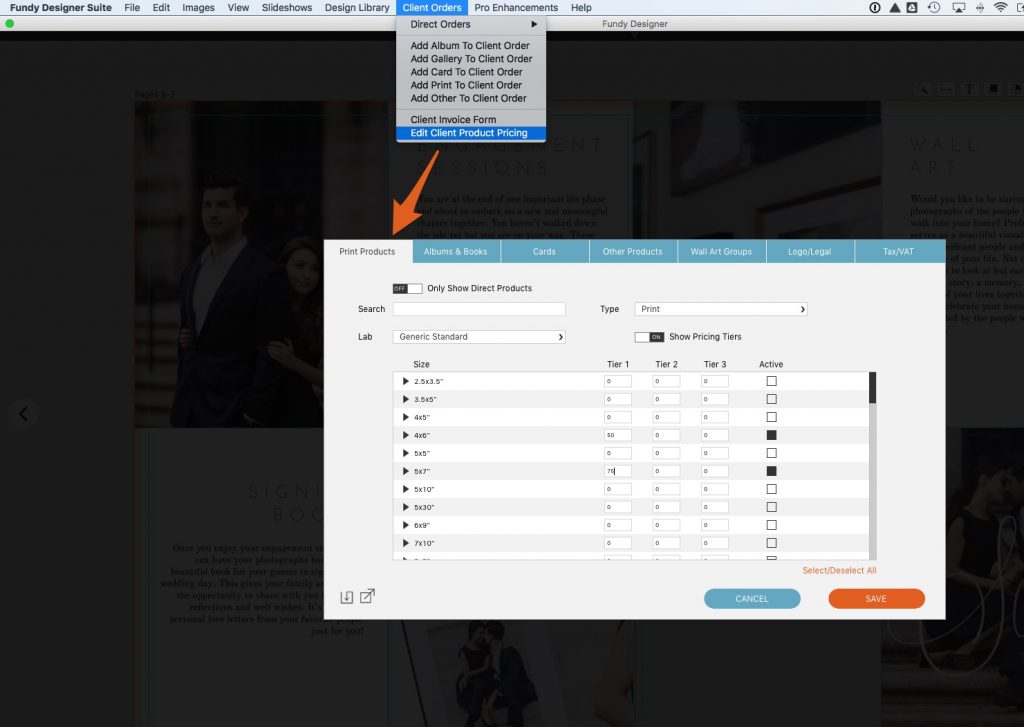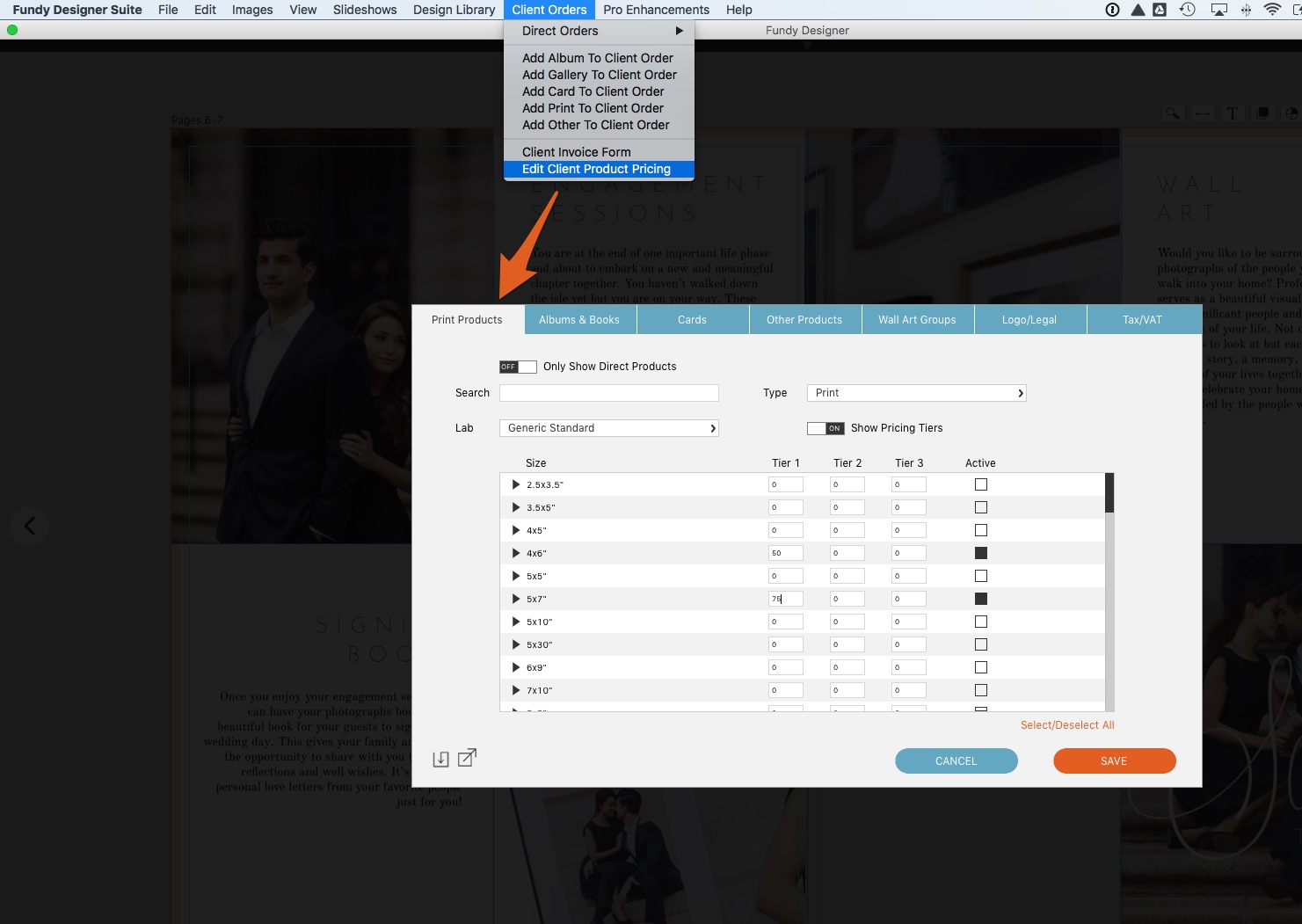 In the first panel, open the first drop down and choose the lab that you send your prints off to. If you use a variety of labs or haven't chosen one yet, simply choose Generic Standard or Generic Metric. We do not have individual print, canvas products, etc set up for all labs. So for individual products or if you don't see your labs products, choose Generic. All prints and wall art are printed at the same DPI so when ordering you'll be fine.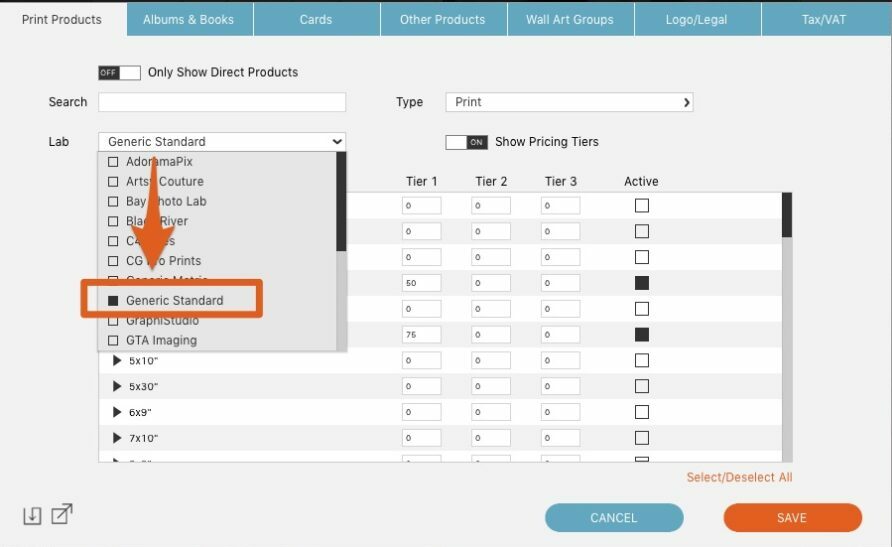 Next set up your products. Fundy Designer allows you to set pricing on multiple different kinds of prints all at the same time, or to do them separately. It also allows you to set up to three pricing tiers, or levels, for each item.
Since this can be a bit confusing, we're going to use a real world example.
First I'm going to set up my loose prints because the pricing is much different than other wall art. I'm going to select the sizes that I offer – 4×6, 5×7, 8×10, etc. and add the prices to them. I don't offer different prices for different kinds of prints, so I won't use the tiers.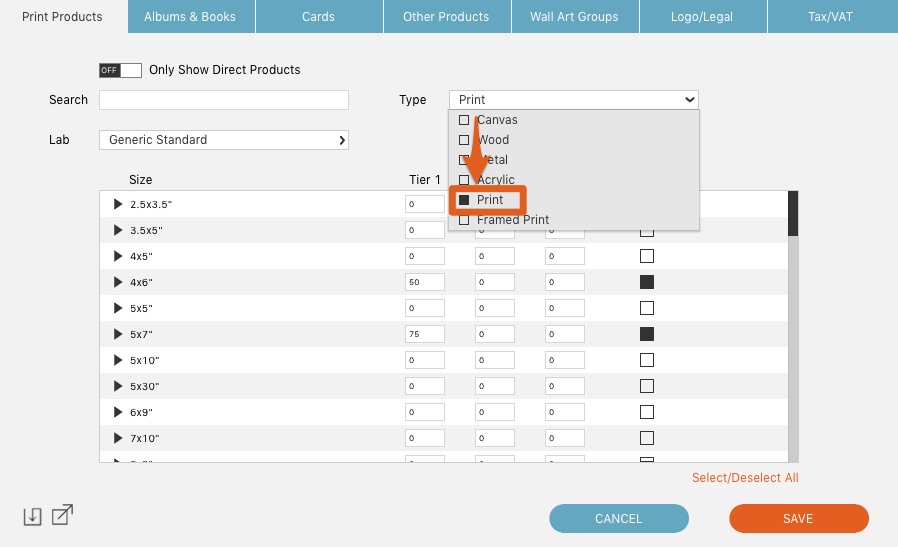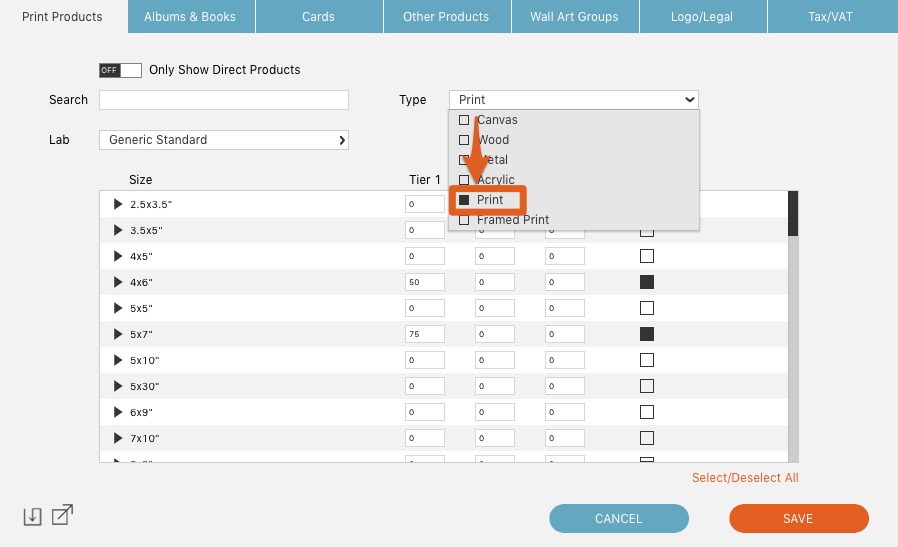 Next I'm going to add the prices for all of my individual canvas, metal and acrylic prints. While my costs are a bit different, I price them all the same to make things simple for my clients.
First I check Canvas, Metal and Acrylic. Next I select the sizes that I offer and input the prices.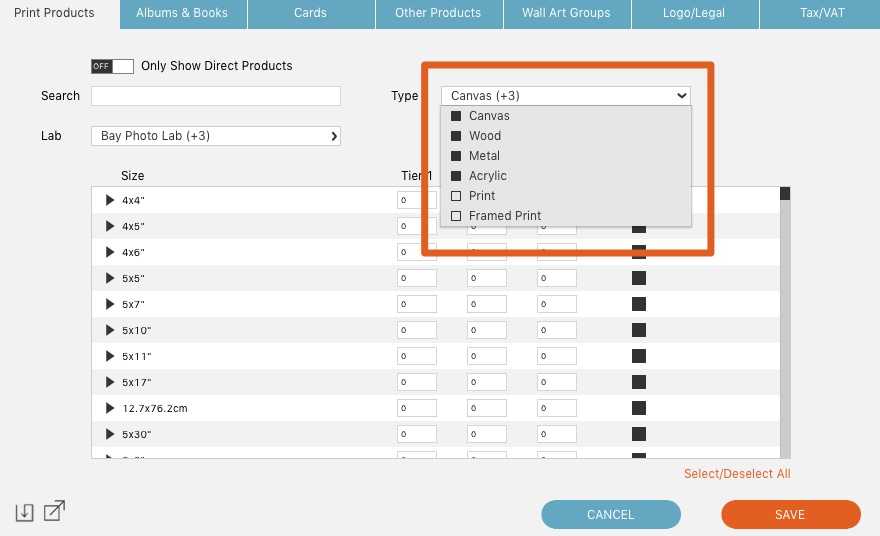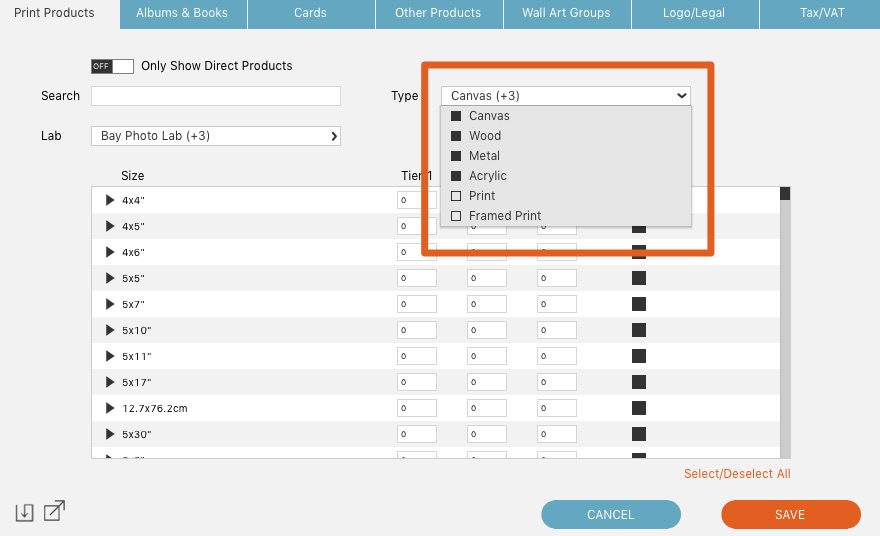 I also use a few different labs, so I am going to check all the labs I use AND Generic. So I'm going to check all the labs I use.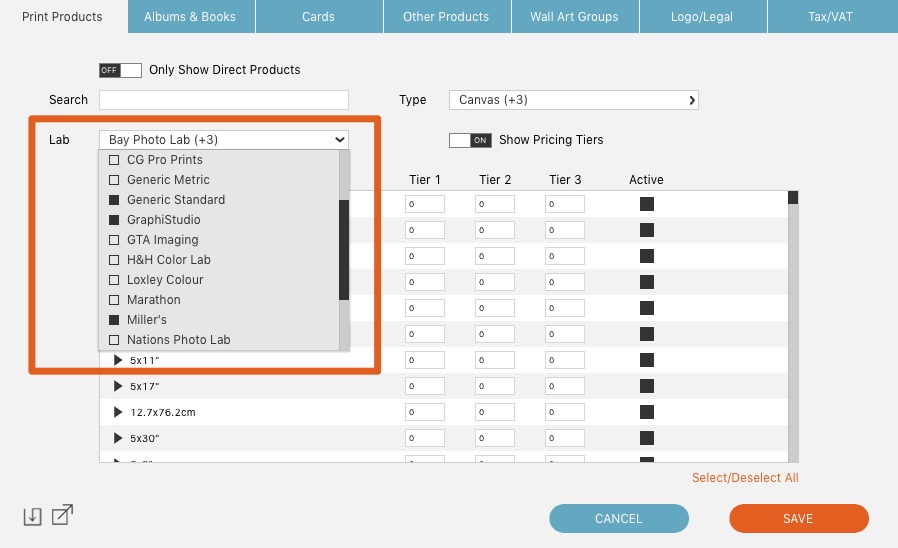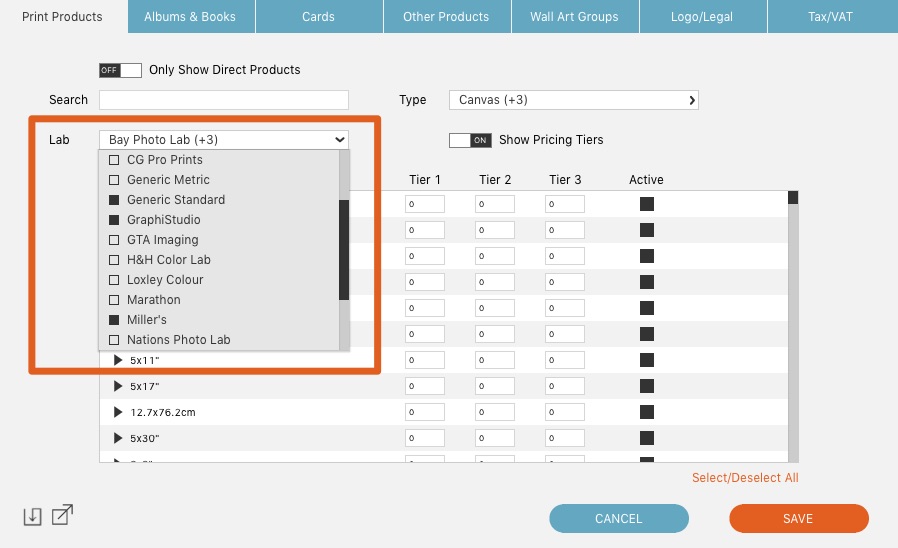 Next I'm going to only select the products I offer and add prices.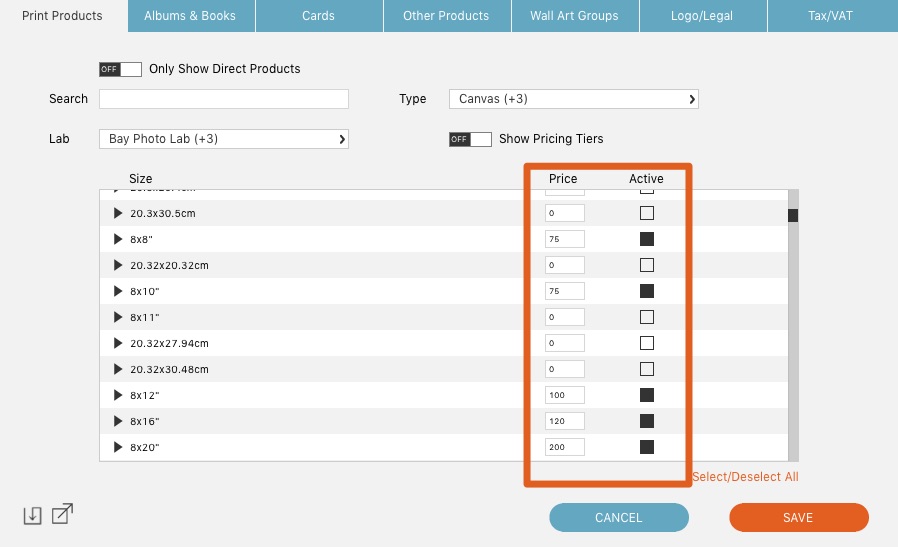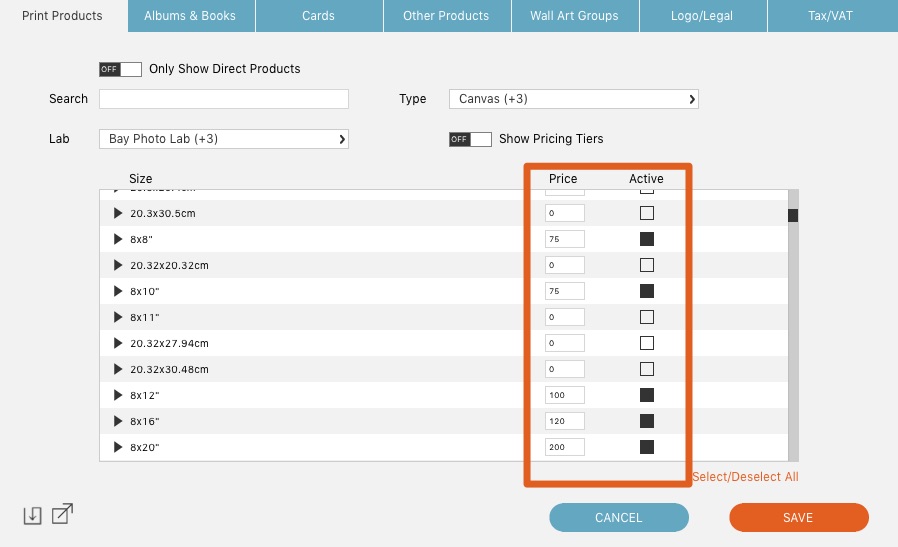 Finally, I offer framed prints, but I offer three levels of frame prices for my framed prints. First I check only framed prints.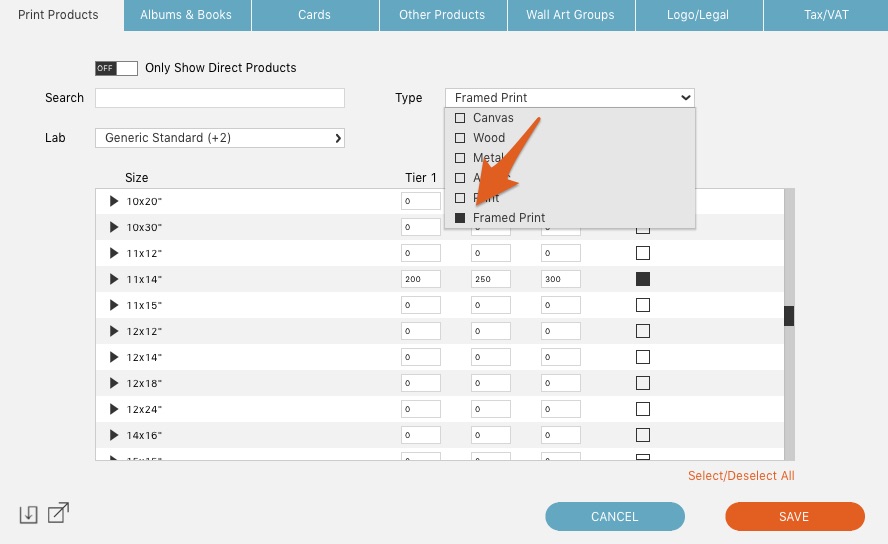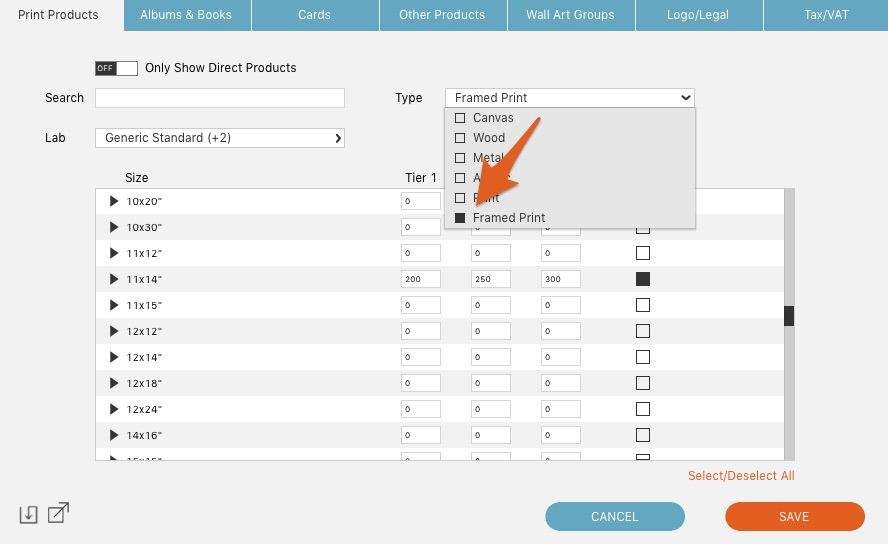 Then I enable tiered pricing and enter three prices for each size that I enable.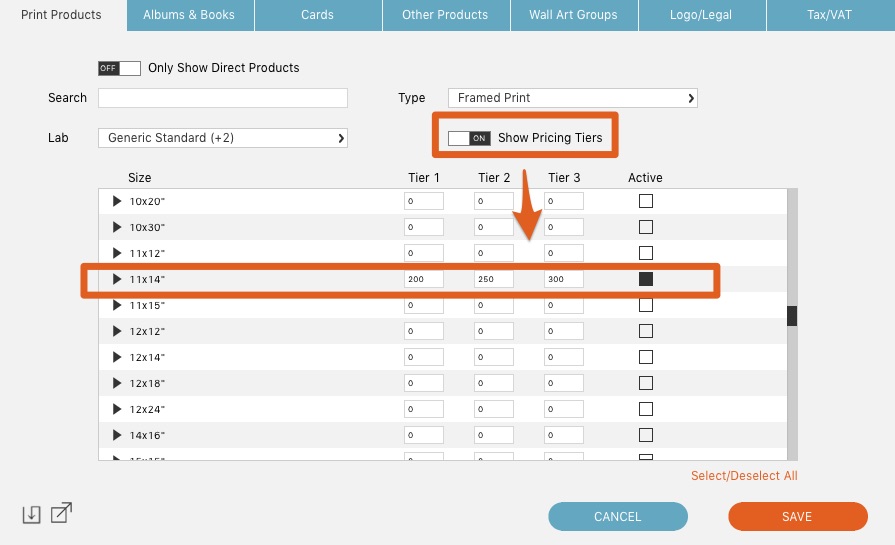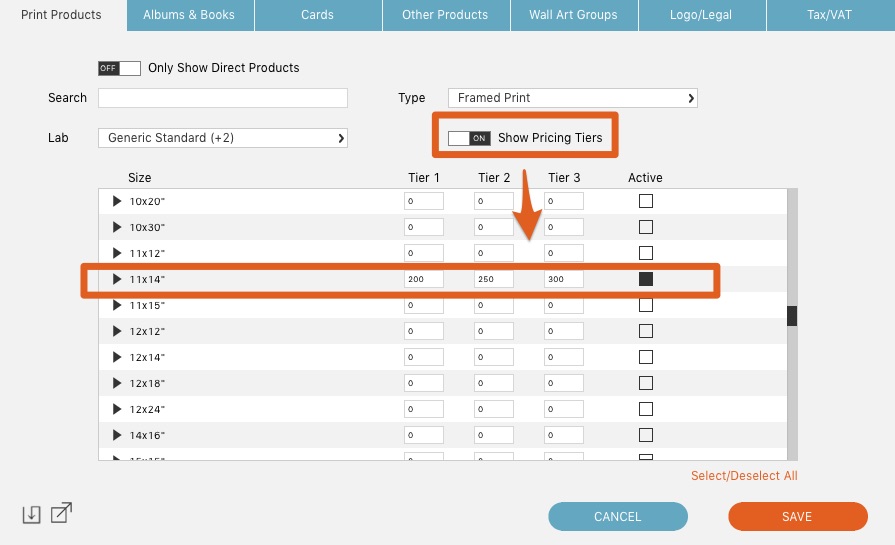 Now that all of your individual pricing is enabled, click save. Now, select one photo in your image well and choose "Add Print" from the Client Orders menu or the Add Print button in the client view.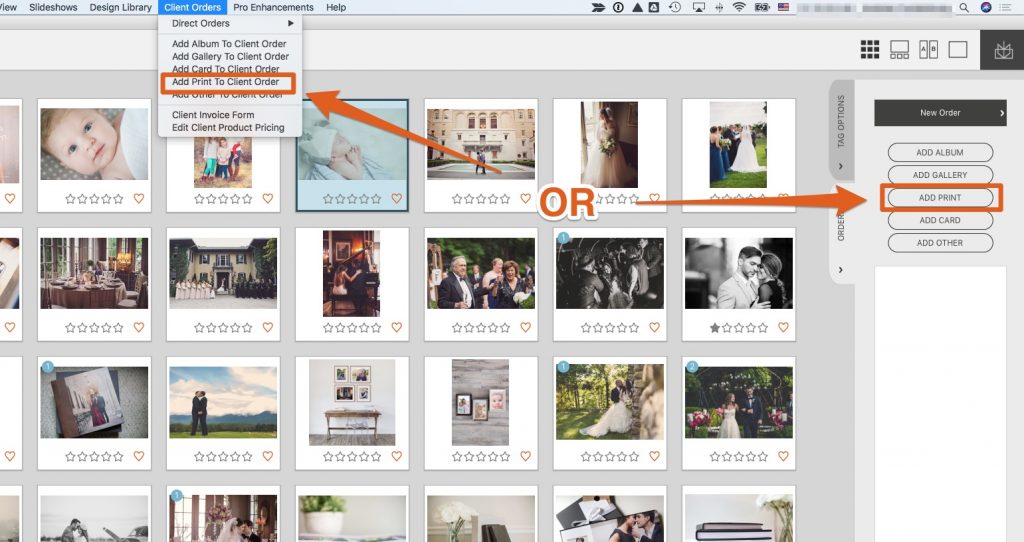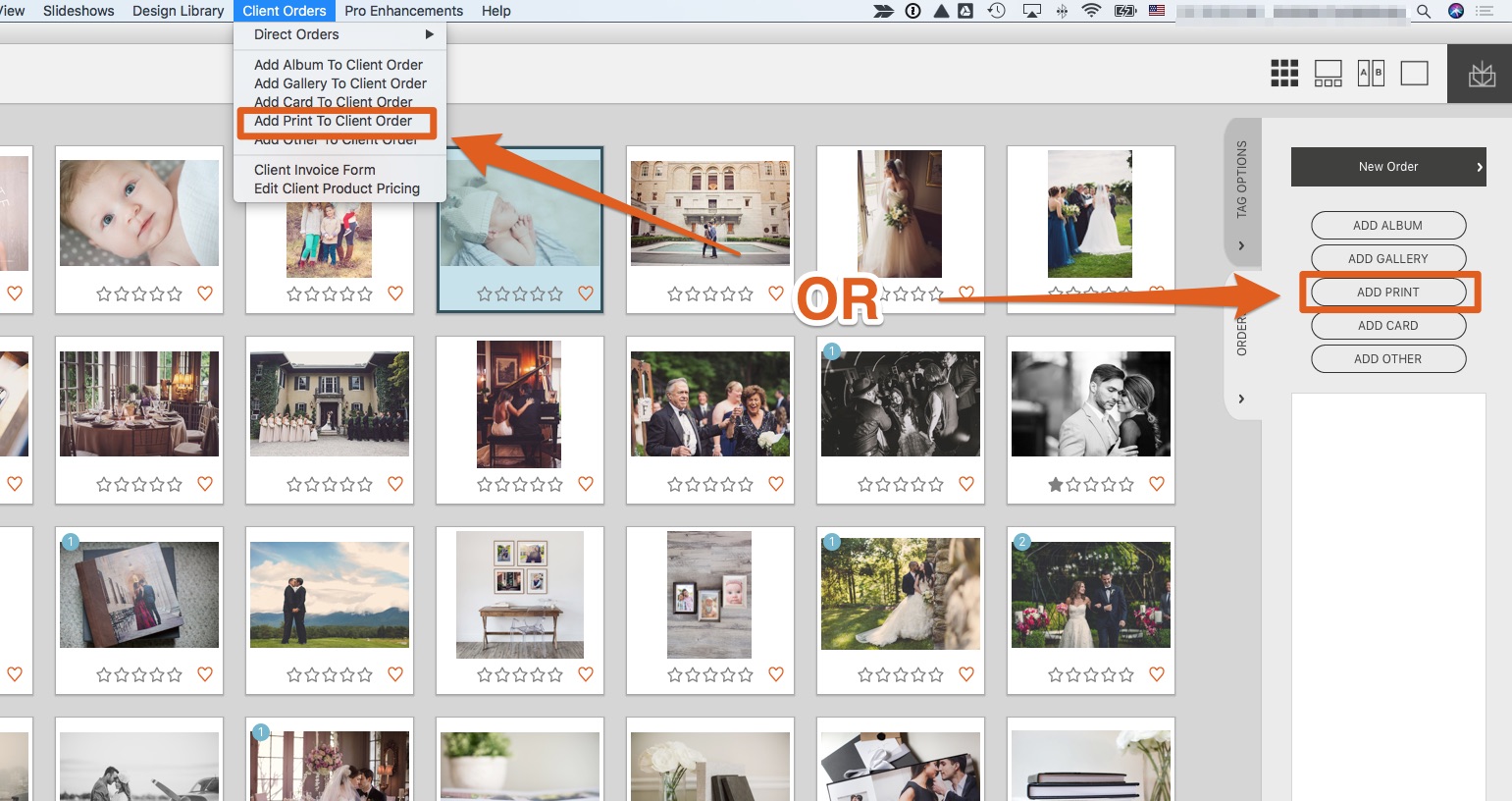 When it pops up, click the pencil edit icon.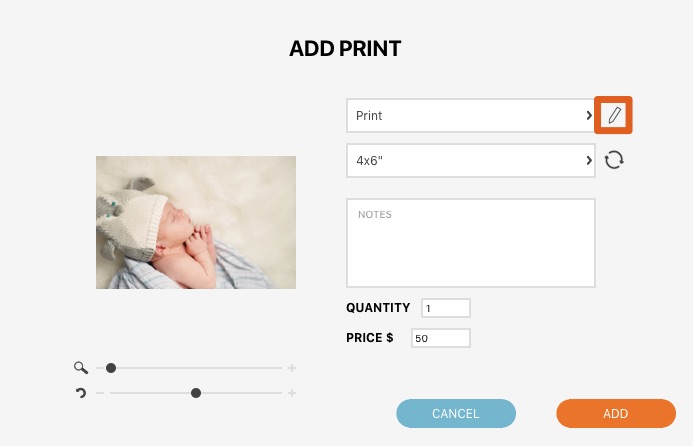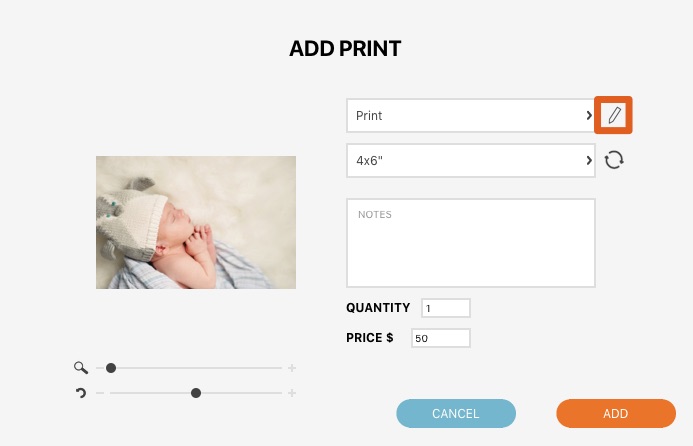 Finally, choose the lab for each item that you set up. This final step is in this location if you need to change a lab on the fly during a consultation if you decide to switch labs. For this reason, for individual products if you use multiple labs, Generic lab is your friend.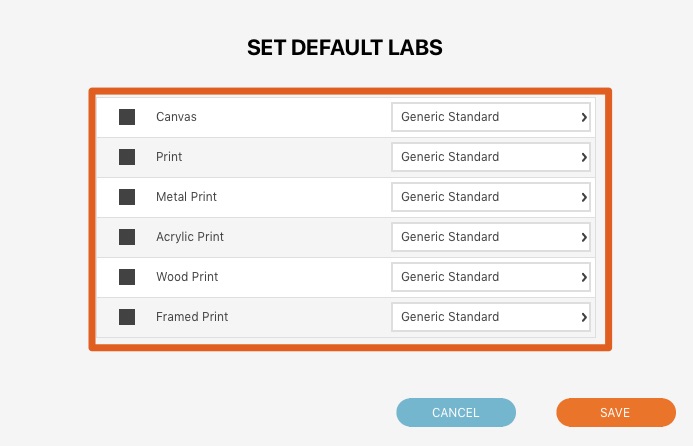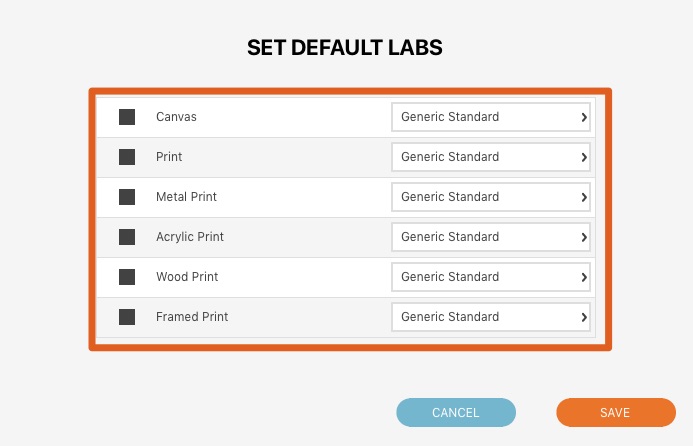 Set Up Album Pricing
Album pricing is designed to be both flexible and to automate "adding up" those extra pages or images during a design consultation.
First open Client Pricing under the Client Orders panel and click on the Albums tab.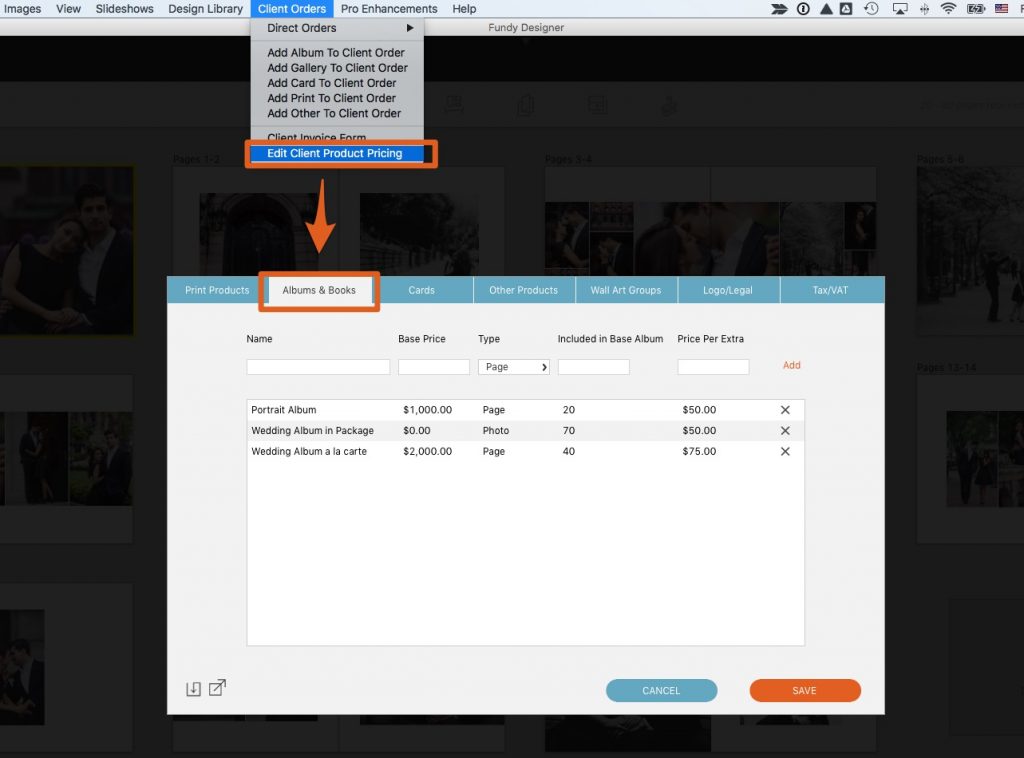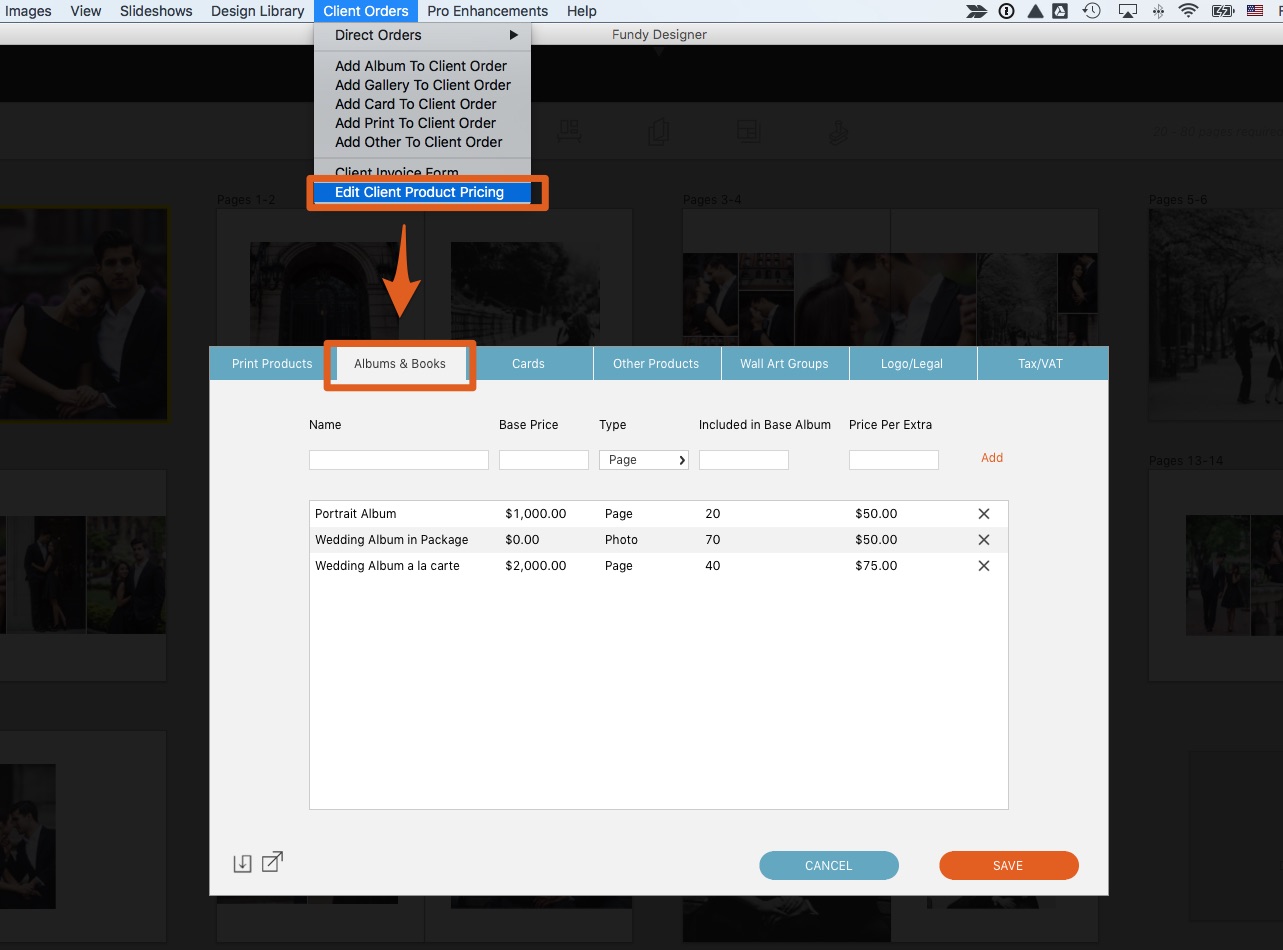 Album pricing in Fundy Designer is flexible enough to accommodate albums included in packages, albums with base prices and albums that just charge by the photo or page. Here are a few examples.
For an album that that includes the first 30 pages for free (because it is included in the wedding package) and then charges $25 extra per page, then we will enter it like this.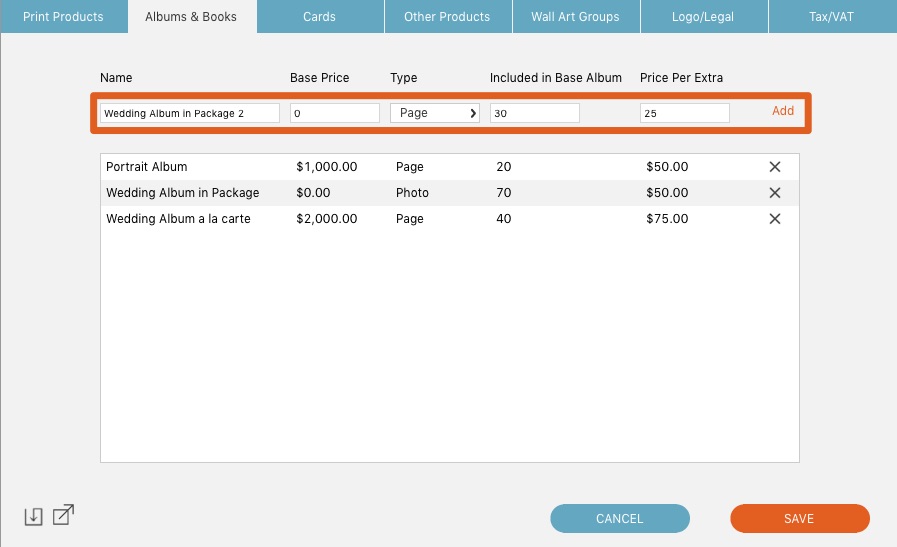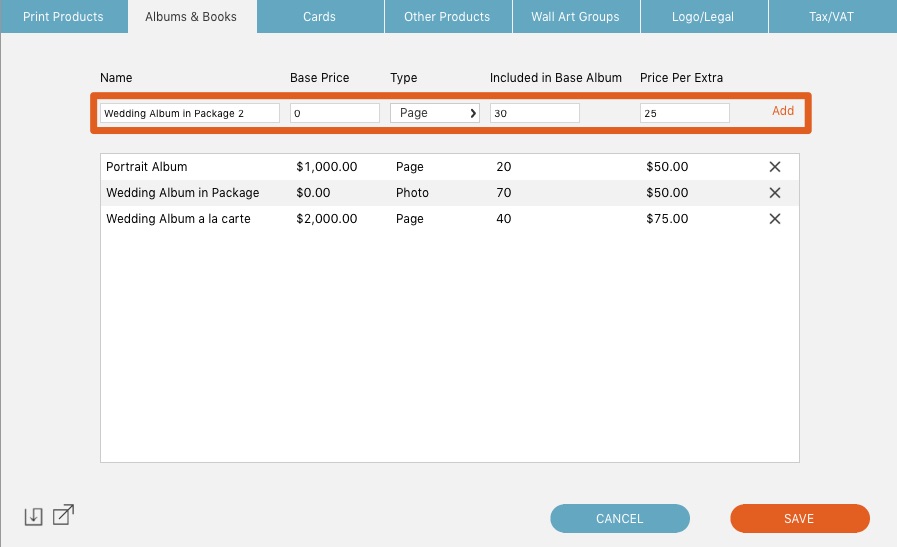 After entering the information, be sure to click the Add text.
To add an album that costs $1500 for the first 30 pages and then $50 for each additional page, enter it like this.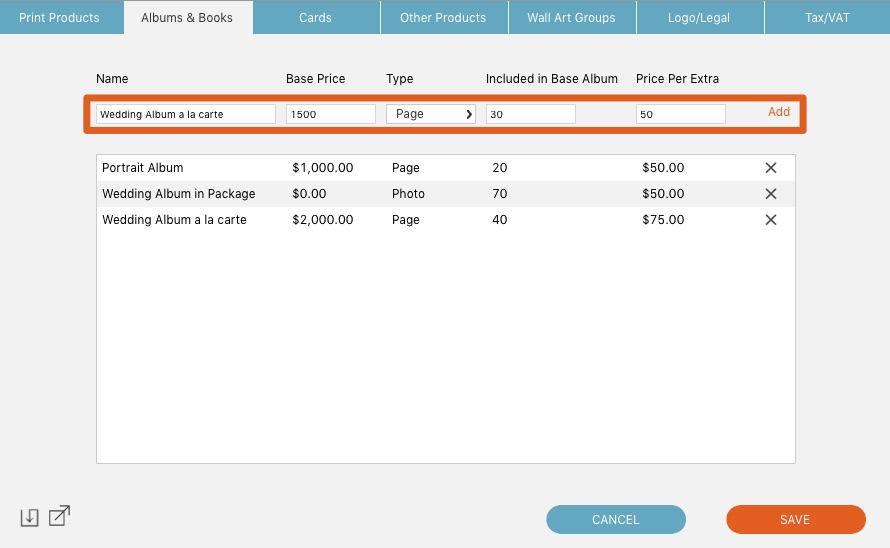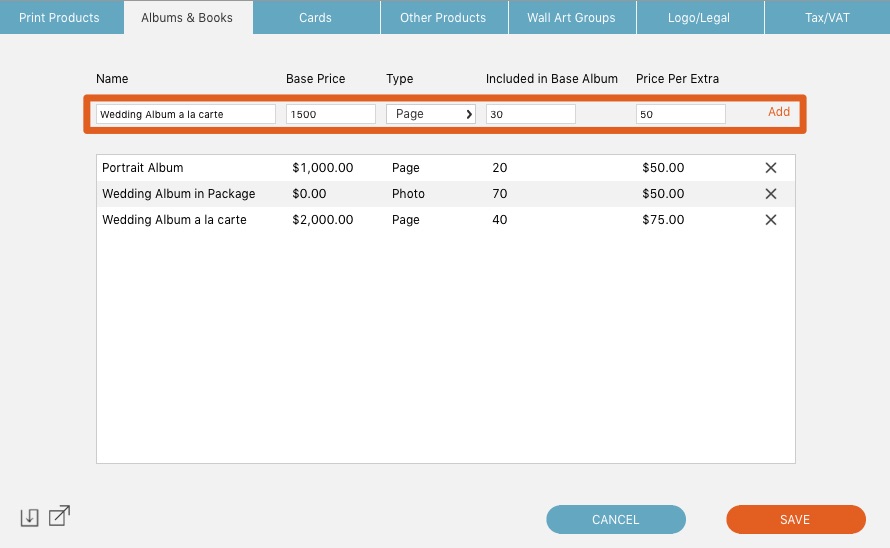 To price an album that costs $100 per photo with no base price, enter it like this.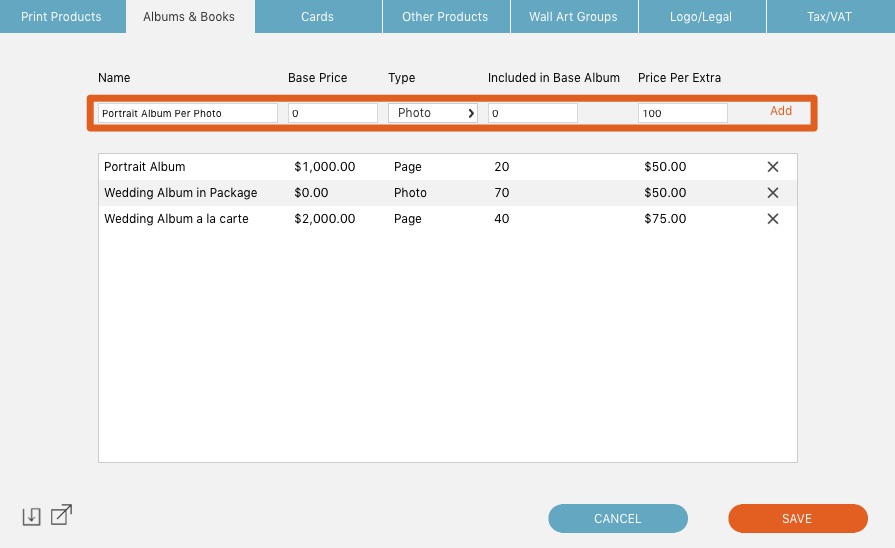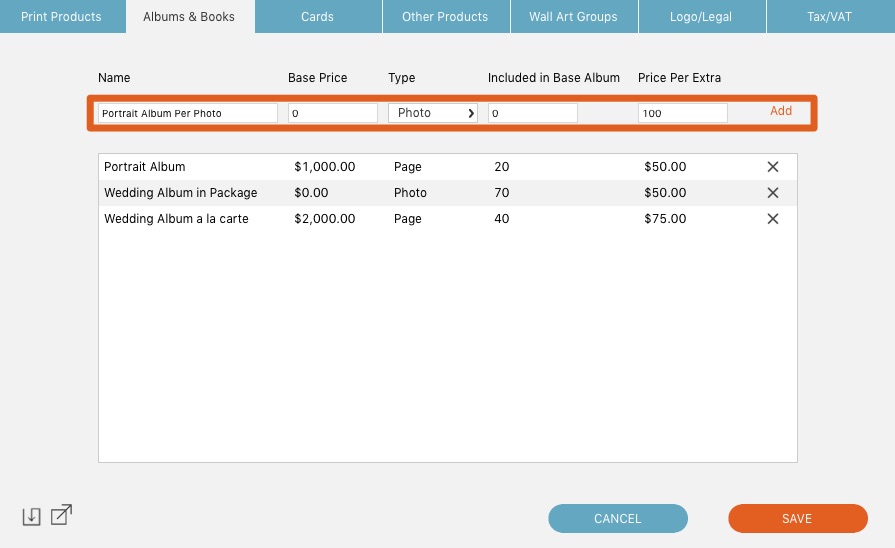 As you can see, the album pricing is very flexible. Once your album is priced, and you choose Add Album from the Client menu Fundy Designer will do the math for you.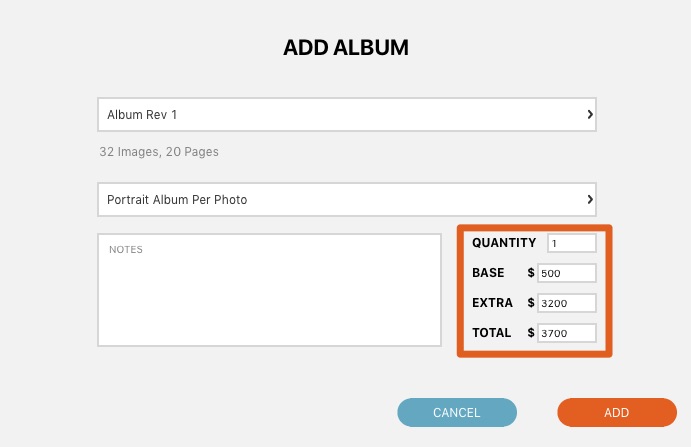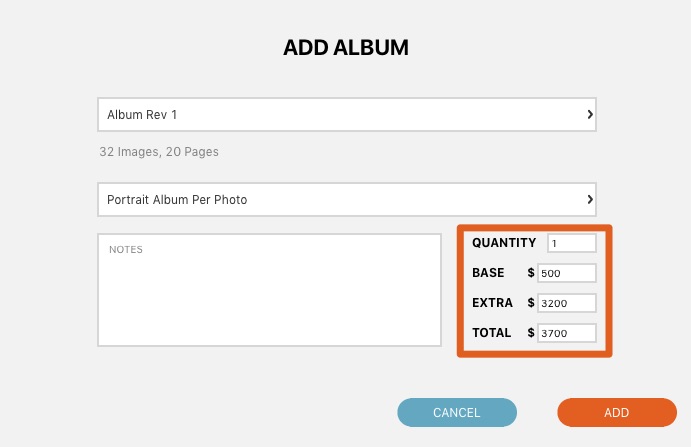 Wall Art Group Names
While this section of the dialogue box does not allow you to enter pricing, it allows you to organize your wall collections into groups. For example, you could have a group just for canvas collections, or framed print collections. Or you could create collections based on tiers – the gold, silver, bronze collections. This tab lets you name your groups. This is NOT for each collection, we'll do that later, these are just your buckets. For example if you have different collections for Weddings and Portraits
Open your Client Product Pricing under Client Orders and click on the Wall Art Group Names.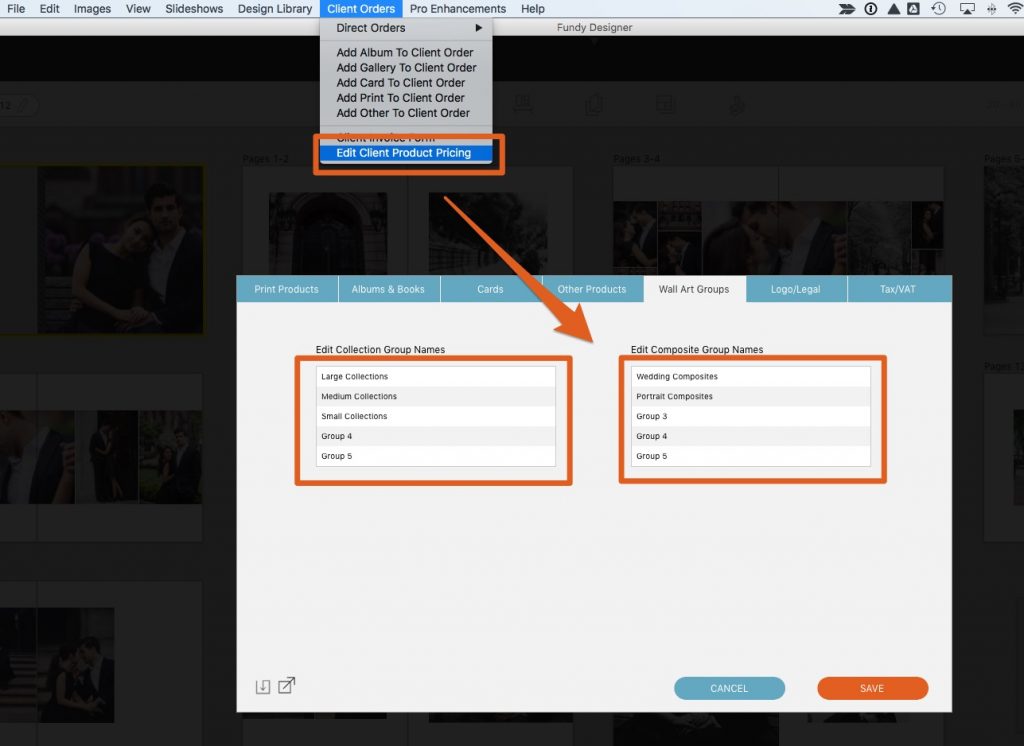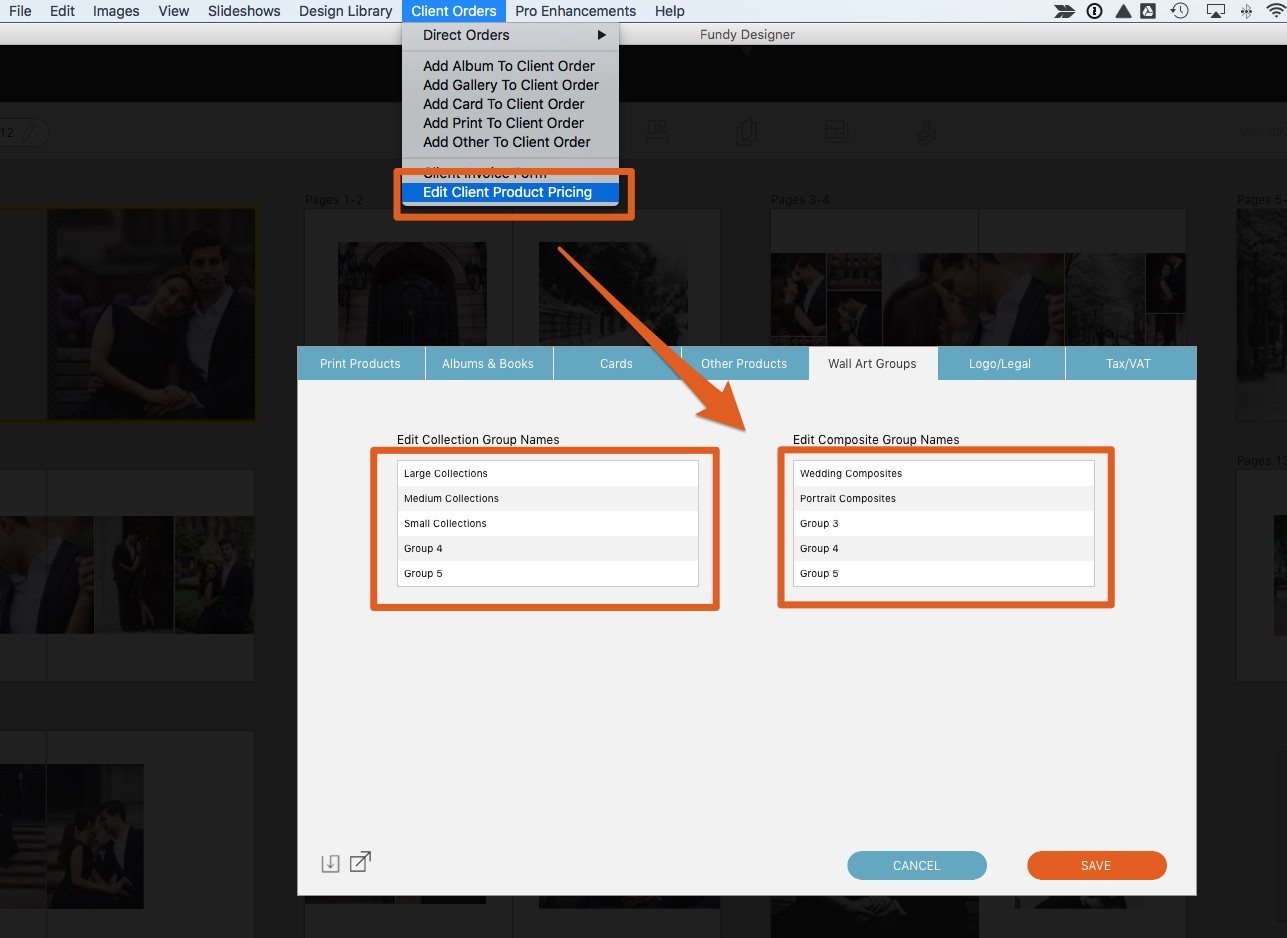 When you save and choose your own wall collections in Fundy Designer, you'll be able to choose where to save your collections and also choose where to apply your collections from.
How To Save and Price Wall Art Collections
This part of setting up your pricing is different from everything else in Fundy Designer, the reason is that wall art collections and composites are directly tied to the design of them – how many photos and how many art pieces are in them.
Step one to saving a collection with pricing is to design that collection.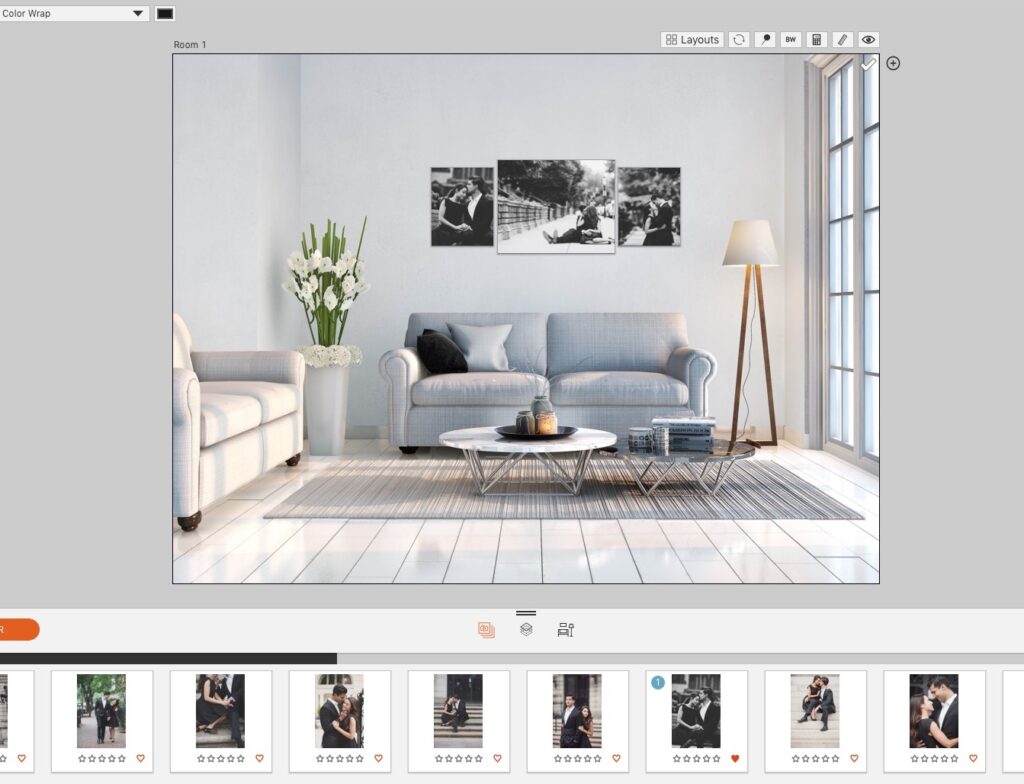 You can also choose to download a collection from the Design Library.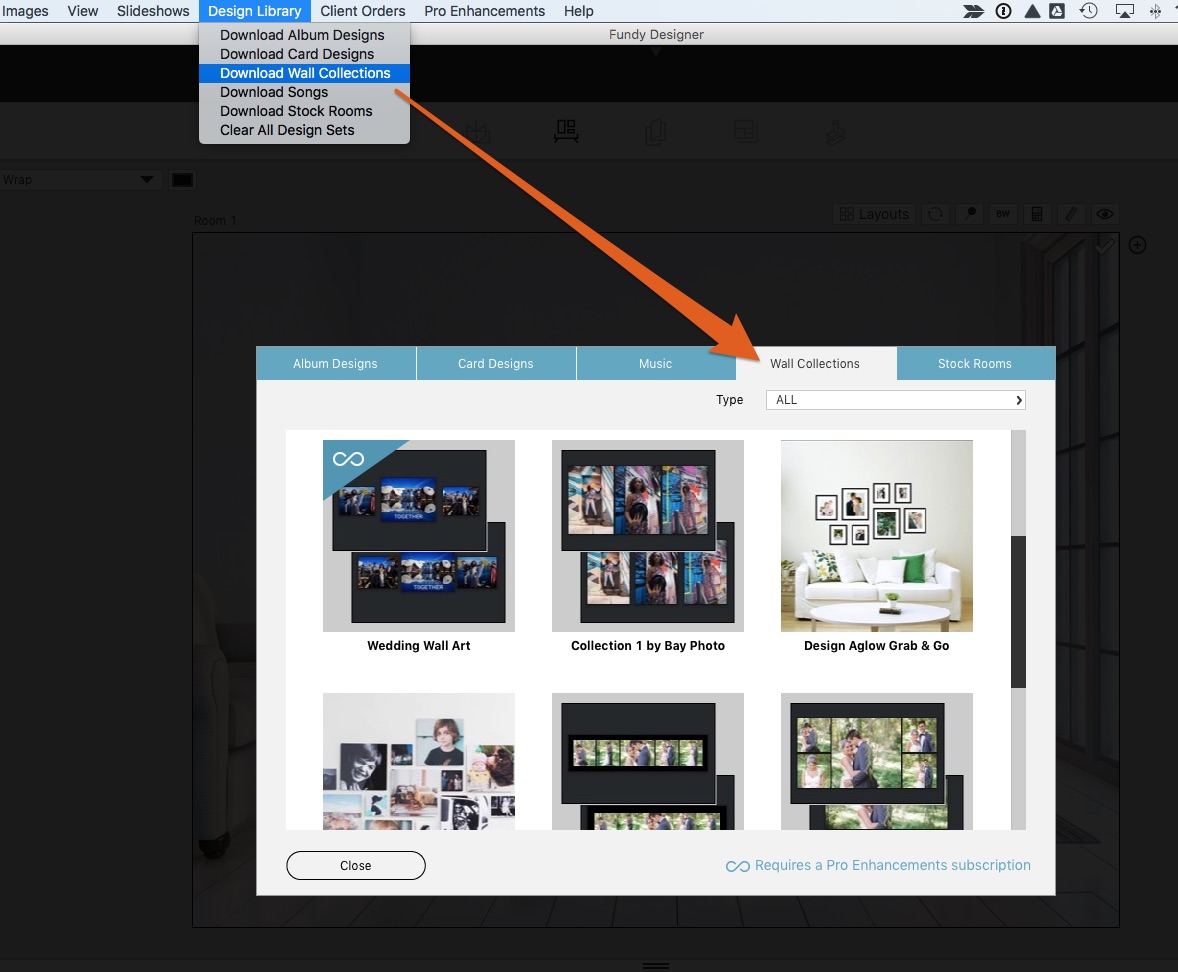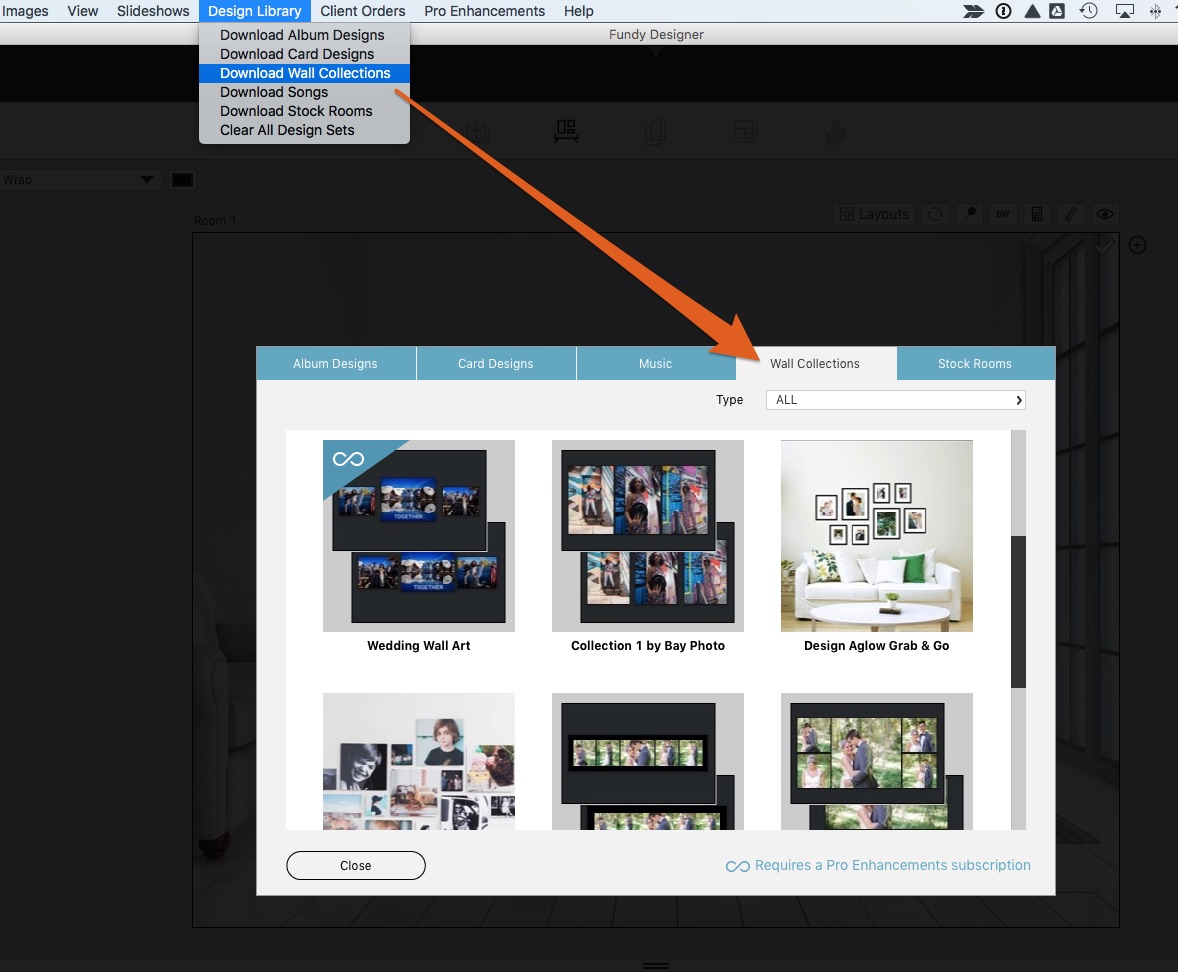 After designing that collection, click the pin icon above the wall.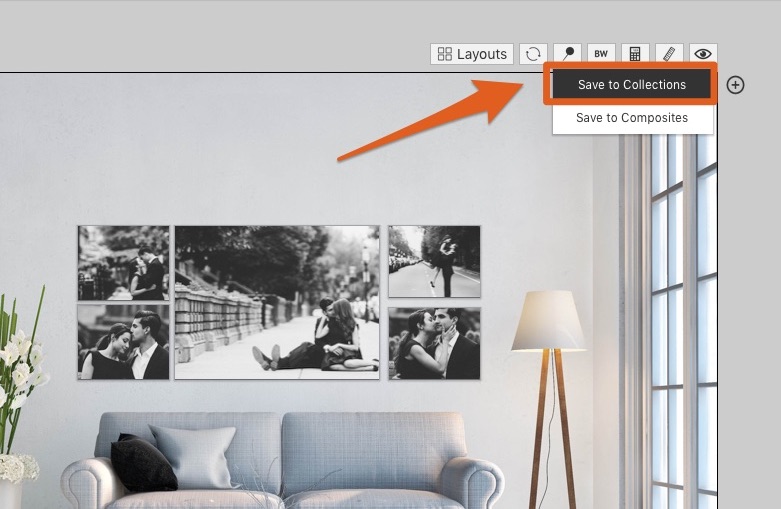 (note that a Composite means when more than one photo is on a single canvas, metal, etc)
After clicking the pin, choose what group you want to save the collection in, give the collection a name and a price. You can also choose what group to save it into and the order in which it appears.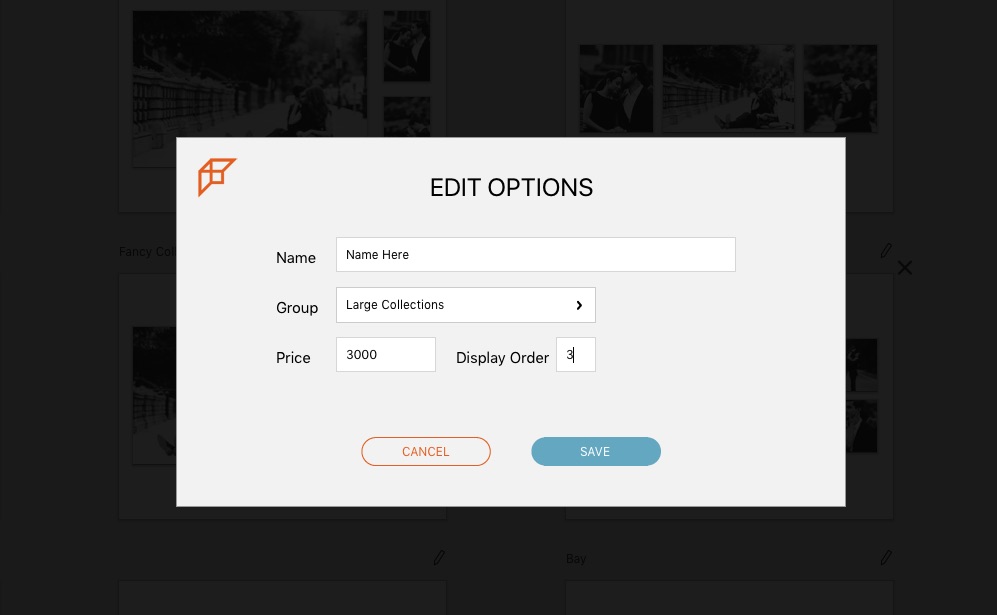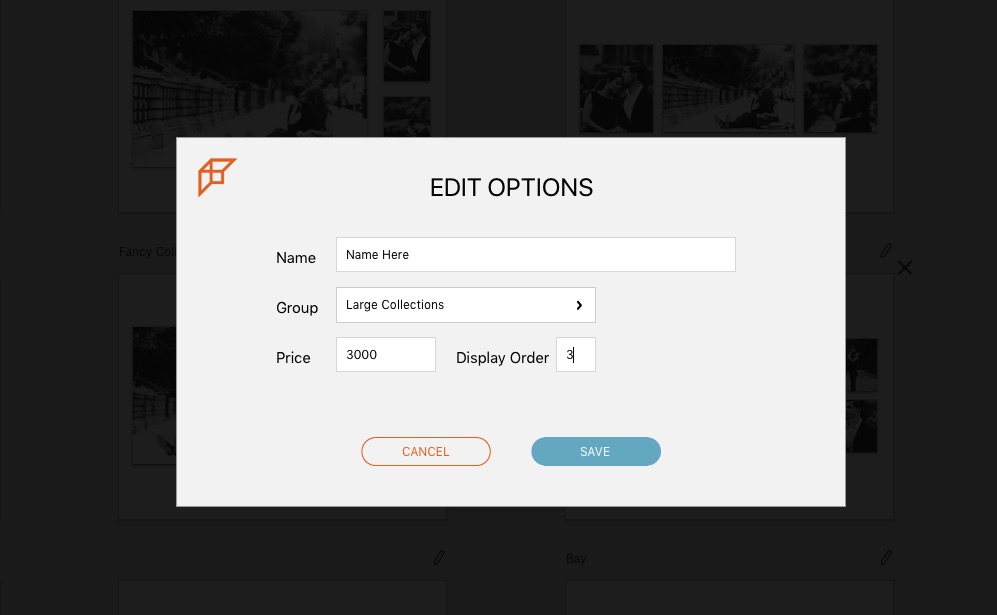 You can save as many collections as you like.
When you then apply a collection, that price is applied to the room design and then carried through when adding that room to a client order. So when you add a Gallery to a client order, the price is automatically carried through.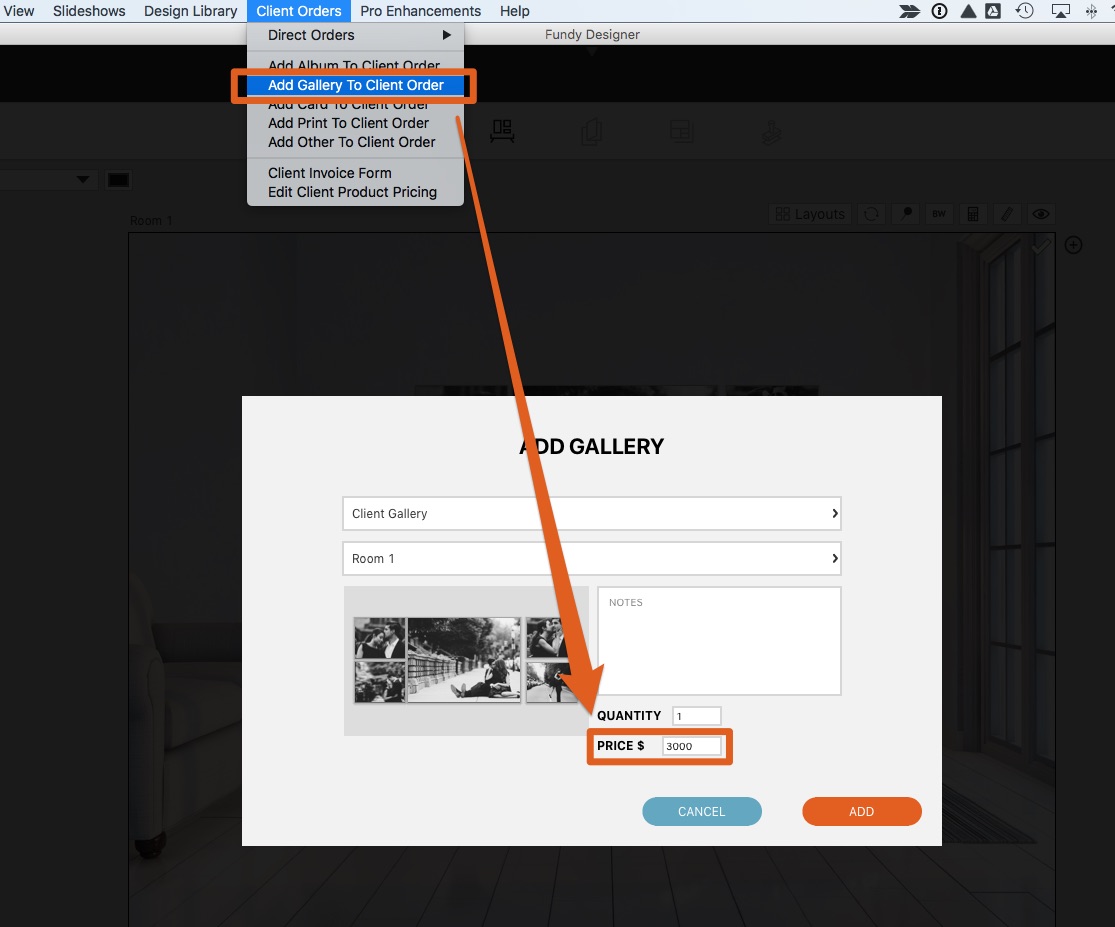 Card Pricing
Card pricing is set up very simply, and therefore very flexible. Here we give two examples of how you can set up pricing. Card pricing is next to the album pricing tab in Client Product Pricing.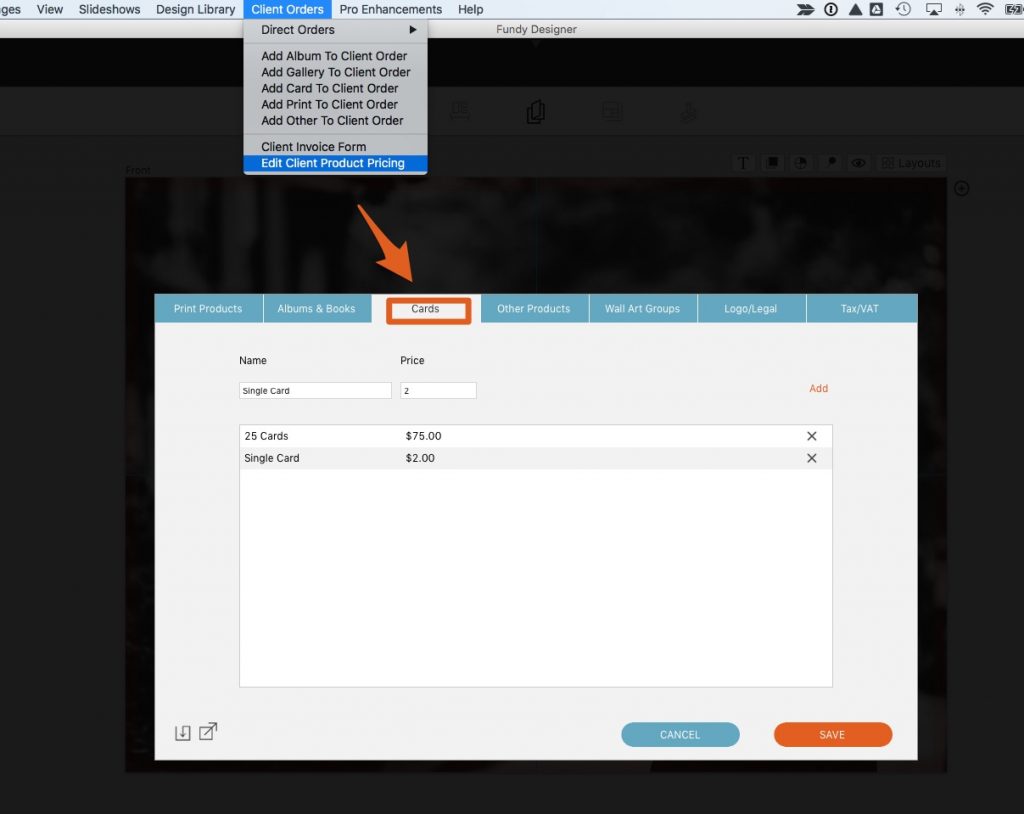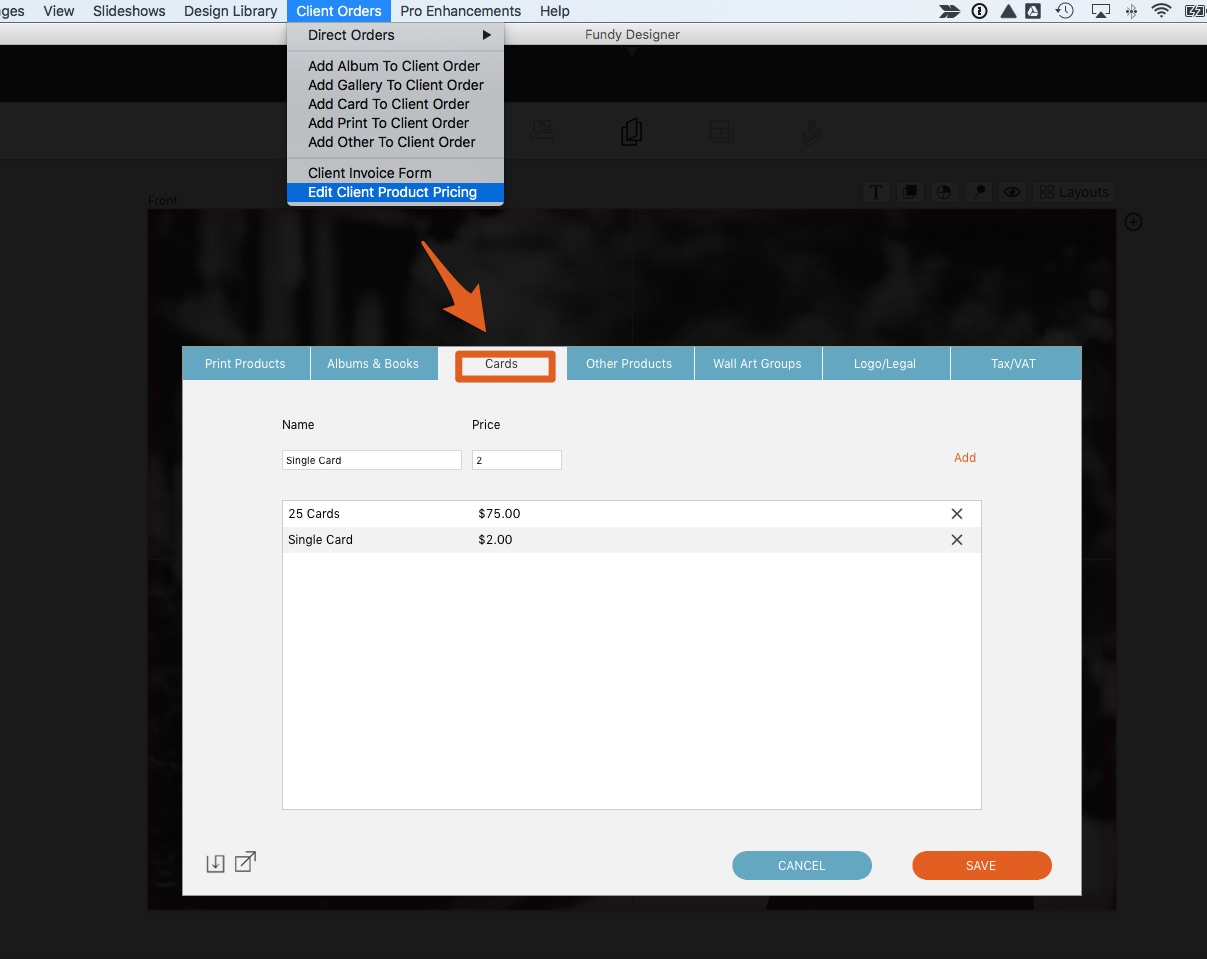 In this example, we've priced cards in packs of 25.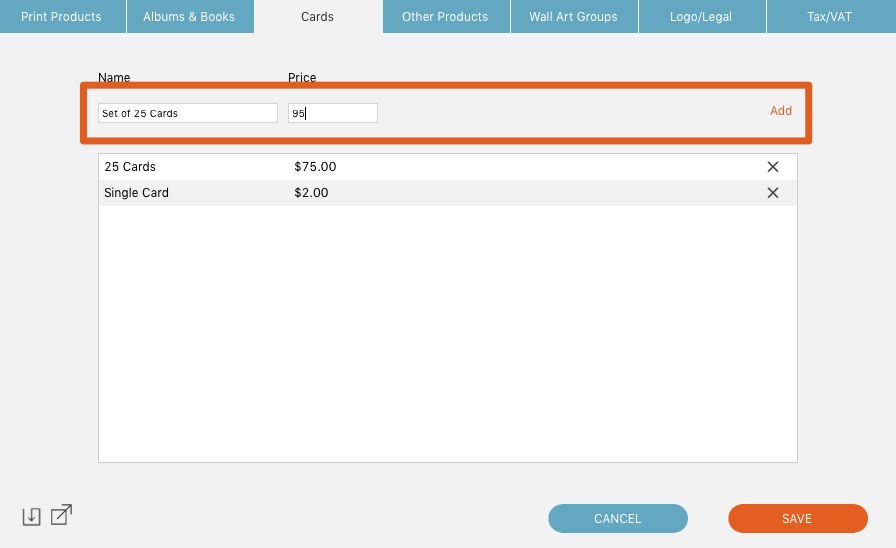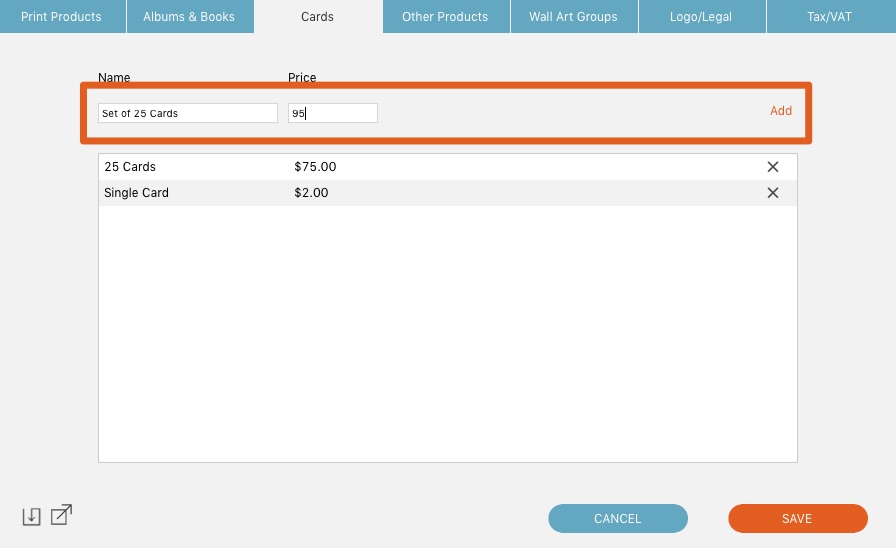 Then when adding a card to a client order you can use the quantity function to add cards in sets of 25.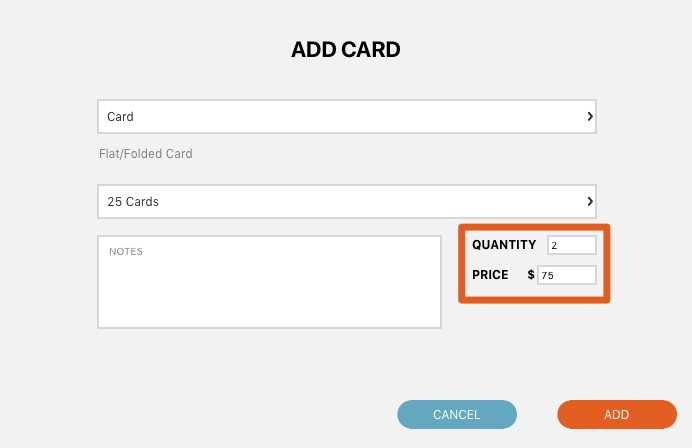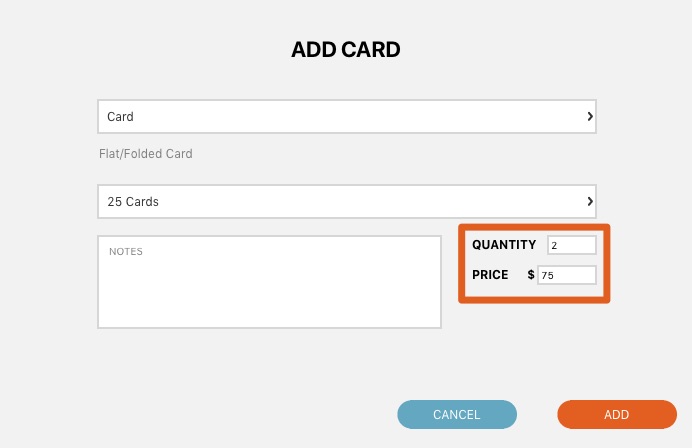 Here, we've added a card pricing as a single card.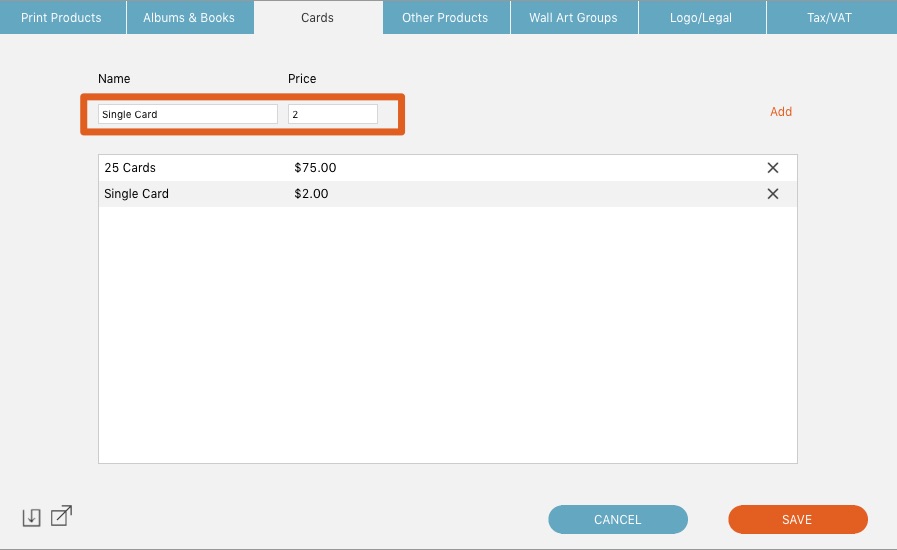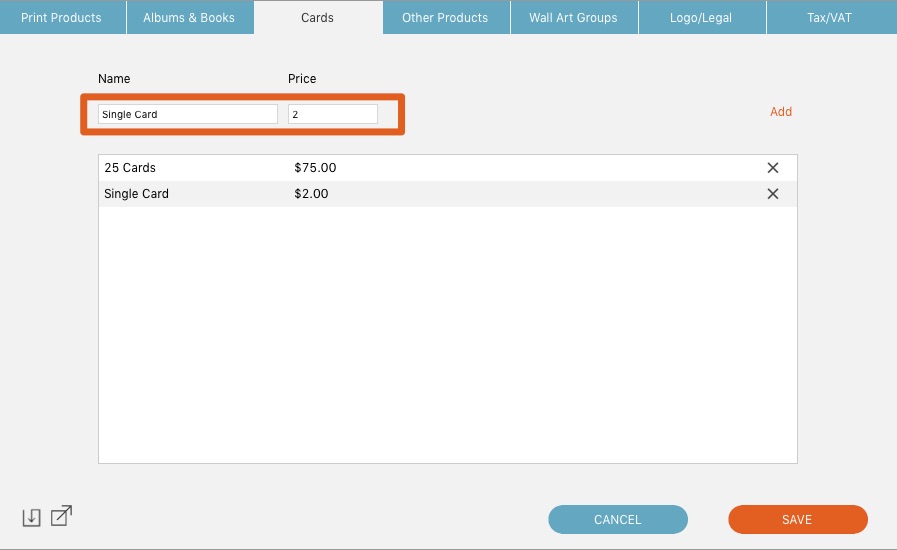 Now when we add a card to a client order, we simply add the total number of cards to the order.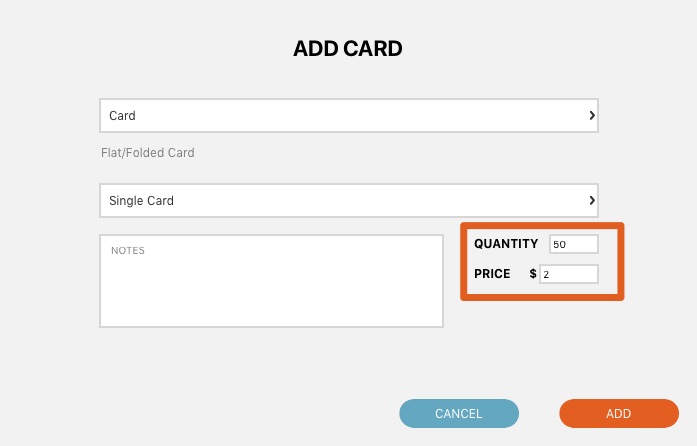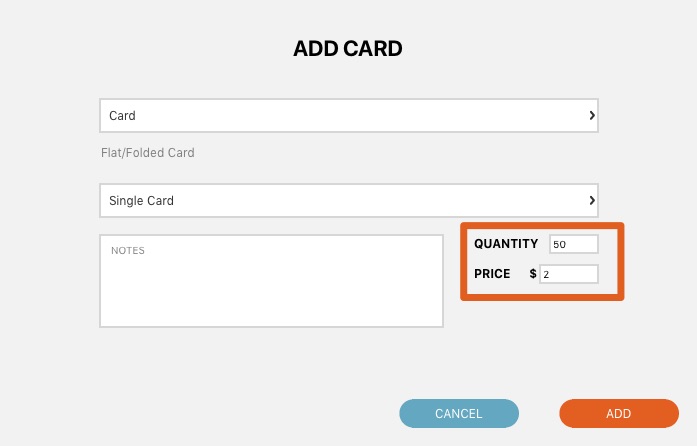 Pricing Other Non-Design Items
Fundy Designer has an "other" section for pricing and client orders. This is, fundamentally, a catch all for pricing. You can use it to price everything from digital files to matted print boxes with extra prints.
Here are examples of different products you can set up.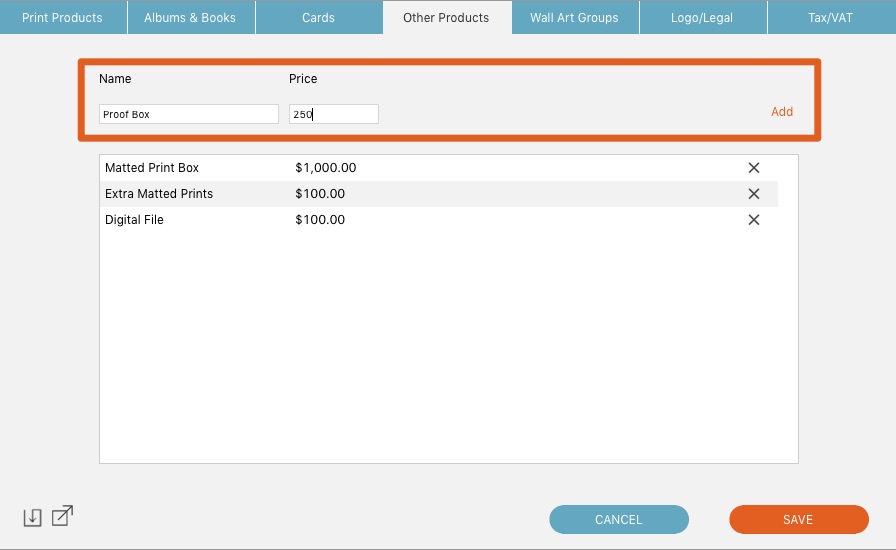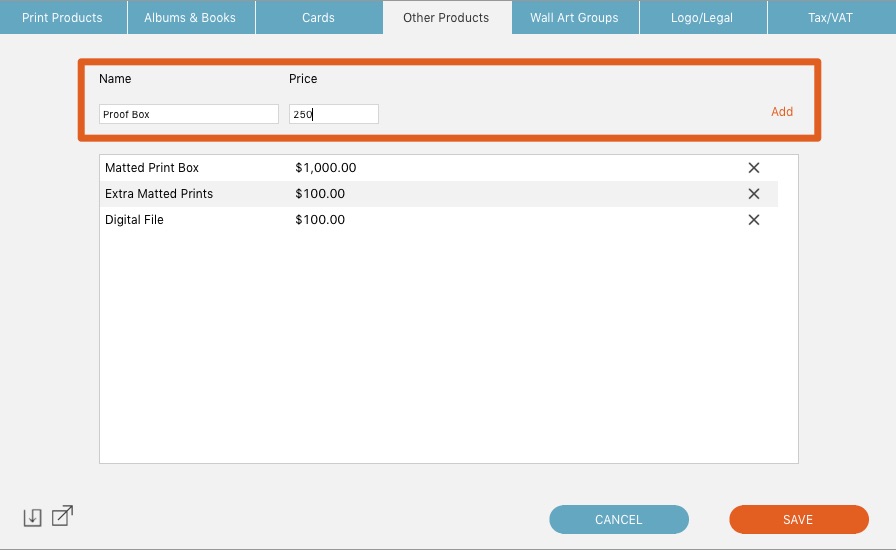 Settings
In addition to simply adding your pricing, Fundy Designer has a number of settings to personalize your client order forms.
Open Client Pricing Setup under the Client Orders menu. The logo/legal tab allows you to set up your client order form logo, your legal phrasing on your client pdf, as well as the ability to show or hide certain options.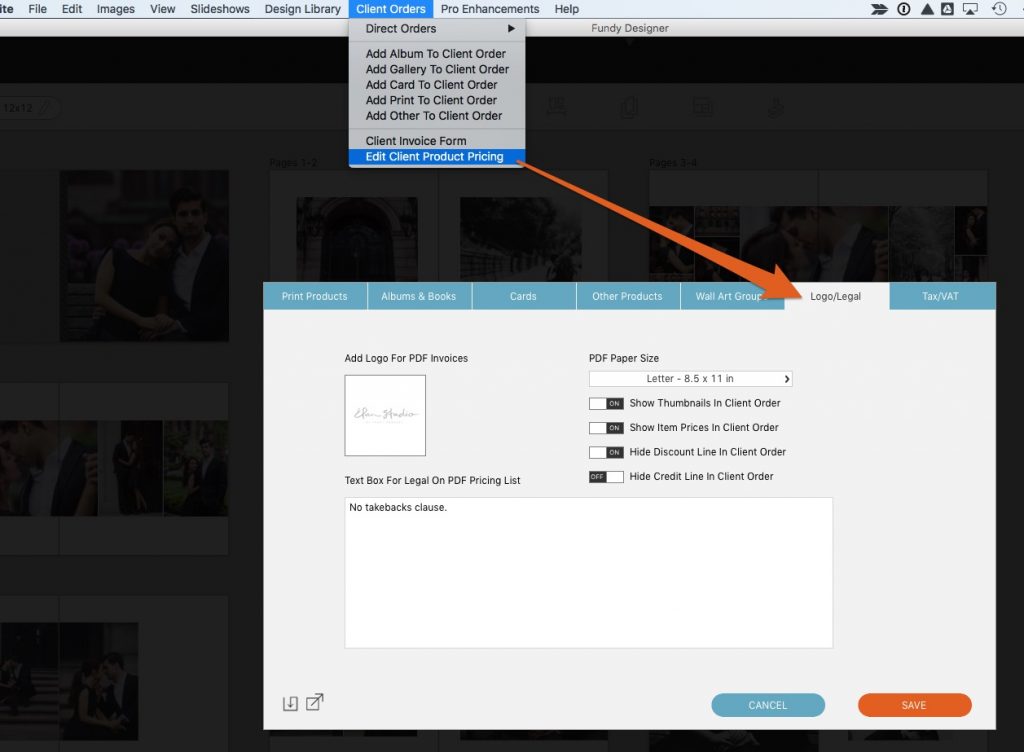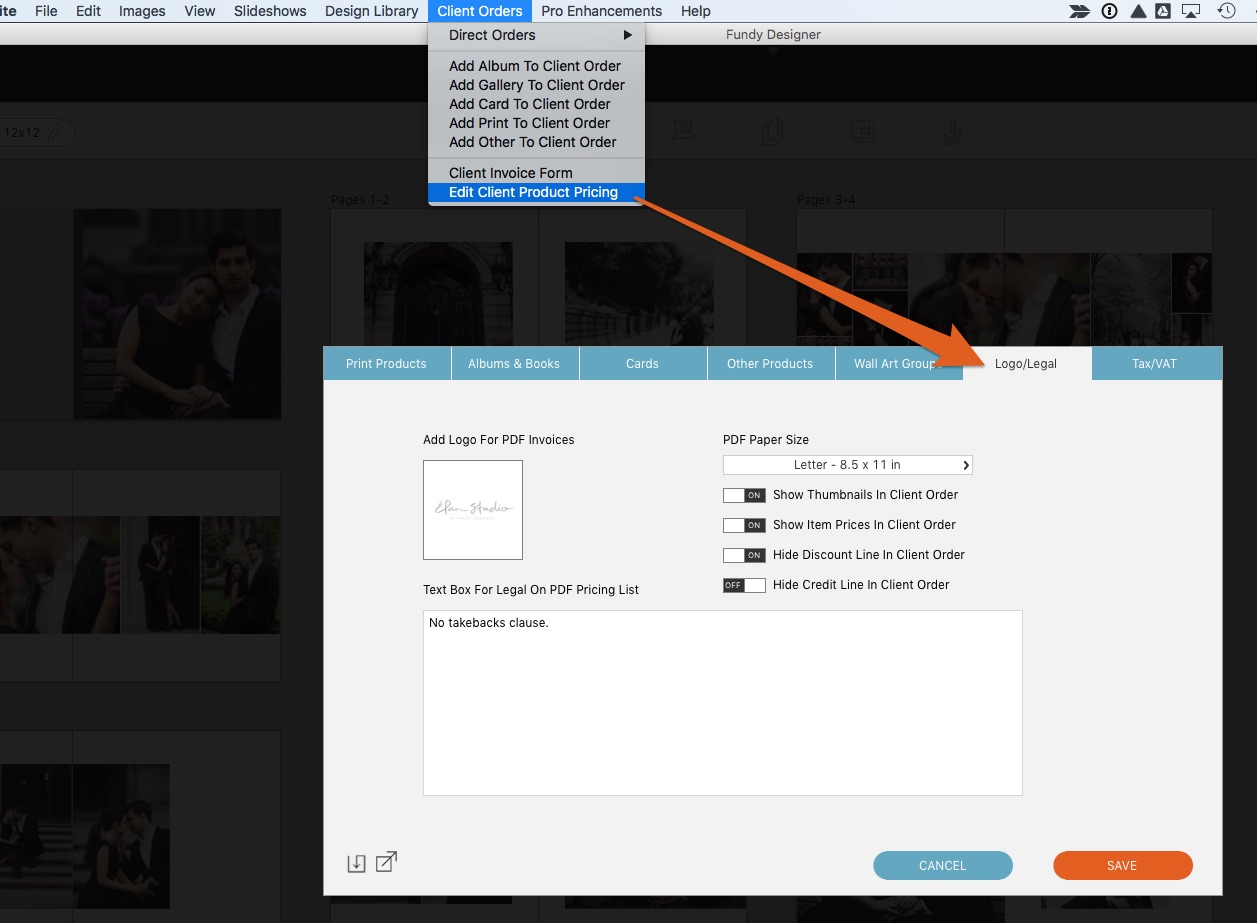 Finally, in the last tab, you can set up your Tax or VAT settings for your region of the world.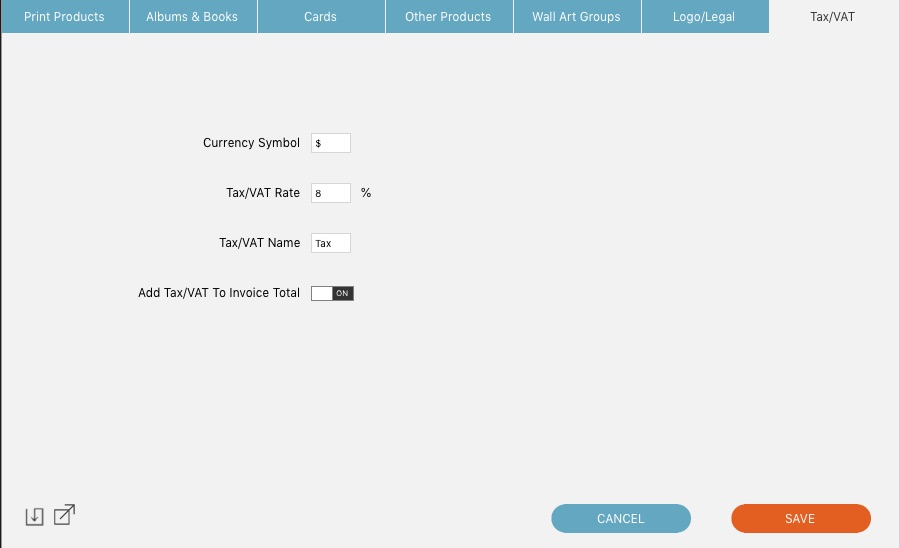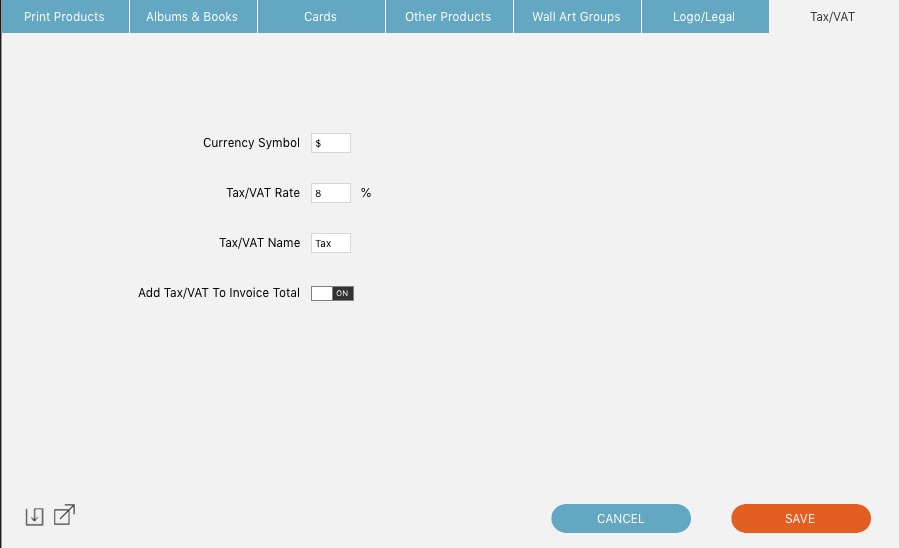 Saving and Sharing
Once your pricing is set up, you can share it (and archive it) with other computers by clicking the import or export function in the Pricing Setup Panel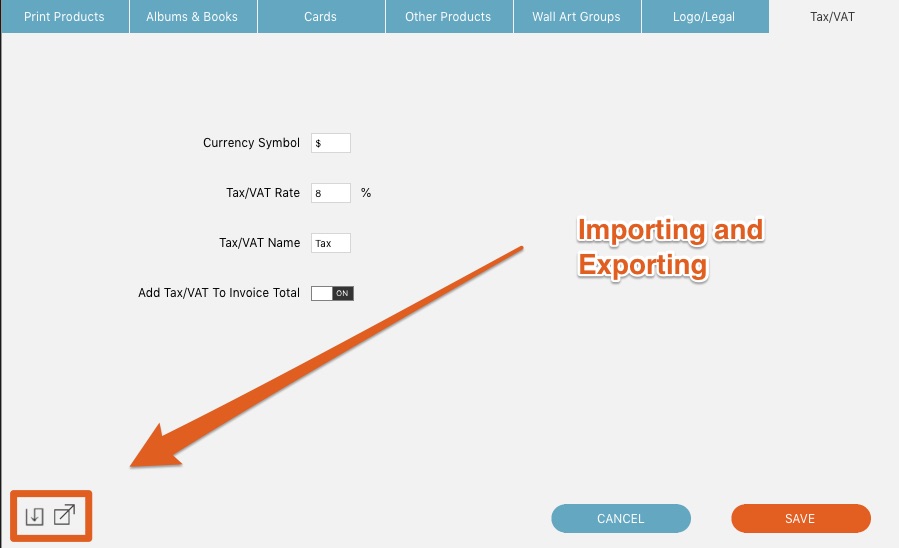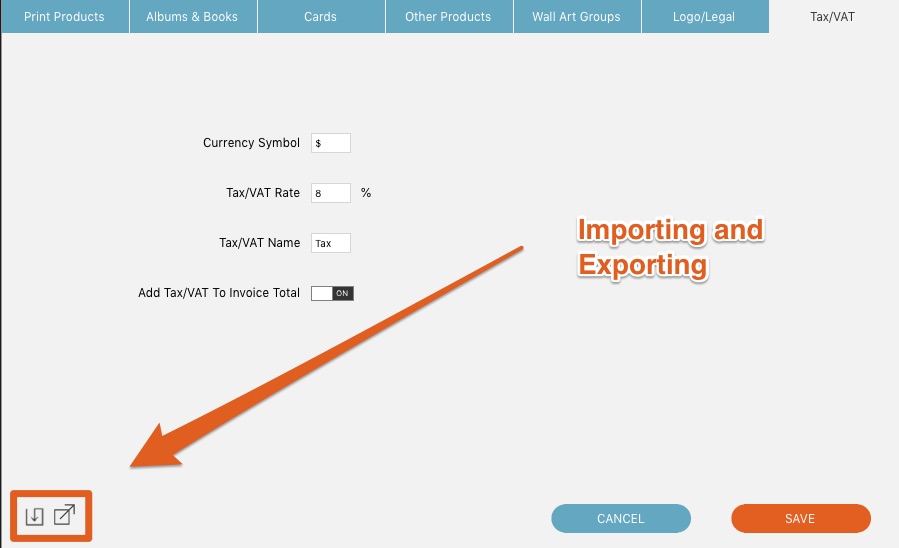 We hope that this blog post helps you get up and running on setting up your pricing in Fundy Designer.
Need help figuring out what to charge? Download our free pricing calculator here. (be sure to download your computer, And use Adobe Acrobat Reader to view).