If you are part of the Fundy Storyteller Facebook group you might have seen the post where one Fundy user sold a three volume album because she showed the client an album slideshow. This is just one of many success stories we're heard with slideshows as selling tools.
We're continuing to change the game when it comes to slideshows. In this post we'll show you how to create a slideshow with photos, album designs and wall art designs, all set to your choice of over $1000 worth of free music. We'll also walk you through how to easily export your slideshow so you can provide the file to your client.
To get started, click on Slideshows in the software menu bar and choose "Create Slideshow."
Choosing Music
First choose your music from over $1000 worth of pre-loaded music, or import your own. You can add your own with the little import icon.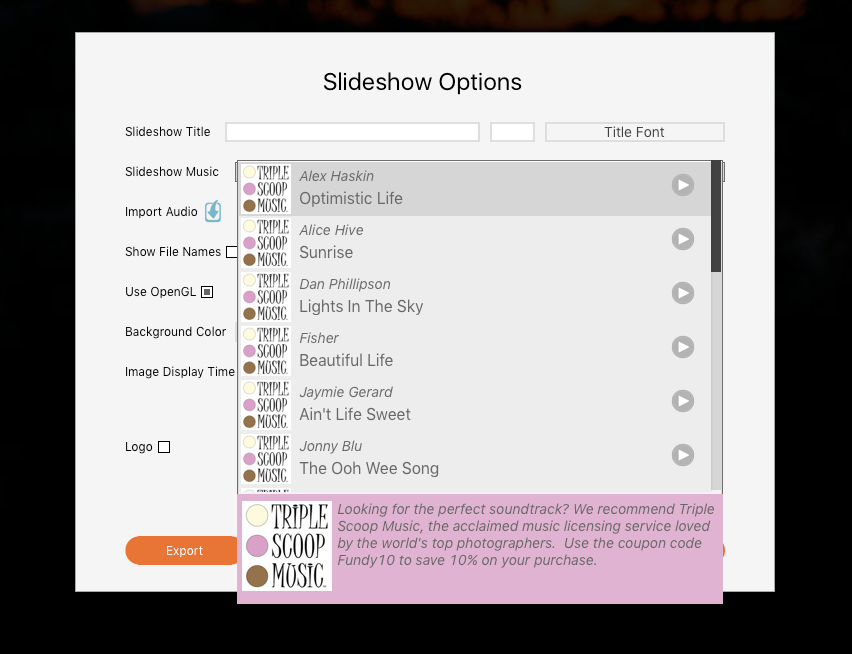 Choose Your Photos
Next you can choose what photos to include in the slideshow. You can choose all photos, just the favorites, or any photos that you've filtered down to. We've found that showing clients their images before the album design and wall art design helps to them to re-familiarize with their special day and begin the emotional connection to their images.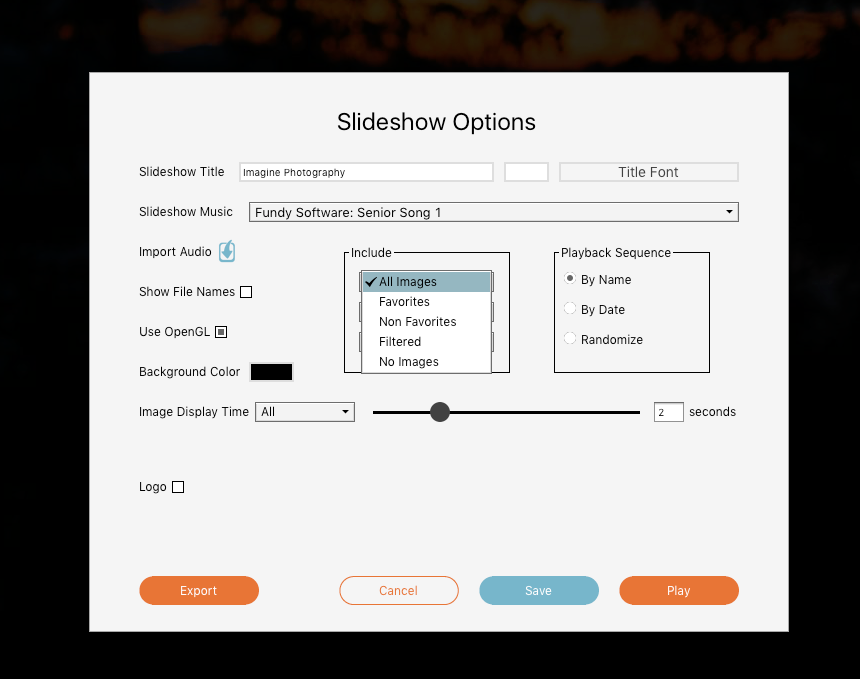 Album Design
Choose any one album design in the project to include it as part of the slideshow. Because clients have already seen the images in the slideshow, they will be focused on the overall impact of the design rather than individual photos.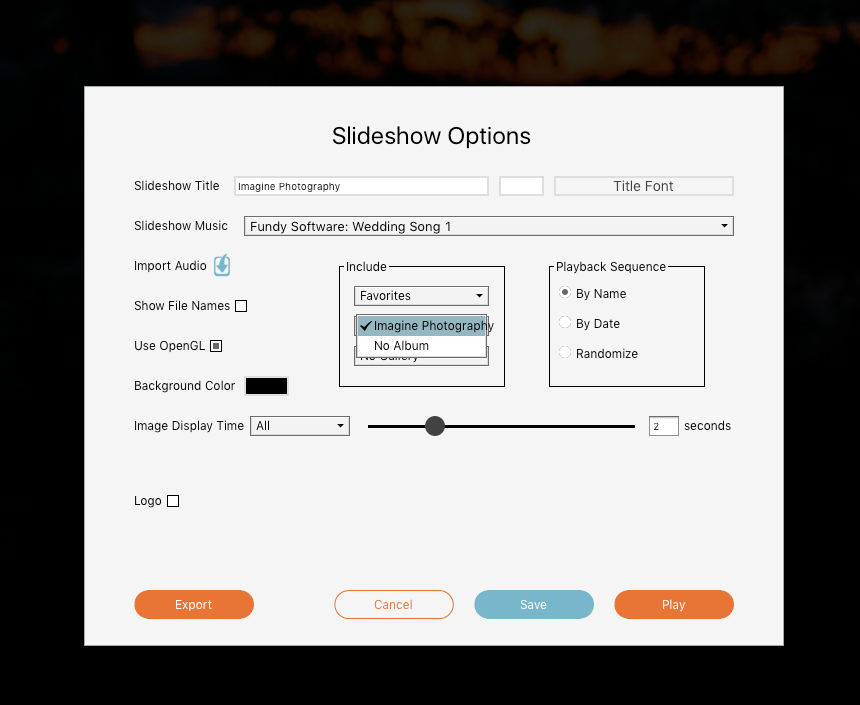 Gallery Design
Just as with albums, you can include one set of wall gallery designs. Remember, a set of Gallery Designs can include multiple rooms.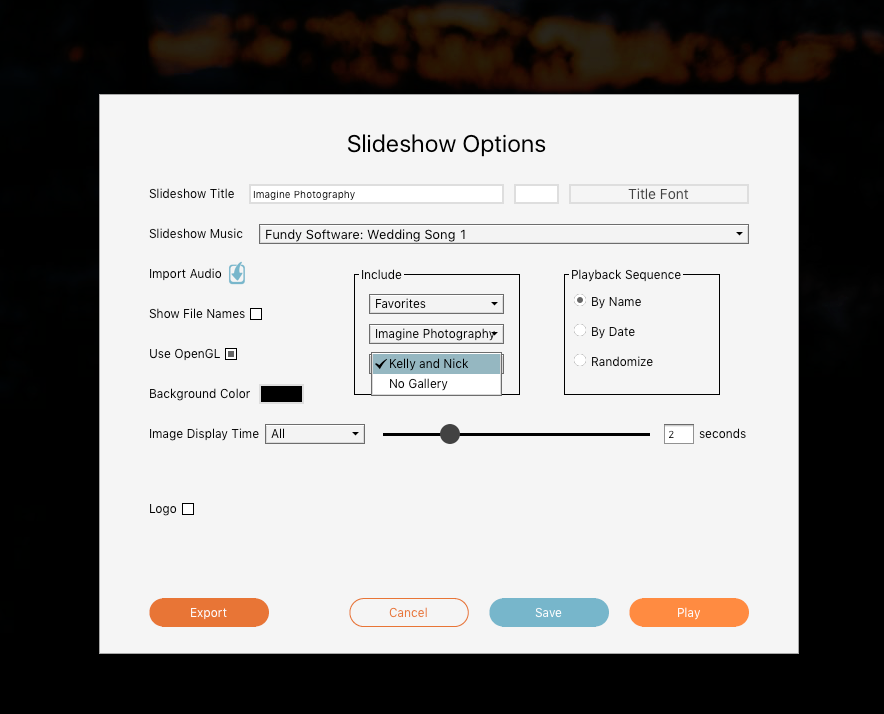 Timing
Now you also have more control over timing. Set transitions down to the tenth of a second. Additionally, you can set different timing for images, albums, and wall art, ensuring that your clients enjoy their designs at the best pace possible.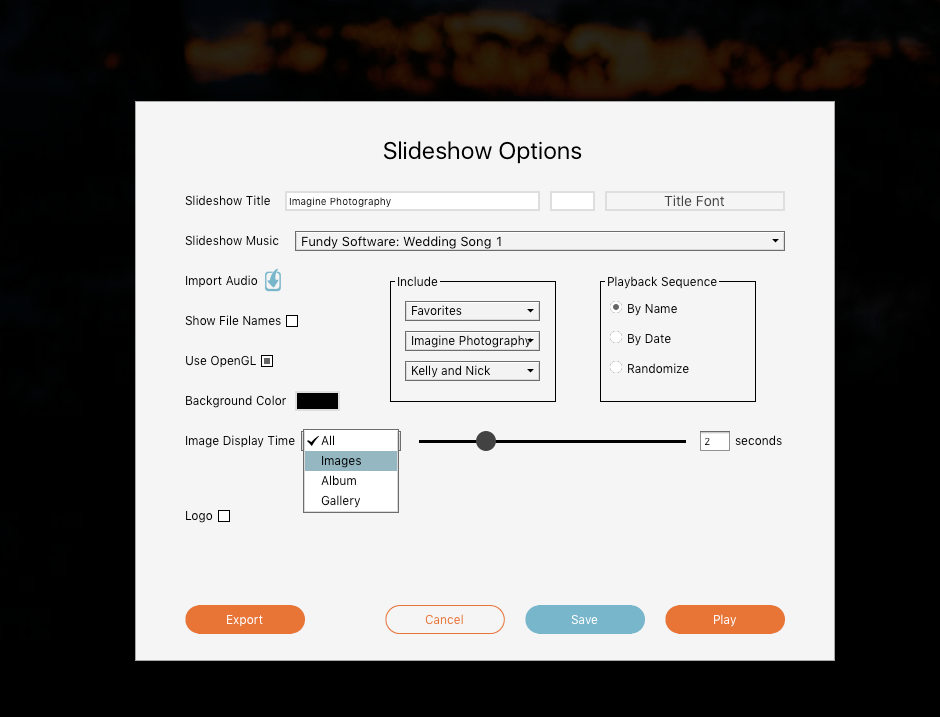 Titles & Colors
You can choose a title for your overall slideshow, which will display right as the slideshow starts. The title of your album will also be shown before the album design plays (this is the same title you chose when setting up your album initially, and can be changed at anytime by clicking on the pencil icon next to the size of your icon in the top left corner of the software). The same applies to the title of your wall gallery.
You can choose a background color, text color and even the font for the slideshow title.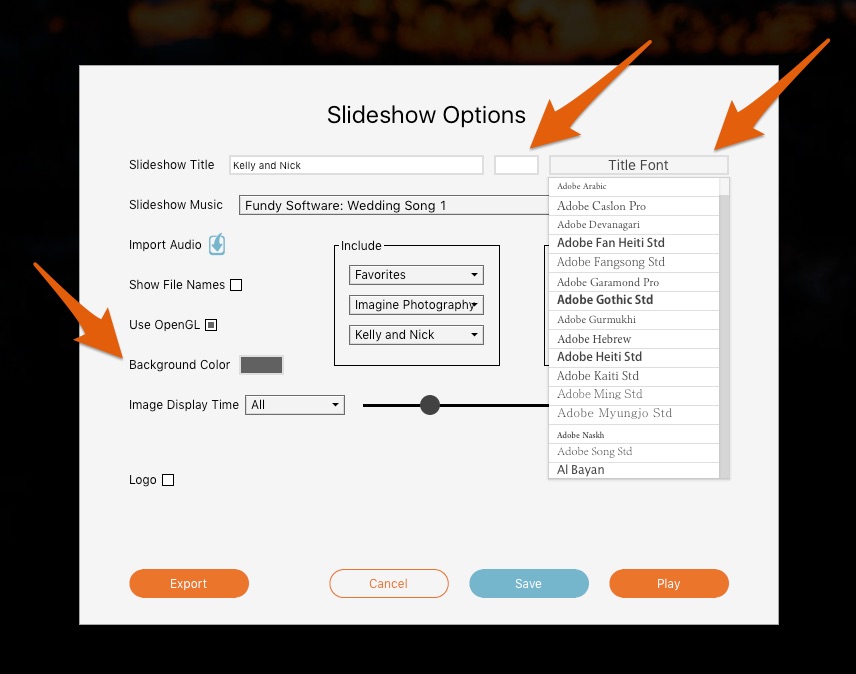 Logo and Branding
Finally, you can choose to end the slideshow with your logo.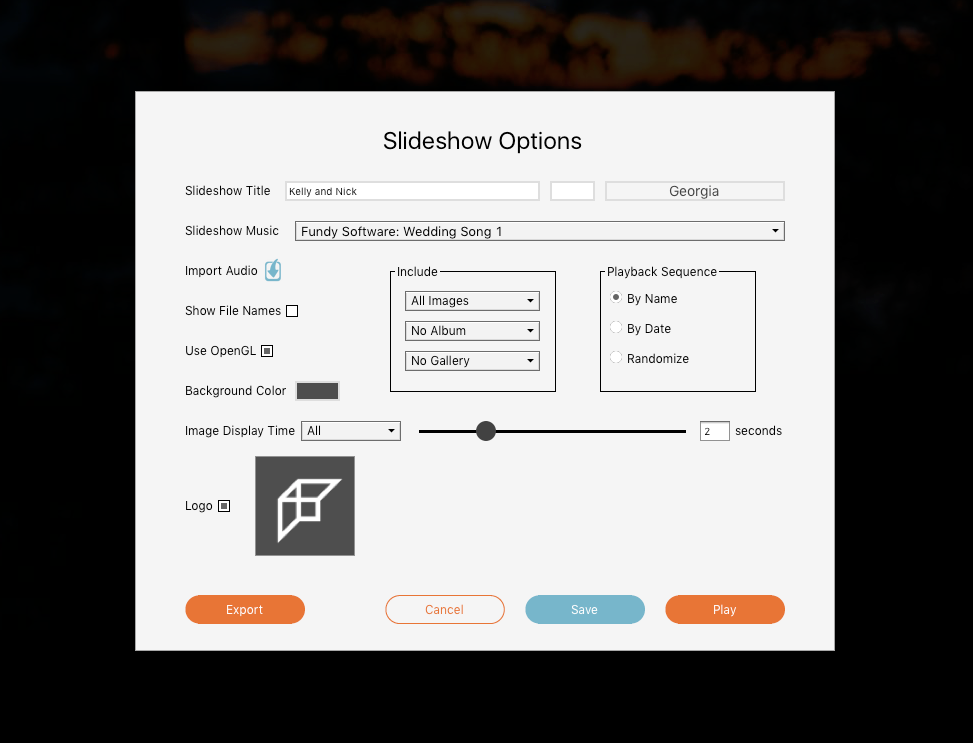 Export Your Slideshow
And finally, we now have the option to export the entire slideshow with music to a movie file. You can choose to export at 1080p or any custom size. Note that the option to export your slideshow is restricted to Pro Enhancement subscribers due to music licensing.
Watch the Video Tutorials Here
If you would like to subscribe to Pro Enhancements, click here to add it to your account. If you have not purchased or upgraded to the Fundy Suite, click here to sign up and receive three months of Pro Enhancements free.
Image Quality
By default Fundy Designer uses the built in proxy images to display photos. One some high resolution monitors and screens, the quality may not be high enough. You can increase the default settings under the Edit Menu.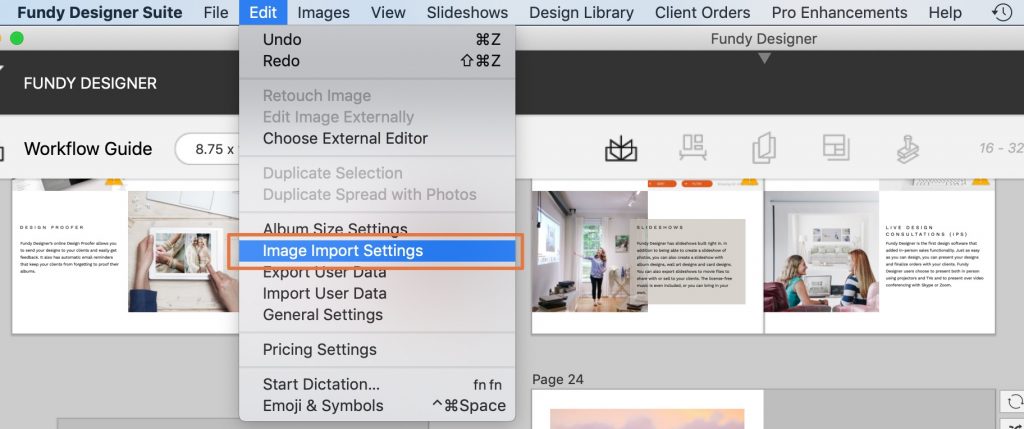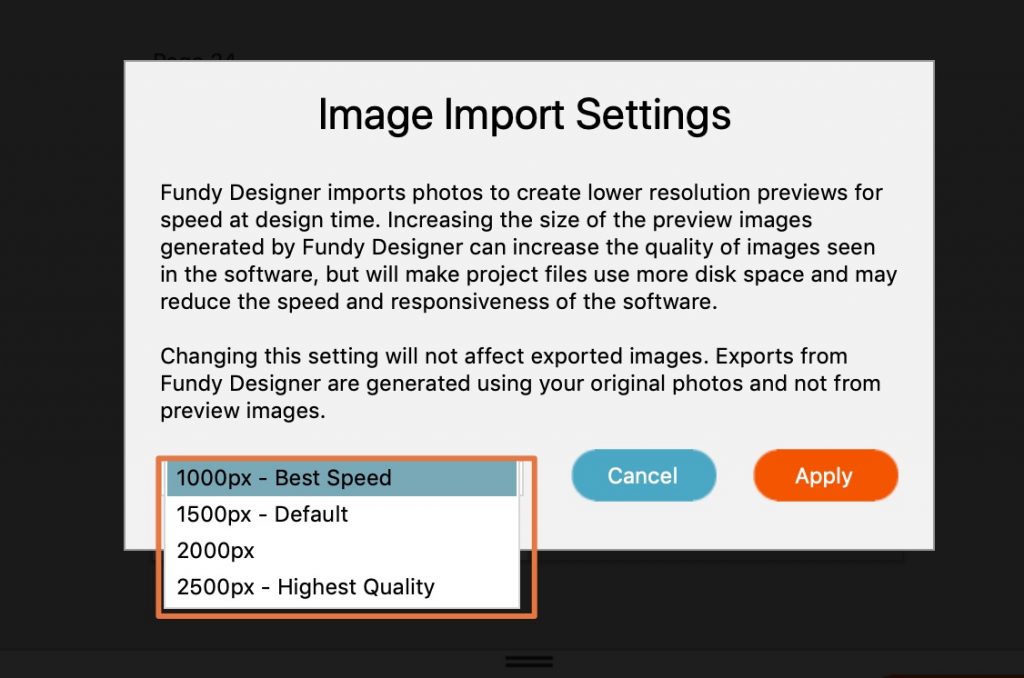 Fundy Designer will automatically update your current project. For older projects you can choose to rebuild the higher preview images under Images > Rebuild Project Images. Exported slideshows always use the original images when available for best results.