A successful slideshow is more than just setting a stream of photos to a cool musical track. If we are strategic about our slideshows, they can double, or even triple our print sales. The slideshow module within Fundy Designer has been created for showing off your designs in addition to your photos.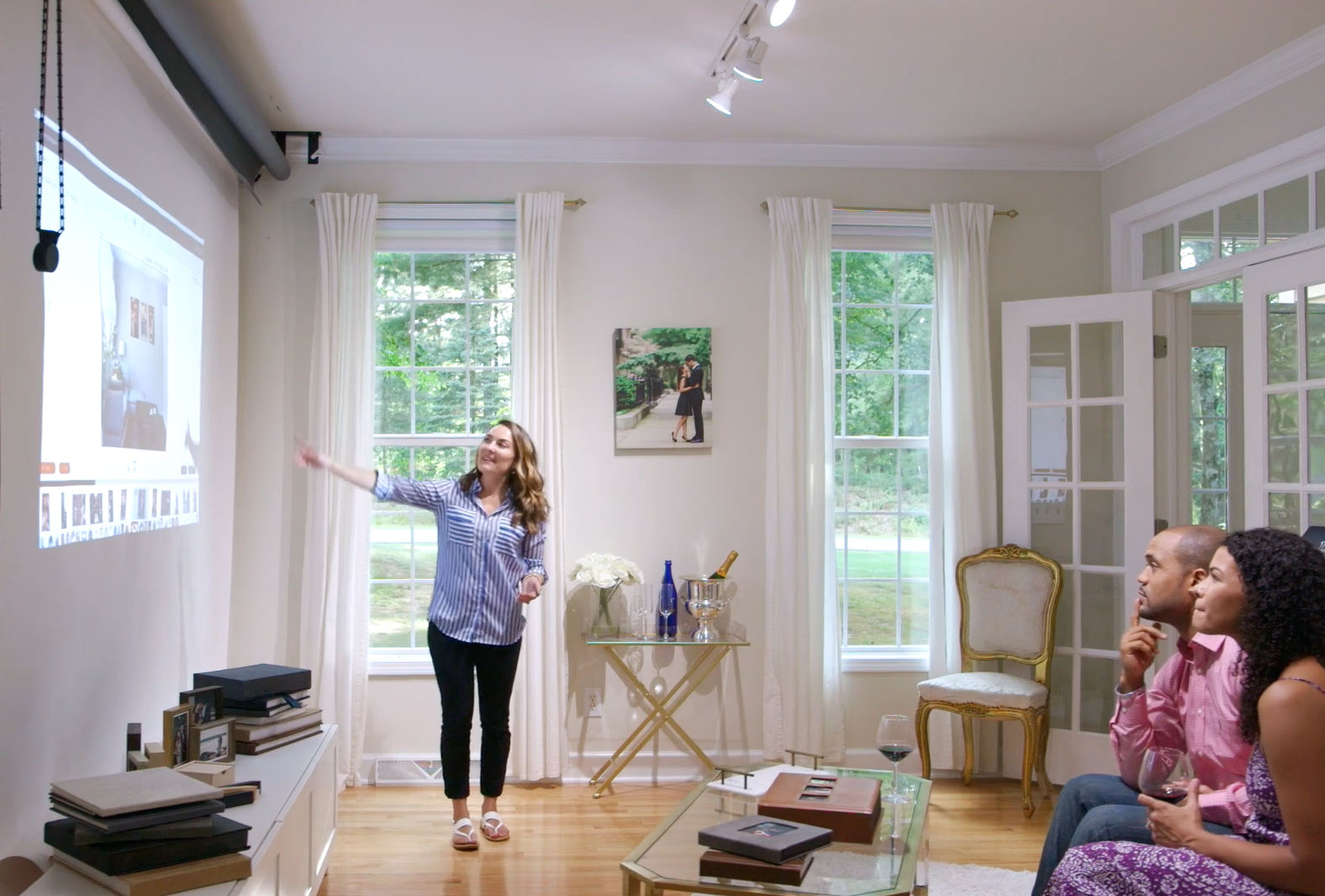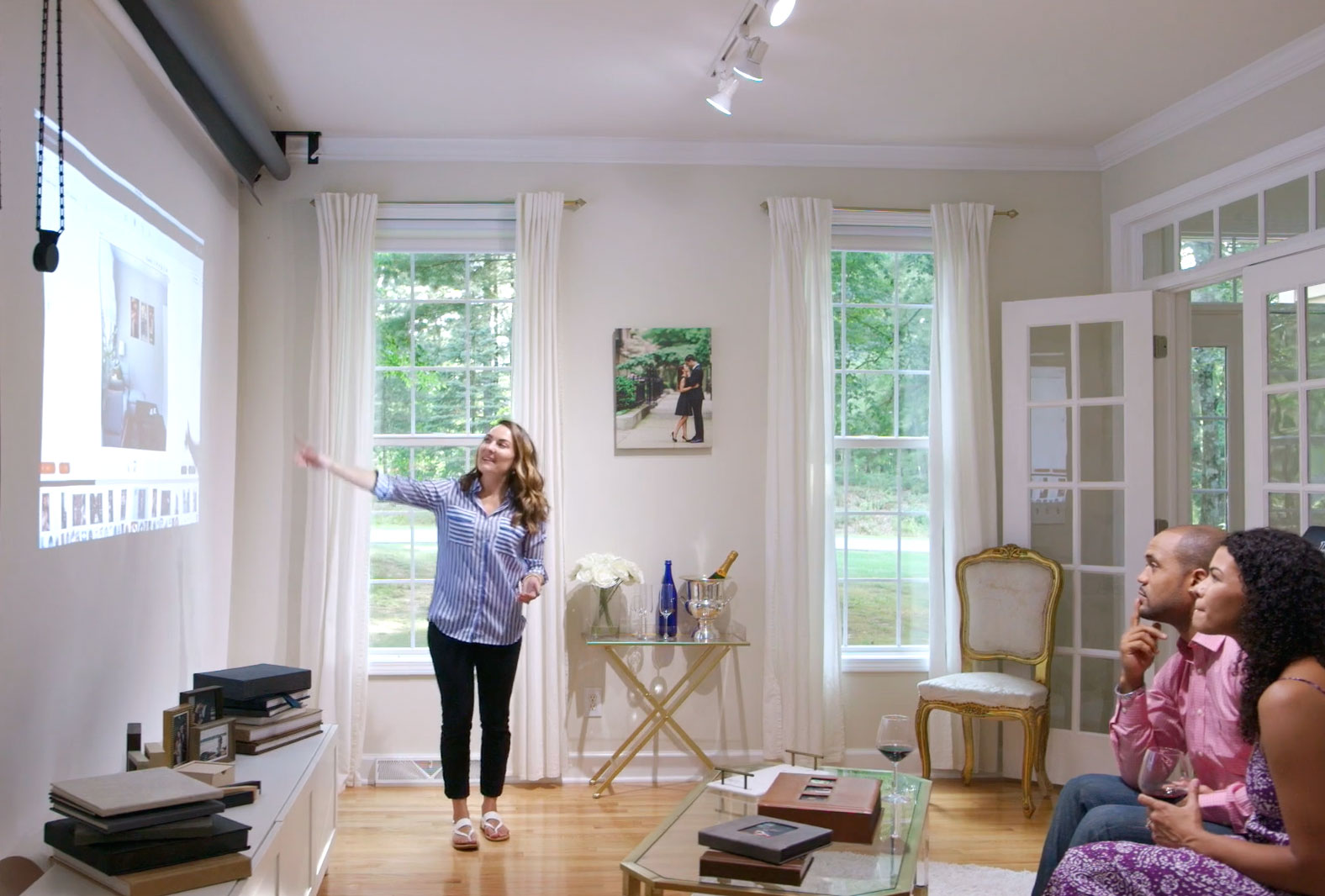 Overview
When creating a slideshow in Fundy Designer, in addition to choosing your music and photos, you have the ability to add an album design, a wall art design, and a card design. The end goal isn't for the client to fall in love with their photos, but with the designs that will end up in print.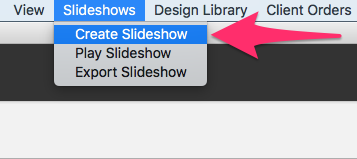 The recommended flow for a successful slideshow is a highlight real of the photos, 10-30 depending on the length of the album, the album design, some wall art options (at least 5), and a few card options.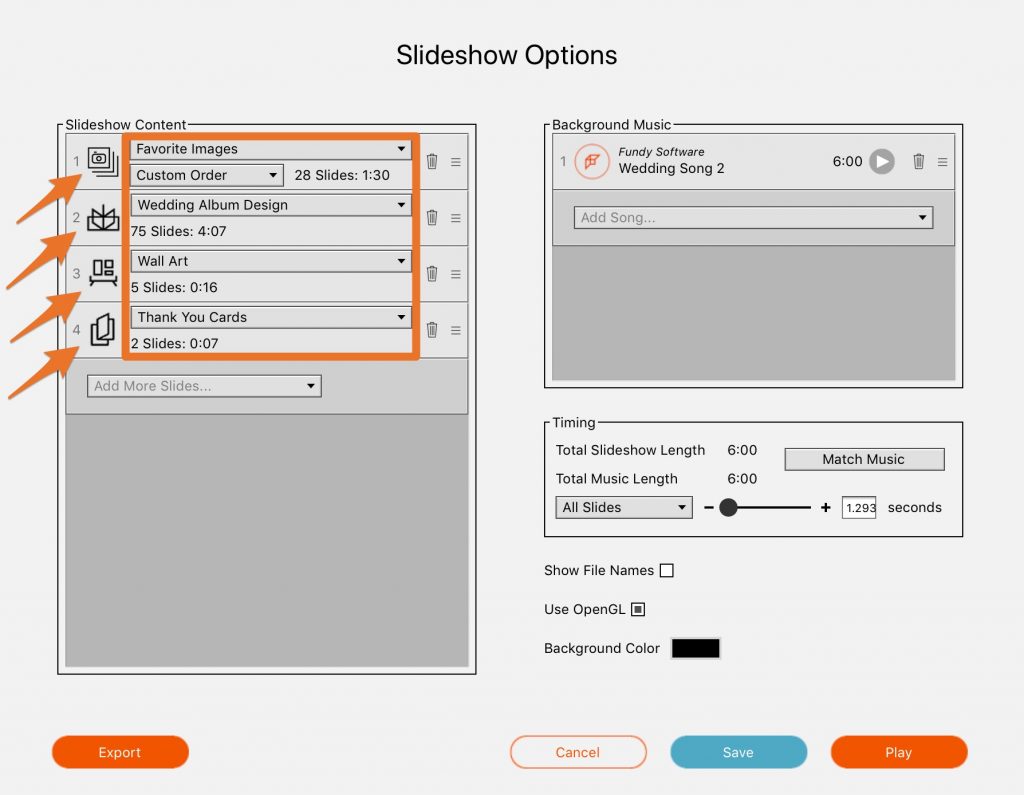 We want to activate the clients' emotions with the wow images and then show them the purpose of the images as printed photographs.
Music
You can choose from our included music tracks from Triple Scoop Music or choose from our music in the Design Library. If you purchase MP3's from license free site, you can also import your own music.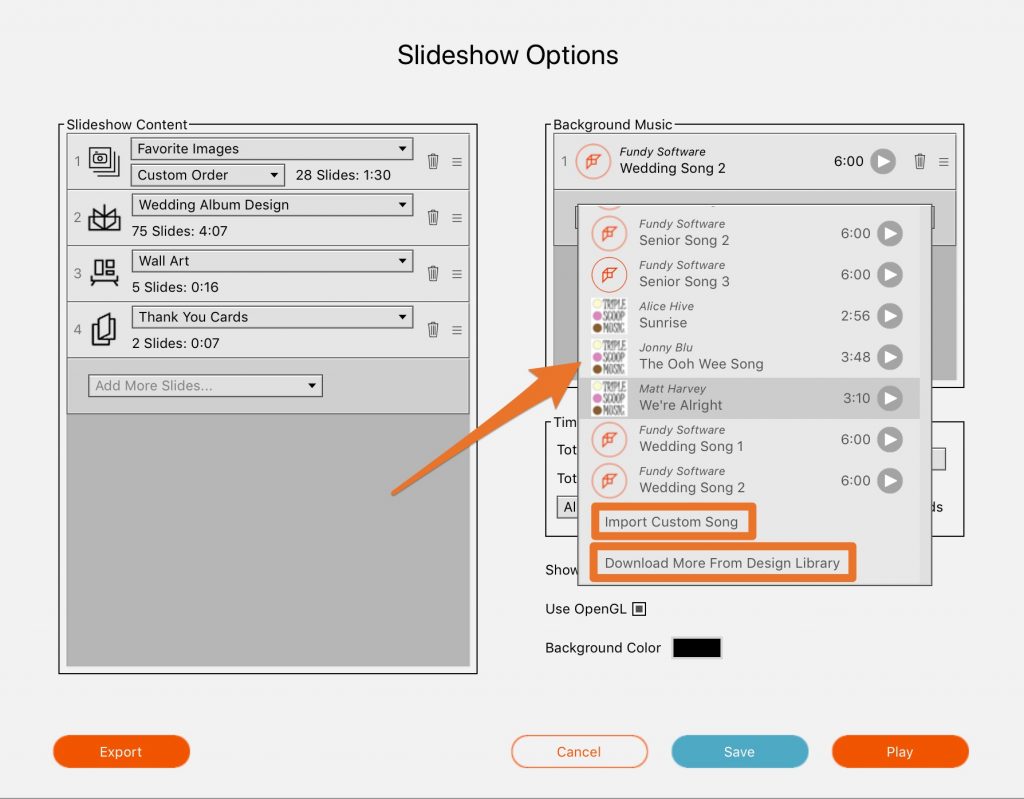 Additionally, Fundy Designer v10 allows you to sync your slideshow to the music chosen. In just one click, Fundy Designer will intelligently adjust your slide timing to match the length of your song(s).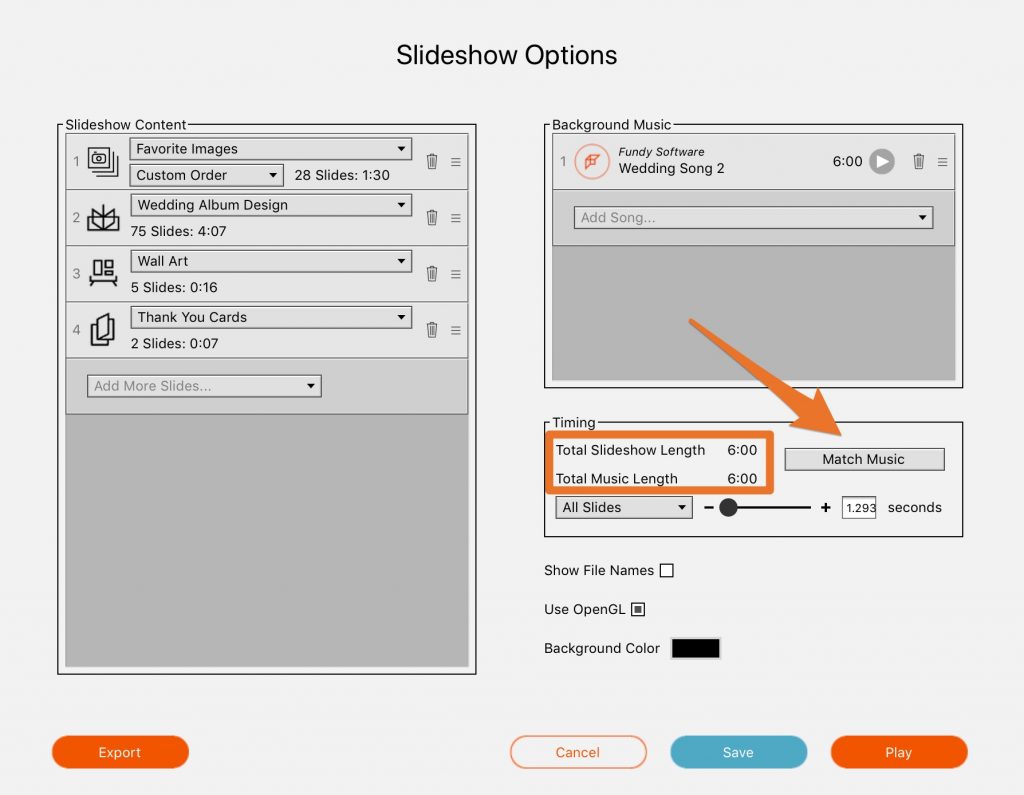 Images
We are a big propionate of limiting the number of images shown in the slideshow, allowing the client to focus on the designs. You can do this by using the heart icon to favorite a group of photos and choosing favorites. Or you can use any filter (such as stars) and choose to show filtered images. Many experts in image slideshows recommend 1.8 seconds as the optimal time to show photos.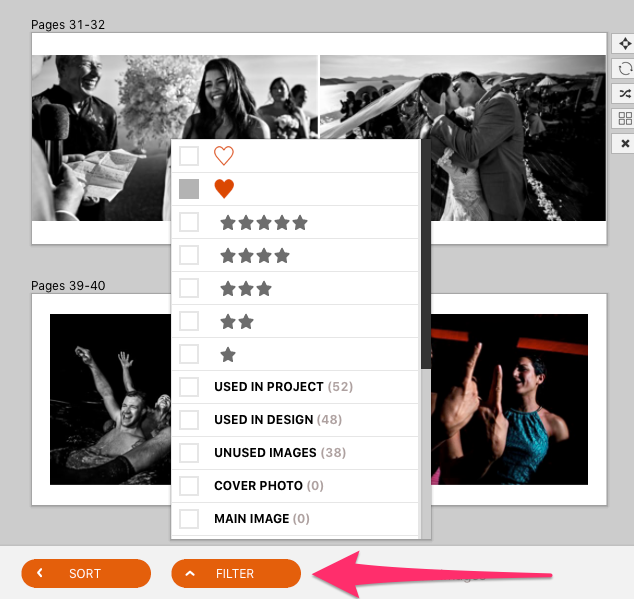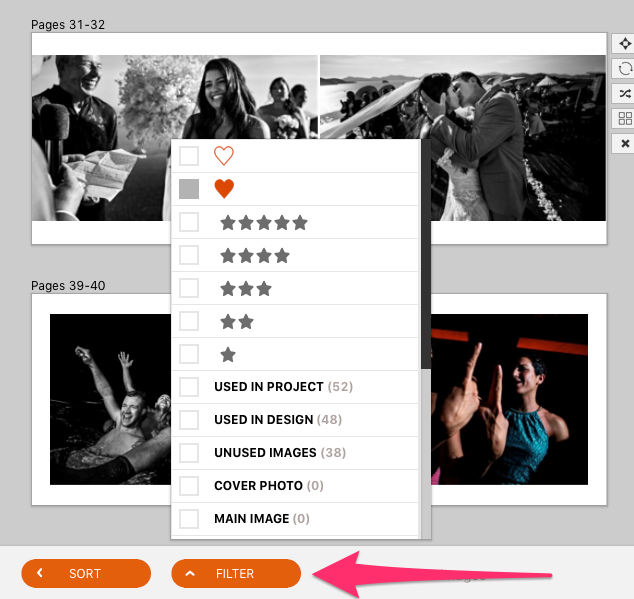 Add an Album Design
The first thing to consider when adding an album is that the album slideshow will start with the name of the album that you assigned when creating the album. If you would like to change this, you can click the pencil icon in Album Builder. For album spreads, clients will need more time to absorb them than single images. You can set separate timing for album spreads 3 – 3.2 seconds seems to be the sweet spot.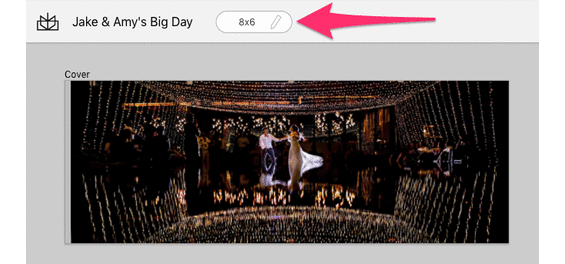 Wall Art
Next you can choose a Gallery Designer sub-project. This will display all walls in that sub-project, so make sure you design enough options to entice your clients. Wall Art needs even more time to absorb than album spreads – set a time around 4 seconds for each wall.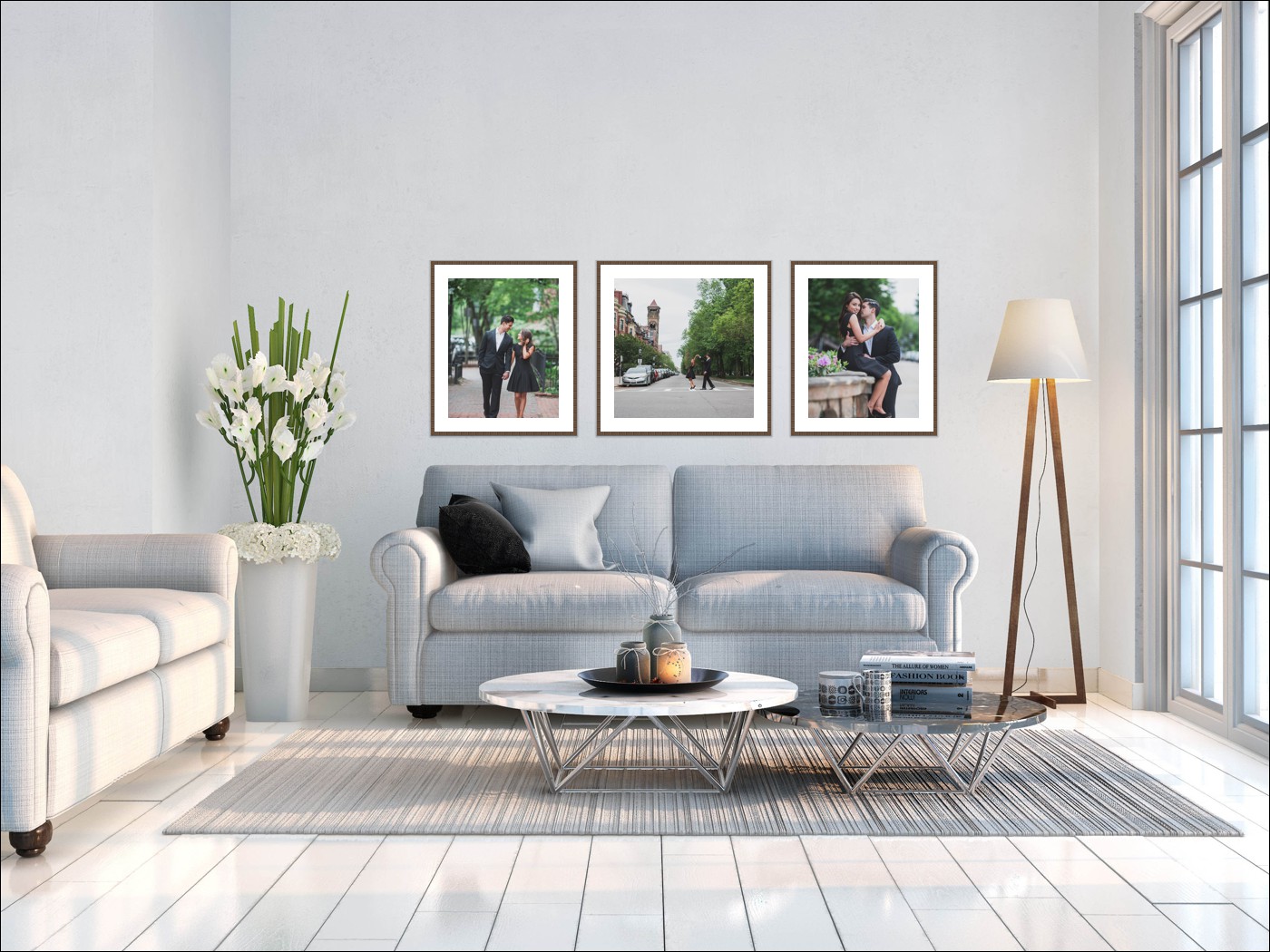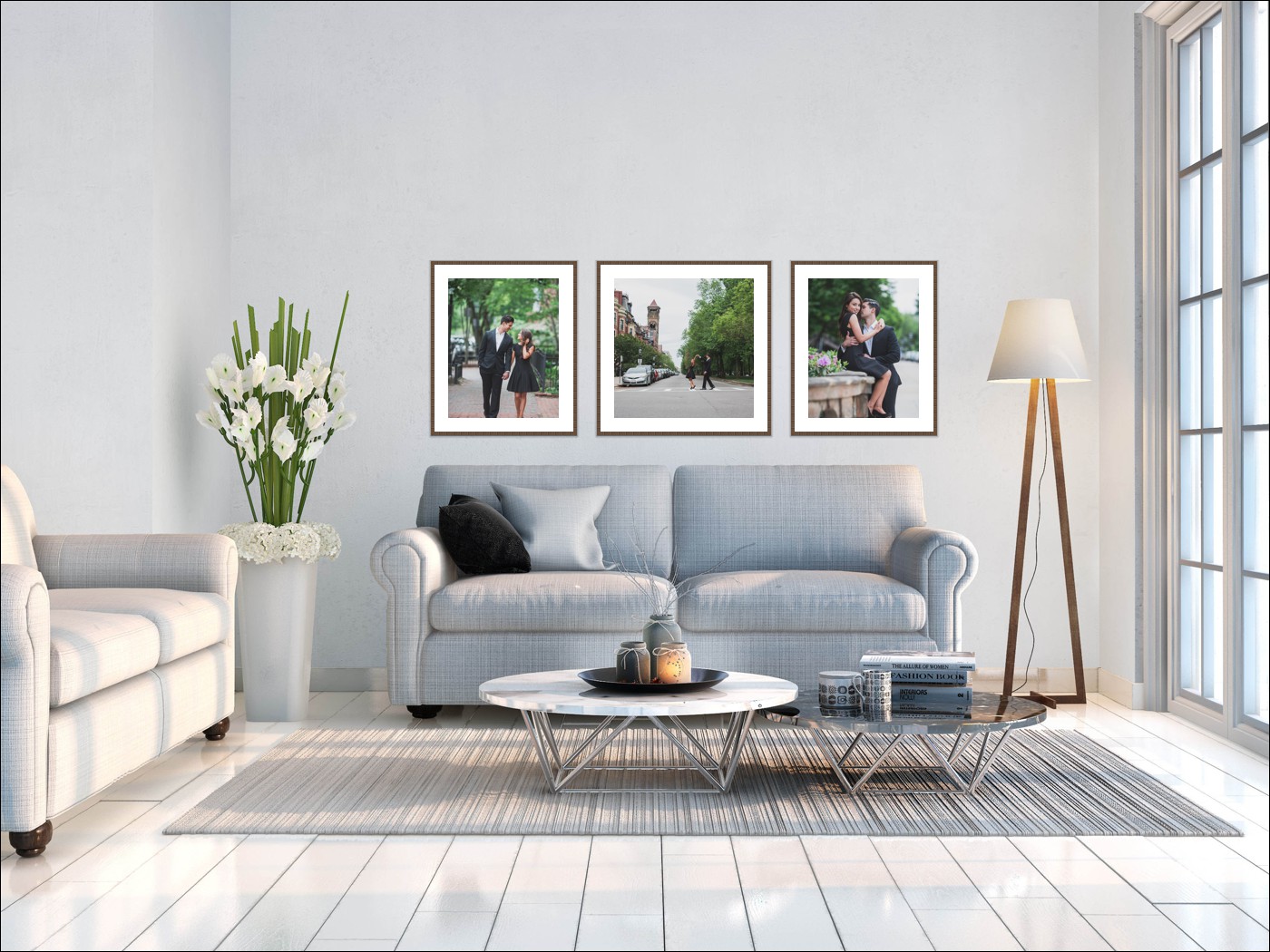 Finally Card Designs
Unless the client has already decided, we recommend designing a card as a flat card, as the slideshow will show the blank middle. That is, unless you've designed a folded card with images and text inside.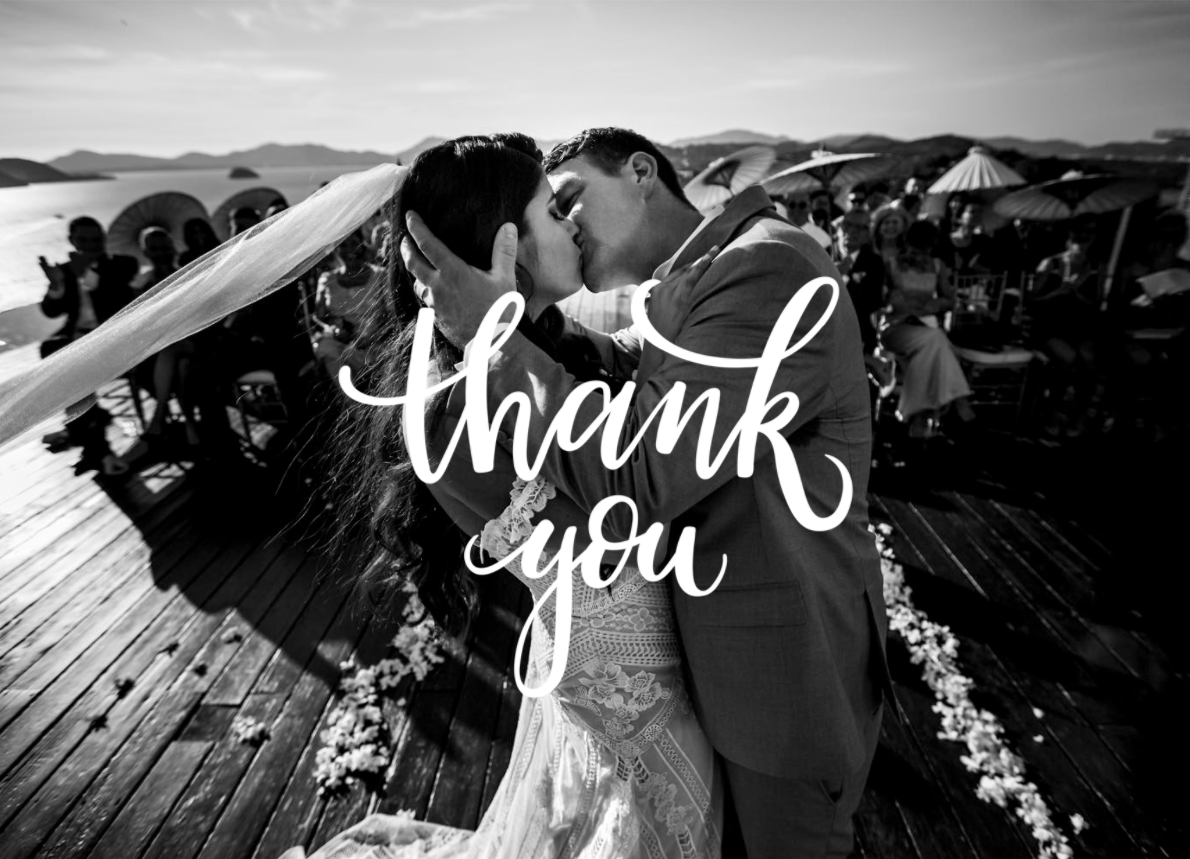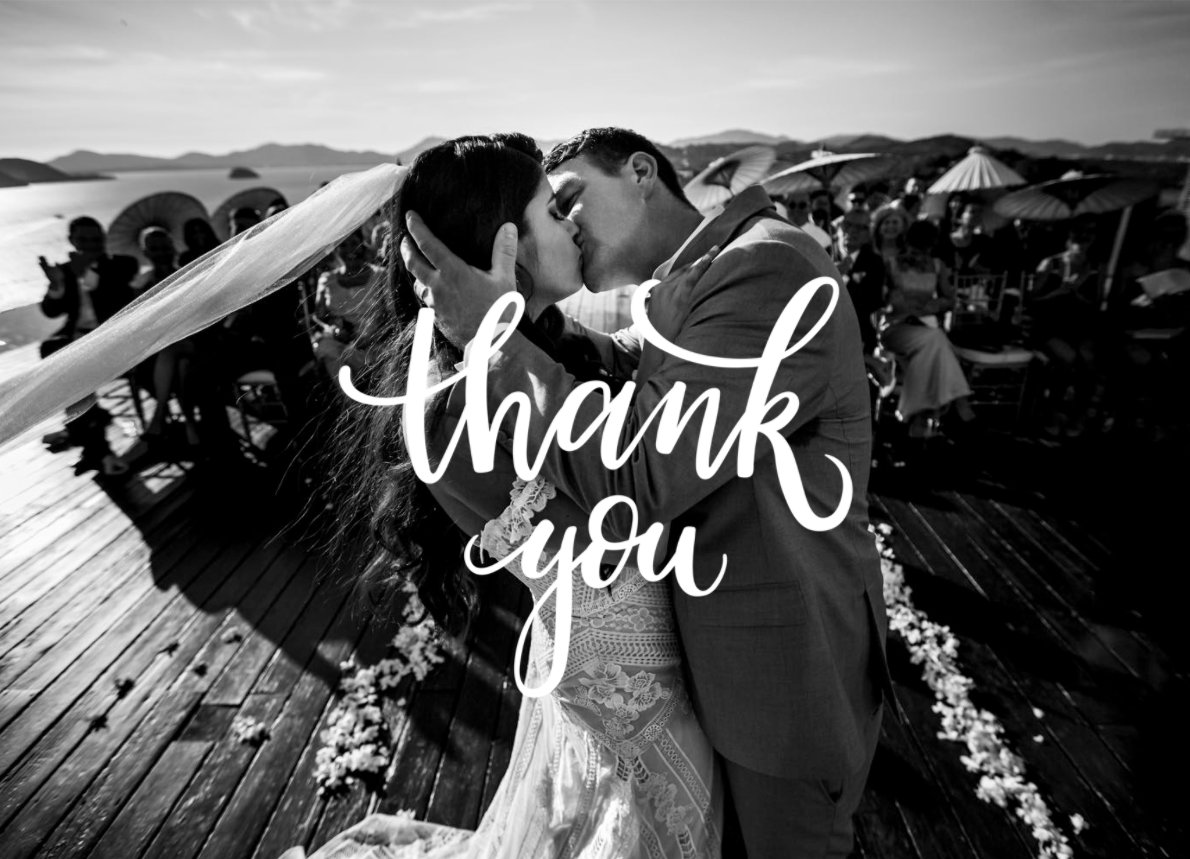 Adding a card is a gentle reminder that you offer a full suite of products for your clients.
Playing the Slideshow
When you choose play on the slideshow, it will play in your main window by default, unless you have a second monitor or projector connected. Then it will play on the secondary screen. If you are on a screen share (Skype, Zoom, etc) it will work the same and is just as effective.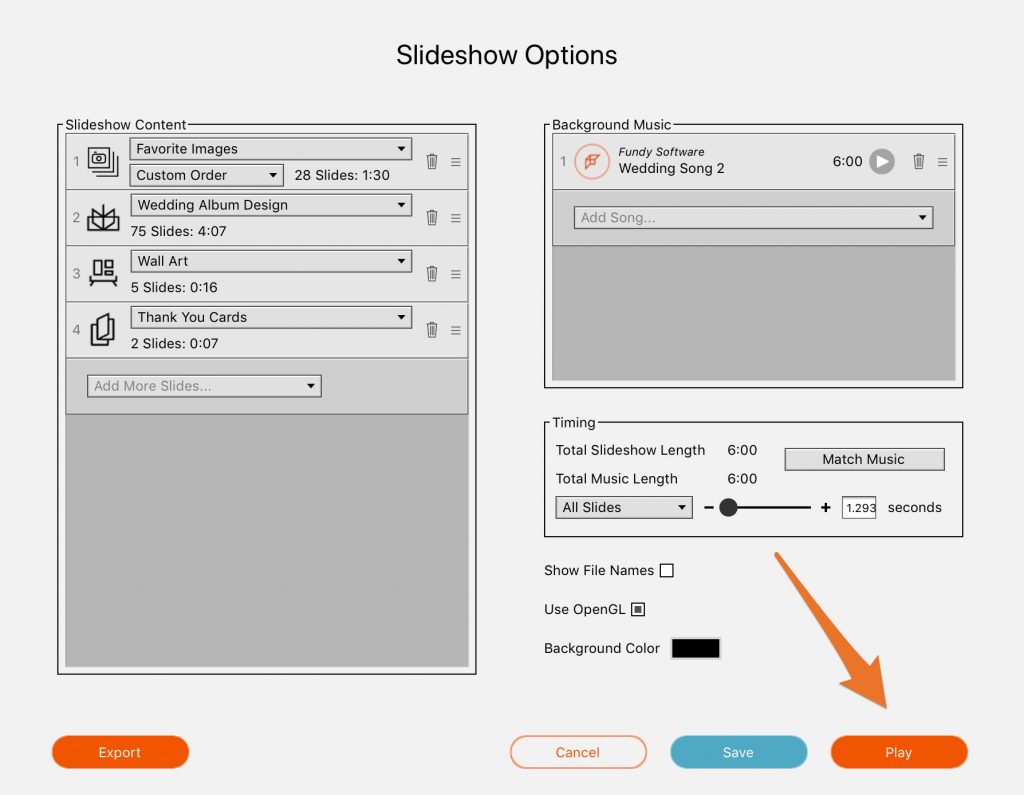 It will start in a "paused" state, ready for your clients. Simply hit the space bar on your keyboard to start the slideshow. Then just sit back and watch the magic happen.
Exporting The Slideshow
Many of our more successful photographers will sell the slideshow as a movie file or include it for free if the clients upgrade their album. If you are a Pro Enhancements subscriber then you can export your slideshow as an MP4 file. Remember that Pro Enhancements includes: unlimited online album design proofs, Perfectly Clear skin retouching, slideshow exports and unlimited access to the Design Library.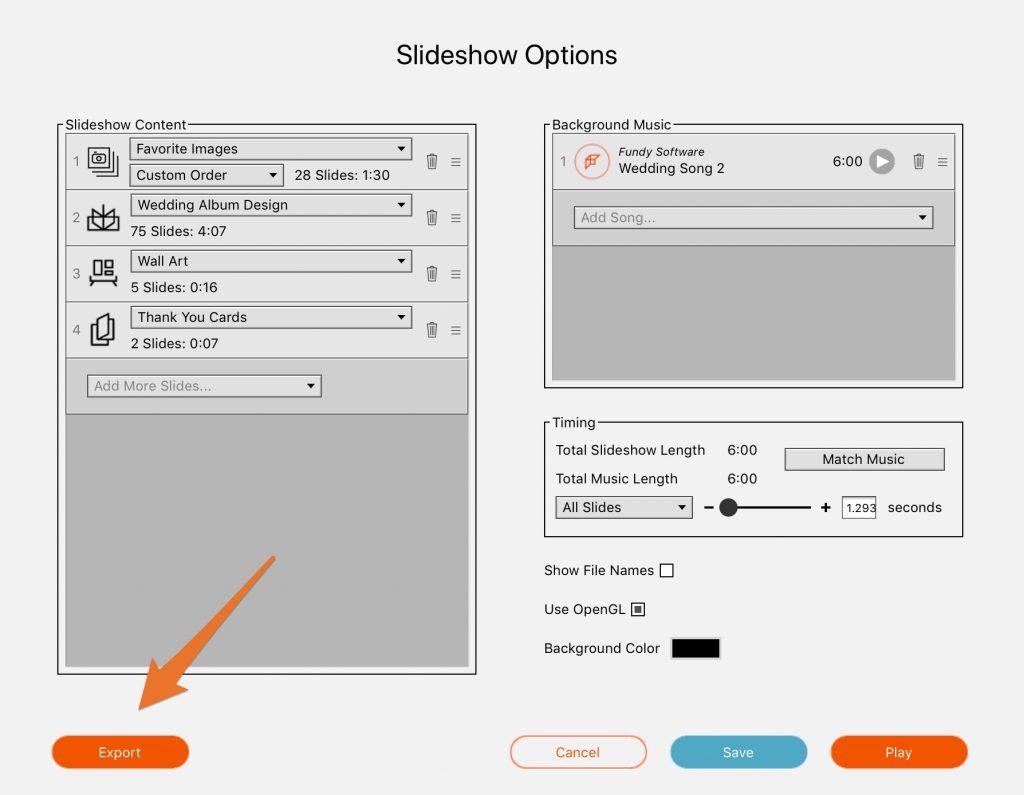 If you already own Fundy Designer, start using the slideshow to increase your print sales. If you aren't using the newest Fundy Designer, download the trial today and give it a go.
Example
Here is an example of an exported slideshow with an album design and wall art designs by TWO MANN studios. 
https://youtu.be/bvMvOVZN2rY
Purchase or Upgrade Your Fundy Suite here.