To help make your Black Friday shopping easier this year, we've gathered some of the best and biggest deals happening all over the industry. From printed products to software, you'll find all the best deals from our friends below!
Ready to purchase the Fundy Suite or upgrade your software? Don't miss out on our best deal of the year!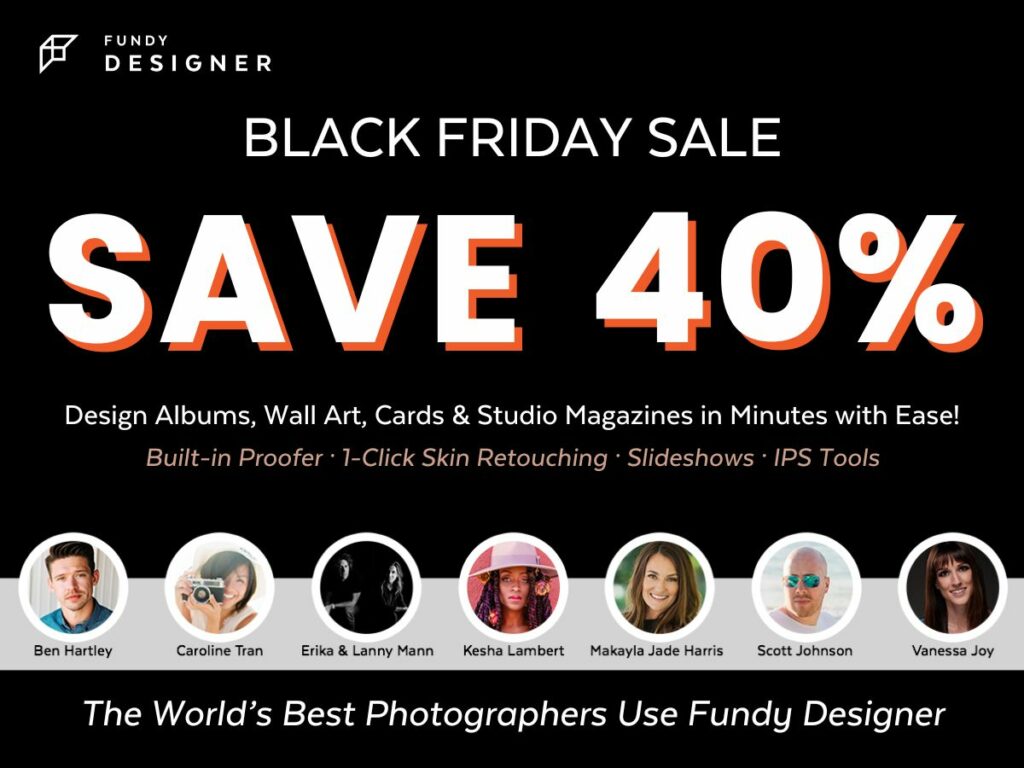 ---
Pixpa Website Builder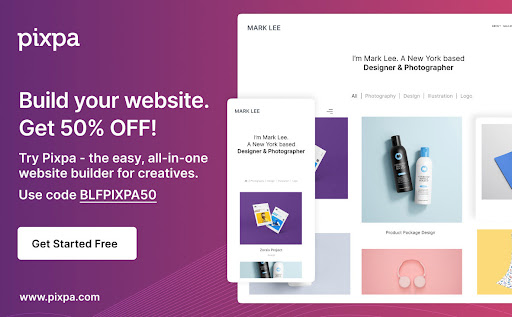 Pixpa is an all-in-one no-code platform for creators and small businesses to create beautiful, professional websites complete with built-in online store, blog, and client galleries. Pixpa's versatile platform has everything you need to showcase your work, share ideas and sell your stuff online, without any coding knowledge.
Offer: Use this promo code BLFPIXPA50 to avail 50% discount on annual plans
Dates : Nov 24 – Dec 31
---
Sim Imaging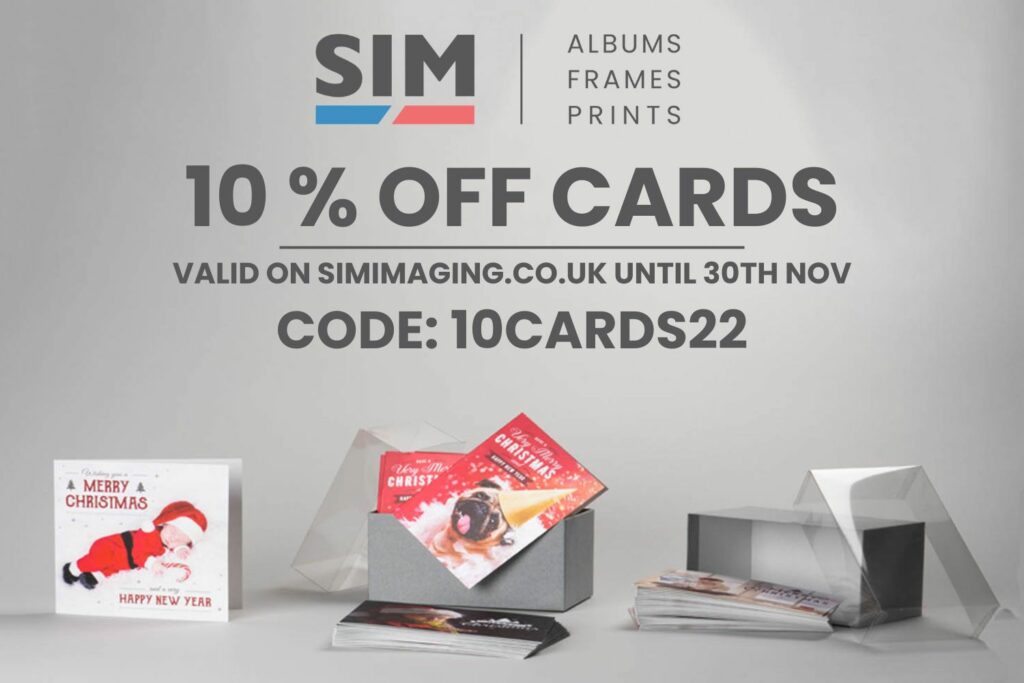 Stand out with personalised Christmas cards for your clients to give out this festive season. Completely customisable with images, text and paper choices, these are the perfect addition to your Christmas packages or festive marketing. Your cards will arrive with white envelopes as standard but why not upgrade to a coloured red or gold to make your envelopes stand out and bring festive joy! Use our exclusive code for Fundy subscribers to receive 10% off your card order on simimaging.co.uk! Enter the code 10CARDS22 now through November 30th at the checkout to redeem your discount. Not yet registered with us yet? You can register this online by clicking here.
---
Black River Imaging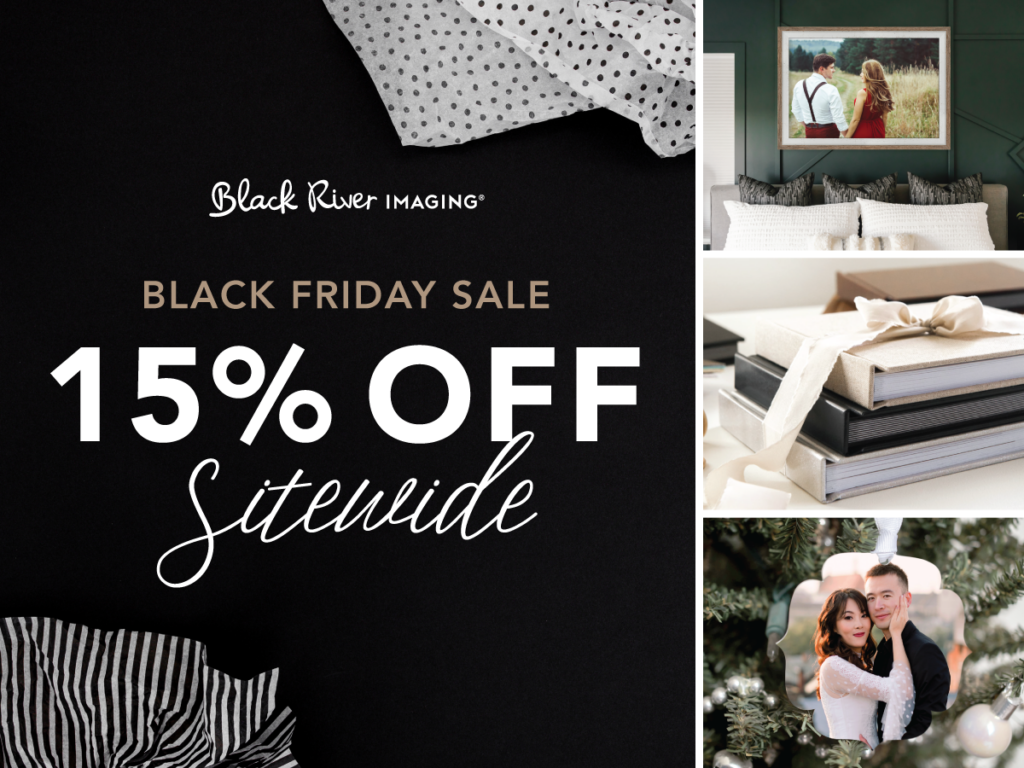 Save 15% Off Sitewide at Black River Imaging. Use code 11SITEWIDE22. BRI is a full-service print lab selling framed prints, metal prints, albums, cards, sports products, and more!
Offer: 15% Off Sitewide on all products. Promo code 11SITEWIDE22
Dates: November 24-28, 2022
---
Tether Tools

Offers:
25% off USB-C to USB-C 15ft cables
25% off Tether Block
25% off Pro Tethering Kits
Dates: November 23rd-27th, 2022
---
Spekular Lighting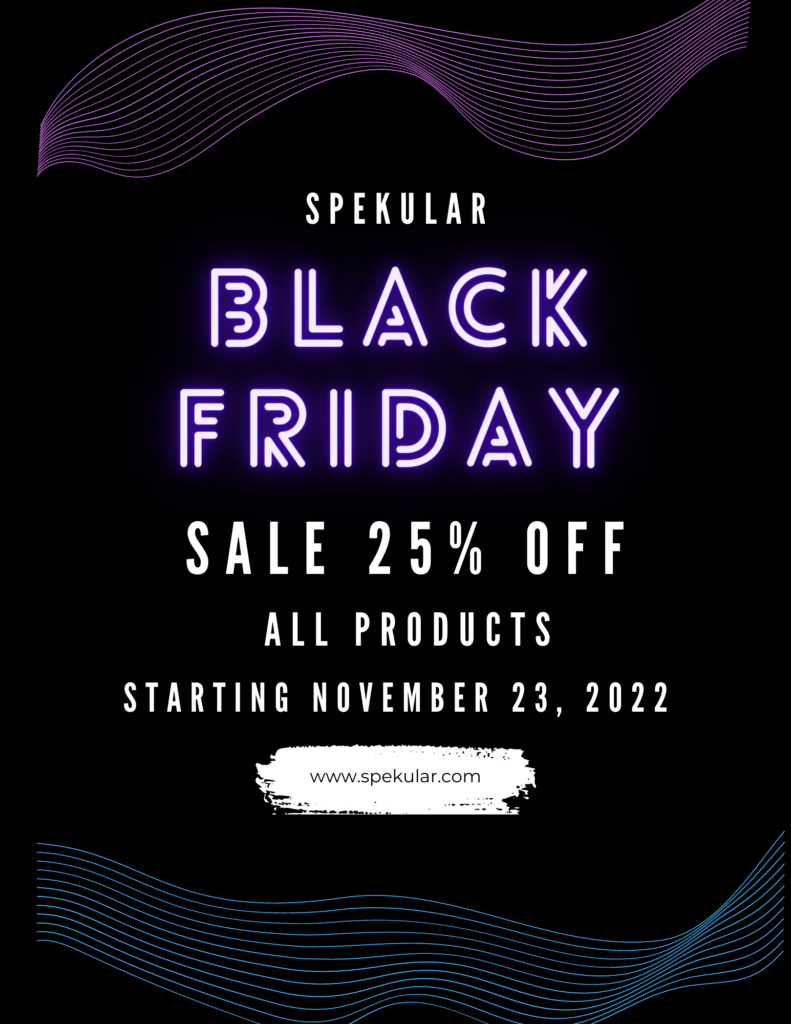 Offer: 25% off Spekular Lighting
Dates: November 23rd-27th, 2022
---
Frio Solutions

Offer: 25% off Frio Solutions
Dates: November 23rd-27th, 2022
---
QT Albums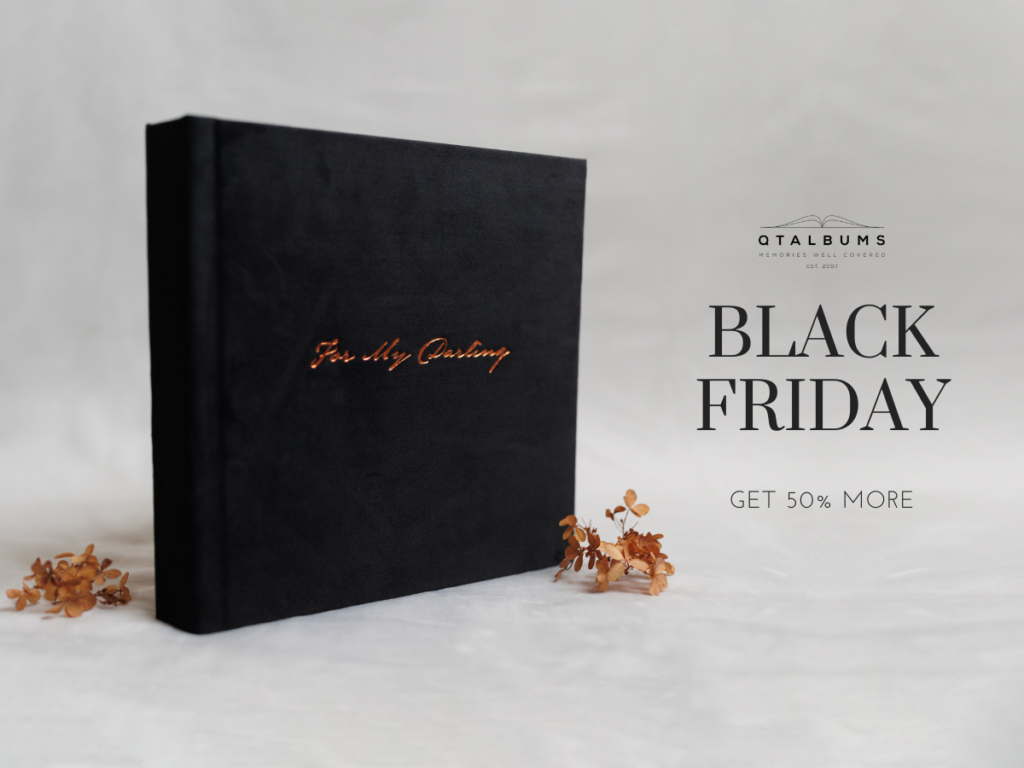 GET 50% MORE WHEN YOU PURCHASE A COUPON FOR USE IN 2023
WE OFFER 3 DIFFERENT COUPONS.
YOU CAN BUY ALL 3, LIMIT 1 OF EACH.
Coupons will be available for purchase Black Friday through Cyber Monday and they can be used FROM JANUARY 2023 until DECEMBER 2023 at qtalbums.com.
---
HoldFast Gear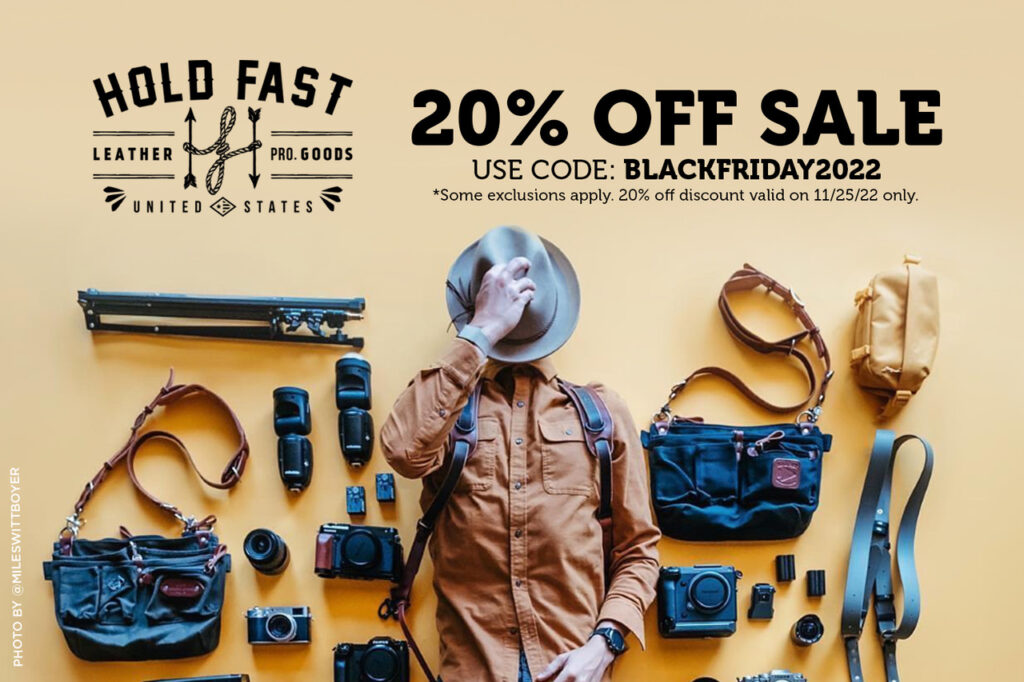 This Holiday season, make the moment special for the one in your life who captures life at the speed of adventure. Enjoy 20% Off for a limited time on gifts from your wide range of finely crafted products. Some exclusions apply.
Use Code: BLACKFRIDAY2022
Date: Valid November 25th only
---
SLR Lounge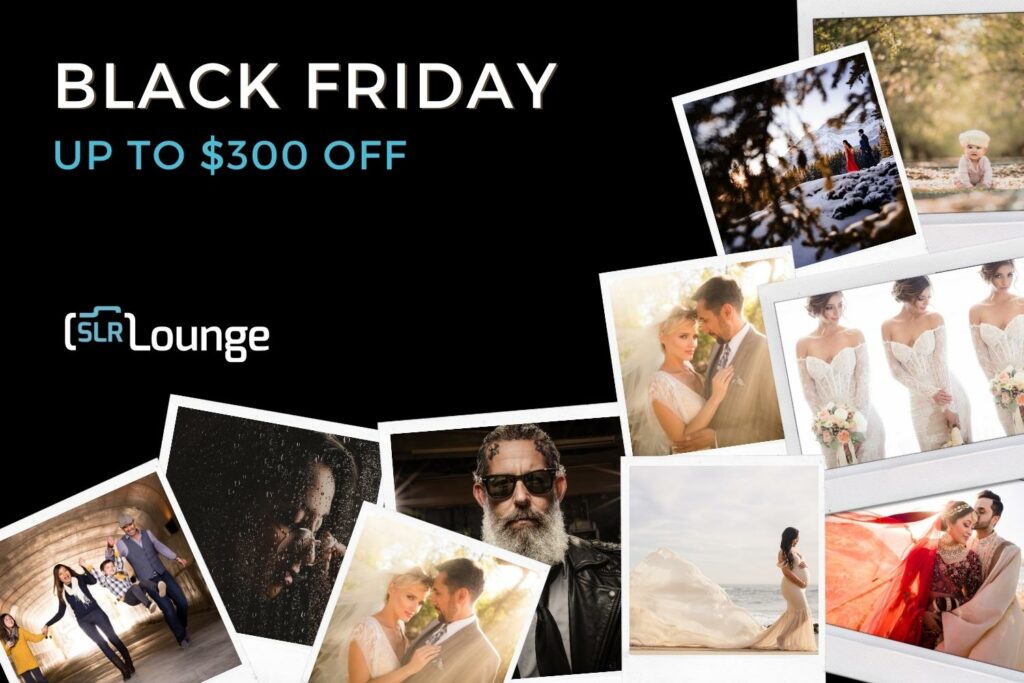 SLR Lounge Premium and Visual Flow Presets are starting Black Friday early this year! This is the best time to lock in your savings and prepare yourself for an in credible 2023. The #1 Training for Portrait and Wedding Photographers is on sale this holiday season!
Get $300 off the Lifetime Plan or $100 off the Annual Plan.
Learn the following topics in Premium:
Flash Photography

Wedding Photography

Posing and Directing

Marketing, Sales and Business

Family Photography [New]

Photo Editing

Much more! (30+ Courses)
Offer:
---
Visual Flow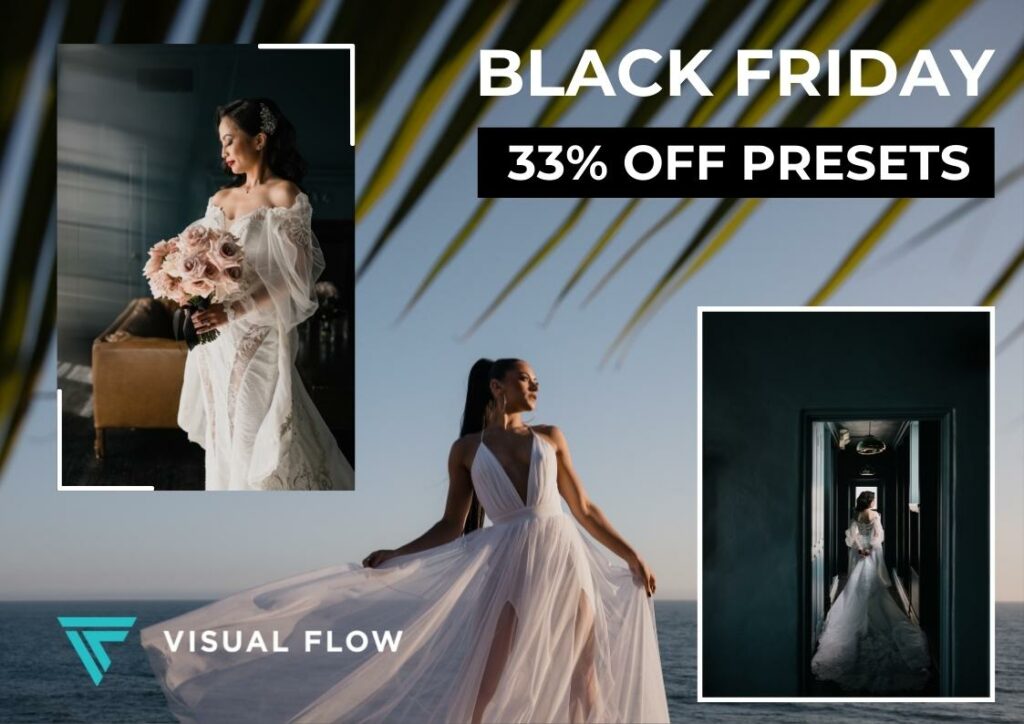 Visual Flow is offering 33% off of their Lightroom Preset bundles! Just add 2 or more products to your cart and use the code VFBF22 at checkout.
Here are a few popular bundles:
The Entire Collection (All 7 Packs) = $504 (Regularly $770) SAVE $246 or 32%

1 Preset Pack + The Retouching Toolkit = $144 (Regularly $220) SAVE $76 or 34.5%

1 Preset Pack + The Black and White Mixer = $144 (Regularly $220) SAVE $76 or 34.5%

Mix and Match your favorite styles and tools!
---
Rawsie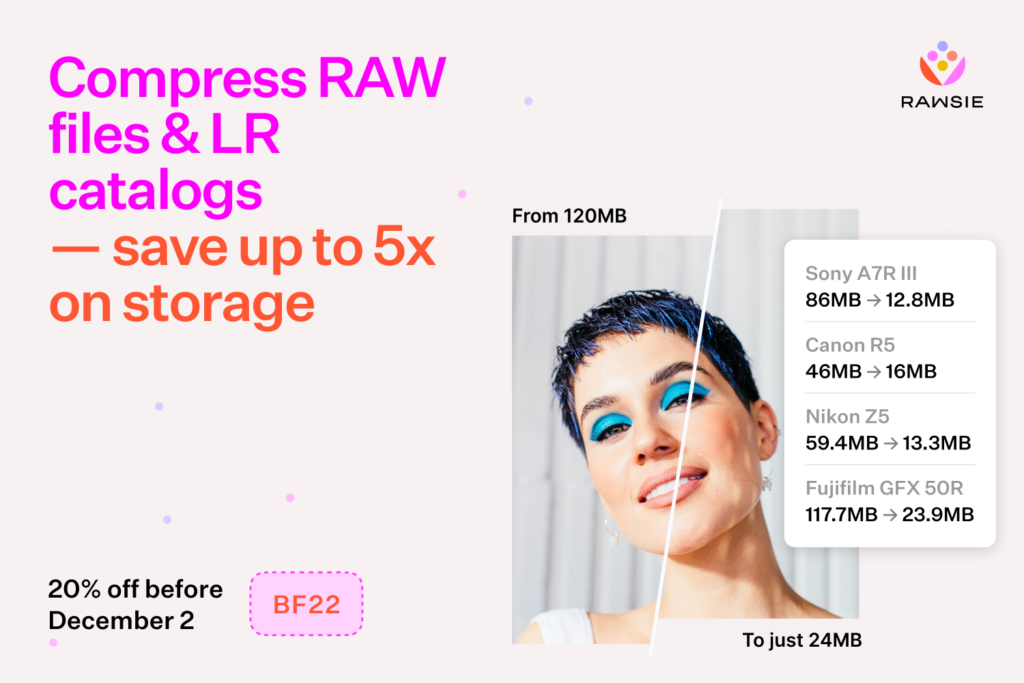 Shoot in RAW? Rawsie allows reducing RAW file size by up to 80% preserving dynamic range, resolution and edits applied in your Lightroom catalogs. Think RAW image quality, but JPEG file size. Why bother? Rawsie would save you tons on new HDD or SSD and make your remote photo storage, cloud, Lightroom catalogs and editing so much faster.
Offer: 20% off your first year when you use code BF22
Dates: November 22 – December 2, 2022
---
Renaissance Albums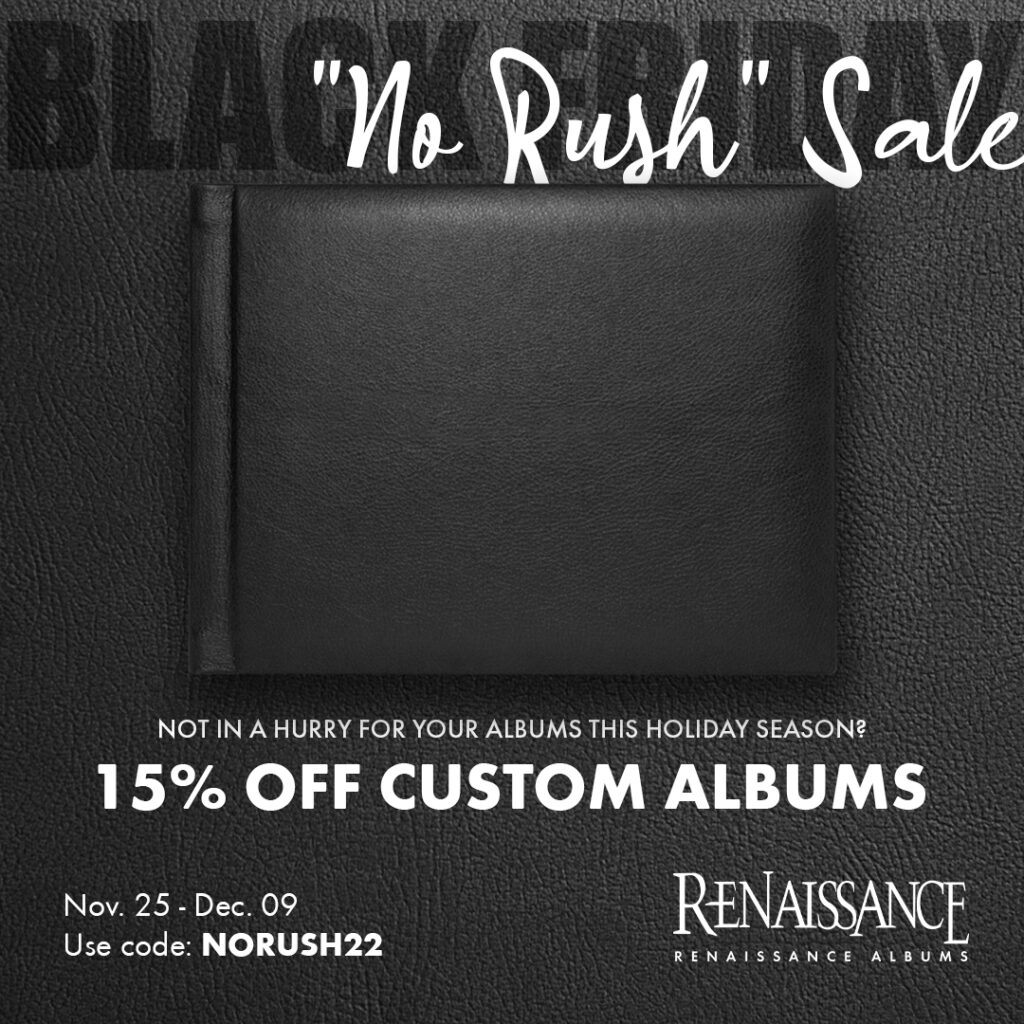 Not in a hurry for your albums this holiday season? Then take advantage of our Black Friday "No Rush Sale!" If you do not need your albums delivered by Christmas this year, then place your orders between November 25 and December 9, 2022 and get 15% off! Just remember to enter the discount code NORUSH22 at checkout. Orders placed using this code will be delivered after New Year's Day 2023 and cannot be designated as "Holiday Orders."
*This offer applies to all custom albums only – Soho, Fine Art, Essex, Essex Plus, Bowery and Galleria Albums. Cannot be combined with any other discounts or promotions.
---
Studio Ninja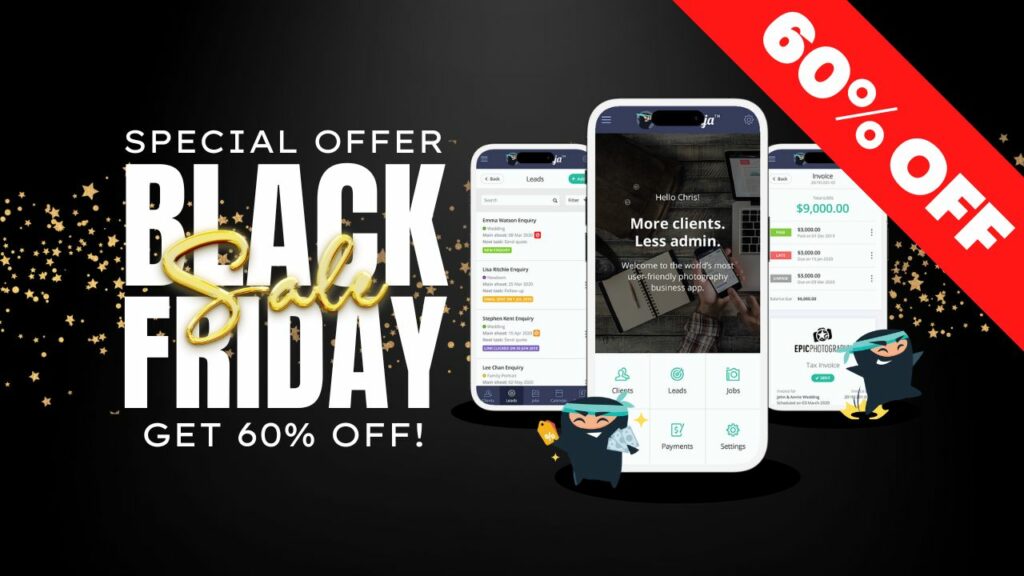 Built specifically for photographers, Studio Ninja is the world's highest rated photography business app. Beautifully designed and super easy to use, it will manage your leads, clients, shoots, invoices, contracts, workflows and so much more!
Deal: Use the code BLACKFRIDAY22 and get 60% off any of your Studio Ninja subscriptions for 12 months.
---
McKenna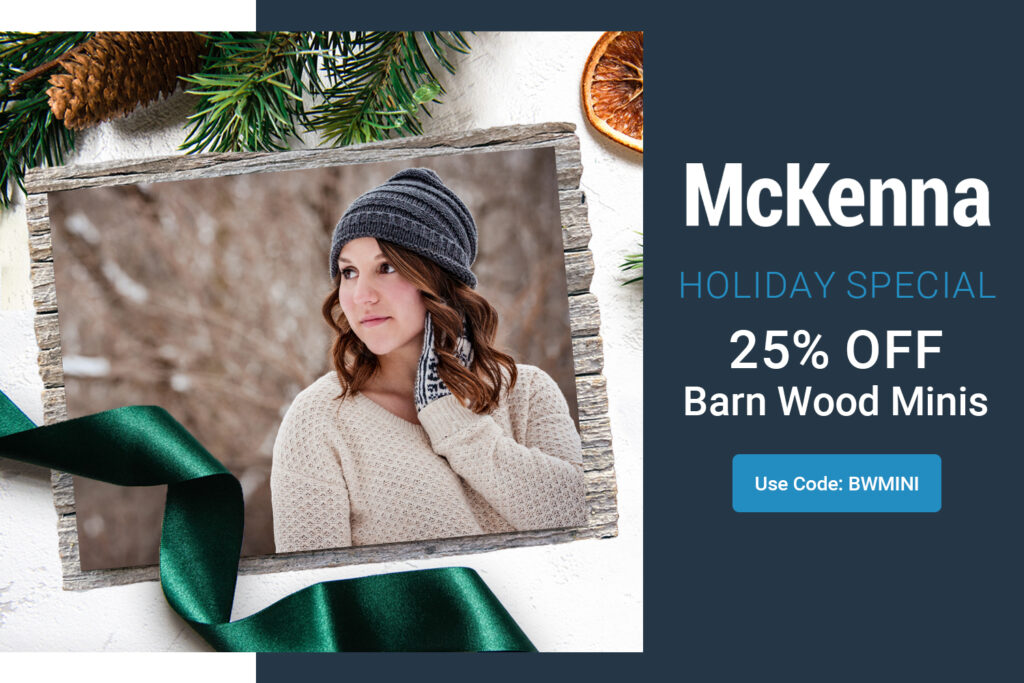 Every Barn Wood Mini is a one-of-a-kind product with your image displayed on a beautiful metal print and mounted to genuine Iowa barn wood that has authentic weathering, knots, and color variations. Barn Wood Minis are free standing or add on an optional twine hanger to display on the wall.
Offer:
25% off Barn Wood Minis – Use Code: BWMINI
Promo code must be entered when the order is placed to receive the discount. Items will be shipped ground. Shipping upgrades and drop ships only available at actual shipping costs. Offer expires December 31st, 2022, and may not be combined with any other offer. Only available in McKenna Easy Order and McKenna Web.
---
Vision Art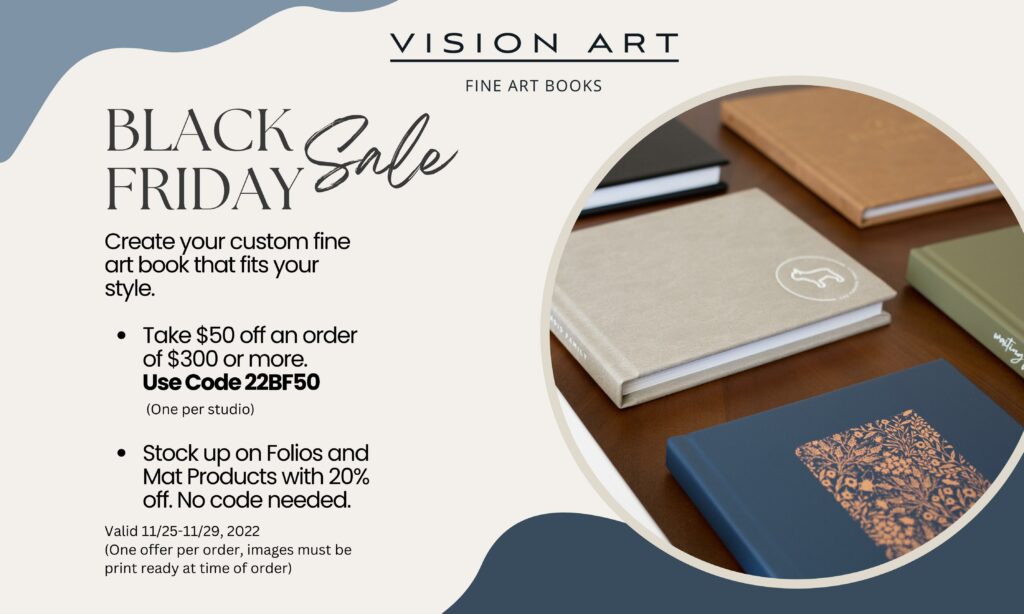 Create your custom fine art book that fits your style. Take $50 off an order of $300 or more and stock up on Folios and Mat Products with 20% off.
Offer:
$50 off on an order of $300 or more – Use Code 22BF50, Valid 11/25-11/29, 2022 (One per Studio, images must be print ready at the time of order)
20% off Mat Boxes and Matted Prints – Valid 11/25-11/29, 2022 (No code needed. One offer per order, images must be print ready at the time of order)
20% off Folios – Valid 11/25-11/29, 2022 (No code needed. One offer per order, images must be print ready at the time of order)
Dates: November 25th-29th, 2022
---
Camera Bits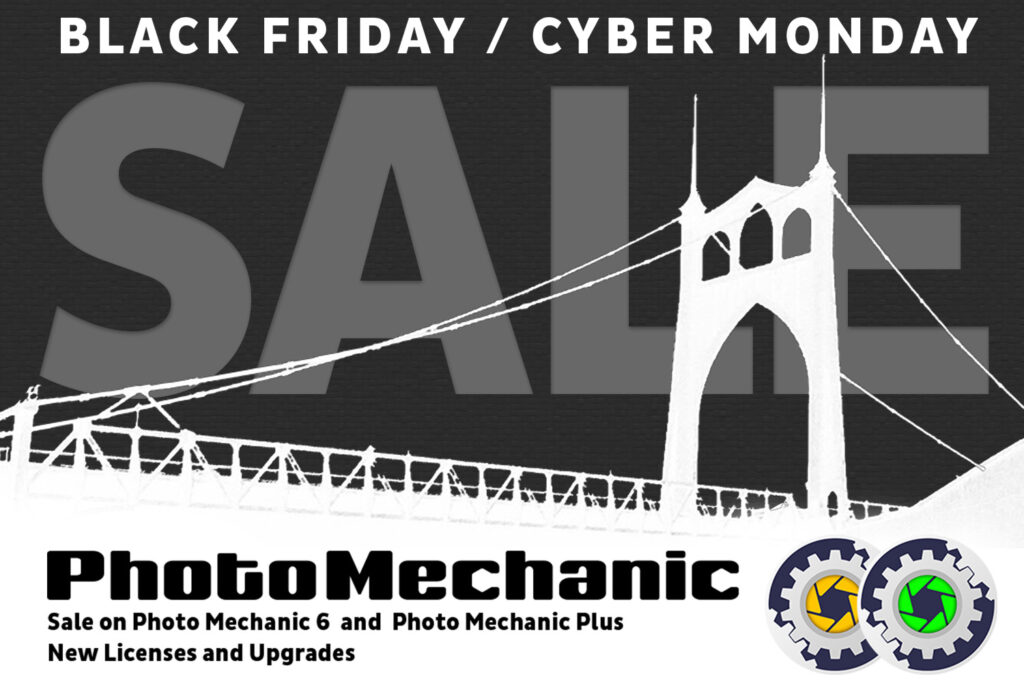 Take advantage of this sale on Photo Mechanic, the world's best tool for managing and organizing large numbers of digital images. Professional photographers around the world use Photo Mechanic to find, cull, sort, add metadata, and deliver on tight deadlines. Try it free for 30 days or jump on this discount while it lasts.
Offer: Special prices on Photo Mechanic 6 and Photo Mechanic Plus, new license or upgrade.
Dates: November 24th – 29th, 2022
---
Iris Works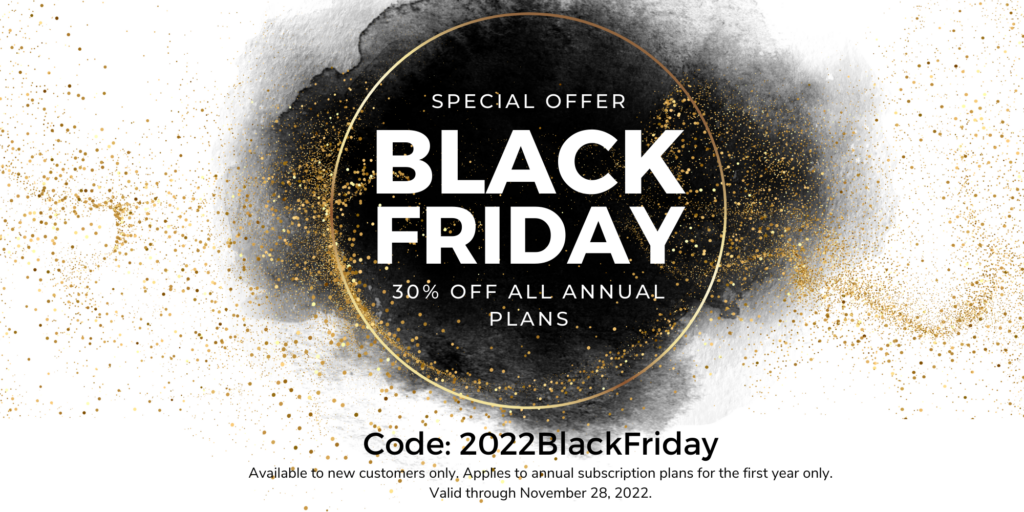 Save 30% on your annual subscription to Iris!
Ready to stress less and get organized? This Black Friday, do yourself a favor and invest in your business. ⁠
⁠Iris is the simplest studio management system for photographers – subscribe NOW and you'll be up and running faster than any other platform. **Plus we provide you with FREE workflows and contract templates!** ⁠
Offer:
Use code
2022BlackFriday
Dates:
November 14, 2022 – November 28, 2022
---
Light Blue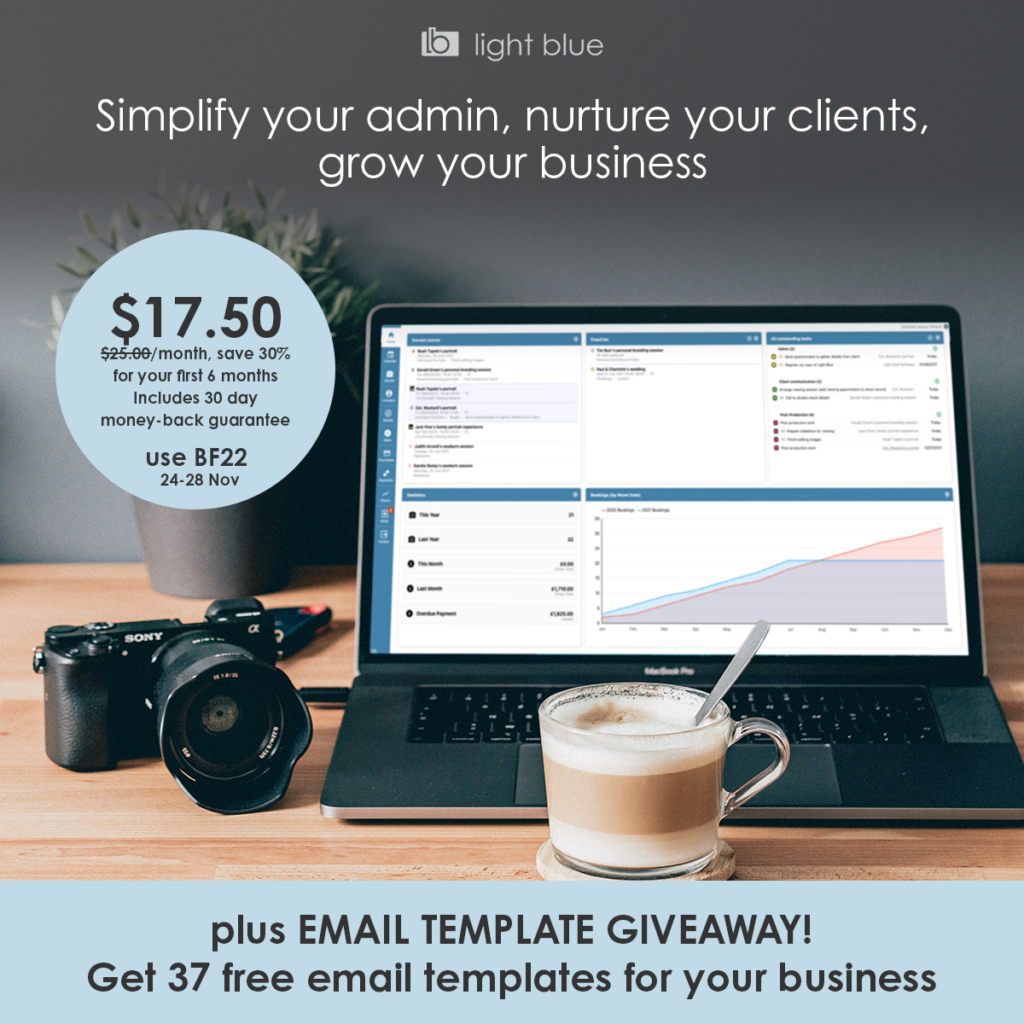 Get more organized for less this November. Save money on Light Blue's time-saving software for photographers, making your admin simple so that you can focus on nurturing relationships with your clients and growing a successful business.
Offer: Use BF22 to save 30% off your first six months, subscribe before 28th November.
Offer 1: 30% off your first 6 months, includes 30 day money-back guarantee
Offer 2: Email template giveaway, includes 37 free email templates for your business
The offer includes:
30 day money-back guarantee (giving you a risk-free trial),
Free migration and setup support,
Customer database & diary management,
Forms, contracts & questionnaires,
Smart email and text templates,
️ Workflow automation,
Online scheduling,
Integrations with Zapier, Zoom, Pic-Time, ShootProof & more,
Invoicing, including online payments, payment plans and automatic reminders,
Expense recording & financial reporting,
Powerful & fully customisable business dashboard.
Dates: November 24th – 28th 2022
---
SHOOTDOTEDIT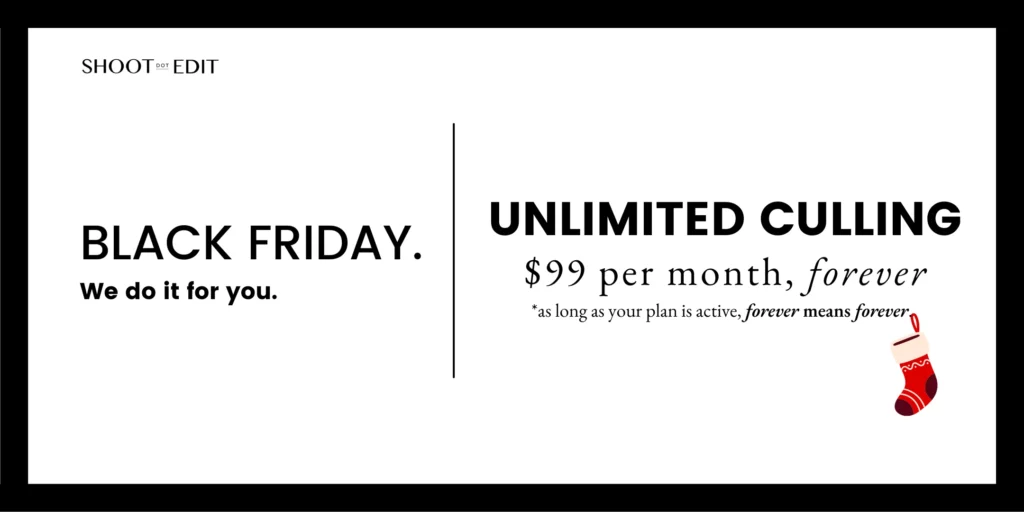 ShootDotEdit is an innovative photo editing service that specializes in delivering high-quality results to wedding photographers. We go through thousands of optimizations so our customers can focus on their success rather than the logistics involved with editing pictures. Our team is consistently focused on meeting our ultimate goal – delivering beautiful photos fast and with perfect colors!
Deal: Unlimited Weddings, Unlimited Culling, Unlimited Happiness. Unlimited Culling Plan – $99/month forever! Imagine what you could do if you didn't have to cull!?! 200 Spots drop on Friday – Join the waitlist to be the first to know.
Dates: 25TH – 27TH NOVEMBER 2022
---
Radiant Imaging
The Ultimate Photography Bundle
Radiant Imaging Labs and Mylio have teamed up to bring you an unbeatable photography package: Making your photos look their best is faster than ever with the intelligence of Radiant Photo. And organizing and backing up your growing photo library has never been easier and more rewarding than with Mylio Photos. Save $143 today!