Tip – Review of RedCart and Driving Online Sales
You've invested a lot in the creation of your images and even more to market those images. Then the day comes that you decide to get as serious about selling your work as you are about creating it.
Online shopping has become the way most people buy things. We are all busy and stretched thin for time. Having an online presence is an integral component of today's successful photographers. An online shopping cart is an important tool for your business. Just as important as the tools used in creating your photography.
When it comes to selling your work, the e-commerce process can be daunting and overwhelming, therefore most of us hesitate and put off making a decision about what to do or worse, settle for less. It's tempting to cut corners, but this is one of the single most important cornerstones of your business. If you're serious about your photography and being successful as a business owner, then you should give serious consideration to the RedCart system.
RedCart, founded in 2006 by photographer Tommy Tompkins, is a company that specializes in e-commerce for photographers. They know the industry and have thought of nearly everything you'd need with an online shopping cart. And more than likely, they've thought of things that you may not have considered to help you sell. At every turn, from the dashboard to the customer experience, the attention to detail and well-thought-out, integrated solutions are evident.
What Should an Online Shopping Cart Offer?
You want to make it easy for your clients to spend money and a good online system is essential to adding money to your bottom line with less work from you and your staff. RedCart is your invisible employee. Always there driving passive sales. It offers your clients the best experience while reinforcing the perception of value and quality from your studio through its gorgeous interface and rich features. Don't underestimate a well-designed user interface! Pretty equals profits.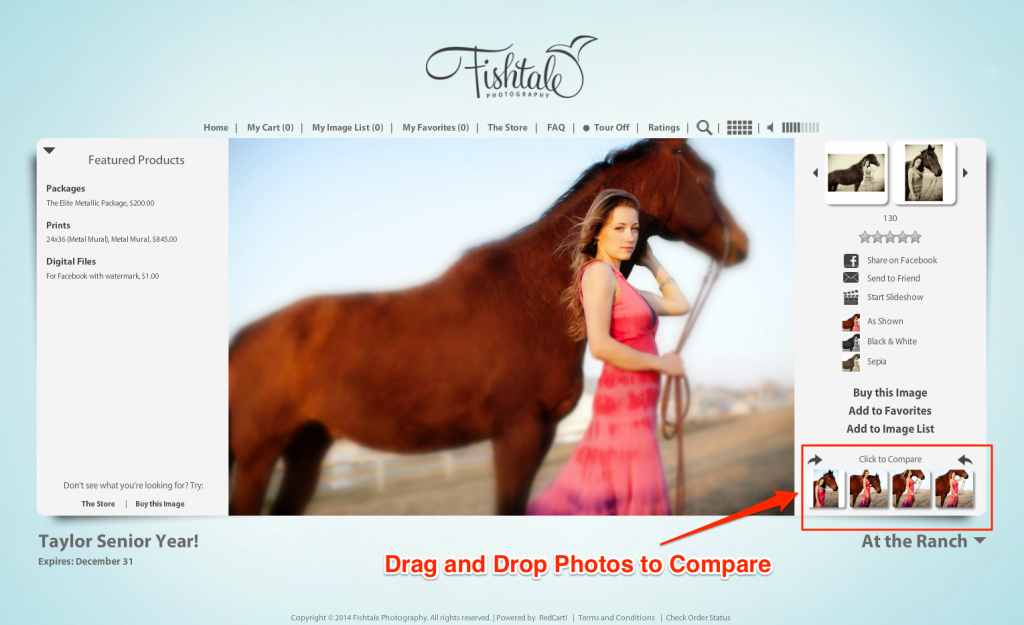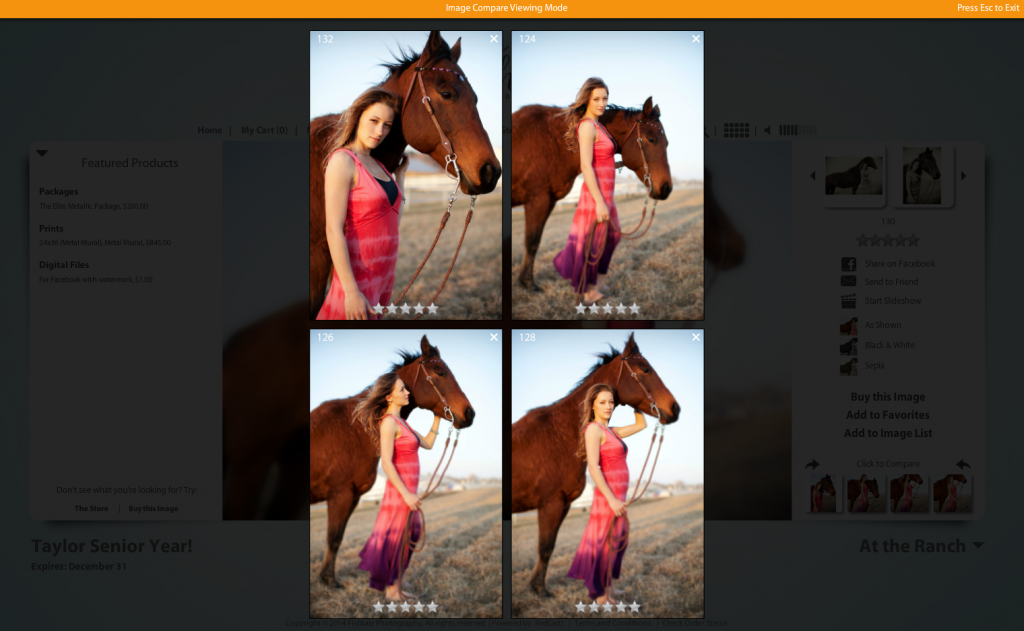 Remember that your clients are just as busy as you are, and short of time. They appreciate a quick and safe shopping process that will enable them to order what they want without any frustration, and RedCart does this. Image comparison, drag-and-drop image collections, social media sharing, image selection for albums and product purchases, to name a few.
What plans does RedCart offer?
There are basically two paths with RedCart.
1) Self-Hosted (one-time fee of $349 + an optional $99/annual support plan where you host on your own hosting account similar to a WordPress site)
2) Hosted by RedCart (monthly or annual fee where they host the cart on their servers and take care of all server related things for you). There are five plans to choose from that range from a $9/mo Basic plan to a $50/mo Elite plan.
The RedCart hosted plans differ by the number of galleries you can create. From six galleries in Basic to unlimited galleries in Elite. All plans feature a 14-day free trial, and every plan includes the same features, including commission-free sales using the lab of your choice.
What features does RedCart offer?
RedCart offers an impressive 60+ features with every plan. This is not to be understated! Many photographers will find the features vs. price affordable, if not a downright bargain. Rather than list each and every feature, head over to their Features page and scroll through the list and see for yourself. There are a few features worth mentioning that showcase the level of consideration put into making this one of the best solutions for professional photographers.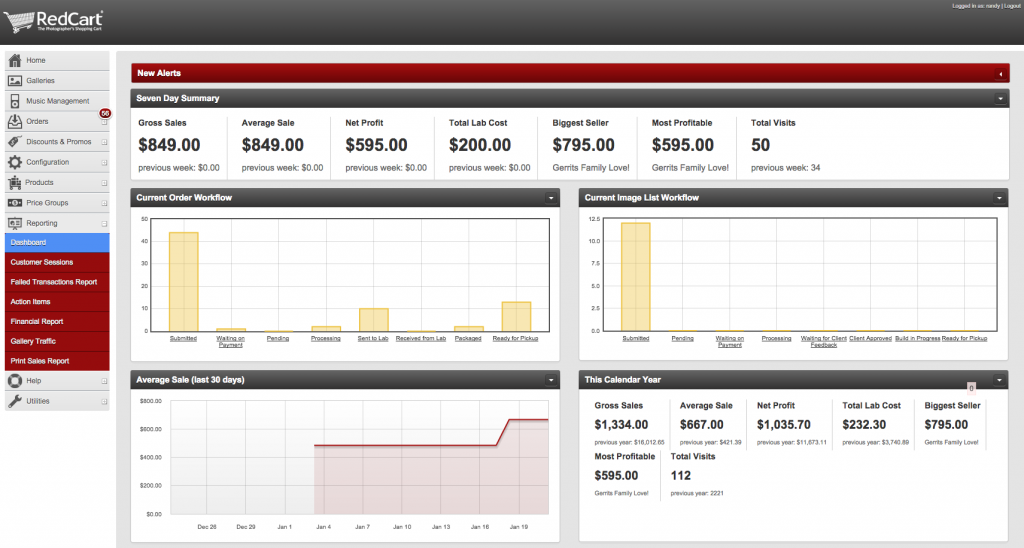 Admin Dashboard Features. Every time you log into your dashboard, you are given a wealth of information from analytics to gallery sales. The tools available on the backend are truly impressive. This includes integration with third party apps such as Pixifi, Tave Studio Manager and ShootQ. Additionally, you can manage orders, update order statuses, manage discounts and promotional campaigns.
Early Bird Discount Expiration Reminders. Speaking of increasing sales, you can create discounts combined with an email template framework. If you can create a sense of urgency with an early bird discount (e.g., first 3 days get a 20% discount, next 5 days get a 10% discount) and combine that with automated email reminders when each discount level is going to expire. You can fine tune that into a formula that increases your sales. That's something unique to RedCart as far as I know.
Full Screen Ordering. Galleries are optimized for viewing on large screens which makes them great for in-person sales presentations. It's very easy for a customer to choose favorites using star ratings or the My Favorites section. Walking the customer through the system in-person helps them get comfortable with it before letting them use it at home. Make the sale when the excitement levels are high, and then let the customer share on social media after an initial order is placed.
Secure Image Protection. Each gallery image is encoded with their proprietary image protection algorithm and can only be viewed inside RedCart. Even if you try to dig out an image from your browser's cache and open it in Photoshop, you'll be greeted with a copyright message instead of the actual image. This can be quite valuable especially if you're a boudoir photographer.
Image File Downloads. Social media and digital files are a blessing and a curse. Photographers have no choice but to adapt and embrace the change. This feature allows you to create an unlimited number of download sizes to sell the image files that make up the gallery. You can charge for a Facebook sized image and charge more for a high resolution file.
RedCart Desktop – The Heart of the System
Using FTP to upload your images to a server and trying to figure out all the server settings is difficult and frustrating for most people. RedCart Desktop is an image processing and uploading utility. It's an Adobe AIR app that walks you through the gallery generation process in a wizard-like fashion. You simply enter in your cart URL and paste in a unique security key. With that, it connects to your cart and lets you create new galleries, edit existing galleries, upload images for products and upload image file downloads.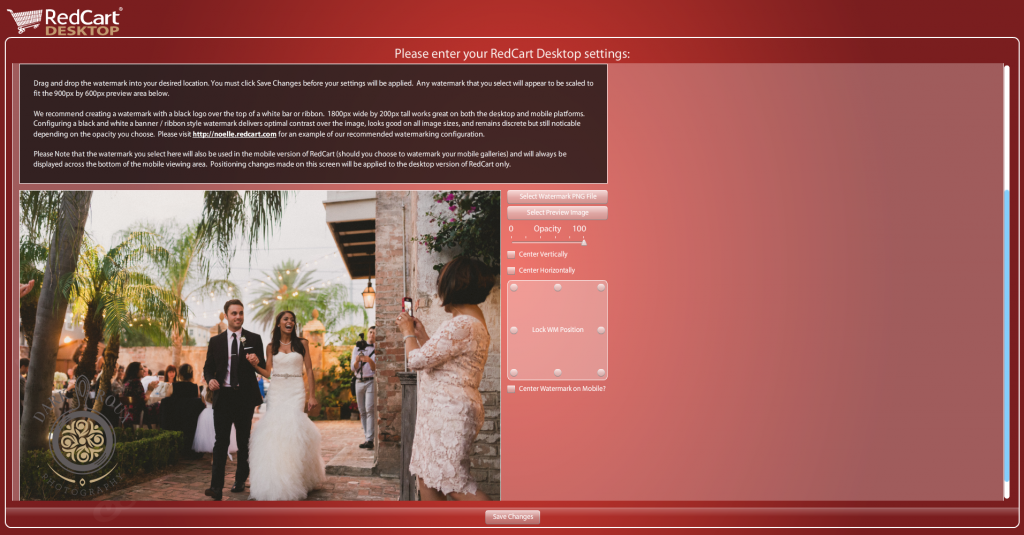 With RedCart Desktop, high res images are generated as 1800 pixel images (on the longest edge) and uploaded to the server.  When the customer decides to purchase or download a high res file, they add the file to their shopping cart and checkout. The download is queued up for RedCart Desktop and the photographer clicks to send the files to the server and the system notifies the customer when the download links are ready.
If you want to sell or provide the 1800 pixel gallery files for download you can do this as well, in which case download links are available instantly when an order is placed.
How easy is it to set up and customize?
With so many features, it's relatively easy and straightforward setting up RedCart. But it does require patience as there are a lot of things to do that simply take time. Creating product lists, pricing, customizations to name a few. Pro level tools require commitment, but it's well rewarded once you get it up and running.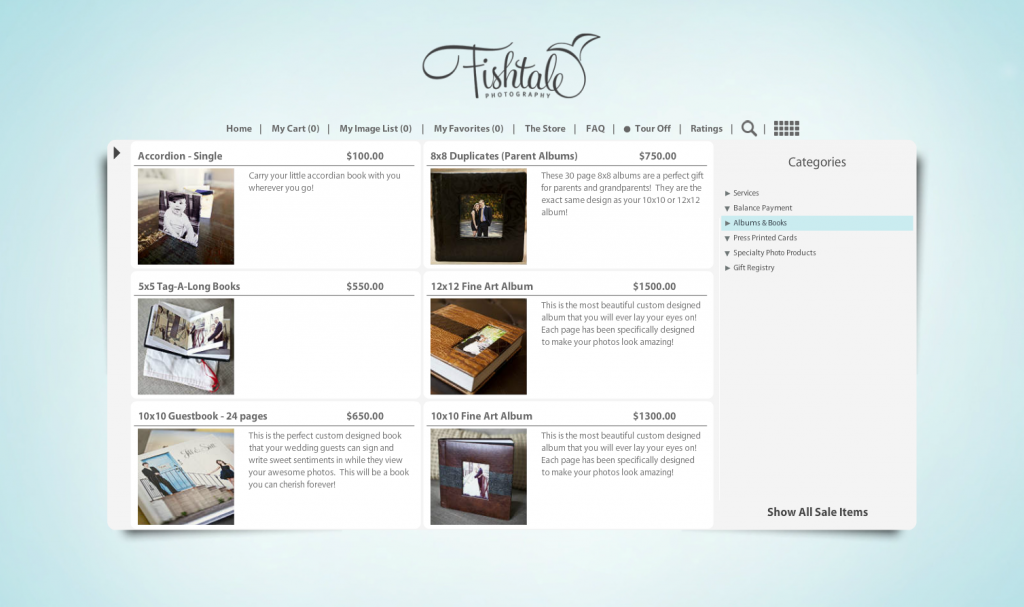 Support is one of the most important aspects to consider before investing in a shopping cart system. If you ever feel overwhelmed or get stuck, RedCart's support team is one of the best. They have well-documented instructions and a quick response ticket system along with video tutorials to quickly get you up and running. There is also an extensive knowledgebase, a RedCart University, and users group.
Wait, aren't online sales dead?
Shopping carts are a lot like the old business adage of hanging your open for business sign and expecting people to start throwing money at you! Online sales are down for most of the industry, but there's a reason for this. I asked RedCart CEO Tommy Tompkins to share his thoughts.
• The immediacy of social media and sharing images with friends. The first time you see an image, there's a boost of excitement which peaks almost immediately and the social sharing begins. People share to get those "likes" rolling in but soon after, the likes start to taper off and the excitement level begins to plummet. Each time you see the same image, the excitement level gets knocked down another notch until there's nothing left to justify a purchase. People used to buy prints to share with family and friends and to get that same level of excitement in person. Social media has unknowingly stepped in to replace the "print sharing" process and it does well because it's immediate and it reaches far more people.
• Everyone seems to give away or sell digital files with their packages. If a photographer isn't offering digital files these days, they're considered archaic or old school. But once the customer has these files, it's a tough sell to convince them to buy prints too. After all, why would they when they can just post their digital files on Facebook or print them at Costco?
• Photographers are posting too many images. It's so much easier for the customer to choose the images they'd like to order if they have less, higher quality, images to choose from. Everything else is just a distraction, which causes procrastination and can lead to zero sales.
• One photographer that's doing awesome with print sales is Mike Comer of ProSwim Visuals. He shoots swim meets and completely takes advantage of capturing sales as soon as possible. Even though event photography is a different business, I think there's a lot that wedding and portrait photographers can learn from that style of business to increase their print sales.
How are other photographers using RedCart in their business?
Speaking of Mike Comer, I reached out to him to ask how he's incorporating RedCart into his business. "I sell exclusively online and can easily make the case for a cart solution as opposed to SmugMug: controlling costs. I bought my first RedCart (I have four installations) for $900.  Every $6,000 in sales, it pays for itself."
"I used to sell on-site at my events, but the overhead and headache were tremendous.  Now I sell post-event and incentivize with a short, meaningful sale to give people the motivation to buy. Using this technique I'm easily within 10% of what I used to sell but with far lost cost involved."
Brian Mullins and Jenn Aan photographed 70+ weddings last year and RedCart is vital to their business model. "We're finding that educating our clients on the difference between what's delivered on a USB drive and printed at a pharmacy, and showing what we can do is a huge factor. The days of everyone buying 4×6 prints from photographers is mostly gone, however with proper education and visuals, producing showcase pieces is still quite viable in today's market. Passive sales from our RedCart online system added $20K to our studios bottom line last year."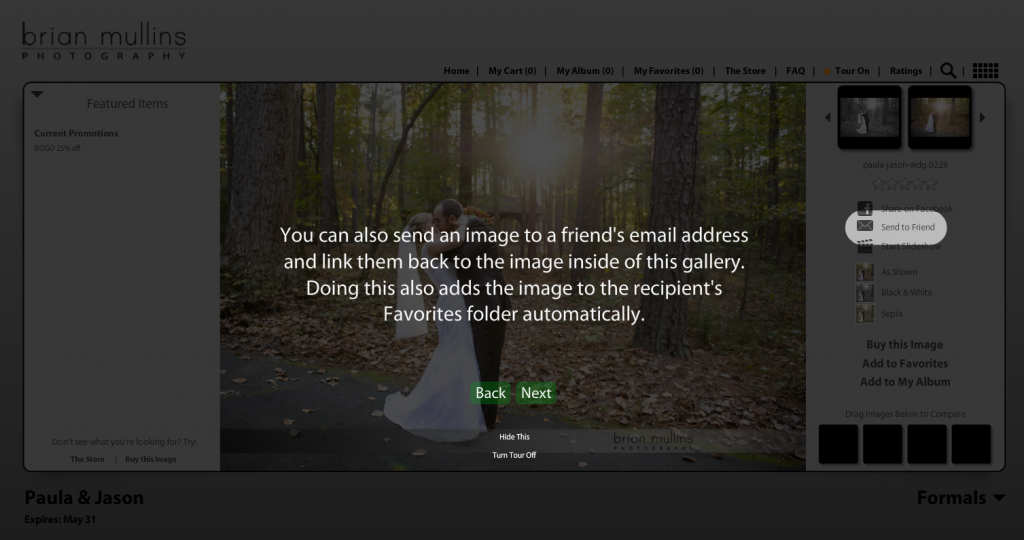 Eric Younkin shared with me that RedCart is a huge factor in driving sales and generating income for his studio. It's a workflow and connected into every aspect of his business. Before his clients commit to using his services, they've already seen his product line in a RedCart gallery. Good studios have an extensive catalog of products.
"I use RedCart in some unique ways and it has generated me lots of extra capital. Some of it can't be tracked through RedCart because I do lots of quick sales in studio, but I use the interface to show off my impressive catalog of products!"
For weddings, Eric creates cards from the engagement session with an event code for guests to pick up at the wedding. The day after the wedding, guests are hitting the site and signing up to be notified when the gallery goes live. RedCart offers email collection that allows you to create campaigns and target these customers with incentivized discounts.
Eric brings the couple and their families into the studio to view their photos for the first time. He uses RedCart with two, full-screen monitors. This allows him to assist them in rating their photos and educate them about how to use the system. Then when they go home, they can pick out their wedding album selects. This image list feature can then be downloaded and used in Photo Mechanic to locate only the files that will be used in the album and quickly start an album design.
Alright, so how do I know if RedCart is right for me?
If you're serious about selling online and are ready to invest in your business, this is one of the best decisions you'll make this year. Set realistic expectations. It's going to take some time to set up and customize, but you'll have stellar support guiding you through the process. And even if you only use it for passive sales, there are tools to help you maximize earning potential. If you take the time to utilize all the tools offered, into your business, the sky is the limit.
Demo a RedCart gallery and see for yourself. Don't forget that all their plans come with a 14-day trial, so you're never pressured into a system that's not right for you or your business.