Tip – Supercharge your Website Part II
Today's tip comes via Scott Wyden and is the second part of a two-part series about optimizing your website. Click here to read Part I.

In the previous article on this topic, I shared six tasks you could implement to supercharge your photography website. Today I have seven more for you.  Combining these two articles creates a fantastic list of 13 powerful things that really make an impact.
Here we go…
Audit your byline
Go to your website's home page, but keep your eyes closed. Open your eyes for five seconds and then close them. Can you remember where your byline or tagline was? What did it say? If you don't know, then it's possible it doesn't stand out enough or doesn't exist. Think about how you fix that issue and improve it.
Audit your site structure
I've noticed that many photographers do one of the following:
one domain for the website and a second domain for the blog: i.e., yourdomain.com and yourdomainblog.com

one domain for the website and a subdomain for the blog: i.e., yourdomain.com and blog.yourdomain.com
While these options are effective to get content out there, it's making more SEO work for you. The reason is because technically those are separate websites. If your website was a basic structure with one domain and a page dedicated to the blog, then you're headed in the right direction. (i.e., yourdomain.com and yourdomain.com/blog )
You might also choose to show categories, and that's a user preference. Please note, though, the best URL structure is one with your domain and a keyword. (i.e., yourdomain.com/your-portfolio-keyword)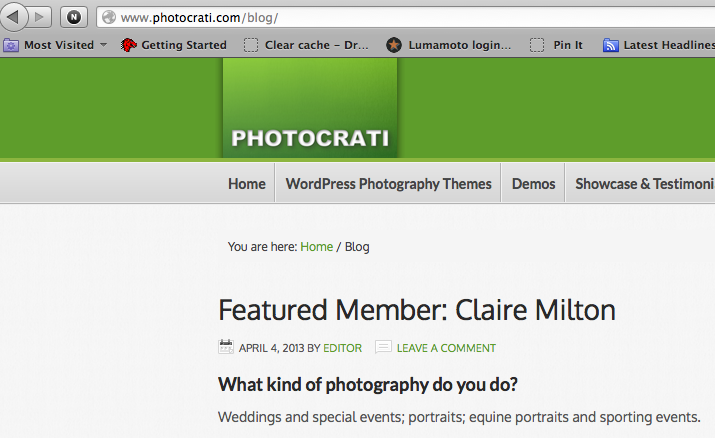 Write articles in batches so you can spend more time promoting
Instead of writing one article at a time, spend a few hours and draft a bunch of articles. In a few hours, if you can write and schedule two or three articles a week for a month then you have saved a lot of time for the future. In addition, it frees up time so you can shoot more, promote more and relax.
Use call to actions in articles
Call to actions are visual or text items that you add to content with the hope that it converts a person or drives them to do something. A call to action can be a button that says "Subscribe Today" or text that says "comment below." Next time you write an article, add a call to action asking for comments or pre-generate a tweet and make "Tweet this" your call to action.
Guest post
You might not be completely comfortable blogging on your own site, but if you are then this is an awesome task to start trying. Guest posting on other websites is great for exposure and SEO. So I highly recommend doing it. If you have a colleague that runs a website that accepts guest posts, then submit there. If you don't know anyone you can then try building new relationships on your own or with a tool like PostJoint.
Accept guest posts
That's right, let other people blog on your website. This is another way to build relationships and increase traffic, because content attracts visits. Now, be cautious and picky about who you accept as a guest writer and what you will accept for content. Do not accept everyone and everything.  For example, at Photocrati we make WordPress themes for photographers.  So, the guest articles we accept must relate to photography, WordPress, marketing, business or SEO.
Use a social sharing tools
If your website runs on WordPress, then plugins like DiggDigg or Flare can be very useful. Both offer elegant sharing buttons to include on your pages and/or posts. If you run on other platforms or pure HTML, then check out services like AddThis or ShareThis. By having social buttons, people are likely to click and share. That increases exposure and reach.

In Conclusion
In these two articles you have learned about 13 tasks you can take on starting from now and work toward supercharging your photography website.  To learn more about supercharging your website, pick up a free copy of our eBook , featuring Fundy!
Thanks for reading,
Scott
Scott Wyden Kivowitz is a New Jersey photographer and the Community & Blog Wrangler at Photocrati, developer of the most popular WordPress gallery plugin.