Tip of the Week – Sell More By Educating Your Customers
Educating clients is the only way to make those larger portrait sales happen, by encouraging clients to purchase art pieces and albums over 5x7s and 8x10s. A very effective way to do this is to create a press printed book that features all of your products. It allows clients to see the products, not only as products but as art in their homes.
Design Aglow has created a Look Book template that does just that. It features all the main products a studio would sell, along with descriptions about the products and why people love them. Not only is this useful for in-studio shoots, it is essential for location shoots, so people can see the products and decide what they would like. You could even print out a pamphlet for clients to take home with them. Design Aglow recommends printing out a few nice press book copies so clients can take them home and return them at the order session.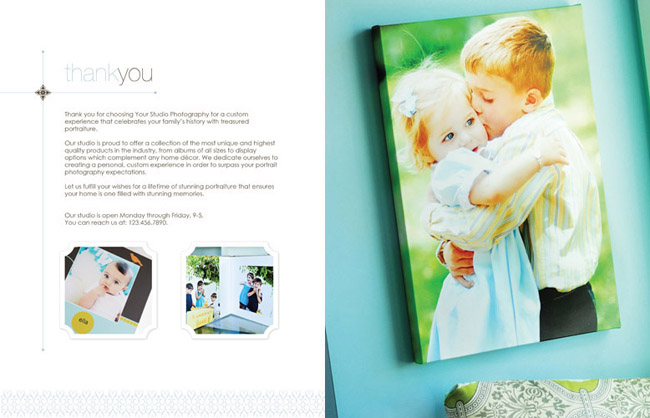 © Design Aglow – from their Look Book
Either way, clients need to be able to look at these items and dream about them and consider how they are going to incorporate these items into their own homes.
Additionally, turning these templates into a PDF book (learn how to do that here) is a fantastic way to capture email addresses. Use the MadMimi Plug-in for WordPress and increase your mailing list to potential clients. After a client enters their email address they can be re-directed to the download link for the book. The MadMimi plug-in automates this for you (as does the iContact, Constant Contact, Mail Chimp, etc. plug-ins for WordPress).
Whether you choose to purchase this Design Aglow Look Book or create your own, it is a fantastic way to increase sales and potential clients.