Tip of the Week – Wedding Blogging Strategies
A few months ago we did a post on a dedicated blogging strategy for a portrait shoot, especially if you are doing in-house proofing/sales.
Now, before we start we need to really think about the purpose of a blog. Many photographers simply see their blog as a vehicle to show their work, with the expectation that people will see it and book them. A blog can be so much more. A blog can be a marketing and sales tool, which is 100% free, that can add so much value to your business. I see two main issues with most photographers' blogs. One, they don't blog enough. And two, the blog posts don't have a direct purpose and a call to action.
Here, let's lay out a multi-blog post strategy for weddings. Before we start, let's think about the goals of a wedding photographer after the wedding.
We want to get the couple excited about the wedding photography.
We want all the guests to visit your website and hopefully get hooked on your photography and book you for a wedding, portrait, etc.
We want to show potential clients (people just checking out your blog) to know what you specialize in and get them excited, not only about the photography, but also about the products you offer.
We don't want the couple to see so many images that they lose their excitement and end up not ordering an album or prints.
So, here is an example of a blogging strategy that I believe will add value to your business.
Step 1 – The Teaser
Within a day or two of the wedding, you should post the teaser image. This image is just that. It is ONE teaser to get the couple and everyone else super excited about the wedding. Will they want to see more? Of course! Everyone wants to see more. Will they ask for more? Yes! Will you give them more? No, of course not.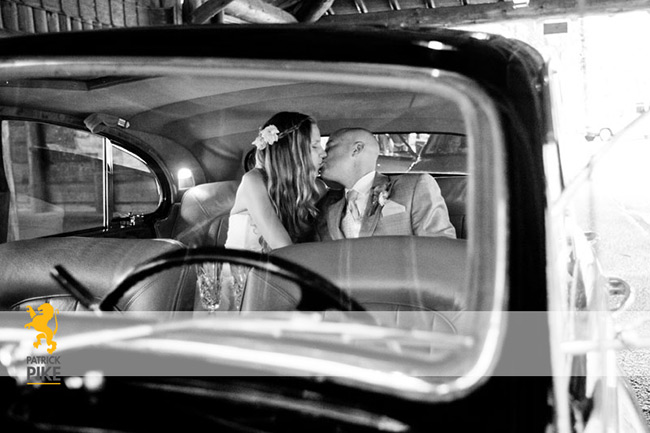 © Image copyright Patrick Pike 
It is extremely important that you have your images branded because they will be shared and you need both the advertising and the protection IN your image. This branding was done with Image Brander.
Step 2 – The Buildup
I feel it's extremely important to show couples a completed Album Design in person (or via Skype) as the first thing the couples see. This will get them into ordering an album and not focusing on just getting the images. The key points here are two. First, show a small story of the day. This encourages the bride and groom to see their wedding as a story, not just a random set of images. Seeing their day as a story is KEY to having them order an album. Additionally, by blogging "stories" you start attracting more clients who want the storyteller. As Jim Garner says, "You are a storyteller."
The key here is to blog the "short story" the day before their viewing/album consultation. Get them really excited to see the entire album.

© Collage created with Blog Collage, images by Patrick Pike
Step 3 – The Denouement
The "denouement" comes back from my original college degree in English Literature. The denouement is a literary term from the French meaning, "the untying of the knots." It that scene at the end of the movie where all the action is over and there is the "explanation" of what happened, or the little comic relief. It ends the movie. You know when you saw a really exciting movie, but at the end you leave wanting for just a bit more? That's because they forgot the denouement.
So, what is the denouement for the photographer? It's the final product: the album, the canvas wrap, the framed prints. If you are not showing photos of these products on your blog, you're selling yourself as someone who takes pictures, not as someone who provides art. And what does that mean? That means people just want the photography on a disc, not fine art pieces. Show what makes you money.
So, a blog post about the final album upon delivery is a great blog post.
Three Distinctive Posts
So there you have it, three separate blog posts with a strategy behind them, each for a special purpose. Feel free to copy this strategy or come up with your own. But the key points here are:
Each blog posts you make should be strategic.
Blog more than once per client.
Blog posting should be consistent. Decide on your strategy and make it the same for every single client.
We hope that these strategies help you increase your web traffic and your business.