Fundy Designer changed the album design world with its Auto Design functionality. It's the only automated album design that not only tells your stories in order but also clusters photos according to time-stamp or filename. The Auto Design is incredibly effective as a "rough draft" of your album, allowing you to quickly get all your photos placed so making adjustments is easy.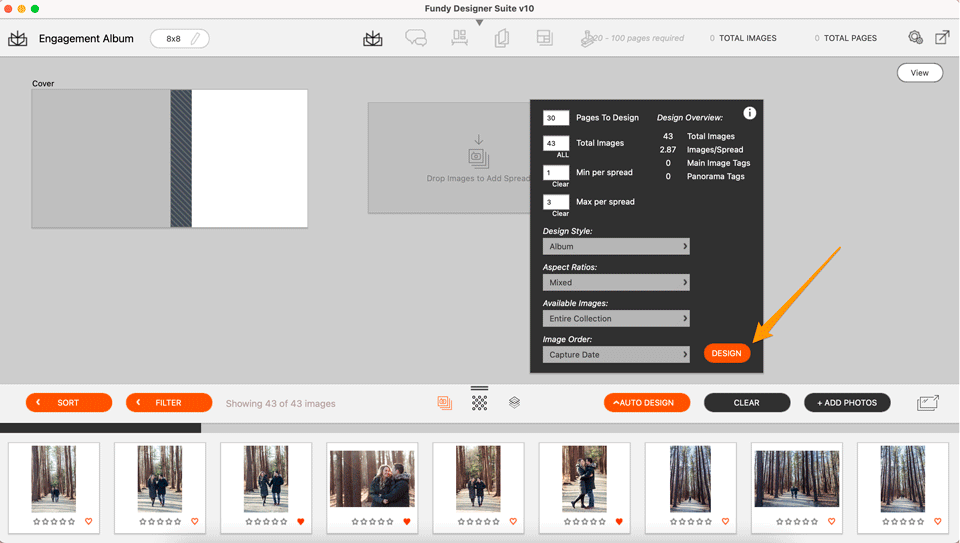 In this blog post, we'll show you a quick run-through of the Auto Design functionality. For a more in-depth tutorial, visit our video tutorials here.
Accessing the Auto Design
After importing your photos and setting up your album, the Auto Design panel can be accessed at the right of the image well.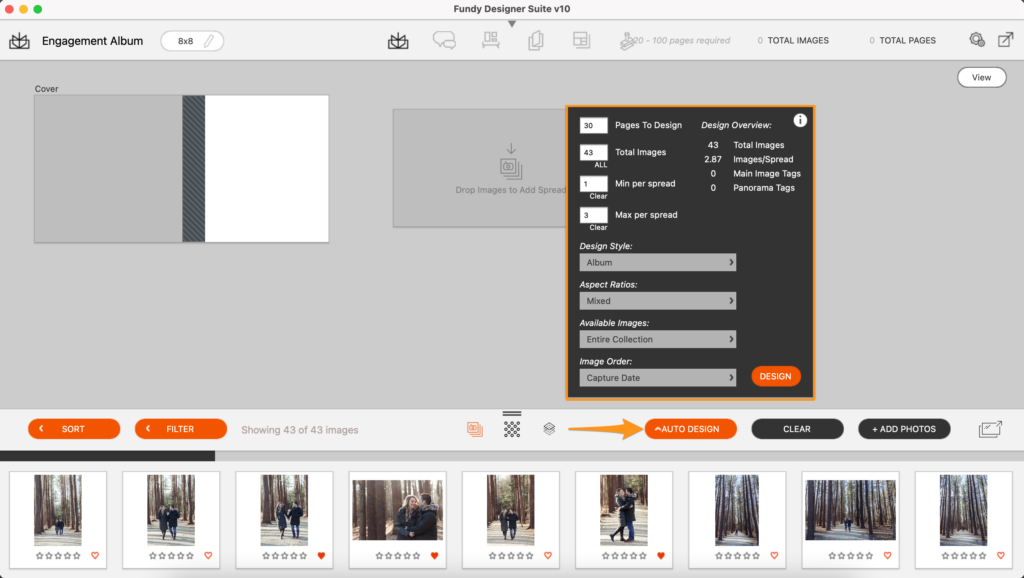 Click the Auto Design button and you can see all of the options available to you.
Auto Design Options
The Auto Design panel gives you an incredible amount of control. Here are the following settings that you can adjust:
Number of pages to design

Number of images you can use

Minimum & maximum number of images per spread

The style of album you would like to design (i.e. signing book, matted album)

The aspect ratios of your photos

What images you would like to use (filtered, all, etc.)

Whether you would like to order by timestamp or file name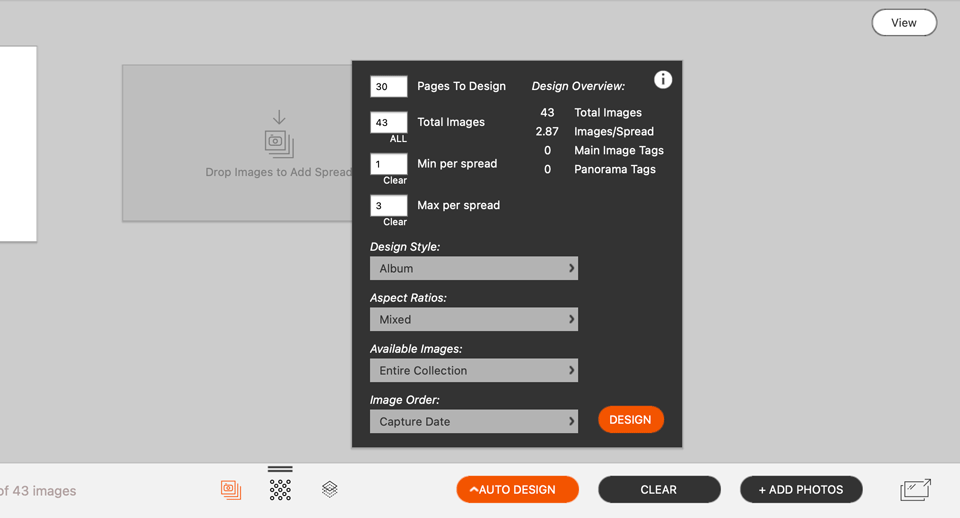 We will go through each of these options one by one so you can see the control you have over the Auto Design functionality.
Number of Pages and Images
In the first section, you can choose how many pages and images you would like to design with. To the right of these choices, you'll see how many images/spread you'll be designing. Experience has shown that between 3-4 images per spread for a wedding album and 2-3 for a portrait album are optimal.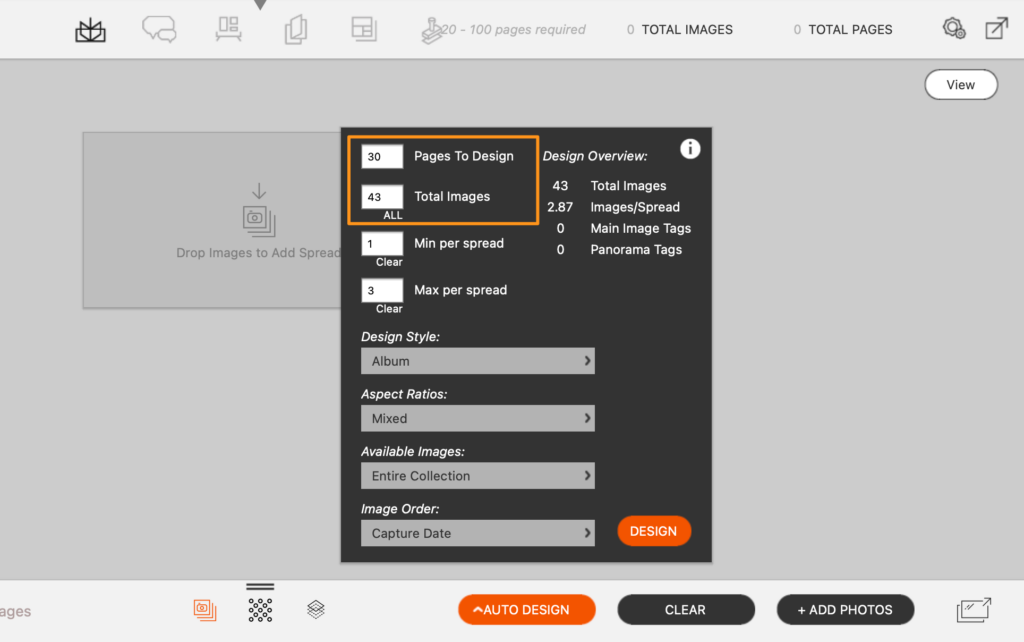 Minimum and Maximum
The Auto Design function allows you to set a minimum and maximum photo per spread. For example, you may not want more than 6 photos per spread. Or you may just want one photo per page. The minimum and maximum photo settings give you this control.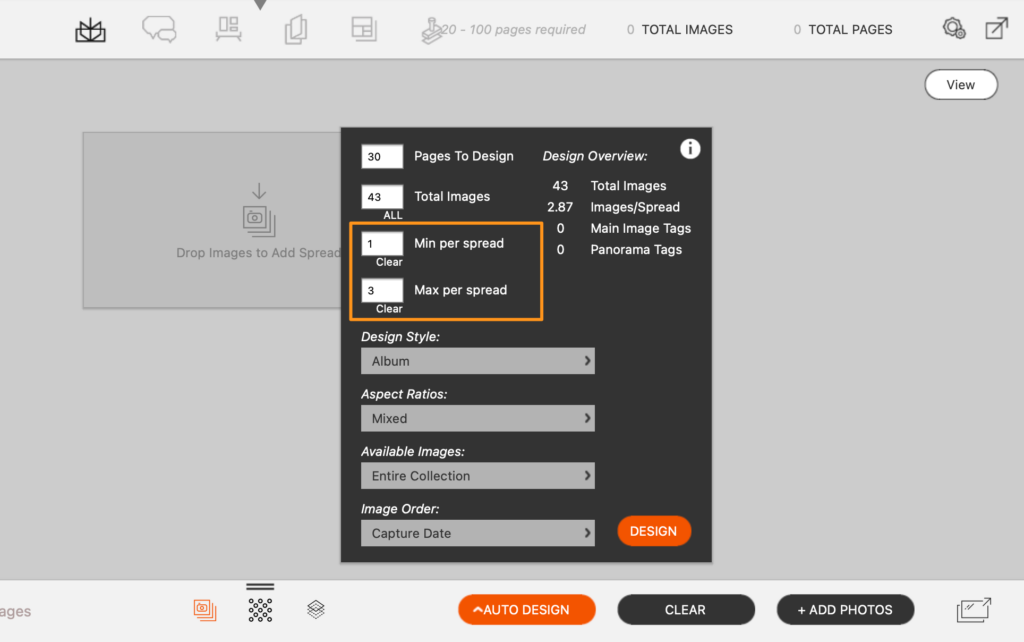 Design Style
The design style drop-down allows you to Auto Design everything from a classic album to a portrait album with color blocks and graphics.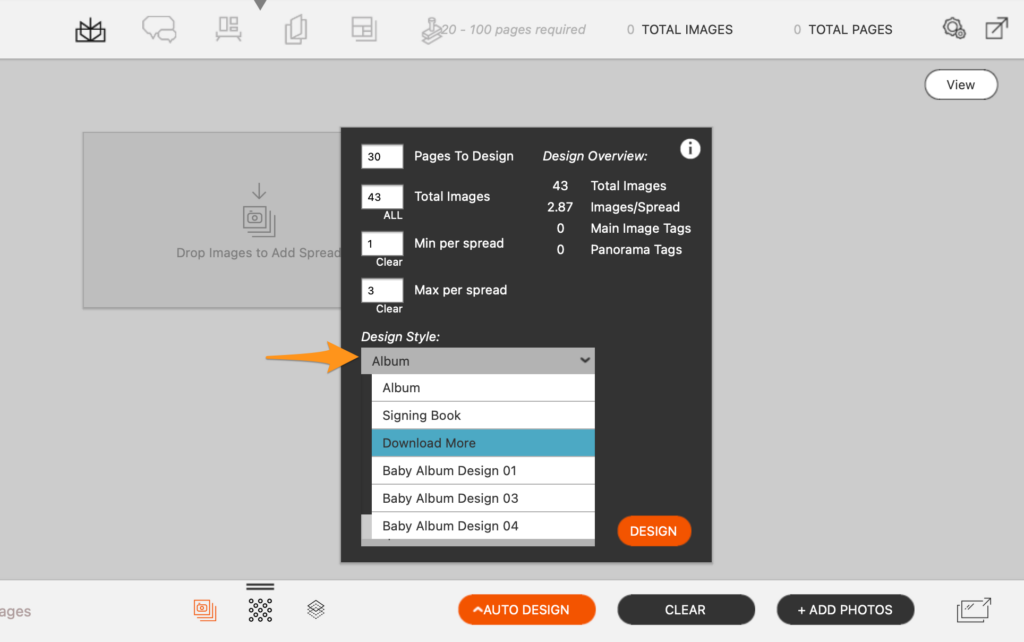 By default, you will find "Album, Signing Book" and a number of portrait styles. You can also download more styles, matted album designs and a variety of portrait album designs in the Design Library.
When you choose a Style, Fundy Designer will base its design on the templates (and graphics where applicable) in that style.
Aspect Ratio
Some photographers are very particular on how photos are cropped in an album. The aspect ratio allows you to have total control over how your photos appear.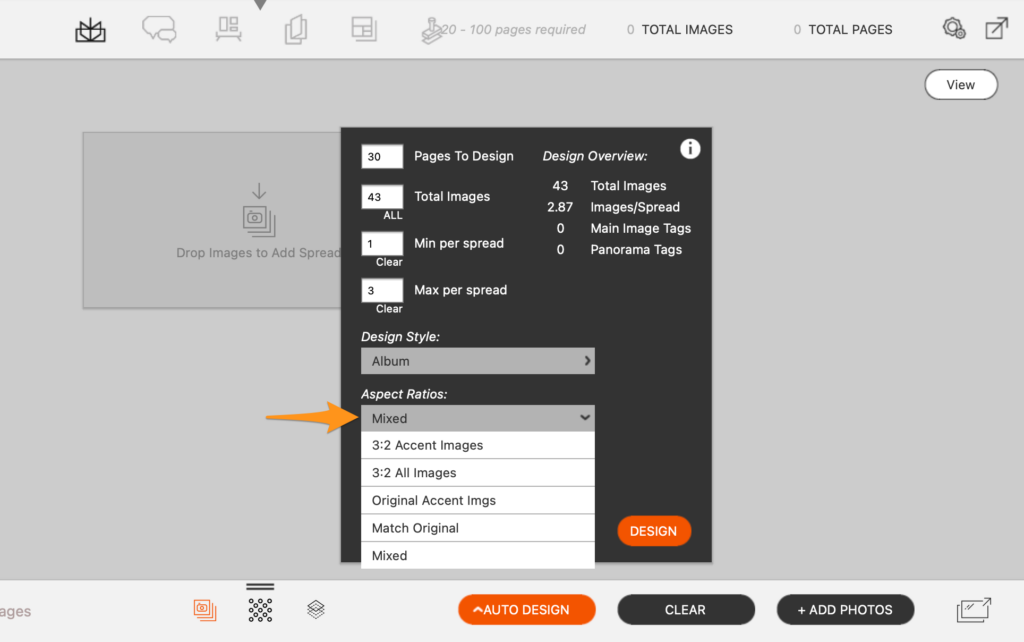 Available Images
The available images option allows you to choose which photos will be pulled for the Auto Design. Some users will filter album selects with their clients, but may not delete the non-favorited photos from the project. This allows you to filter to just your favorites, or just 4 star designated photos, for the Auto Design.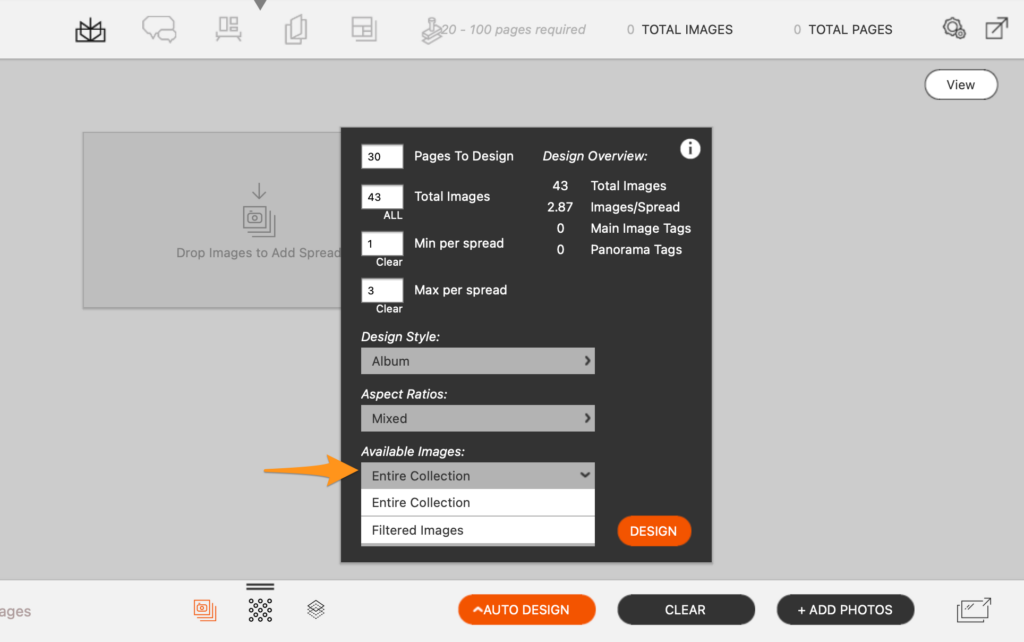 The filter tab allows you to filter by hearts, stars, keywords, and more. You can basically filter down to any number of photos you would like to use.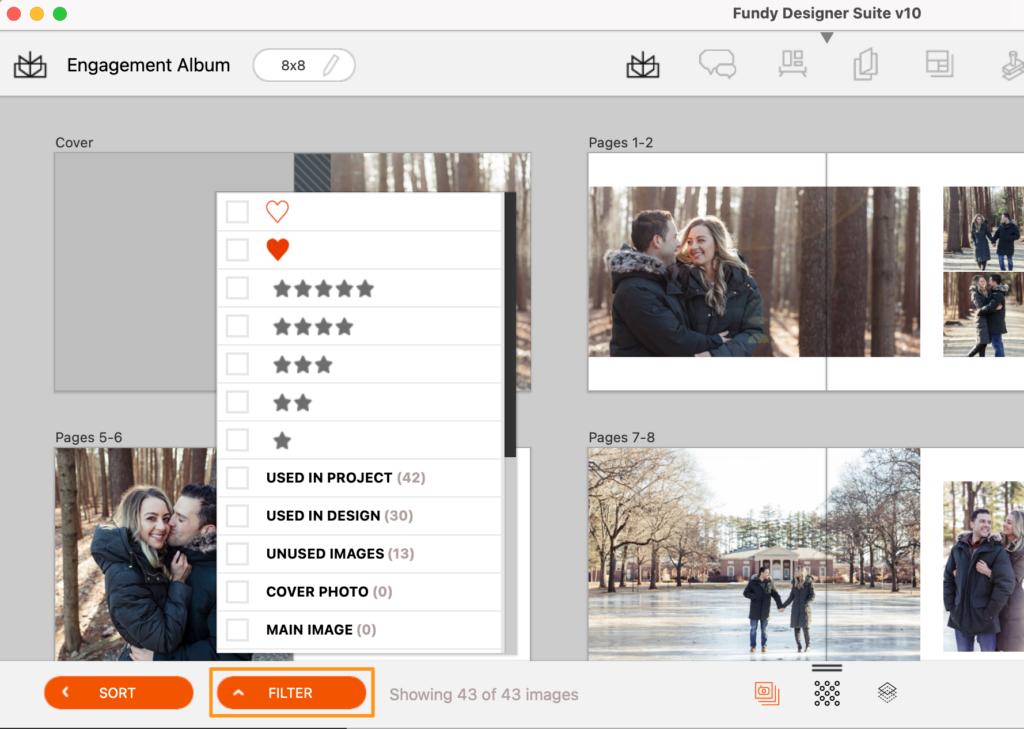 The Final Result
The final result after using the Auto Design is a beautiful design that shows your customized album that sells itself.

More Control
If you want even more control when using Auto Design for an album, you're in luck! Fundy Designer v10 offers you the ability to customize the order of your photos!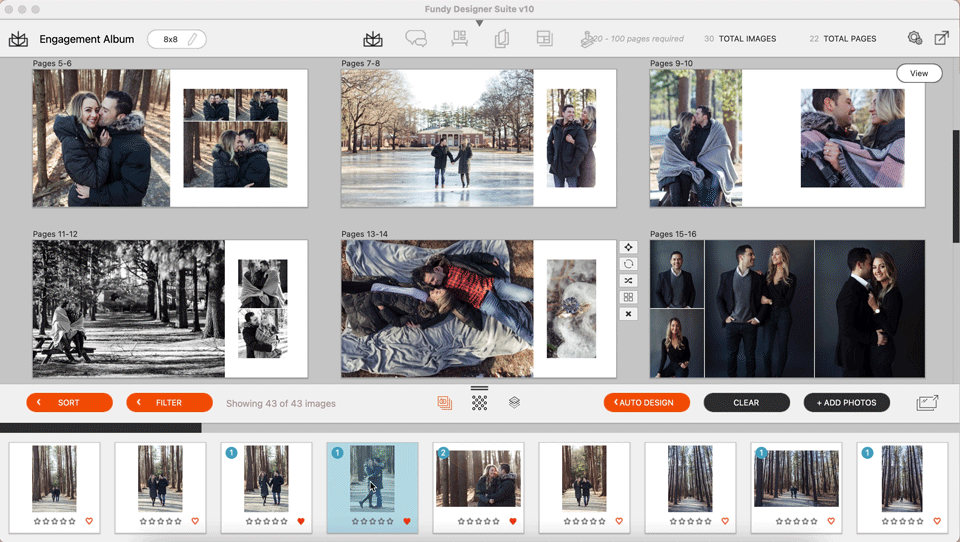 Do it all in Fundy Designer! 
New to Fundy Designer? Get started with our free trial! Ready to try the latest version of Fundy Designer? Click here to purchase or upgrade to Fundy Designer v10!