We at Fundy Software are extremely excited to bring the new Design Proofer to you. We believe it will be a great asset to your photography business, saving you even more time and making you even more money! In this quick start guide, we'll show you how to easily get your designs online and off to your clients. You can include any number of albums, wall art designs, card designs and even a slideshow. So after you finish your designs, follow these simple 10 steps.
1. Create a New Proof
You'll notice next to the album icon, you can now create a new proof. Just click on that icon and create and name your proof. Note, that you can create multiple proofs in one project. Maybe you want a proof for the bride and groom and a different one for the parents.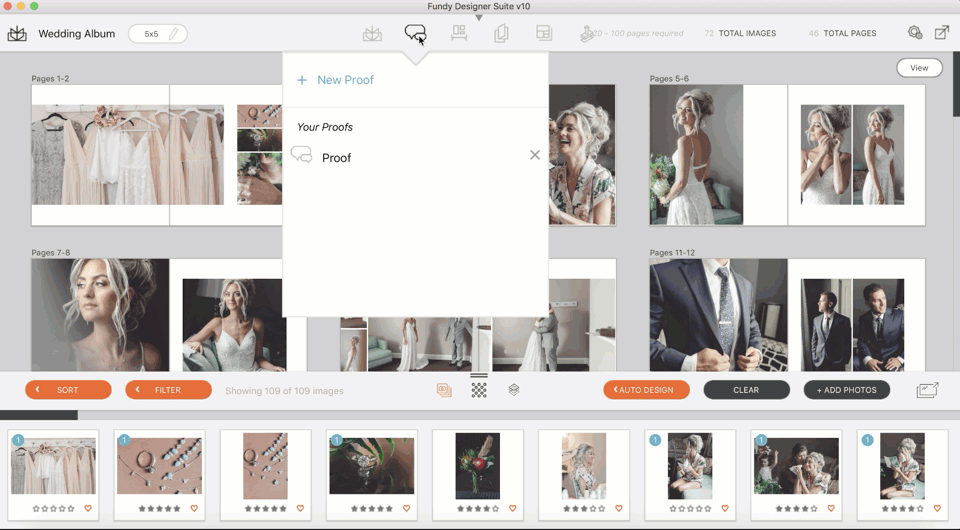 2. The Sidebar
Next, enter the title and subtitle of the proof and add your logo. Note, that you'll be able to add different logos for different proofs. This is especially useful for photographers who might have a different wedding and portrait brands.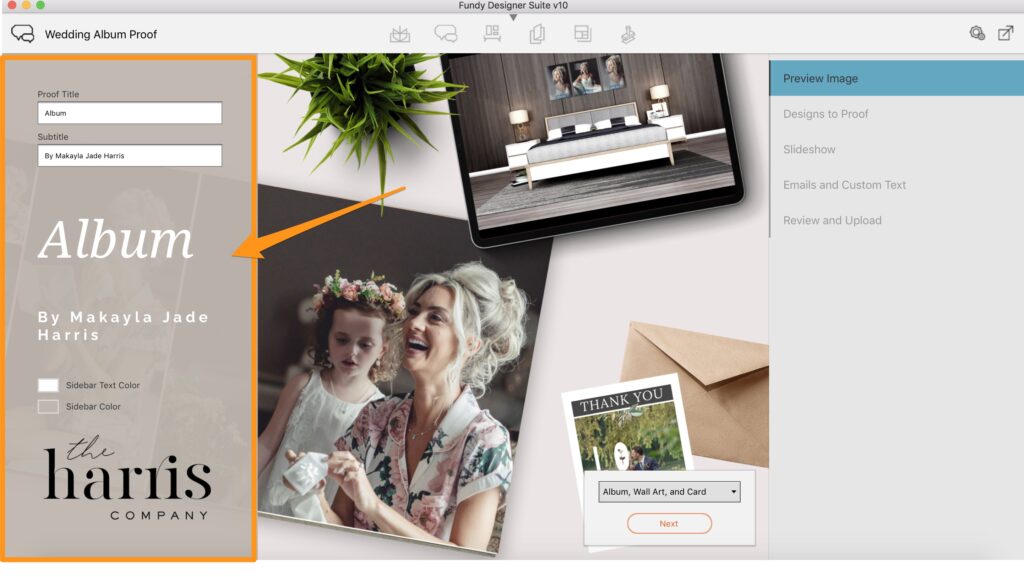 3. The Top Down
This is one of our favorite features, the gorgeous top down preview of all the proofs. In the bottom right, you can choose what you would like to display. You can even just choose to display a single image.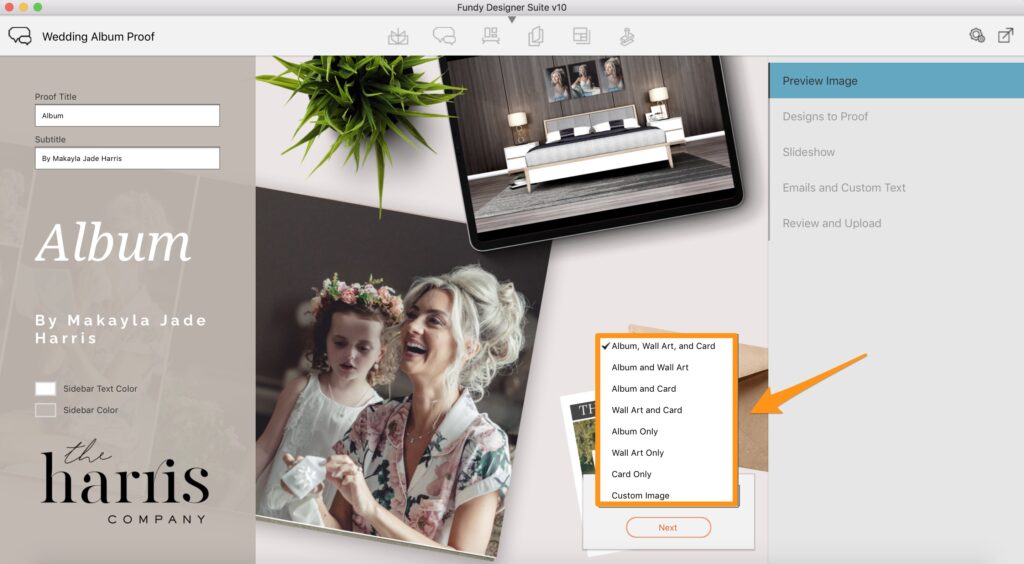 Next, for each album, wall art and card design, you can choose what to display. Simply click on the item and flip through the pages or designs to choose what you want to display.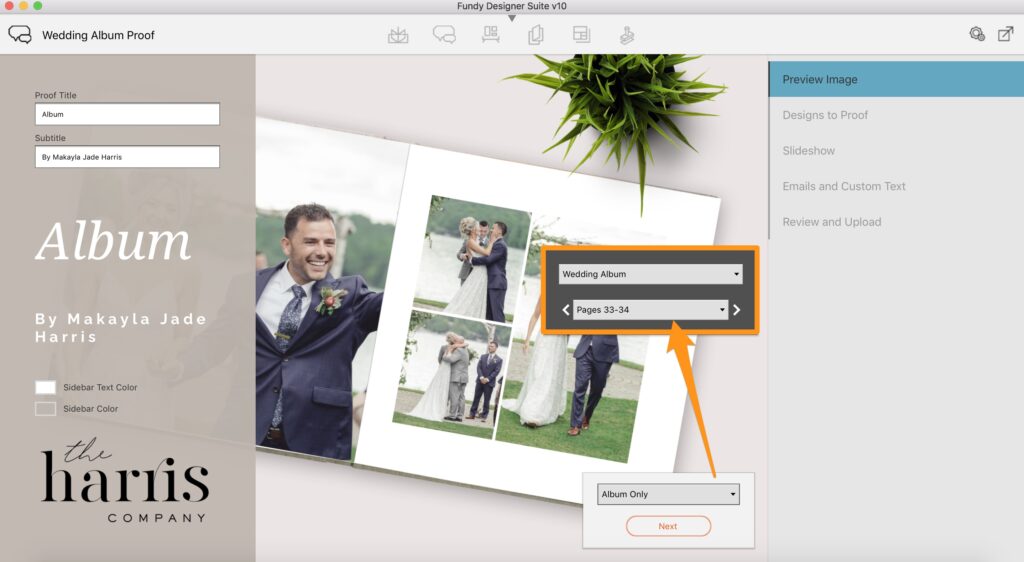 4. What to Proof
On the bottom right, click the next button. Now, you can now choose what to proof. You can choose to proof all of your designs or just some of them.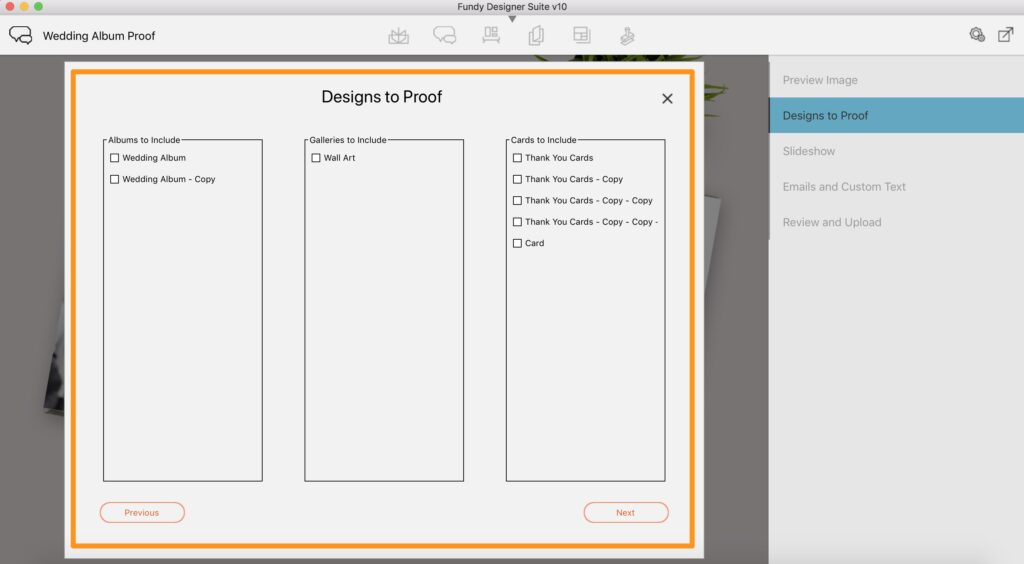 5. The Slideshow
The Fundy Design Proofer slideshow, is the only online slideshow in the world that allows you to deliver a slideshow of designs along with your images. The slideshow controls are exactly the same ones in the desktop that you use for IPS. Add what you want, include what music you want and hit next. For a video tutorial, click here.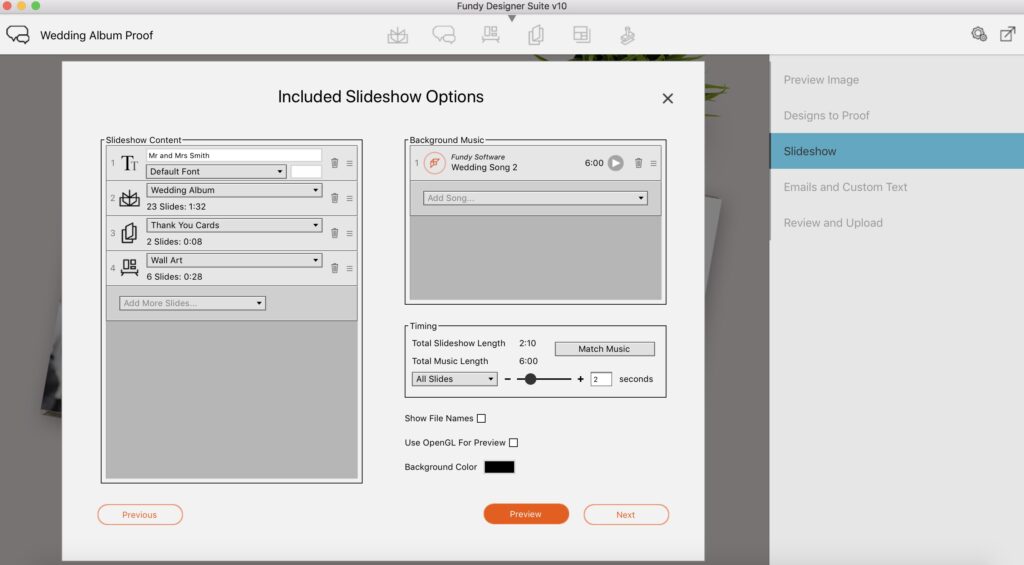 6. Messaging
In the next screen you can enter your email notification text, reminder text as well as your client emails and a password if you like. Additionally, if you want to give your clients a special pop up message before they begin approving their design, you can customize your own text in the Pop Up On Access section.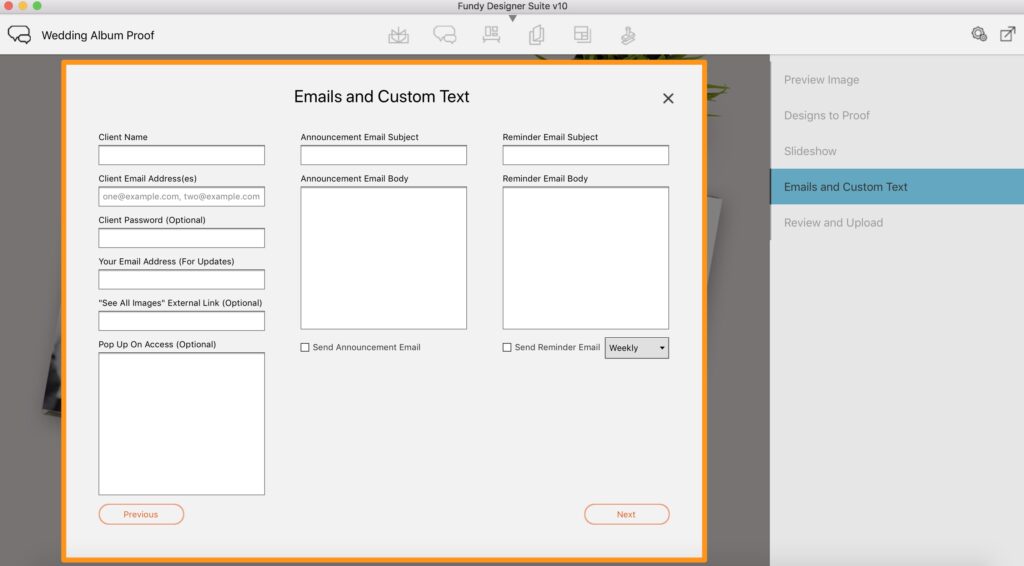 7. Export & Upload
Next, you'll hit the export and upload section where Fundy Designer will export your designs and automatically upload them to the design proofer.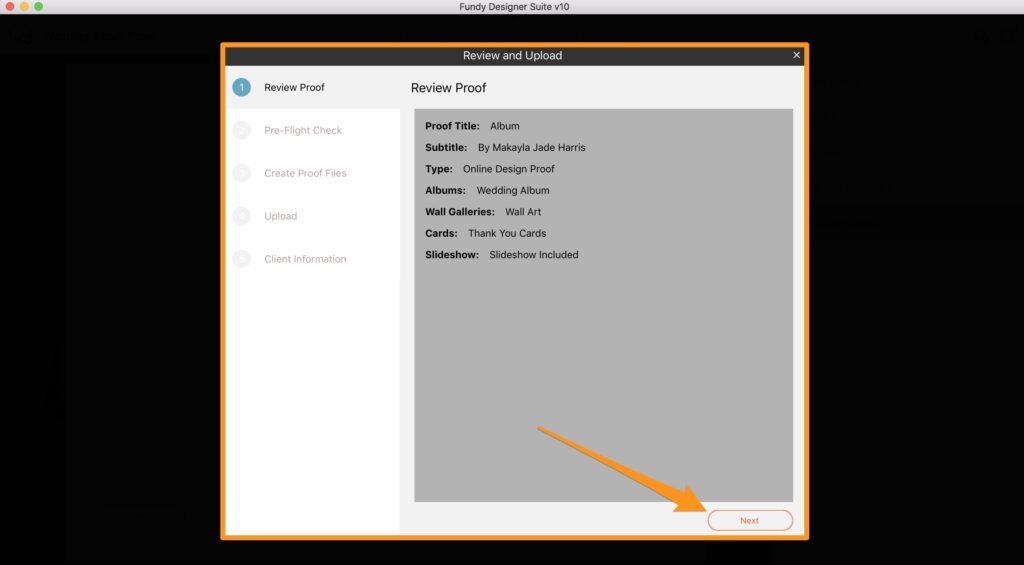 8. Sharing
Your proofs will automatically be emailed out to your clients in a beautiful email. Additionally, you can always grab the link from the export wizard or at the bottom right of the proof screen.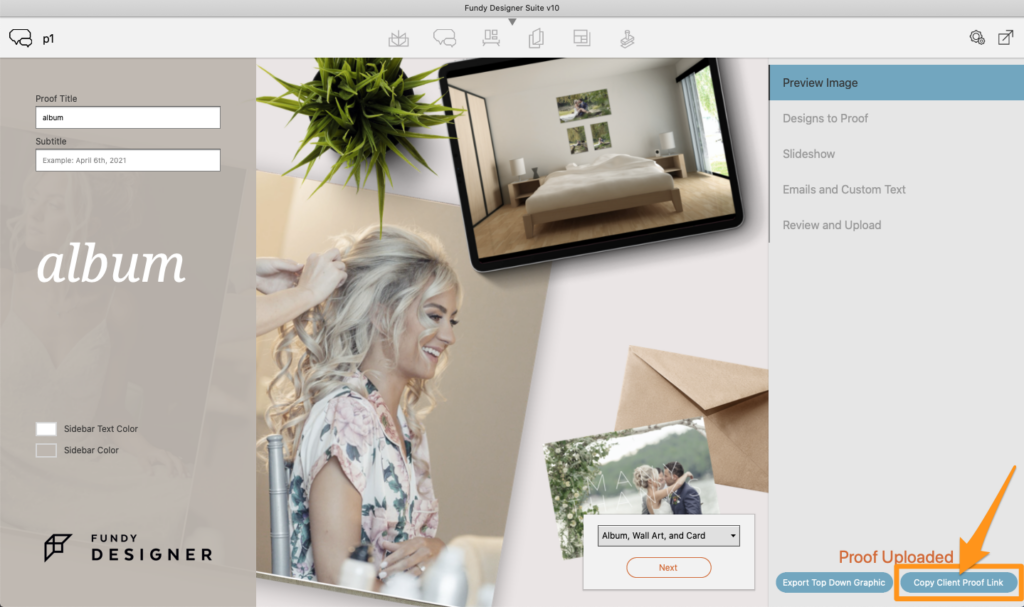 9. How to View Your Comments in The Desktop App
When you open your project and go into the album designer, gallery designer or card designer, and click on the design you'll see a new comment icon.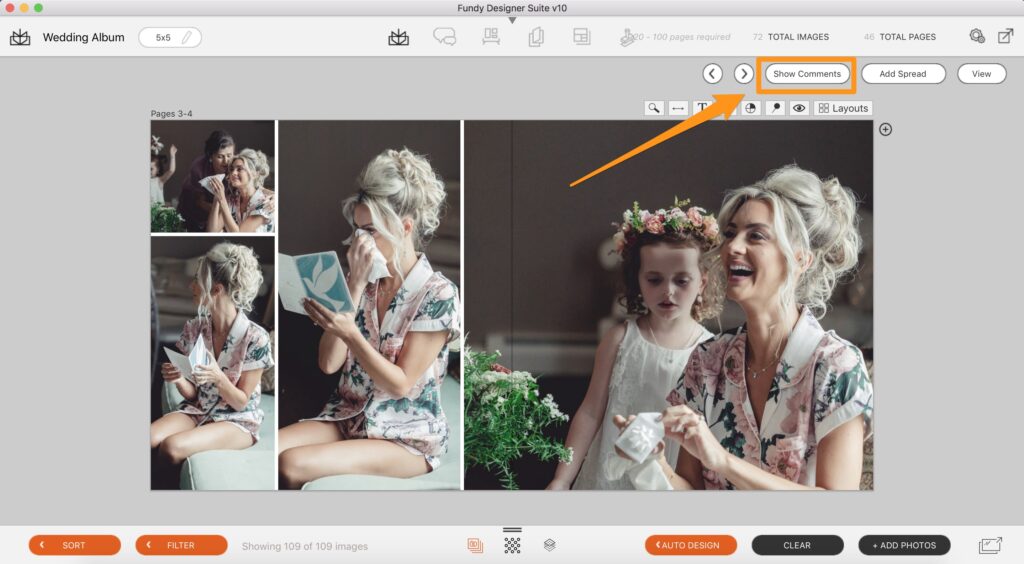 When you click on that icon, you can choose your design and page to view that have comments made by the client. When you hover your mouse over a comment, you'll see a JPEG preview of your design and the comment. Even if you've deleted an album spread or significantly changed a design, you'll be able to see what the clients want changed.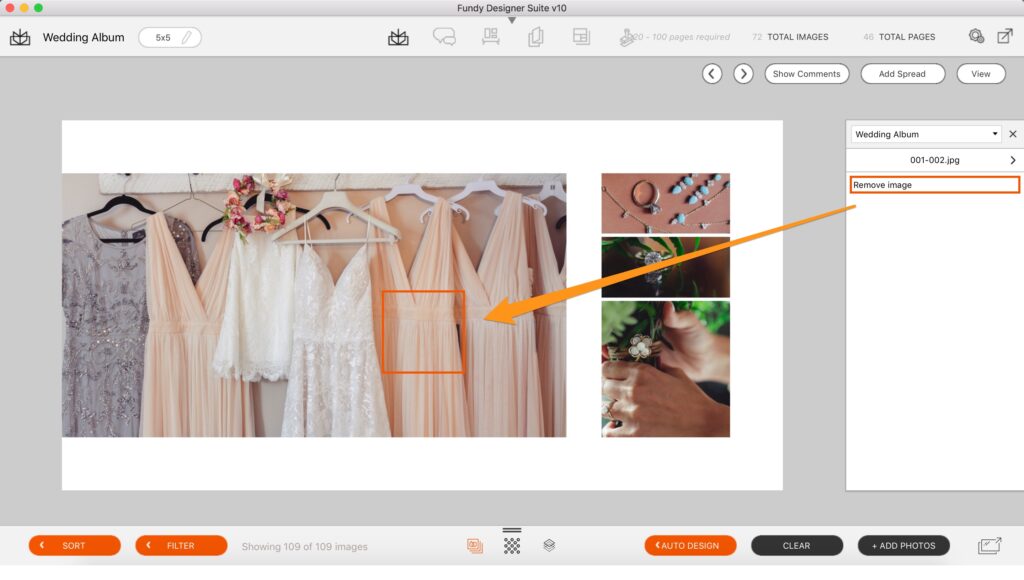 10. Enjoy!
The new Design Proofer has been a concept for years. We've been hard at work to bring this groundbreaking technology to you. We hope you love it as much as we do! To learn more and download the new proofer, click here.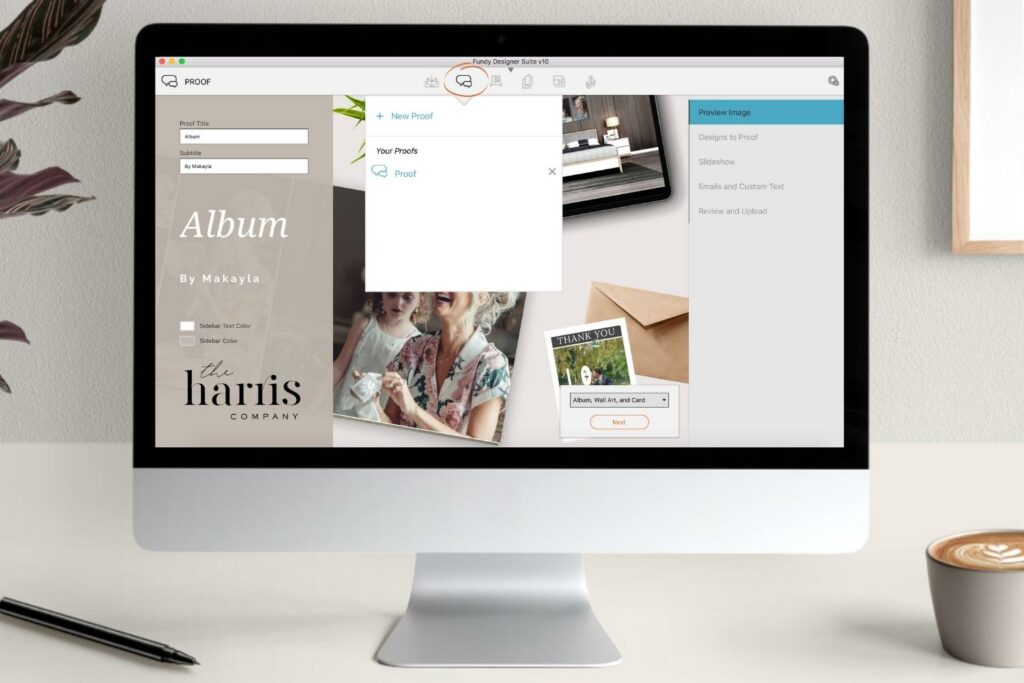 Do it All in Fundy Designer
*Note: to use the new Design Proofer you'll need a lease subscription to Fundy Designer or Fundy Designer v10 with a subscription to Pro Enhancements. You can check your account or enable your subscription here. 
New to Fundy Designer? Get started with our free trial! Ready to try the latest version of Fundy Designer? Click here to purchase or upgrade to Fundy Designer v10!