The ThinkBook from Susan Stripling
Susan Stripling is one of the greats in this industry. She has photographed weddings all throughout the U.S., the Caribbean, South America, Finland, France and more. And Susan's been published multiple times over from Rangefinder magazine to Martha Stewart Weddings and Inside Weddings. She teaches workshops throughout the country, with two coming up March 6-7 near Sarasota, FL, and March 19-20 in Miami. Plus she'll be speaking at WPPI next Wednesday, 8 to 10 a.m. about the Evolution of a Wedding Photographer.
So we are very excited to share with you The Think Book from Susan, an inspirational and educational PDF magazine series for photographers. Issues touch on off-camera lighting, backlighting, marketing, shooting receptions, etc. Plus, Susan's storytelling voice make it a good read with tips jam-packed throughout.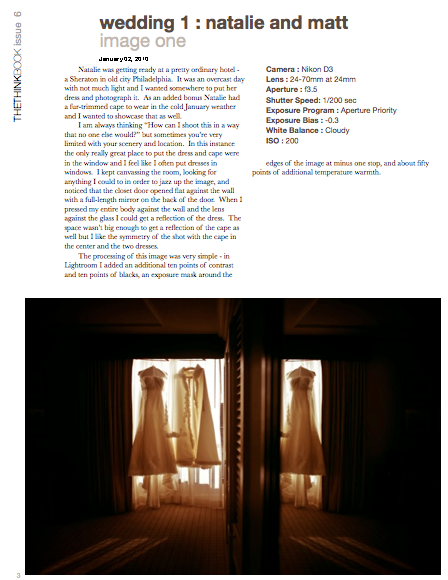 Each issue features:
Several weddings with a page writeup per wedding on special circumstances, interesting lighting conditions, details of the day, etc.
Five to eight images per wedding with a full description of how each image was composed, lit, guided and a full description of the capture.
A page of preferred vendors and links to their sites.
Two pages of detailed FAQs in regards to marketing, blogging, scheduling and more.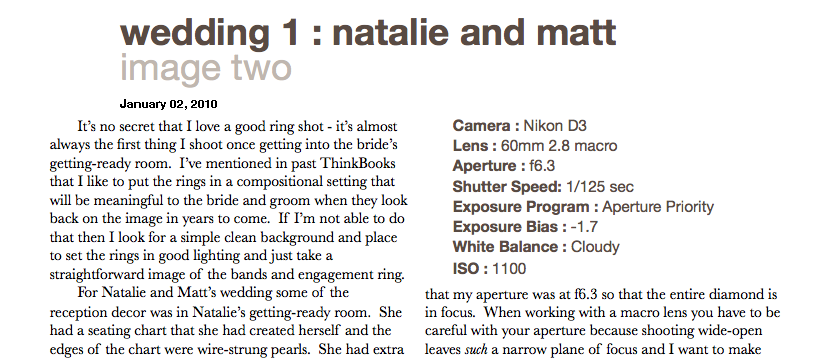 Take a look at a sample here. (These pages particularly deal with shooting.)
Check out the issues, they're great! Interested in purchasing, click here.

For more about the amazing Susan Stripling, check out her blog.